S'mores Cookie Bars
S'mores Cookie Bars are chocolate chip bars combined with a favorite campfire treat. If you like s'mores, you'll go crazy for these bars. With a graham cracker crust and topping, Hershey bars, and marshmallow cream filling, they'll hit your sweet spot!
These S'mores Bars are layered with all the components of classic s'mores; they're a decadent treat you can eat all year long!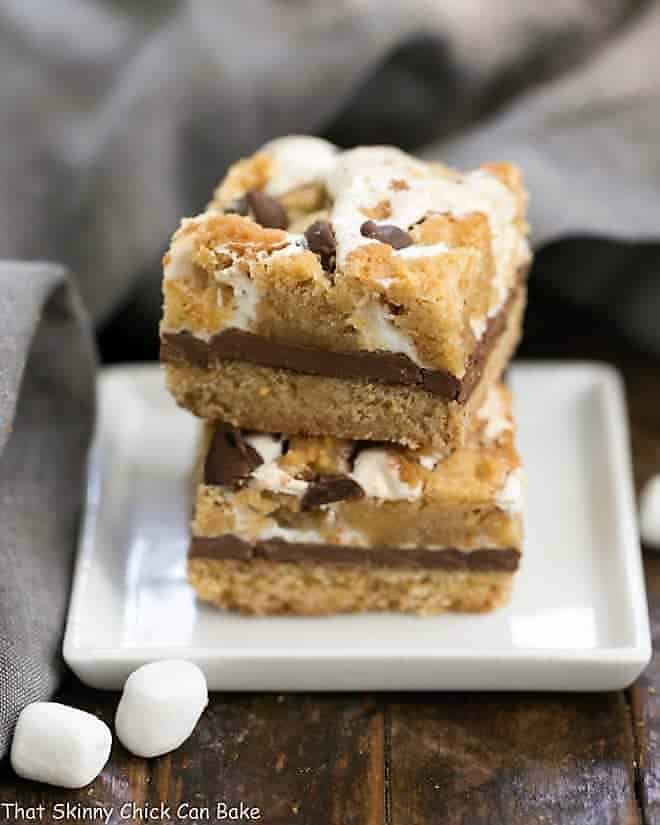 Why You Must Make these Bars
I rebaked and photographed this yummy chocolate and marshmallow dessert recipe this summer after one of my dear friends called me with a question. Her daughter was getting married up in Michigan and she and her husband wanted to make these for a pre-wedding event at their gorgeous lakeside home.
These are a fun dessert for summer picnics and parties! And even to celebrate impending marriages. Well, apparently they were a success—whew. I can only imagine eating these glorious s'mores cookie bars while watching the sunset on the beach.
They have all the s'mores components but can be picked up and eaten or plated to eat with a fork. Plus, I like them MORE than the traditional s'mores.
Check out these S'mookies AKA S'mores Cookies, S'mores with Graham Cracker Crust, and this Easy S'mores Dessert Dip, too.
Expert Tips
I love making cookie bars for one specific reason. Instead of scooping out cookie after cookie, rolling the dough and baking one sheet then another, the bar cookie dough is pressed into a baking pan and popped in the oven. Of course, when the bars are layered, it's a tad more work.
For this recipe, the base layer and crumble topping is the same mixture, so that saves a step. Plus, no extra bowls are needed for the marshmallow cream and Hershey bars filling. Whew.
I like lining my baking pans with non-stick aluminum foil.
PRO Tip: Besides preventing the bars from sticking to the pan, the non-stick foil doubles as a sling to help remove the bars from the pan to cut, plus it allows for easy cleanup!
If you don't have non-stick aluminum foil, just line your pan with regular foil and spray with your favorite non-stick cooking spray.
PRO Tip: Use a wet knife to spread the marshmallow cream. It's sticky and often a challenge to make an even layer.
The first time I made this S'mores Cookie Bar recipe, I completely covered the marshmallow cream with cookie dough. But this time, I let some marshmallow peek through. I also sprinkled a few chocolate chips over the top, just to hint at what was below the surface. If you're looking for stackable bars, you may want to press down on the top before baking to level the surface.
By the way, the whole family gave these bars their seal of approval. Not that I was worried!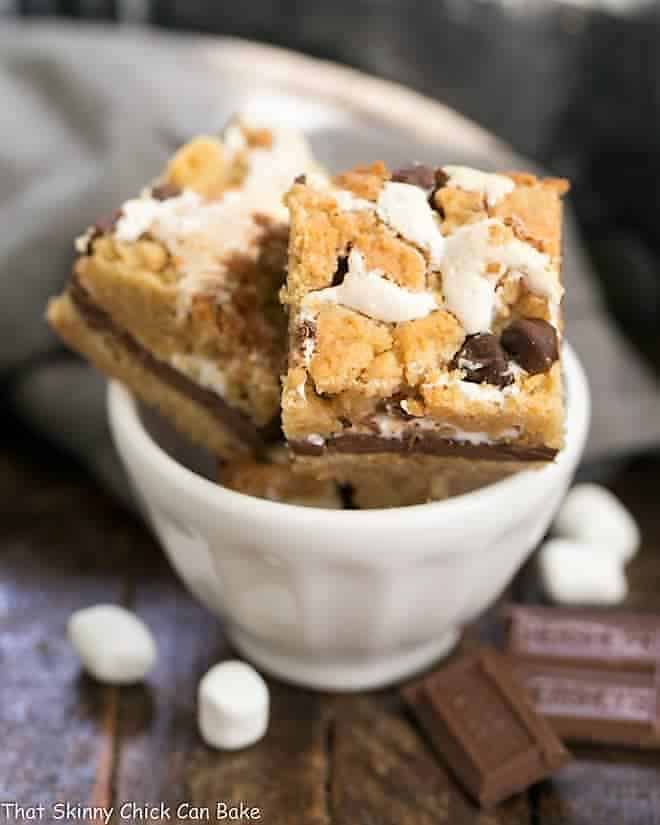 You May Also Like
Check out a few more delicious s'mores-inspired desserts!
Hope you enjoy the S'mores Cookie Bars recipe! This recipe was originally shared in March 2016, but I've updated the photos and text.
The Recipe:
S'mores Cookie Bars
Prep Time 30 minutes
Cook Time 40 minutes
Total Time 1 hour 10 minutes
Yield 16 bars
Cookie Bars with all the magnificent flavors of s'mores!
Ingredients
1 stick of butter (4 ounces), at room temperature
¾ cup sugar
1 egg
1 teaspoon vanilla
1 ⅓ cups flour
¾ cup graham cracker crumbs
1 teaspoon baking powder
¼ teaspoon salt
5 standard-sized Hershey bars
1 7-ounce jar of marshmallow creme
3 tablespoons chocolate chips, optional
Instructions
Heat oven to 350°. Line an 8-inch pan with nonstick foil or regular foil sprayed with cooking spray.
Beat butter and sugar in a large bowl until fluffy.
Add egg and vanilla; beat well.
Stir in flour, graham cracker crumbs, baking powder, and salt. Mix until blended.
Press half of the dough into the prepared pan.
Lay chocolate bars over the dough. Spread with marshmallow creme. A damp knife will make this process easier.
Scatter bits of remaining dough over the marshmallow; carefully press to form a layer (you can completely cover the marshmallow creme or leave some openings).
Sprinkle with a few tablespoons of chocolate chips if desired.
Bake for 35-40 minutes or until lightly browned. Cool completely, then remove from pan using foil and cut to serve.
Notes
May double recipe in a 9 x 13 pan.
Recipe adapted from Hugs and Cookies.
Nutrition Information:
Yield:
16
Serving Size:
1 bar
Amount Per Serving:
Calories: 265
Total Fat: 11g
Saturated Fat: 7g
Trans Fat: 0g
Unsaturated Fat: 2g
Cholesterol: 30mg
Sodium: 153mg
Carbohydrates: 40g
Fiber: 1g
Sugar: 26g
Protein: 3g
Note: This post may contain affiliate links; view
my Disclosure Policy
for details. I earn a small percentage from any purchase you make by clicking on these links at no extra cost to you.