S'mores Cookie Cake
S'mores Cookie Cake: A marvelous cookie cake with all the amazing flavors of your favorite campfire treat! 3 delicious layers! Perfect for picnics and parties any time of year.
This S'mores Dessert Recipe starts with a cookie base is enhanced by graham cracker crumbs plus chocolate chips, then after it's baked a milk chocolate ganache and mini marshmallow complete the classic s'mores trio!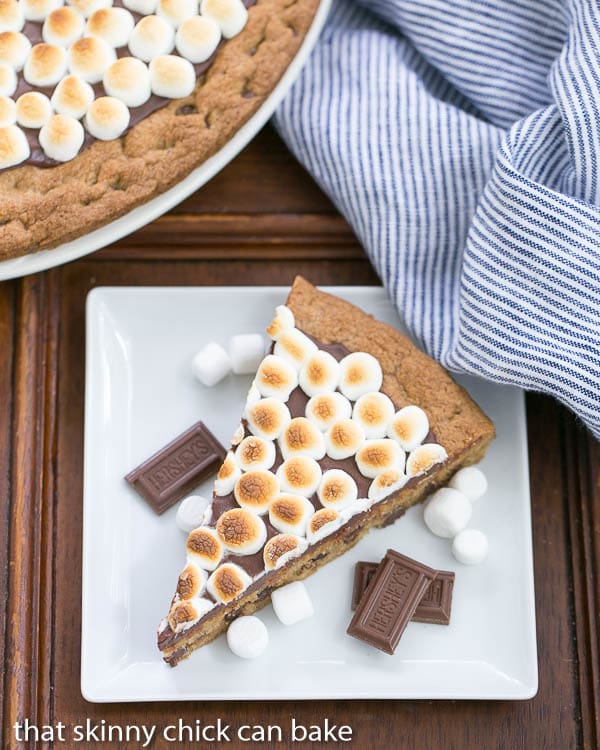 Why You Should Make this Big S'mores Cookie
S'mores remind me of our idyllic family vacations to Aspen, Colorado each summer. We'd take killer hikes, window shop all the exclusive boutiques, sit in the grass outside the Aspen Music Festival tent listening to practice, and we'd picnic along the Roaring Fork River.
The kids were in charge of finding kindling and my dad would start a crackling campfire. We'd grill brats, munch on chips, and eagerly await the next course. The scent of a pine forest still evokes memories of our meals at Maroon Lake with the breathtaking Bells in the background or the Grottos along Independence Pass. And also of those s'mores we toasted for dessert. It's not a surprise my family was gung-ho for this S'mores Cookie Cake.
This flavor combination will bring you back to childhood picnics and campouts.
This s'mores dessert is less messy to eat than the traditional s'mores and just as tasty!
No fire needed for this recipe!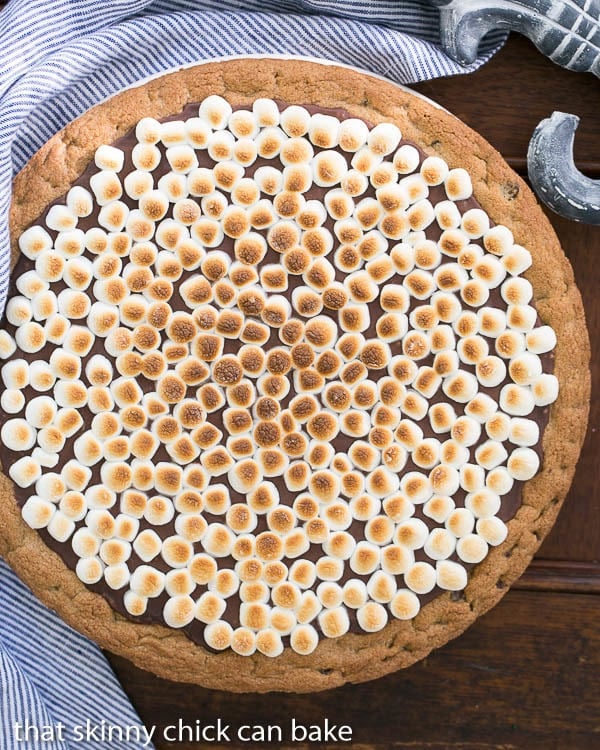 Frequently Asked Questions
Fast forward to 2012 where S'mores bars and cookies are de rigueur. I decided to go one step further and make a cookie cake. I took the base I've used for S'mores cookies, baked it, topped it with milk chocolate ganache, followed by mini marshmallows which were browned with the broiler.
Even Katie, the pickiest family member loved this s'mores dessert recipe. So for your summer picnic, take along the epitome of the American dessert, a S'mores Cookie Cake. And when that disappears, this Easy S'mores Dessert Dip and S'mores Cookies are more family favorites!
What Is S'mores Short For?
This contraction is short for Some More. The most likely reason for this name is that the combination of graham crackers, toasted marshmallows and chocolate is so good that everyone wants some more.
How Long Have S'mores Been Around?
The first recipe was published in 1927 in the Girl Scout guidebook, Tramping and Trailing with the Girl Scouts. Loretta Scott Crew is credited with developing the recipe.
What Food Goes with S'mores?
Try different chocolate bars, bittersweet or even white chocolate. Or how about a peanut butter cup? Big homemade marshmallows would be wonderful. These can be made in different flavors.
Add some berries to the chocolate and marshmallow filling or even a slice or two of banana. I would have to chase one of these down with a glass of milk, but hot chocolate and Irish coffee would be wonderful around the fire.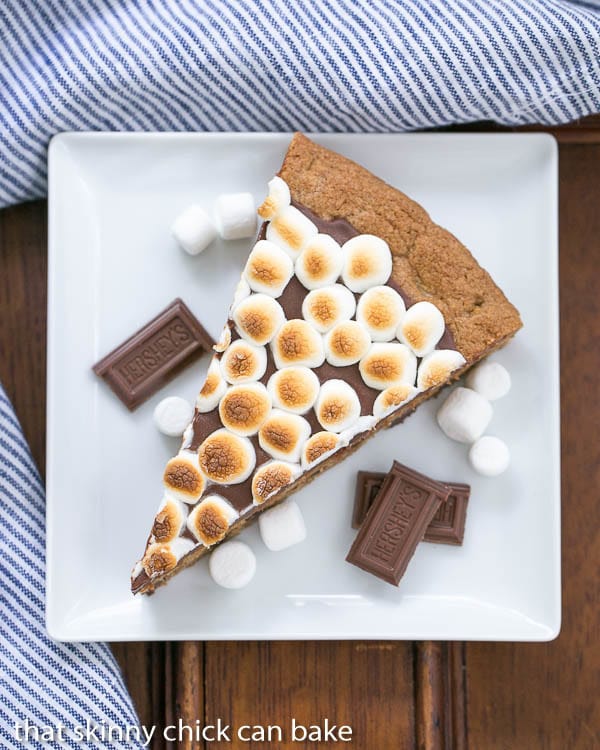 Tips for Making a S'mores Dessert
As you probably know, the classic campfire s'mores recipe is composed of graham crackers, a milk chocolate bar and a toasted marshmallow. This big S'mores Cookie has the crucial trio of ingredients.
For s'mores cookies or cookie cake, adding graham cracker crumb to modify a chocolate chip cookie dough is an easy way to add the graham cracker component.
Regular or mini chocolate chips and/or chocolate ganache provide the necessary chocolate.
Any sized marshmallows or marshmallow cream can be utilized for the marshmallow component.
PRO-Tip: If using marshmallow creme, spray your spoon with non-stick cooking spray to minimize sticking.
Dolloping sticky marshmallow cream on top of s'mores bars or a layer of marshmallows is much easier than making marshmallows from scratch.
If you've never made marshmallows from scratch, they're a simple concoction of hot sugar syrup and gelatin. They're best made in a stand mixer. Flavored with pure vanilla extract and dusted with powdered sugar, the taste is superior to anything you could buy.
If you love cookie cakes, check out this chocolate chip cookie cake, too!
More S'mores Dessert Recipes You'll Love:
Don't Forget to Subscribe!
Have you subscribed to my weekly newsletter? You'll get the latest blog recipes plus some seasonal favorites delivered to your inbox every Saturday morning! And as a bonus, you'll receive a series of 5 Tips & Recipes for Leveling Up Your Desserts! Of course, you can unsubscribe at any time!!
SUBSCRIBE HERE—> https://bit.ly/3tLQIcL
This recipe was first shared in 2012. The text and/or photos were updated in 2016, 2021.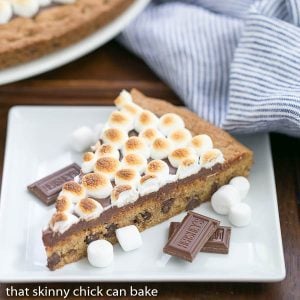 The Recipe:
S'mores Cookie Cake
Prep Time 30 minutes
Cook Time 22 minutes
Total Time 52 minutes
Yield 16 servings
A cookie cake with all the delicious flavors of s'mores
Ingredients
Cookie base:
2 cups flour
1 cup graham cracker crumbs
1 teaspoon baking soda
1/2 teaspoon salt
1 cup (2 sticks) butter, at room temperature
3/4 cup sugar
3/4 cup brown sugar
1 teaspoon vanilla
2 eggs
2 cups chocolate chips
Filling:
12 ounces milk chocolate, chopped
1/2 cup cream
Topping:
2 1/2 cups mini marshmallows
Instructions
Preheat oven to 375º. Line 14 inch deep dish pizza pan with foil and spray with non-stick spray. Set aside.
Cream together butter and sugars, then mix in eggs and vanilla. Slowly mix in flour, graham cracker crumbs, salt and baking soda till well incorporated. Stir in chocolate chips.
With an offset spatula, smooth dough into prepared pan. Bake for 18-20 minutes or until golden brown. Cool completely.
Melt milk chocolate and cream together and stir till smooth. To use the microwave, stop and stir at 30-second increments till smooth. You may need to whisk the mixture to get all the chocolate bits to melt. Allow to cool slightly and spread over crust, stopping about ½ inch from the edge. Put in fridge to allow chocolate to cool.
Sprinkle mini marshmallows over chocolate. Broil about 6 inches from the element for 2-3 minutes till marshmallows are light golden brown. Watch carefully to prevent burning. Cool. Run a knife under very hot water, then dry to slice.
Nutrition Information:
Yield:
16
Serving Size:
1 slice
Amount Per Serving:
Calories: 426
Total Fat: 17g
Saturated Fat: 10g
Trans Fat: 0g
Unsaturated Fat: 6g
Cholesterol: 37mg
Sodium: 208mg
Carbohydrates: 67g
Fiber: 3g
Sugar: 47g
Protein: 6g
Note: This post may contain affiliate links; view
my Disclosure Policy
for details. I earn a small percentage from any purchase you make by clicking on these links at no extra cost to you.