When it comes to s'mores, I can take 'em or leave 'em. But s'mores desserts are a whole different story! These S'mores Fudge Bars are 3 layers of decadence: graham cracker crust, rich fudge and a marshmallow topping.
S'mores Fudge Bars
Growing up, s'mores were part of nearly every summer gathering. Whether a picnic at a local park or around a campfire in the Rockies, my mom would pack the requisite graham crackers, marshmallows and Hershey bars. We looked forward to the fire dying down so we could make those ooey, gooey sweet marshmallows sandwiches.
But to be truthful, I would have rather eaten a couple graham crackers and half a chocolate bar. As an adult, I was thrilled to discover s'mores desserts. Now these I cannot resist! S'mores cookies, pies…and these incredible S'mores Fudge Bars!
Three Scrumptious Layers
This is my monthly recipe swap from with my sweet friend, Danielle, of Hugs & Cookies. I found this recipe on her blog and knew it would be a hit. A  huge hit in fact! I upped the butter in the crust as Danielle suggested in her recipe, but otherwise made it as written. My "fluff" wasn't stiff enough to make  peaks and swirls, but they still received a bevy of compliments!
This classic American flavor profile would be a magnificent treat for Memorial Day, the Fourth of July or Labor Day. But I wouldn't wait for a holiday to make these gems.
*Tip of the Day: A hot, dry knife helps facilitate cutting through the sticky topping.
Two Sweetie Pies
Thanks again to my lovely friend, Danielle for another magnificent dessert recipe!
Check out Danielle's take on this recipe as well as her social media sites!
Print
S'mores Fudge Bars
Layered s'mores bars with a graham cracker crust, fudge center and marshmallow topping.
Author:
Prep Time: 20 minutes
Cook Time: 20 minutes
Total Time: 40 minutes
Yield: 16 bars
Category: Cookies, Dessert
Ingredients
Crust
2 cups graham cracker crumbs
10 tablespoons butter, melted
¼ cup sugar
½ teaspoon salt
Fudge layer
2 cups milk chocolate chips
14 ounce can of sweetened condensed milk
Marshmallow Layer
¾ cup sugar
½ cup light corn syrup
¼ cup water
¼ teaspoon salt
2 egg whites
¼ teaspoon cream of tartar
1½ teaspoons vanilla
Instructions
Preheat oven to 350°
Line a 9×9 baking pan with nonstick foil.Set aside
Mix all crust ingredients and press into the bottom of the pan.
Bake for 10 minutes and let cool.
For the fudge filling, microwave the condensed milk and the chocolate chips together until melted and smooth. Pour onto the crust and spread with offset spatula. Place in refrigerator to chill.
In a mixer, beat 2 egg whites and cream of tartar together until soft peaks form. Let that rest while you make the sugar syrup.
In a pot, combine sugar, corn syrup, water and salt over medium-high heat.
Boil together until a candy thermometer reaches 240°. This mixture is very HOT. Be careful.
Slowly and carefully drizzle this into the egg whites with the mixer on low speed.
Once added, put mixer on medium-high and beat 8 minutes.Add vanilla the last few seconds.
Spread this all on top of the chocolate layer carefully. Swirl or make peaks if desired.
Put pan under broiler for 1 minute or until the top of the marshmallow layer gets lightly golden. Watch carefully.
Cool,chill, then cut into bars to serve.
Notes
Adapted from Cookies & Cups via Hugs & Cookies
More S'mores Desserts: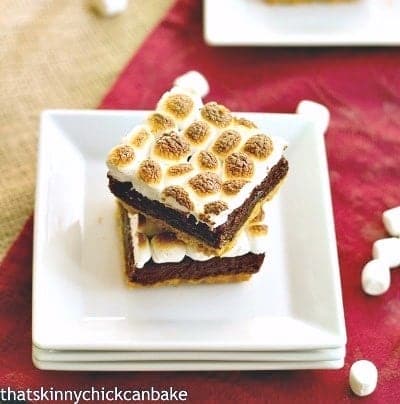 More S'mores Recipes You'll Love:
Note: This post may contain affiliate links; view my Disclosure Policy for details. I earn a small percentage from any purchase you make by clicking on these links at no extra cost to you.