S'mores Ice Cream Sundae
After a dreadfully miserable start to our spring, the heat is on! A S'mores Ice Cream Sundae is an easy, elegant dessert to cool you from the inside out and involves no baking! This post is sponsored by Turkey Hill Dairy and all opinions are my own.
A twist on the classic campfire treat, this s'mores dessert is nothing more than layered mini marshmallows, scoops of rich and luscious Turkey Hill Dairy All Natural Ice Cream, bits of graham crackers and dreamy fudge sauce.
Note: This post may contain affiliate links; view my Disclosure Policy for details. I earn a small percentage from any purchase you make by clicking on these links at no extra cost to you.
S'mores Ice Cream Sundae
As a child, s'mores were a favorite summer dessert. Whether at picnics with family friends at neighborhood parks or up in the Rocky Mountains around a smoky campfire, nothing beats a toasted marshmallow sandwiched with melty milk chocolate.
But as an adult, I'm all about a simple yet beautiful after-dinner treat. Instead of the traditional s'mores, I created a s'mores ice cream sundae.
Starting with an all-natural ice cream churned with minimal ingredients including extra cream, makes all the difference. I fell for Turkey Hill's high quality, rich and decadent ice cream with my first bite. Layering scoops of their vanilla bean and vanilla bean chocolate ice cream with the other s'mores components was a piece of cake and utterly delectable!
Turkey Hill's Good Mooed Sampling Tour
Have I tempted you enough? If you're lucky enough to live on the East Coast through the Midwest, the Good Mooed Sampling Tour may be headed your way.
Turkey Hill's All Natural Ice Cream, which was just launched last year, will be available for sampling in selected states on this tour. Their terrific ice cream brings you a taste of Lancaster County, Pennsylvania, with each delicious spoonful.
Look for the 13-foot, two-ton iconic cow to greet you at each of these events! Just think of the photo ops! Check if the sampling tour is coming to your neck of the woods here.
And don't forget to follow Turkey Hill Dairy on Twitter, Instagram, and Facebook.
Where to find Turkey Hill Ice Cream for Your S'mores Dessert
Whether or not you want to make this s'mores dessert or just have a craving for a simple bowl of terrific ice cream, you need to check out this top notch ice cream brand. This is seriously good ice cream, I promise!
If you don't happen to be in the tour areas, visit the Turkey Hill Store Locator to find the nearest retailer near you. I found ours at our neighborhood Kroger.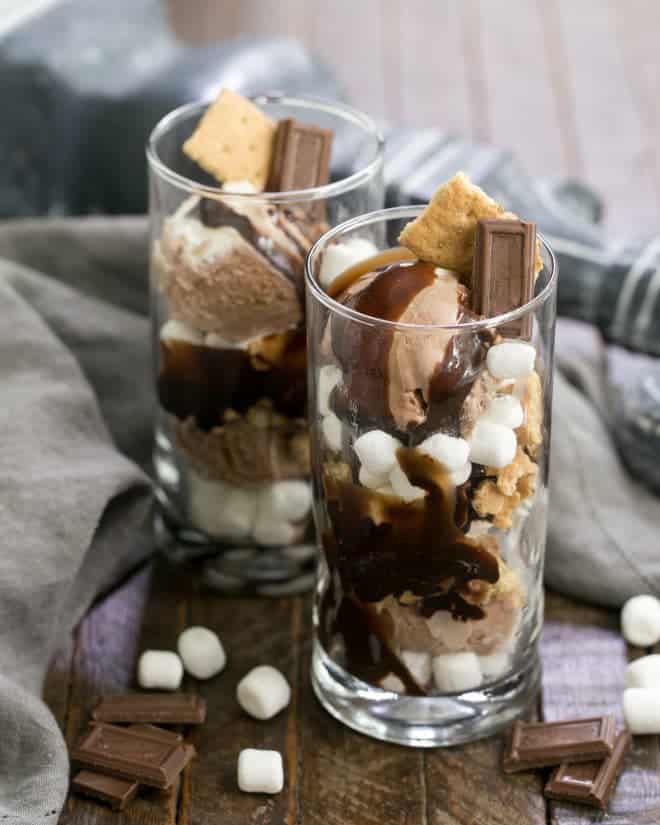 More Frozen Desserts You'll Love:
Do you have a favorite combination of ice cream and toppings? Let me know in the comments!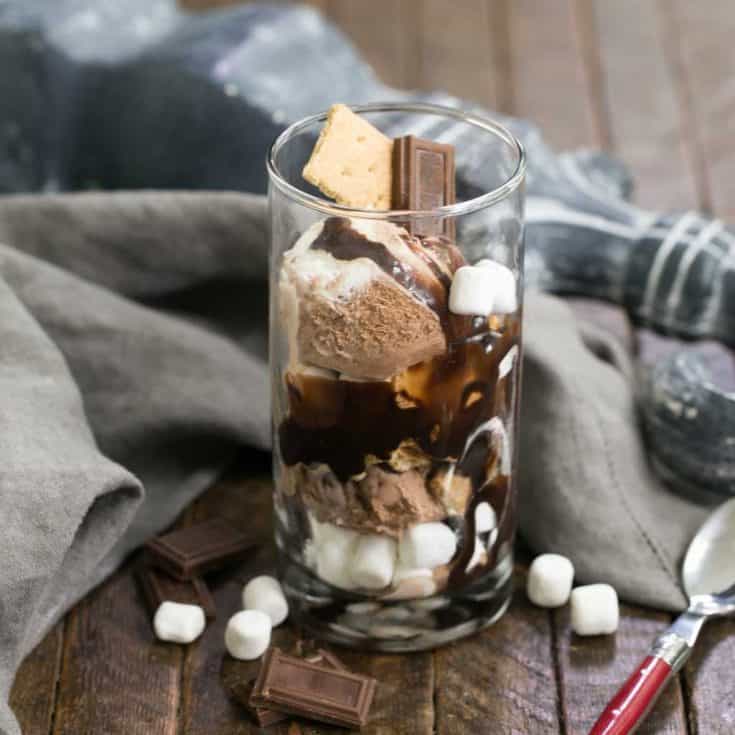 The Recipe:
S'mores Ice Cream Sundae
Prep Time 15 minutes
Total Time 15 minutes
Yield 1 serving
An ice cream sundae inspired by the classic campfire dessert
Ingredients
4-6 tablespoons mini marshmallows, divided
1 graham cracker, chopped into small pieces
3-4 scoops of Turkey Hill's All Natural Ice Cream (I used Vanilla Bean and Chocolate Vanilla Bean), divided
Hot fudge
More mini marshmallows, plus squares of chocolate and/or graham cracker pieces to garnish.
Instructions
In a tall glass or ice cream sundae glass, layer half the marshmallows, then two scoops of ice cream, half the graham crackers, then a drizzle of hot fudge sauce.
Repeat the layers using one or two more scoops of ice cream, depending on the size of your glasses.
Garnish with a few mini marshmallows, squares of chocolate, and/or graham cracker pieces to serve.
Notes
This recipe could easily make two servings. Just use smaller serving glasses. Or serve in bowls starting with 3 scoops of ice cream and just one round of toppings.
This is easily adaptable. Just layer the ingredients you love in the order that makes sense to you. There is no right or wrong!
Make a sundae bar by setting out all ingredients and let guests scoop and layer ingredients as they like.
Nutrition Information:
Yield:
1
Serving Size:
1
Amount Per Serving:
Calories: 875
Total Fat: 32g
Saturated Fat: 15g
Trans Fat: 0g
Unsaturated Fat: 15g
Cholesterol: 184mg
Sodium: 519mg
Carbohydrates: 104g
Fiber: 3g
Sugar: 68g
Protein: 42g
Note: This post may contain affiliate links; view
my Disclosure Policy
for details. I earn a small percentage from any purchase you make by clicking on these links at no extra cost to you.