Flourless Chocolate Cake from Princeville Hotel
A pound of butter, a pound, and a quarter of chocolate, sugar, and 7 eggs make for one out of this world Flourless Chocolate Cake!!! Bill didn't want this one to leave the house!
This Homemade Chocolate Cake has only 5 ingredients, so besides being extremely decadent and tasty, it's simple to make!
Flourless Chocolate Cake from Princeville Hotel
My favorite volunteer opportunity at my son's high school was the Christmas faculty luncheon. They'd gotten away from the oodles of homemade goodies that were provided by the moms when I chaired it years ago. But this year a few of us brought some baked goods.
I love to choose the richest desserts I can find like this French Silk Chocolate Cake. This incredible homemade chocolate cake recipe from Princeville Hotel sure fits the bill. Where or what is Princeville Hotel?? You've got me. Maybe I will find out by the time I finish writing this post! Garnished with raspberries and freshly whipped cream, this decadent dessert disappeared quickly.
5 Ingredient Recipe
This flourless chocolate cake recipe has just five ingredients, so be sure to use high-quality chocolate and butter. I didn't look at the prices as I tossed three chunks of Callebaut semi-sweet chocolate into my grocery cart. Also, make sure to beat the heck out of the sugar and eggs; I let them go at high speed in my Kitchen Aid mixer for 5 full minutes. This will ensure a smooth and silky texture in the final product.
If you haven't made a cheesecake in a ban marie, it's worth the trouble here as with most cheesecake recipes. Wrapping the bottom of the pan in heavy-duty foil and setting it in a roaster full of water to bake allows for an even baking temperature, and therefore a nice consistency throughout.
A Few Tips for Making the Best Flourless Chocolate Cake:
Use quality chocolate, butter, and vanilla, like Nielsen-Massey Vanillas 8-oz. Madagascar Bourbon Vanilla Extract for the best results.
Crack your eggs on a flat surface and you'll be less likely to have pieces of shell fall into your batter.
Make sure your chocolate is thoroughly melted for the smoothest batter.
A ban marie, or water bath, is a technique that helps a dessert bake at a constant temperature. With cheesecakes, it often helps prevent cracking. In this dessert, it helps produce a silky smooth texture.
To prevent any of the water of the ban marie from getting inside of your 10-Inch Springform Pan, wrap the pan well in 2 sheets of heavy-duty aluminum foil.
The top of the cake will have some tiny holes which are the result of air bubbles in the batter. For the best presentation, you'll want to flip your cake over, making the bottom then the new top.
Well greased Round Parchment Paper will keep the bottom of the cake from sticking to the pan. Carefully peel it off after flipping the cake onto the serving platter.
If there are any imperfections on the top of your cake, just cover them with berries!
More Flourless or Gluten-Free Recipes You'll Love:
P.S. The Princeville Hotel was located in Kauai, but the restaurant where this cake became famous is now out of business.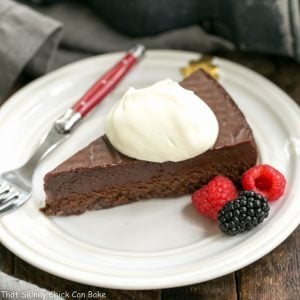 The Recipe:
Flourless Cake Chocolate from Princeville Hotel
Prep Time 15 minutes
Cook Time 40 minutes
Total Time 55 minutes
Yield 16 servings
An outrageously rich and delectable flourless chocolate cake!
Ingredients
1 pound good quality butter
1 1/4 pound high-quality semi-sweet chocolate, chopped (I used Callebaut)
3/4 cup sugar
7 eggs, at room temperature
2 teaspoons vanilla
Instructions
Preheat oven to 325º. Prepare a 10-inch springform pan (or high sided cake pan) by placing a round piece of parchment in the bottom, then greasing the pan. If using a springform, wrap the bottom and up the sides with aluminum foil to prevent water from the ban marie from seeping into the cake while baking.
Melt chocolate and butter in the microwave, stopping and stirring at 30-second intervals till smooth. Set aside and allow to cool.
Whip sugar and eggs on high speed for 5 minutes till the batter reaches the ribbon stage (when you lift up a spoonful of batter, it streams down in a nice thick "ribbon"). Slowly add chocolate with the mixer going (you don't want to "cook" the eggs by adding warm chocolate too quickly). Then add vanilla. Pour into prepared pan.
Place pan into a roaster and add hot water into roaster to reach about halfway up the cake pan (making sure not to add past the aluminum foil if using). Bake 40 minutes.
Cool to room temperature, then chill cake. A few hours before serving, remove the cake from the springform pan, flip it onto a serving plate, and carefully remove the parchment paper. Bring to room temperature to serve.
Cake may be made a few days ahead and refrigerated. It also freezes well...just defrost slowly in the refrigerator before serving. Serve with whipped cream and fresh berries.
Nutrition Information:
Yield:
16
Serving Size:
1 slice
Amount Per Serving:
Calories: 442
Total Fat: 36g
Saturated Fat: 22g
Trans Fat: 1g
Unsaturated Fat: 12g
Cholesterol: 142mg
Sodium: 217mg
Carbohydrates: 32g
Fiber: 2g
Sugar: 29g
Protein: 4g
Note: This post may contain affiliate links; view
my Disclosure Policy
for details. I earn a small percentage from any purchase you make by clicking on these links at no extra cost to you.