Best Angel Food Cake Recipe
This Angel Food Cake Recipe is sweet, light, and ethereal, plus it's ideal for topping with sweet summer berries or peaches. With the right pan and a few tips, you can bake up a perfect version in your own kitchen!
Most home cooks will find it easier to buy a box mix to bake an angel food cake but wait until you taste the difference between that box and an Angel Food Cake from Scratch. The flavor and texture cannot be rivaled!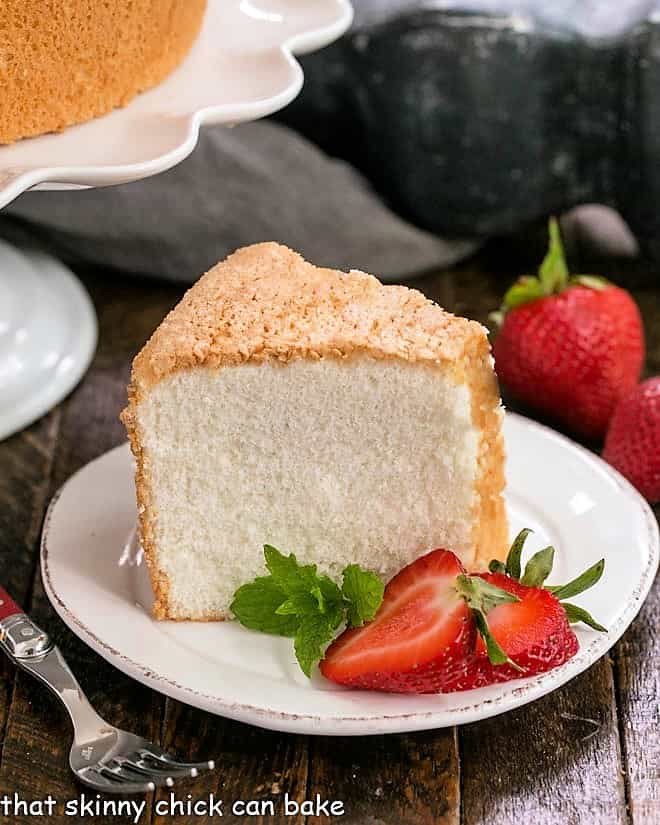 Why You Must Make
It had been almost a decade since I made an angel food cake from scratch, and that was a version baked in a jellyroll pan and turned into a shortcake-like dessert.
When you have fresh ripe fruit on hand, an angel food cake is a perfect way to showcase it. The juices will sink into the cake and a little ice cream or whipped cream will make a memorable dessert.
If you're craving something sweet, but watching your calories, this is one of the lighter desserts you can make.
With beautiful local strawberries and Southern peaches in my refrigerator, I had the perfect angel food cake toppings. When local strawberries are in season, I recommend making a Fresh Strawberry Compote! After checking my egg supply and dusting off my angel food cake pan, I was set!
You may wonder where this cake got its name. The first references to Angel Food Cake appear in the late 1800s and the recipe appears to hail from the Pennsylvania Dutch. And it was most likely named an angel cake due to its light and fluffy texture.
Ingredient Notes:
Cake Flour – Less gluten than all-purpose, so produces a softer, more tender crumb
Sugar – I use regular granulated sugar, other recipes use superfine or even some powdered sugar.
Egg Whites – PRO-Tip: The egg whites should be at 60 degrees, warmer than from the refrigerator, but not at room temperature. This is the ideal egg temperature for making this cake.
Cream of Tartar – the acid in this powder helps stabilize the egg whites.
Salt – Salt is a flavor enhancer and important in sweet and savory recipes. Use finer table salt instead of coarse kosher salt.
Vanilla Extract – Real vanilla, never imitation
Fresh Lemon Juice – Real lemon juice, never bottled. Like cream of tartar, the acid helps stabilize the egg whites.
Almond Extract – Another popular flavor addition for angel food cakes. This is always optional.
How to Make the Best Angel Food Cake
Here are some tips on how to make an Angel Food Cake Recipe from Scratch:
You'll need a dozen egg whites for this angel food cake recipe, so make sure to have a good supply.
PRO-Tip: Eggs separate best cold, but whip best at room temperature. The ideal temperature for egg whites used in angel cakes is 60 degrees, slightly cooler than room temperature.
PRO-Tip: Make sure no grease or even a speck of egg yolk contaminates the whites. Either will prevent the whites from whipping properly. Wash the mixer bowl and beaters well before making. If you're unsure if all the oils are removed, wipe them down with vinegar.
Start whipping the eggs at low speed to make small bubbles, then increase the speed to develop a "foam" with small bubbles. This stable foam will help the cake rise to perfection! Do not overbeat.
Once the foam develops, add the cream of tartar to help stabilize the whites and the salt. Then, slowly add the sugar to the egg whites a tablespoon at a time on medium speed.
PRO-Tip: The cream of tartar will stabilize the whipped egg whites (foam) allowing them to expand up to 8 times their initial volume! Its acidity lowers the pH of the whites letting them stretch and hold air without collapsing.
PRO-Tip: Only beat to very soft peaks. Not the stiff peaks for pavlova and meringue recipes. The batter, once the flour is added, should be pourable. Keep this in mind! Overbeating will make the cake's structure unstable and the cake will fall.
Use a tube pan that doesn't have a non-stick coating as your Angel Food Cake Pan. The batter needs a surface to hold onto to rise properly. It won't be able to stick to a slick surface.
Use cake flour, which has less gluten than all-purpose flour, for the most tender cake.
If you're unsure what the word "folding" means in the culinary world, it's using a rubber spatula to gently add a heavier ingredient into a lighter, fluffy ingredient, without deflating it. In this recipe, the dry ingredients must be folded into the egg whites.
Folding is done in a circular motion with a large rubber spatula. Add the flour mixture to the egg whites, cut down through the center, scrape the spatula along the sides of the bowl, bring the batter up, and fold it over. Rotate the bowl 90 degrees and repeat over and over, without overmixing.
When your batter is done mixing, pour it into the tube pan and smooth the top with an offset spatula. If you have to scoop it in with spoonfuls, it's most likely over-beaten.
PRO-Tip: Bake until the top of the cake springs back when you press down with the tip of your finger. Despite what other recipes may say, the toothpick test isn't 100% accurate;
Cool completely, Upside down using either a soda bottle or one similarly shaped or using the feet on the pan if available. PRO-Tip: Cooling upside down prevents gravity from compressing the cake while it's warm.
To remove the cake from the pan, run a knife around the edges of the pan to loosen it. Use a serrated knife to slice.
Frequently Asked Questions
What is Angel Food Cake?
In contrast with a Devil's Food Cake, which is dark and chocolaty, an angel food cake is a "light and airy sponge-type cake made with stiffly beaten egg whites," according to the Food Lover's Companion. There are no yolks or fats in the recipe, and it's baked in a tube pan.
Is Angel Food Cake Gluten-Free?
No, angel food cake contains flour, so it contains gluten.
Can You Make Angel Food Cake in Other Pans?
The traditional angel food cake pan is a two-piece tube pan. A non-stick version will not work as that will hinder the cake from rising. The two pieces make it easier for removal and the tube shape helps the inside cook at the same rate as the exterior.
Yes, other pans will work, though they must not be greased nor should they be lined with parchment paper. The pan's natural surface allows the batter to adhere to the sides and assists with the rising. The timing must be adjusted, but loaf pans, sheet pans, jelly roll pans, etc. can be used.
How Do You Store Angel Food Cake?
Wrap it well in plastic wrap and store it at room temperature for 2-3 days. Longer than that, refrigerate for up to a week. Well wrapped, an angel food cake can be frozen for up to 6 months.
If the cake is frosted with whipped cream or filled with mousse or custard, it must be kept in the refrigerator.
Do You Have to Cool an Angel Food Cake Upside Down?
Yes, it must be cooled upside down. I remember my mom placing her angel food cakes upside down with the center over a soda bottle. My current angel food cake has "feet" on the top of the pan so when it's inverted, the cake is suspended above the counter. The type of pan you own (or borrow) will determine whether or not you will need to use a bottle.
This cake is still fragile when hot, and if cooled right side up, gravity would cause the cake to deflate. It's vital to use this method to have a light and fluffy cake.
Why Did My Angel Food Cake Fall or Sink?
There are many potential reasons a cake can fall or sink as it cools. A few causes include that the cake was not fully baked, the egg whites were overbeaten preventing the proper structure from developing, the oven door was open during baking or it was overmixed when the dry ingredients were added.
Why Did My Cake Drop Out of the Pan When Inverted?
Again, it may not have been fully baked, the pan was nonstick or greased, there was too much sugar added or not all the flour was incorporated, or the bottom of the 2 part angel food pan was accidentally pressed on when inverting the pan.
What's the Best Way to Separate Eggs?
You can purchase egg-separating tools, but those are not 100% foolproof. So I recommend using 3 bowls. One for the yolks, one for each egg white during the separating process, and one for collecting all the egg whites.

The best procedure is to separate the first egg, dropping the egg white into a temporary collection bowl. Then add the yolk to the yolk bowl and, finally, move the collected white to the whites bowl. Repeat with the 11 remaining eggs.
What Are Some Good Angel Food Cake Toppings?
My go-to topping for angel food cake is fresh berries and sweetened whipped cream. Strawberries can be sliced and sugared and allowed to macerate before using. Other fresh berries are delicious, too, or even a cherry compote.

Other tasty options are ice cream and fudge or chocolate sauce, caramel or salted caramel sauce, and lemon curd. The whole cake can be frosted with classic American buttercream or even a more indulgent Swiss meringue buttercream.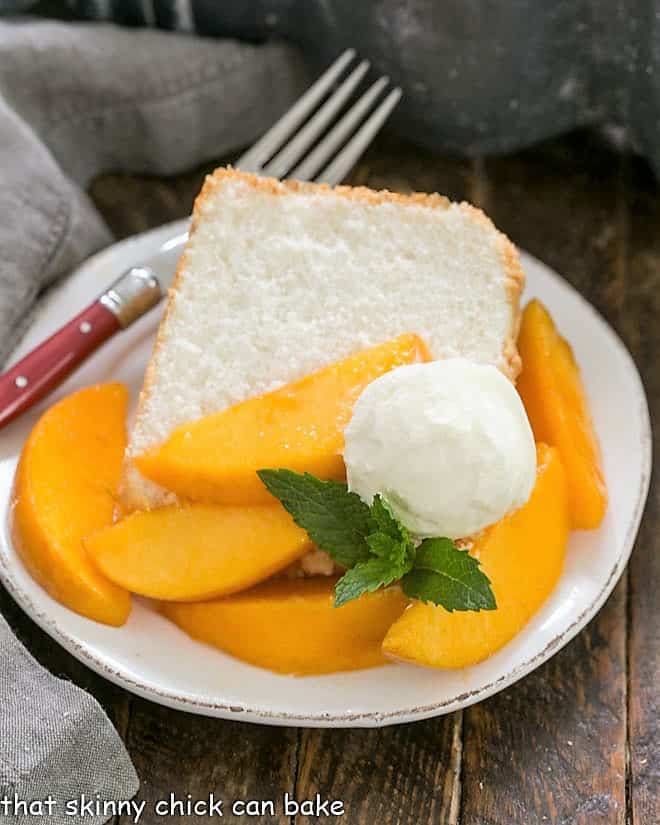 You May Also Like:
Stay in touch through social media @ Instagram, Facebook, and Pinterest. Don't forget to tag me when you try one of my recipes! And if you love the results, please give it a 5-star rating in the recipe card. Note: As an Amazon Associate, I earn from qualifying purchases. Visit my Amazon Store for my favorite products.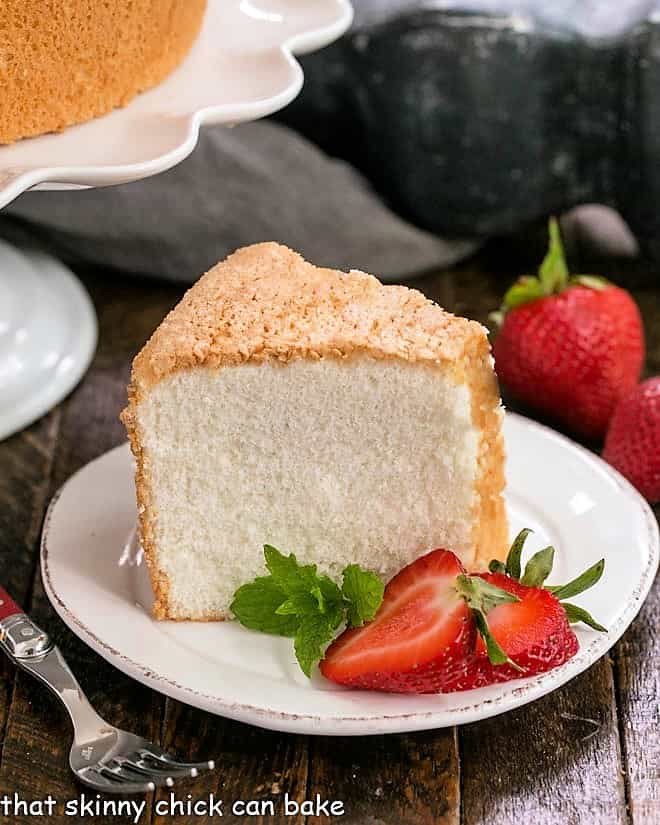 The Recipe:
The Best Angel Food Cake Recipe
Prep Time 30 minutes
Cook Time 1 hour
Additional Time 2 hours
Total Time 3 hours 30 minutes
Yield 12 servings
A classic light and airy angel food cake recipe.
Ingredients
1 cup sifted cake flour
1 ½ cups sifted sugar, divided
12 large egg whites, room temperature
1 teaspoon cream of tartar
¼ teaspoon salt
2 teaspoons vanilla extract
1 teaspoon fresh lemon juice
½ teaspoon almond extract
Instructions
Preheat the oven to 325°.
Whisk together the flour and 3/4 cup of the sugar in a small bowl. Put the remaining ¾ cup sugar in another small bowl.
With your stand mixer beat the egg whites on low speed until they begin to froth.
Add the cream of tartar and salt and beat at medium speed until the whites form very soft, fluffy mounds.
With the mixer still at medium speed, beat in the remaining ¾ cup sugar, one tablespoon at a time, until all the sugar is added and the whites become shiny and form soft peaks.
Add in the vanilla, lemon juice, and almond extract and mix until just blended.
Sift about 3 tablespoons of the flour sugar mixture into the egg white mixture, then gently fold it in, using a large rubber spatula. Repeat until all of the flour-sugar mixture is incorporated.
Gently scrape the batter into a 9-inch tube pan with a removable bottom, and smooth the top with an offset spatula. Bake until the cake is golden brown and the top springs back when pressed firmly, about 50-60 minutes.
If the cake pan has feet around the rim, invert the pan onto them once it is removed from the oven. If the pan does not have feet, invert the pan onto the neck of a bottle. Let the cake cool completely, for 2-3 hours.
To remove the cake, gently run a knife around the edge of the pan. Slide the cake out of the pan and cut the same way around the removable bottom to release. To slice, saw gently with a long serrated knife. Serve cake immediately or cover loosely with plastic wrap.
Notes
Adapted from Cook's Illustrated
Recommended Products
As an Amazon Associate and member of other affiliate programs, I earn from qualifying purchases.
Nutrition Information:
Yield:
12
Serving Size:
1
Amount Per Serving:
Calories: 159
Total Fat: 0g
Saturated Fat: 0g
Trans Fat: 0g
Unsaturated Fat: 0g
Cholesterol: 0mg
Sodium: 100mg
Carbohydrates: 34g
Fiber: 0g
Sugar: 25g
Protein: 5g
Thatskinnychickcanbake.com occasionally offers nutritional information for recipes contained on this site. This information is provided as a courtesy and is an estimate only. This information comes from online calculators. Although thatskinnychickcanbake.com attempts to provide accurate nutritional information, these figures are only estimates. Varying factors such as product types or brands purchased can change the nutritional information in any given recipe. Also, many recipes on thatskinnychickcanbake.com recommend toppings, which may or may not be listed as optional and nutritional information for these added toppings is not listed. Other factors may change the nutritional information such as when the salt amount is listed "to taste," it is not calculated into the recipe as the amount will vary. Also, different online calculators can provide different results. To obtain the most accurate representation of the nutritional information in any given recipe, you should calculate the nutritional information with the actual ingredients used in your recipe. You are solely responsible for ensuring that any nutritional information obtained is accurate.
Note: This post may contain affiliate links; view
my Disclosure Policy
for details. I earn a small percentage from any purchase you make by clicking on these links at no extra cost to you.