This heavenly Strawberry Vanilla Cream Pie will have your Valentine's heart swooning! Chock full of luscious, ripe berries nestled within a velvety vanilla, cream cheese and whipped cream filling!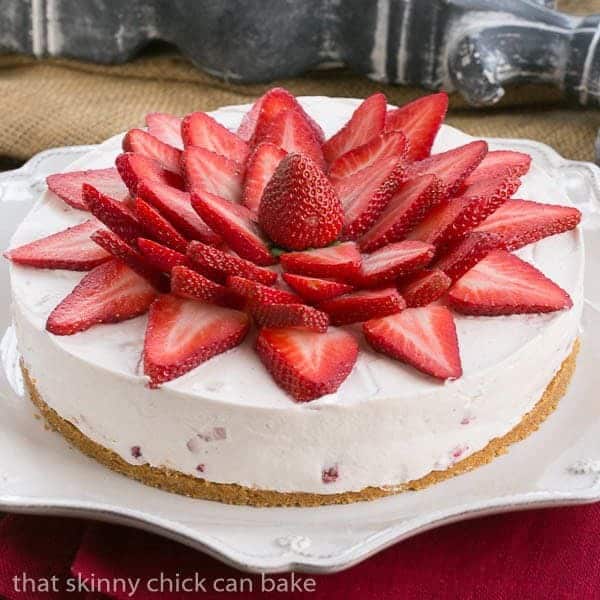 Strawberry Vanilla Cream Pie for Your Sweetheart!
With Valentine's Day approaching I'm testing out all sorts of marvelous sweets. I spied some spectacular, fragrant strawberries at the market and created this dreamy pie with a double dose of berries. We were going out to dinner with a group of friends, so I invited them back to our house for coffee and dessert. Light and delectable, we gathered in the kitchen and I sliced wedges for all. The plates were practically licked clean. If you have strawberry lovers in your family, this dessert will blow their minds. Wouldn't it be the perfect holiday treat?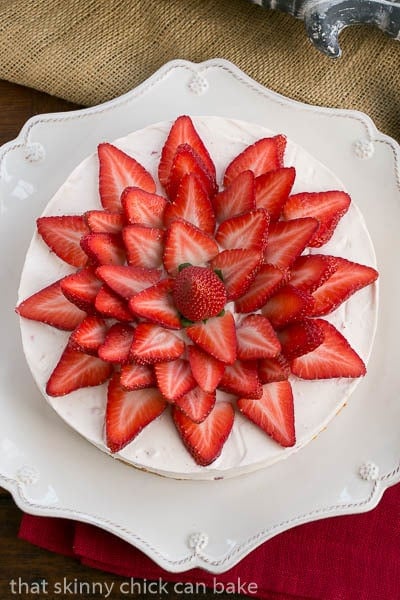 Almost No-Bake
The base of this dessert was a classic graham cracker crust. I baked mine, but you could easily just pat the crumbs into the springform pan and chill. Mashed strawberries were added to sweetened cream cheese, then whipped cream was folded in to lighten the mixture. Poured over the crust, the ungarnished pie went into the fridge. Before serving, I created a decorative pattern with sliced berries for a fancy schmancy presentation, but whole or halved berries would be just as lovely. This wasn't the easiest pie to slice, but it was certainly one of the tastiest!
Welcome to #VanillaWeek hosted by Terri from Love and Confections. I am so excited about this week-long event. Red velvet and chocolate are everywhere this time of year, and the #VanillaWeek Bloggers have come together to focus on one of our favorite flavors – Vanilla. We hope you join us throughout the week where we will be sharing vanilla recipes from breakfasts, drinks, desserts and even savory dishes! Also, don't forget to enter below for our big #VanillaWeek giveaway! 
Print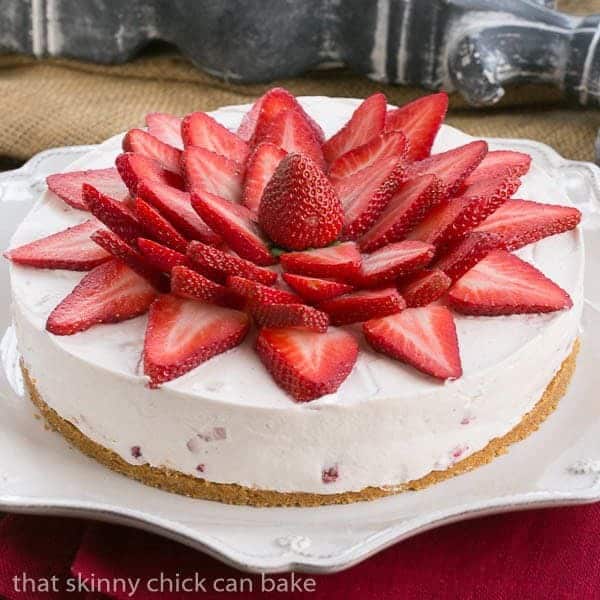 Strawberry Vanilla Cream Pie
This creamy vanilla pie is chock full of strawberry bits plus topped with a sunburst of strawberry slices
Author:
Prep Time: 30 mins
Cook Time: 8 mins
Total Time: 38 minutes
Yield: 10 servings 1x
Ingredients
1 1/4 cups graham cracker crumbs
3 tablespoons sugar (I used Dixie Crystals)
1/3 cup butter, melted
16 ounces (2 packages) cream cheese; at room temperature
1/2 cup sugar (I used Dixie Crystals)
1 teaspoon vanilla (I used Nielsen-Massey Bourbon Pure Vanilla Extract)
1/2 teaspoon lemon extract
2 cups (plus more for topping) strawberries; sliced
2 cups cold heavy whipping cream
1/2 cup sifted powdered sugar (I used Dixie Crystals)
Instructions
Preheat oven to 350º. Remove base from 9-inch springform pan and wrap with nonstick foil. Attach rim back onto base and set aside.
Mix graham cracker crumbs, sugar and melted butter till well combined. Pat onto bottom of prepared pan. Bake for 8 minutes, then cool completely.
Mix cream cheese, sugar, vanilla and lemon extract until well blended. Mash 2 cups strawberry slices, stir into cream cheese mixture. Whip cream with powdered sugar until stiff peaks form; fold into cream cheese mixture. Scrape onto cooled crust and smooth top with offset spatula. Chill several hours or overnight.
Before serving, garnish with sliced strawberries as desired.

More Terrific #VanillaWeek Recipes from My Blogger Friends:
The Giveaway!


 Nielsen-Massey graciously supplied us with a variety of their quality products to use in our recipes. I love the dropped jaws when my friends spot the 32 ounce container of their stellar vanilla extract in my pantry. Nielsen-Massey products can be purchased at Williams-Sonoma. All Nielsen-Massey products are gluten-free, allergen-free, GMO-free and Kosher. And if you prefer to go organic, Nielsen-Massey has you covered with a line of organic products. I used both Nielsen-Massey vanilla and Dixie Crystals sugar in my #VanillaWeek desserts. Thanks to Bob's Red Mill, Silpat and Quirk Books for their generous gifts, too.

Nielsen-Massey has been crafting world-class vanillas and flavors since 1907. It is still a family owned business today and focuses on quality and its customers. Nielsen-Massey uses a cold extraction process for making its vanillas, which preserves more than 300 distinctive flavor compounds present in vanilla beans. Nielsen-Massey product can be purchased at Williams-Sonoma and all of their products are gluten-free, allergen-free, GMO-free and Kosher. Nielsen-Massey also has a line of organic vanillas available as well. Nielsen-Massey is generously giving a bottle of Madagascar Bourbon Vanilla Bean Extract, Madagascar Bourbon Vanilla Bean Paste and Tahitian Pure Vanilla Extract for each of the prize packs.
Nielsen-Massey products can be purchased at Williams-Sonoma. All Nielsen-Massey products are gluten-free, allergen-free, GMO-free and Kosher. Additionally, the company has a line of organic vanillas.
Madagascar Bourbon Pure Vanilla Extract: Taking premium, hand-selected beans cultivated on the Bourbon Island of Madagascar, Nielsen-Massey uses a proprietary cold extraction process to gently draw out and preserve the vanilla's over 300 flavor compounds. The result is a sweet, creamy, mellow flavor with velvety after-tones, perfect for cooking and baking both sweet and savory dishes. An exceptional "all-purpose" vanilla.
Madagascar Bourbon Pure Vanilla Bean Paste: Nielsen-Massey crafts its Madagascar Bourbon Pure Vanilla Bean Paste using its famous Madagascar Bourbon Pure Vanilla Extract and real seeds from the vanilla pod. Due to its thick consistency, similar to molasses, this culinary paste enables you to add more delicious vanilla flavor without thinning out your batters or sauces. It's also ideal for recipes, such as crème brûlée and ice cream, in which you want to add the enticing visual flair of vanilla seeds.
To replace vanilla extract in a recipe, simply measure the same amount of our Madagascar Bourbon Pure Vanilla Bean Paste and add. Or, replace one tablespoon of paste for everyone whole vanilla bean.
Tahitian Pure Vanilla Extract: A favorite of pastry chefs around the world, Tahitian vanilla features a floral, fruity, cherry-like flavor. This vanilla is very susceptible to heat, making our exclusive cold extraction process a necessity in preserving its more than 300 flavor compounds. Use Tahitian Pure Vanilla Extract to effortlessly add delicious, delicate vanilla flavor to such cold dishes as refrigerated and frozen desserts, pastry creams, fruit pies and sauces, smoothies, shakes, puddings, and custards.
Bob's Red Mill does not rush quality, and that sets them apart from other companies. Bob's Red Mill is providing Super Fine Cake Flour and Sparkling Sugar for each of the three prize packages. The Cake Flour is carefully milled and sifted to fine texture and is never cut with cornstarch, like other brands. This Cake Flour is ideal for all kinds of cakes, cupcakes, pancakes, biscuits and pie crusts. The Sparkling sugar is perfect as a topping for all your baked goods. It is a large cane sugar crystal that has a great sparkle. It can also by easily dyed with your favorite food coloring to create a festive topping.
Silpat is the original non-stick baking mat since 1965. Silpat products never need greasing and replace parchment paper, which saves time, money and reduces waste. They are perfect for sticky materials including batter, caramels, doughs and everything in between. Silpat has baking mats that include jelly roll pan size, macaron mat, cookie mat, and pretzel mat, among other types. Silpat will be providing a baking mat for each of the prize packs
Dixie Crystals is synonymous with high-quality sugar products that are all natural and non-GMO. Dixie Crystals products are not just for adults in the kitchen. In addition to having edible art projects, kid craft ideas, sugar scrubs, sweet science experiments, and homemade gifts available on their website, they just launched a new cookbook too. The 2015 edition of My First Cookbook has 28 easy and delicious kid-friendly recipes designed for children 6-12. They even have a sugar craft section in the cookbook that helps teach concepts like science, chemistry and math.
Quirk Books is generously providing a copy of Shauna Sever's Pure Vanilla cookbook for each of the prize packages. Pure Vanilla shares a history of vanilla from orchid to extract and information on the different varieties and flavors of vanilla. It also contains recipes for cakes, cookies, custards and creams. Glazed Vanilla Bean Doughnuts, Vanilla Cloud Cake, Vanilla Bean Meringue Kisses and Sea Salt Caramels, Homemade Vanilla Extract, Vanilla Sugar and Vanilla-Infused Liquors are just a sampling of the recipes available in the book.
Disclosure: Nielsen-Massey Vanillas, Bob's Red Mill, Silpat, Quirk Books and Dixie Crystals/Imperial Sugar are providing the prizes free of charge. These companies are also providing the bloggers with samples and product to use for #VanillaWeek. All opinions stated are my own.
Note: This post may contain affiliate links; view
my Disclosure Policy
for details. I earn a small percentage from any purchase you make by clicking on these links at no extra cost to you.