Strawberry Eton Mess with Homemade Strawberry Sauce
This Strawberry Eton Mess is a sweet parfait featuring layers of freshly whipped cream, crushed meringue, strawberries, and strawberry sauce.
This easy Strawberry Parfait Recipe makes the perfect dessert with an exquisite combination of flavors and textures.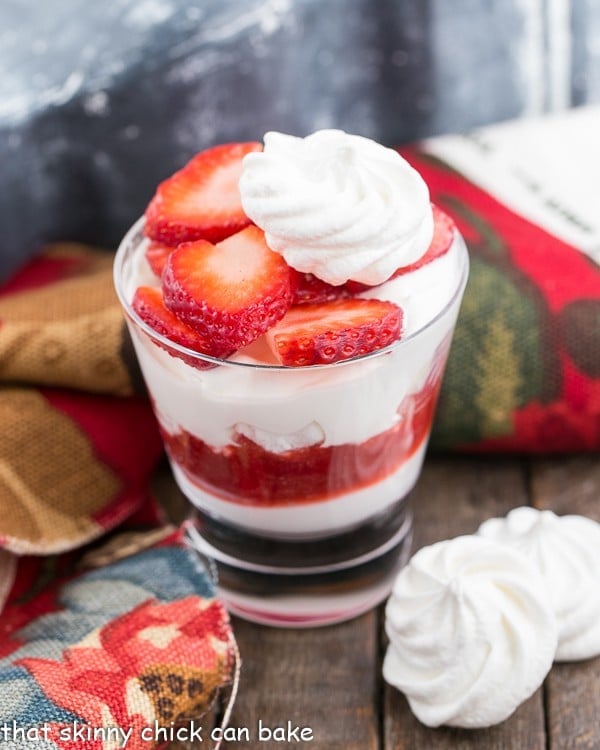 Why You Should Make an Eton Mess
Sometimes simple, quality ingredients make the best desserts.
Sliced and artfully arranged, sweet, peak of the season strawberries, whipped cream, meringue cookies, and strawberry sauce were transformed into a sublime dessert.
Showcased in decorative glasses, the vibrant layers made for a breathtakingly beautiful dessert.
The hubby raved with each and every bite. Seriously, I think it trumped chocolate cake and chocolate chip cookies, his two favorite desserts! This Eton Mess is the perfect way to celebrate Florida's winter strawberry season, our local strawberry season in June, as well as the California strawberries in the market the rest of the year.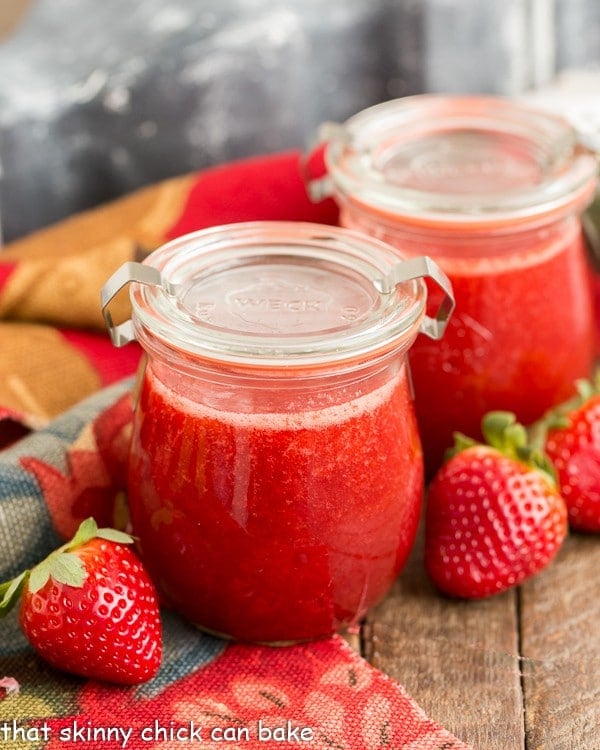 Homemade Strawberry Sauce
I took my first foray into real canning with this Homemade Strawberry Sauce. Canning is the perfect way to preserve these juicy, fragrant Florida berries while they're at their peak. Who knew canning was so easy?
I sterilized my jars by running them through the dishwasher on the sanitize setting. Boiling them would also work. Then after pouring the sauce into the canning jars, wiping the tops clean, and securing the lids, it was just a matter of processing them in boiling water.
Easy, peasy. I was delighted to find tight seals a day later when I went to make this outstanding recipe for Strawberry Eton mess. Whew.

Strawberry Eton Mess
We're lucky enough to find luscious Florida strawberries in Indiana this time of year. They actually taste like strawberries, unlike some winter berries; so sweet and juicy! They're perfect to use in the Strawberry Eton Mess fruit parfaits.
Frequently Asked Questions
What is an Eton Mess?
Eton mess is a British dessert made of strawberries, broken meringues, and whipped cream. First mentioned in 1893, it was served to Eton College students at an annual cricket match.
The "mess" may have come from the not-so-polished look of the finished dessert. Interesting to note, there is also a Lancing Mess made with bananas.
How to Assemble an Eton Mess?
The traditional assembly involves mixing the crushed meringues and berries into the whipped cream, making a true mess. But I prefer layering in clear glasses for a prettier presentation, similar to a parfait.
My layers were: Whipped Cream, Strawberries with Strawberry Sauce, Crushed Meringues. Repeat as able depending on your glassware. Garnish with a meringue, a piped swirl of whipped cream, and/or fresh berry slices.
Can You Make an Eton Mess in Advance?
The meringues can definitely be made in advance as can the strawberry sauce if you use it. But assembly should be limited to a couple of hours before you plan to serve. When the meringues come into contact with the whipped cream, they will get soft and eventually dissolve.
Tips for Making an Eton Mess:
The ingredients are simple, and if you care to make a more traditional version, you may skip the homemade strawberry sauce. Just purchase meringues (or make my Simple Meringue Cookies), buy ripe fragrant strawberries, and whip up some heavy cream with a touch of sugar and vanilla.
The success of this berry dessert depends on the quality of strawberries. Florida strawberries are terrific from November to April if you have access, then local strawberries are available to us in early June. The rest of the year, it's typically California berries in the market.
PRO-Tip: Buy only strawberries that are red and fragrant. When you get close to the display in the produce section, you should smell the aroma of strawberries!
PRO-Tip: Whipping your own cream is best. Using a cold bowl, cold beaters, and powdered sugar help stabilize the cream. Never use Cool Whip unless you are a major fan of the taste!
Pure vanilla extract is perfect for flavoring. Check the label and make sure you purchase pure vanilla, not imitation.
Layer carefully so that the cream and berries don't leave smears on the glasses you use as serving dishes.
You'll want to make these on the day you serve them for the best results. The sliced strawberries will deteriorate over time and the meringues will soften.
You can have all the ingredients ready to go (the French call this mise en place). The cream can be whipped, the berries hulled and sliced, and the meringues crushed. If serving for company, you can layer in pretty glass dishes an hour or two before they arrive.
EASY VERSION: To make it super easy, buy bakery meringue cookies to crush, use a can of real whipped cream like Reddi-wip, and layer with strawberries you slice and sugar an hour in advance so they can macerate!
More Strawberry Recipes: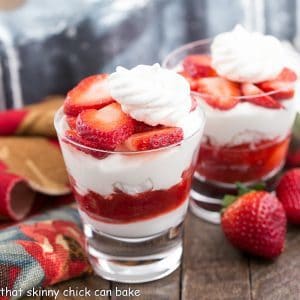 The Recipe:
Strawberry Eton Mess with Homemade Strawberry Sauce
Prep Time 30 minutes
Cook Time 20 minutes
Total Time 50 minutes
Yield 4 servings (varies depending on size of serving glasses)
A layered berry, whipped cream and meringue parfait dessert named for the British college from which it's thought to originate.
Ingredients
Strawberry Sauce:
2 pounds ripe strawberries
1 cup sugar
Juice of half a lemon
2 teaspoons of cornstarch (mixed in 1 tablespoon water)
For assembly:
1 1/2 cups heavy cream
1/3 cup powdered sugar
1 teaspoon vanilla
1 pound ripe strawberries, sliced
Store bought or homemade meringues
Instructions
To make strawberry sauce, hull and cut strawberries into chunks. Place in a medium saucepan. Add sugar and lemon juice and bring to a boil. Reduce heat to a simmer and cook, stirring frequently, until strawberries are very soft. Mash with a potato masher or spoon.
Pour contents of the pan into a fine-mesh sieve placed over a bowl or large spouted measuring cup. Press liquid through the sieve.
Skim any obvious foam off the top of the liquid and pour it back into the saucepan. Whisk in the cornstarch and water slurry and bring to a boil. Cook for 2-3 minutes until the mixture begins to thicken. Again, skim off any foam.
To can the sauce for use later, pour the sauce into sterilized canning containers. Wipe the rims clean and seal with the cap. Process in a water bath for 5 minutes (jars should be submerged in the boiling water).
Turn off the heat and let rest for 10 minutes. Remove from water bath and let rest the countertop for 24 hours. If the jars did not seal, use sauce within 3 weeks.
To make the Eton mess, whip the heavy cream with powdered sugar and vanilla until stiff peaks form. Set aside.
Crumble meringue cookies. Set aside.
Hull and slice berries.
Using 4-6 decorative glasses, start layering the desserts. Begin with a few spoonfuls of whipped cream followed by berries, strawberry sauce, some of the crushed meringues, and more whipped cream. Repeat as room allows finishing off with whipped cream and a strawberry or sliced strawberry to garnish.
Notes
For a more traditional Eton Mess, eliminate the strawberry sauce. Instead layer whipped cream, macerated berries (sliced and tossed with sugar), and broken meringues.
Recommended Products
As an Amazon Associate and member of other affiliate programs, I earn from qualifying purchases.
Nutrition Information:
Yield:
6
Serving Size:
1
Amount Per Serving:
Calories: 700
Total Fat: 33g
Saturated Fat: 21g
Trans Fat: 1g
Unsaturated Fat: 10g
Cholesterol: 101mg
Sodium: 68mg
Carbohydrates: 102g
Fiber: 7g
Sugar: 89g
Protein: 5g
Note: This post may contain affiliate links; view
my Disclosure Policy
for details. I earn a small percentage from any purchase you make by clicking on these links at no extra cost to you.