Mustard, Garlic, Lime Marinated Chicken Breasts
These Mustard, Garlic, Lime Marinated Chicken Breasts will rock your world. Tender and flavorful, you'll want to grill this spectacular chicken all summer long!
This is seriously the BEST chicken marinade. The results are juicy and outrageously tasty! Add this recipe for the perfect marinated chicken breasts for grilling to your menu ASAP.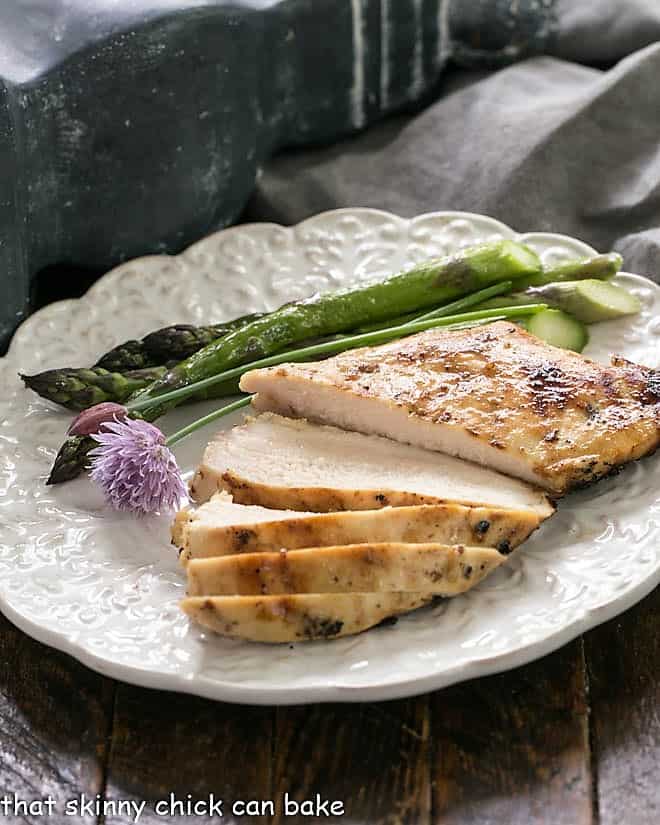 Why You Must Make
This easy chicken marinade infuses delicious flavor into your chicken.
It adds moisture so lessens the chance of dry chicken.
It's super easy to make, but you do need to allow 6 hours for the marinade to infuse into the meat.
I admit I'm a bit of a food snob. I pore over the bell peppers at the market, looking for the most vibrant, unblemished option. I search out fragrant berries and open the packages one by one to find the most perfect, unmarred fruit. I'm sure the produce folks roll their eyes when they see me coming.
When I added these marinated chicken breasts to our dinner menu, I was picky about the meat I chose. After picking out the best quality chicken within your budget, using the Best Chicken Marinade is key. My family loved this simple combination of lime juice, two types of Dijon mustard, brown sugar, and cider vinegar. And I loved how easy it was to throw together!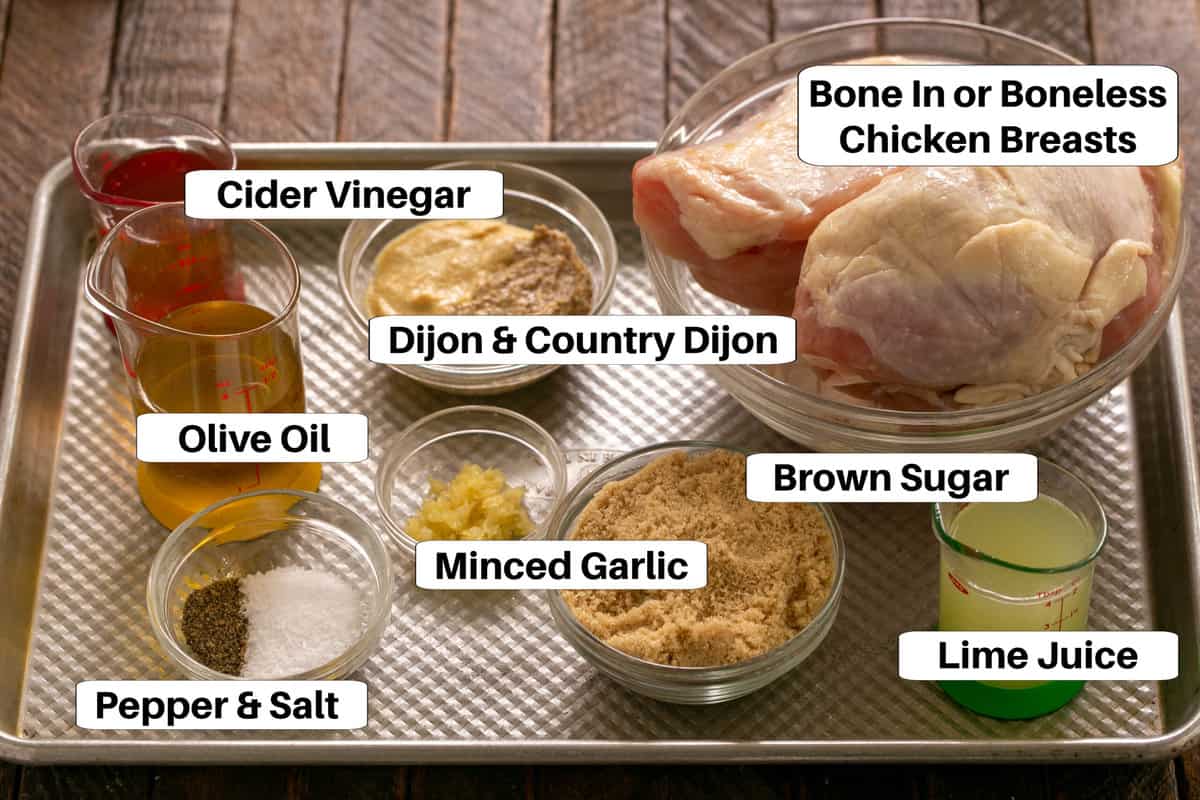 Ingredient Notes
Kitchen Staples – Salt, Freshly Ground Black Pepper, Olive Oil
Cider Vinegar – Helps balance the flavor and tenderize the chicken.
Whole Grain Mustard – Adds piquancy.
Dijon Mustard – Also adds piquancy/more complex flavor. I used Grey Poupon brand for both mustards.
Garlic – Peeled and minced.
Lime Juice – Freshly squeezed, from one lime. Bottled lime juice won't taste as good.
Brown Sugar – Balances the acidic ingredients in the marinade, and aids in browning.
Chicken Breasts – Bone-in or Boneless/Skinless both work well.
How to Make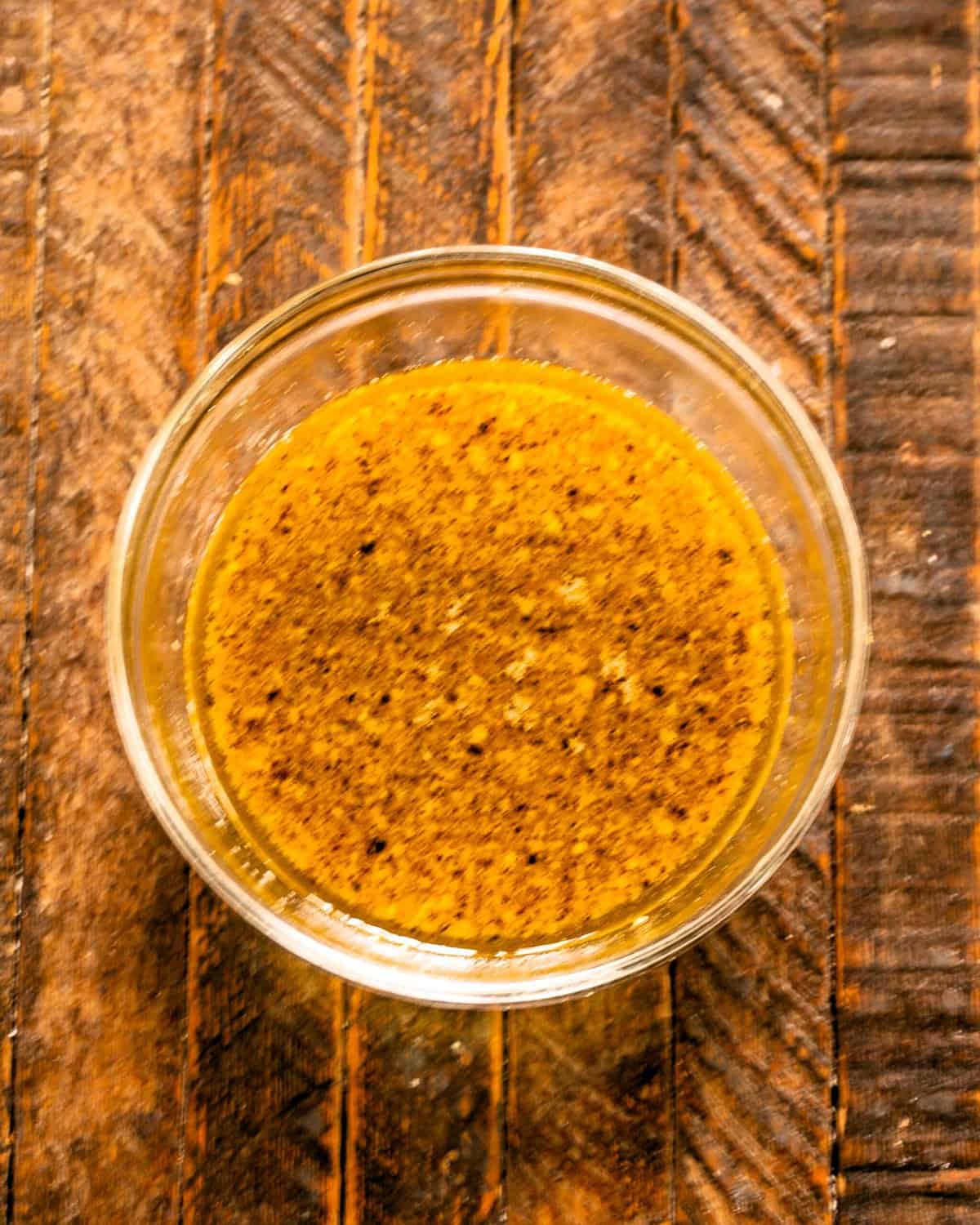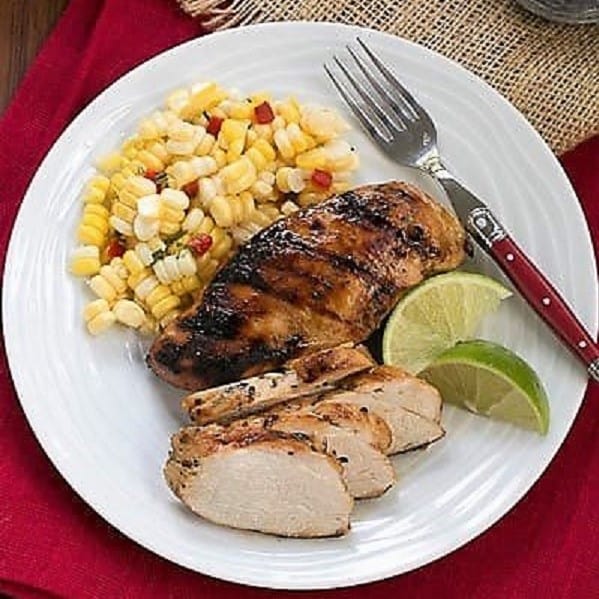 How to Marinate Chicken
First, mix together the marinade ingredients and add to a large Ziploc bag.
Add the thawed chicken breasts to the bag.
Next, remove any excess air, seal the bag and agitate it to coat the chicken thoroughly.
Pop the bag into the fridge to soak up the delicious flavors for about 6 hours, flipping at least once.
This marinade mixture of cider vinegar, lime juice, Dijon and grainy mustard, garlic, brown sugar, olive oil plus salt and pepper had 6 hours to infuse into the chicken before I lit our charcoal grill.
PRO-Tip: Marinating any longer than 6 hours and the acid in the marinade can start to break down the proteins in the chicken. It won't be a disaster if you go over the 6 hours, but leaving your boneless chicken in the marinade for a few days is not advised. Bone-in, skin-on chicken breasts are a bit hardier.
Grill until the internal temperature reaches 160º. I prefer to pull it off at 150º, cover it with foil for 10 minutes so the juices can be reabsorbed and the carryover heat brings the temperature up those last 10º.
Either method is fine. The goal is to cook the chicken to a temperature that will kill any bacteria that could cause food poisoning.
Expert Tips
First up, buy good quality chicken. I go to my meat market where they trim the boneless skinless chicken breasts so they're ready to go. You can also purchase organic chicken breasts at the grocery store at the meat counter or prepackaged out of the case, but make sure to check the expiration date. Fresher is better.
Brining or marinating chicken allows for flavors to infuse into the chicken meat by the process of osmosis. Remember high school chemistry? Or have you tried to forget?! Anyway, soaking your chicken in a flavorful marinade will help tenderize as well as add lovely flavor nuances.
PRO-Tip: Check your marinade for these components: Acid, like citrus juice or vinegar, will tenderize by breaking down the protein fibers. Oil, but not too much, or your fire will flare up, will keep the chicken moist! Flavorful Ingredients and Aromatics, like mustard, garlic, onions, shallots, herbs, will help take your chicken from ordinary to extraordinary. Salt or salty liquids like soy sauce or Worcestershire are needed for the osmosis process! Soy sauce and Worcestershire also contribute umami, also known as the 5th or savory category of taste. Salt is a known flavor enhancer, too.
PRO-Tip: Beef, pork, and lamb can handle a longer marinating time. Chicken only needs about 6 hours and seafood much less.
Bring your chicken out of the refrigerator about 30 minutes before grilling to take the chill off. The chicken will cook more evenly if not icy cold. If using a gas grill, preheat to medium, about 425º.
PRO-Tip: Because of the oil and brown sugar in the marinade, your chicken can char or fire flare up easily. Indirect heat works best, especially with a charcoal fire where you can't just turn down the heat.
With a charcoal grill, have the coals to one side so the chicken can be cooked over the less fiery area.
Cook your chicken to an internal temperature of about 160° as there will be some carryover cooking time.
PRO-Tip: Carryover cooking time is the time you let your meat rest after it comes out of the oven or off the grill. Covering it with foil and letting it rest for 5-10 minutes allows the juices to redistribute throughout the meat. The internal temperature will rise up to 10° more during this resting time.
Let the barbecue chicken rest under foil for 5-10 minutes, then serve! It's such an easy, delicious chicken dish for our evening meal!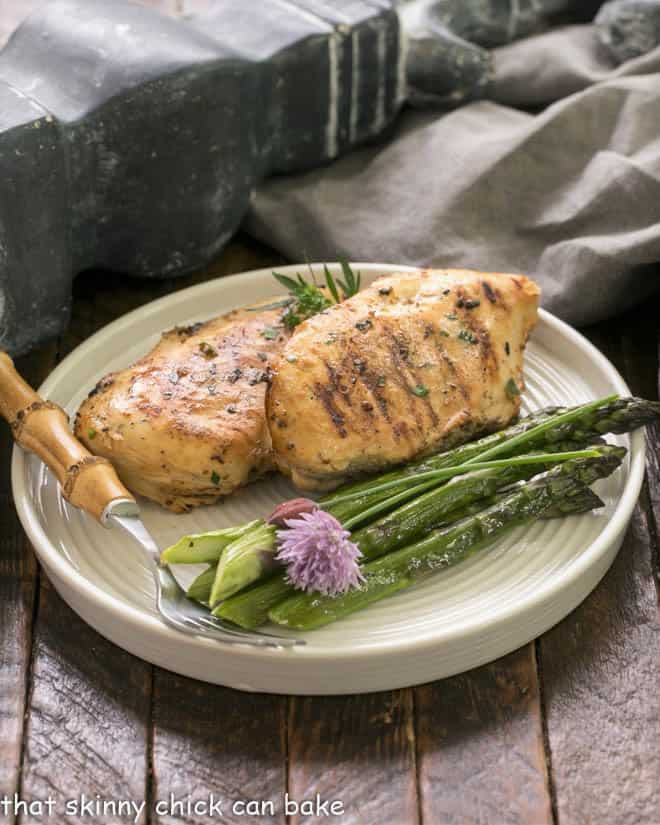 Frequently Asked Questions
Can You Marinate Chicken?
Yes! Though a simple dusting of salt and pepper is delicious, using a marinade helps infuse flavor into your chicken and keep it moist.
What Does Marinating Chicken Do?
Marinating is a simple technique of soaking food in a seasoned liquid. Through the process of osmosis, flavors are infused into the meat any acid in the marinade tenderizes the tougher cuts.
Can You Freeze Marinating Chicken?
Yes, but freeze immediately after placing the chicken and the marinade in a freezer-safe Ziploc bag, sealing and agitating to coat each piece. This will prevent the marinating process from starting until you are ready to defrost and cook the chicken.
You can store your marinated, uncooked chicken in the freezer for up to 6 months.
You May Also Like:
Stay in touch through social media @ Instagram, Facebook, and Pinterest. Don't forget to tag me when you try one of my recipes! And if you love the results, please give it a 5-star rating in the recipe card. Note: As an Amazon Associate, I earn from qualifying purchases. Visit my Amazon Store for my favorite products.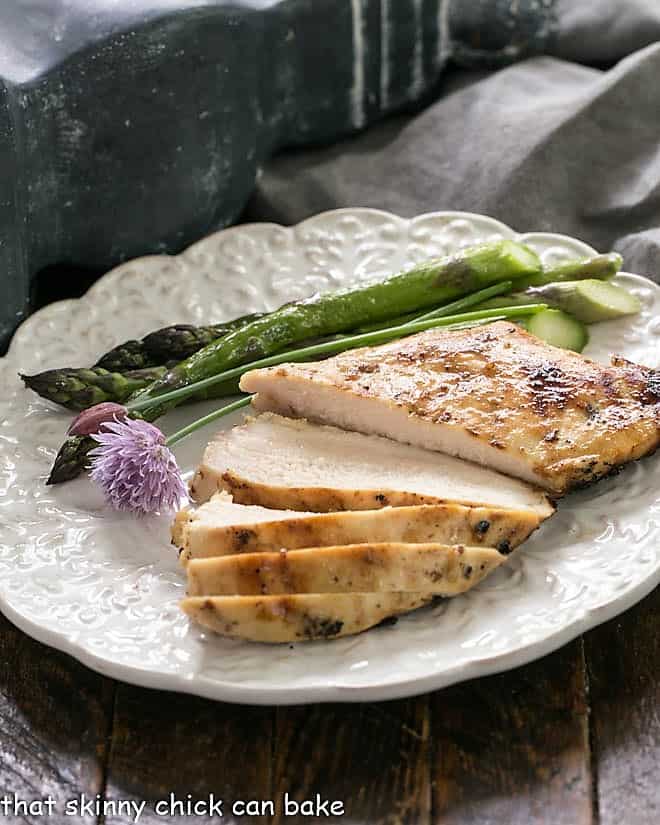 The Recipe:
Mustard, Garlic, Lime Marinated Chicken Breasts Recipe
Prep Time 15 minutes
Cook Time 30 minutes
Total Time 45 minutes
Yield 8 servings
These Mustard, Garlic, Lime Marinated Chicken Breasts will rock your world. Tender and flavorful, you'll want to grill this spectacular chicken all summer long!
Ingredients
¼ cup cider vinegar
1 ½ tablespoons whole grain mustard
1 ½ tablespoons Dijon mustard
3 cloves garlic, peeled and minced
Juice of one lime
½ cup brown sugar
1 ½ teaspoons salt
6 tablespoons olive oil
Freshly ground black pepper to taste
6-8 boneless, skinless chicken breast halves
Instructions
In a gallon zip lock bag, thoroughly mix all marinade ingredients.
Place chicken in the mixture. Seal the bag and marinate the chicken in the refrigerator for 6 hours or overnight.
Grill chicken till no longer pink inside or until it reaches 165°. If using charcoal, use indirect heat as the oil and sugar will burn quickly.
You may boil leftover marinade to serve alongside chicken.
Notes
Note: Chicken must be cooked to an internal temperature of 165 degrees. You may pull it off the grill at 155 degrees if you cover it and let it rest before eating to allow carryover heat to bring it up to 165 degrees. Make sure you recheck the temperature to be safe.
Helpful Tools (As an Amazon Associate and member of other affiliate programs, I earn from qualifying purchases).
Nutrition Information:
Yield:
8
Serving Size:
1
Amount Per Serving:
Calories: 339
Total Fat: 15g
Saturated Fat: 3g
Trans Fat: 0g
Unsaturated Fat: 11g
Cholesterol: 102mg
Sodium: 597mg
Carbohydrates: 12g
Fiber: 0g
Sugar: 11g
Protein: 38g
Note: This post may contain affiliate links; view
my Disclosure Policy
for details. I earn a small percentage from any purchase you make by clicking on these links at no extra cost to you.