Easy Beef Stroganoff with Cognac Cream Sauce
This Easy Beef Stroganoff with  Cognac Cream Sauce won over my persnickety spouse. I tortured him with a shoe leather version when we were newlyweds and have been redeemed!
Instead of my no-recipe version with ground beef and sour cream, I kicked this stroganoff up a few notches with beef tenderloin, cream and cognac!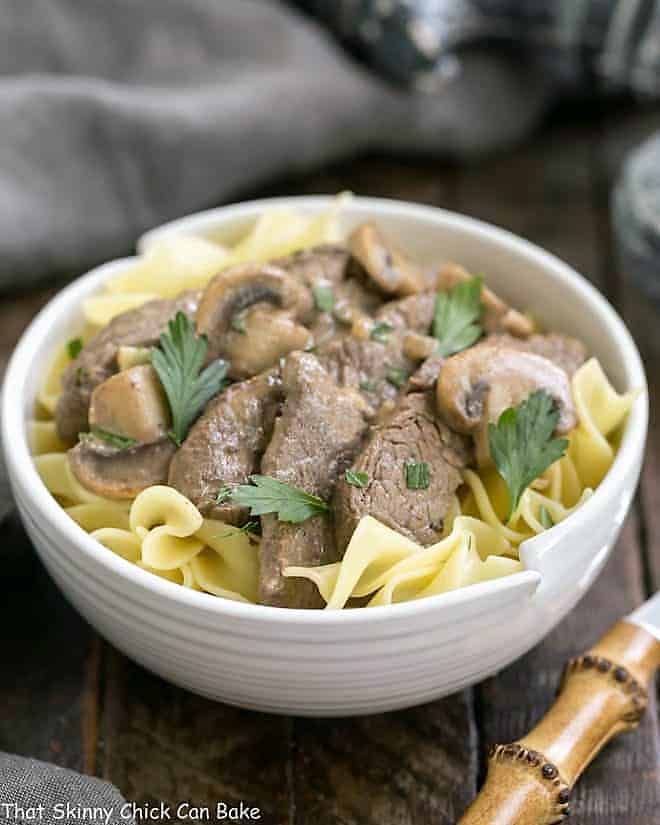 Easy Beef Stroganoff with Cognac Cream Sauce
My mom used to make a super easy beef stroganoff with just ground beef, onions, mushrooms and sour cream. My dad, sisters and I all loved it. Skillet dinners are still what I gravitate towards for a quick, easy meal!
When Bill and I were first married, I thought I'd make a fancier version using slices of beef instead of hamburger. The tough cut of beef I purchased ended up tasting like shoe leather. It was the one and only time Bill told me that I didn't need to make a dish again (oh, yeah, and the time I made pork chops with fennel)!
This time, I selected some beef tenderloin and made certain it wasn't overcooked. This easy beef stroganoff was outstanding doused in a luxurious cognac cream sauce.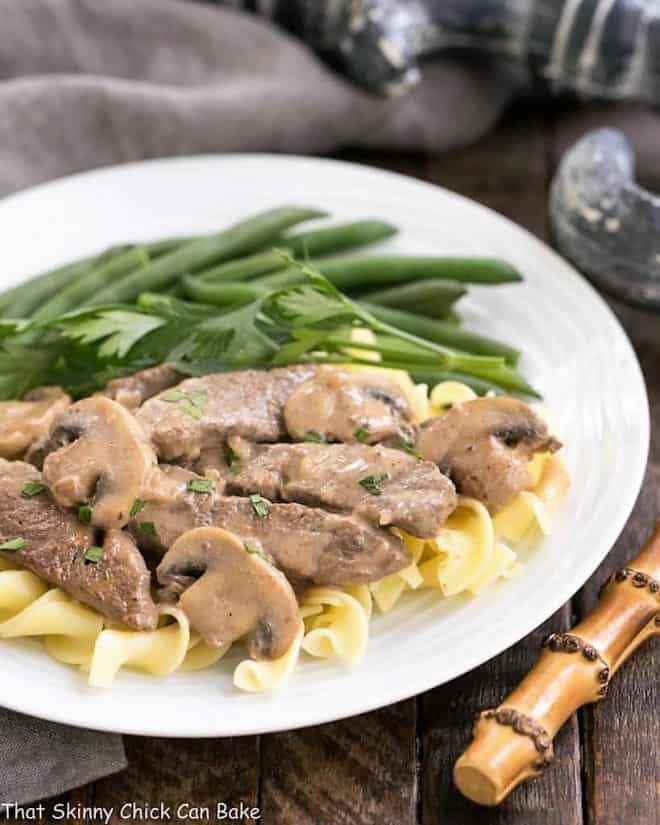 Tips for Making Perfect Beef Stroganoff
Bill was thrilled with this easy beef stroganoff. Whew. But, this time, I was the one with doubts.
Ever fearful of over-salting, since it's impossible to unsalt a too salty dish, I held back on this initial attempt. When I took my first taste, I was unimpressed. Phooey.
But the reason for the bland results finally dawned on me and a sprinkle of salt came to the rescue. All the other flavors were brought to the forefront with just a bit more seasoning. Now I was tasting what Bill tasted, a dreamy cognac cream sauce and tender slices of beef.
Besides adding the proper amount of salt (just taste along the way after each seasoning), make sure not to overcook your beef. You don't want it to be reminiscent of that shoe leather I served to Bill those many years ago!

Choose the right cut of beef for your stroganoff. Chuck roast is tough if not slow cooked so the connective tissue can break down. It's delicious for pot roast, but awful for stroganoff. A tender fillet or ribeye steak work well. Always ask your butcher for advice if you're unsure!
Serving over buttered noodles is a classic pairing, but any starch will do. Rice, mashed potatoes or even cauliflower mash would be wonderful. Anything that will soak up the cognac sauce is perfect!
More Easy Skillet Recipes You'll Love: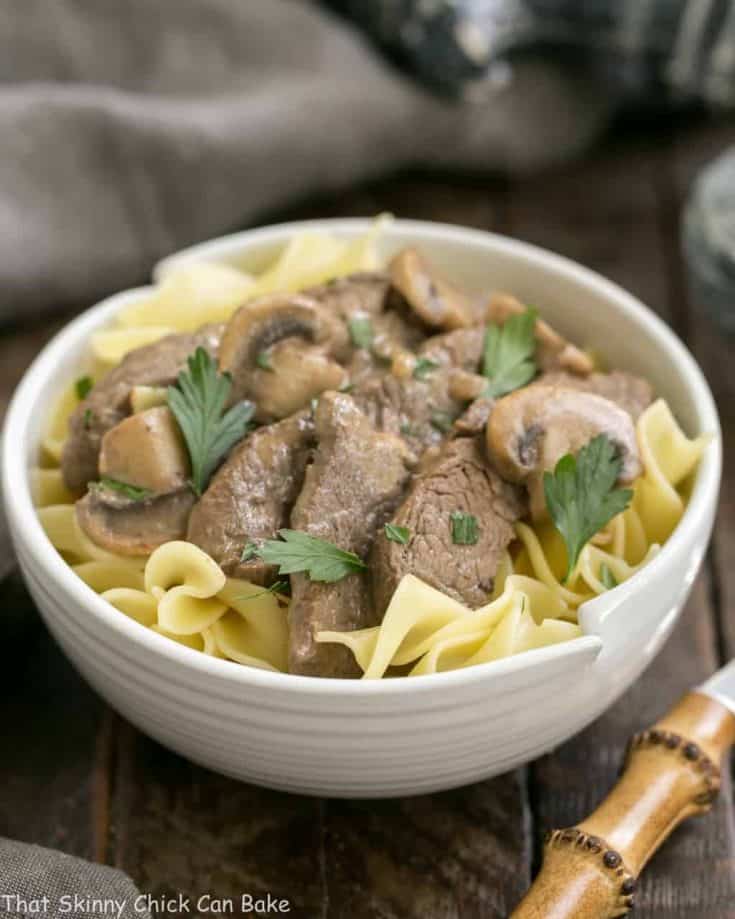 The Recipe:
Easy Beef Stroganoff with Cognac Cream Sauce
Prep Time 15 minutes
Cook Time 30 minutes
Total Time 45 minutes
Yield 4
An easy, yet elegant beef stroganoff recipe!
Ingredients
1 1/2 pounds beef tenderloin, cut into strips
Kosher salt and pepper, to taste
2 tablespoons olive oil
2 tablespoons butter (plus more to butter noodles)
1/4 cup minced shallots or onions
8 ounces mushrooms, sliced
1 cup beef broth
1 tablespoon Cognac, optional
1 tablespoon flour (I use Wondra so it doesn't lump)
1/2 cup heavy cream
1 teaspoon Dijon mustard
1 teaspoon paprika
Cooked, butter noodles, to serve
Instructions
Pat the meat dry with paper towels. Sprinkle with salt and pepper.
Heat oil in a heavy large skillet over high heat until very hot. Working in batches, add the meat in a single layer and cook just until browned on outside, about 1 minute or less per side. Transfer the meat to a platter.
Melt 2 tablespoons butter in the same skillet over medium heat. Add chopped shallots or onions and sauté until tender. Add sliced mushrooms. Lightly season with salt and cook until liquid evaporates.
Add beef broth, then Cognac. Whisk in the flour and cook until the mixture thickens.
Stir in cream, mustard, and paprika. Add meat and any juices on the platter, to rewarm. Taste and season with more salt and pepper as needed.
Serve over buttered noodles.
Notes
Adapted from Bon Appetit.
Nutrition Information:
Yield:
4
Amount Per Serving:
Calories: 671
Total Fat: 54g
Saturated Fat: 24g
Trans Fat: 0g
Cholesterol: 201mg
Sodium: 803mg
Carbohydrates: 8g
Fiber: 1g
Sugar: 3g
Protein: 38g
Note: This post may contain affiliate links; view
my Disclosure Policy
for details. I earn a small percentage from any purchase you make by clicking on these links at no extra cost to you.