Triple Layer Chocolate Cake
I pointed out a photo of a magnificent Triple Layer Chocolate Cake in an old Fine Cooking Magazine as a potential birthday cake for my oldest. Some tweaking was in order, like filling it with cream cheese whipped cream frosting and dialing down the espresso powder.
This chocolate cake was a showstopper and a huge hit with the whole family, especially the birthday boy.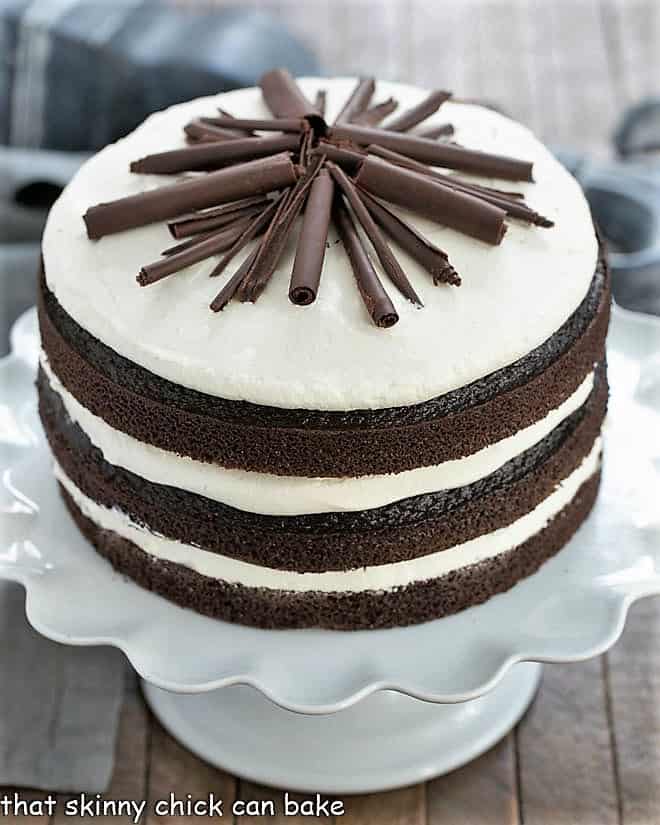 Triple Layer Chocolate Cake
This was one perfect chocolate cake. The layers were moist, tender with the perfect amount of cocoa and sweetness. Paired with a light cream cheese frosting was a dreamy match made in heaven. The birthday boy was pleased, in fact, the whole darn family loved this!
A Gale Gand Cake Recipe
Gale Gand is a fabulous Chicago based pastry chef who had her own Food Network show. I trust her recipes implicitly, so when I saw her name under the by-line for a recipe for a gorgeous chocolate Irish whiskey cake, I took the bait. As a stunning cover photo for a December 2012 Fine Cooking magazine, it was beckoning me to bake it!
But I wasn't sure how a whiskey cake would fly with my crew, so that was the first ingredient to go. Then the tablespoon of espresso powder in the whipped cream was next on the chopping block. I can sneak a little Kahlua or instant coffee/espresso powder into a recipe, but it has to be very subtle to keep the picky hubby happy.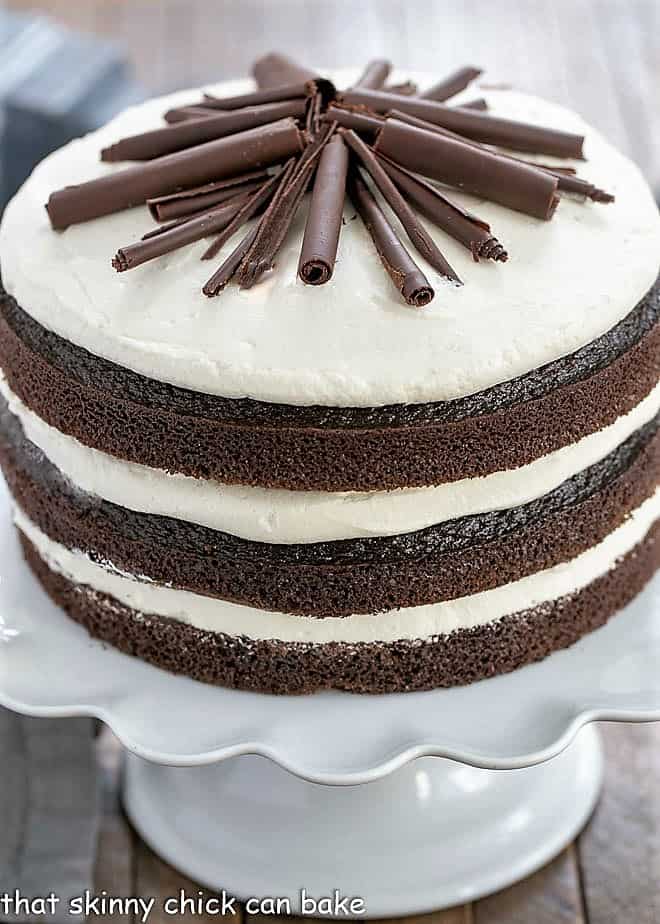 Tips for Making a Chocolate Layer Cake
This splendid cake turned out better than I imagined. A quality recipe ensured that. The cake layers were moist and flavorful and the frosting, light and decadent.
You'll need three 9-inch cake pans. Most kitchens are stocked with one or two, so you may need to borrow (or buy) what you need before you start the recipe.
PRO-Tip: Try to divide the batter equally between the cake pans so your layers are the same height. I like using my kitchen scale. This is easiest if all 3 pans are from the same manufacturer and, therefore, the same weight.
Another option is to weigh your mixing bowl empty, then full of the cake batter. Subtract the weight of the bowl from the weight of the filled bowl and divide it by 3. Each pan needs about 1 pound and 1 ounce of batter. Or just take the easy route and eyeball it!
Though I love butter in baked goods, it's the addition of oil in this cake batter that makes for a super moist cake.
PRO-Tip: Adding coffee enhances the chocolate flavor without turning this into a mocha cake. If you want a stronger coffee flavor, you can incorporate some espresso powder or instant coffee into the batter. Mix either of the options into the milk before adding it to the batter; about a teaspoon will dial up the chocolate intensity.
When making the frosting for this triple layer chocolate cake, have your cream cheese at room temperature, so it will blend smoothly.
When spreading the filling on the bottom two layers, do not go all the way to the edge. Instead, stop at least 1/2-inch from the edge, so that the pressure from adding the additional layers does not push the filling out too far. If you own an offset spatula, it's a terrific tool for the job.
If you are a fan of chocolate cakes, this fabulous Black Magic Snack Cake is a terrific option for a smaller dessert, this Torta Caprese is ideal if you or one of your guests is gluten-free, and this Mocha Chocolate Chip Cookie Icebox Cake is the best no-bake dessert you'll ever try! If you haven't made this retro Chocolate Mayonnaise Cake, it's out of this world!!
To make a chocolate garnish, check out how to make chocolate curls and chocolate shards (with a video).
I also love this French Silk Chocolate Cake and this Easy German Chocolate Cake from a couple of my blogger friends.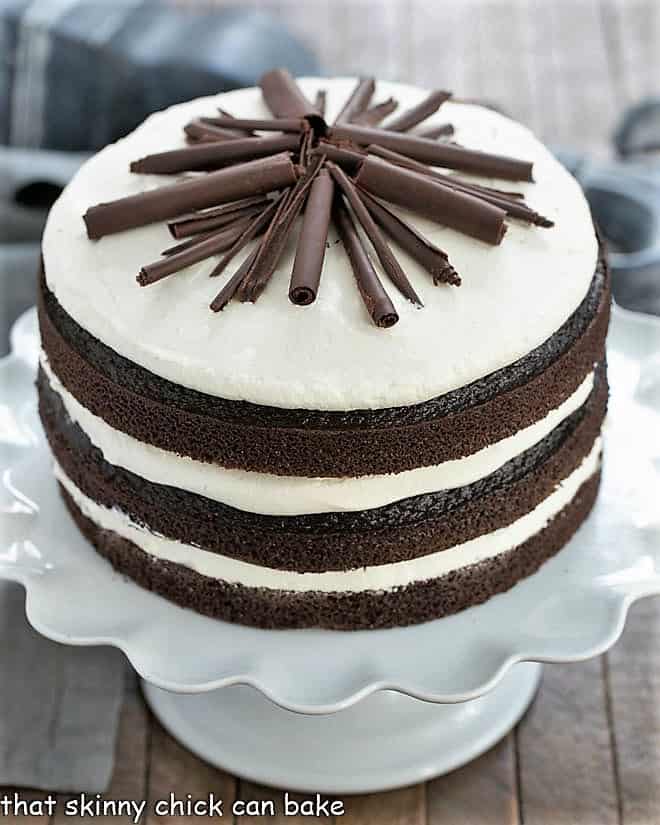 The Recipe:
Triple Layer Chocolate Cake
Prep Time 40 minutes
Cook Time 23 minutes
Total Time 1 hour 3 minutes
Yield 12
A magnificent Triple Layer Chocolate Cake with a whipped cream cheese frosting.
Ingredients
Cake:
2 1/4 cups all-purpose flour
2 cups granulated sugar
3/4 cup unsweetened cocoa powder
1 1/2 teaspoons baking powder
1 1/2 teaspoons baking soda
1 teaspoon salt
2 eggs
1 cup whole milk
1/2 cup canola oil
1 1/2 teaspoons vanilla extract
1 cup hot coffee
Cream Cheese Whipped Cream Frosting:
8 ounces cream cheese at room temperature
1 cup sugar
3 cups heavy cream
2 teaspoons vanilla extract
Chocolate shavings or curls to garnish, optional
Instructions
Preheat oven to 350°. Grease and flour three 9-inch round cake pans. Line bottoms with parchment rounds, and grease parchment. Set aside.
Whisk together sugar, flour, cocoa, baking powder, baking soda, and salt in a large bowl.
Add eggs, buttermilk, oil, and vanilla. Beat with a mixer for about 2 minutes.
Carefully, stir in hot coffee. The batter will be very thin.
Divide the batter evenly between the 3 cake pans. I like using a kitchen scale to make sure the layers are even.
Bake for 20-23 minutes or until a toothpick inserted in the center comes out clean. Cool 10 minutes. Remove the cakes to cooling racks. Cool completely.
To make the frosting, whip the cream cheese with a mixer until smooth and creamy, then mix in the sugar. Add the whipping cream and vanilla and beat to medium peaks.
To assemble the cake, place the first layer on a serving plate and top with 1/3 of the frosting. Leave some space (about 1/2-inch) around the perimeter as the weight of the cake will cause the frosting to expand.
Repeat by adding the second layer, another 1/3 of the frosting, and finally top with the last layer and spread on the rest of the frosting.
Garnish as desired.
Notes
Adapted from Fine Cooking
Nutrition Information:
Yield:
12
Serving Size:
1 slice
Amount Per Serving:
Calories: 680
Total Fat: 39g
Saturated Fat: 19g
Trans Fat: 1g
Unsaturated Fat: 17g
Cholesterol: 119mg
Sodium: 492mg
Carbohydrates: 75g
Fiber: 2g
Sugar: 54g
Protein: 8g
Note: This post may contain affiliate links; view
my Disclosure Policy
for details. I earn a small percentage from any purchase you make by clicking on these links at no extra cost to you.