Chewy Oatmeal Cookies with Chocolate Chips, Pecans, and Dried Cherries
Chewy Oatmeal Cookies with Chocolate Chips, Pecans, and Dried Cherries are based on a fabulous, old-fashioned oatmeal cookie recipe. They're jazzed up with chewy cherries, crunchy nuts, and luscious chocolate pieces.
If you're a fan of cookies loaded with flavor and textures, these Easy Oatmeal Cookies are calling your name!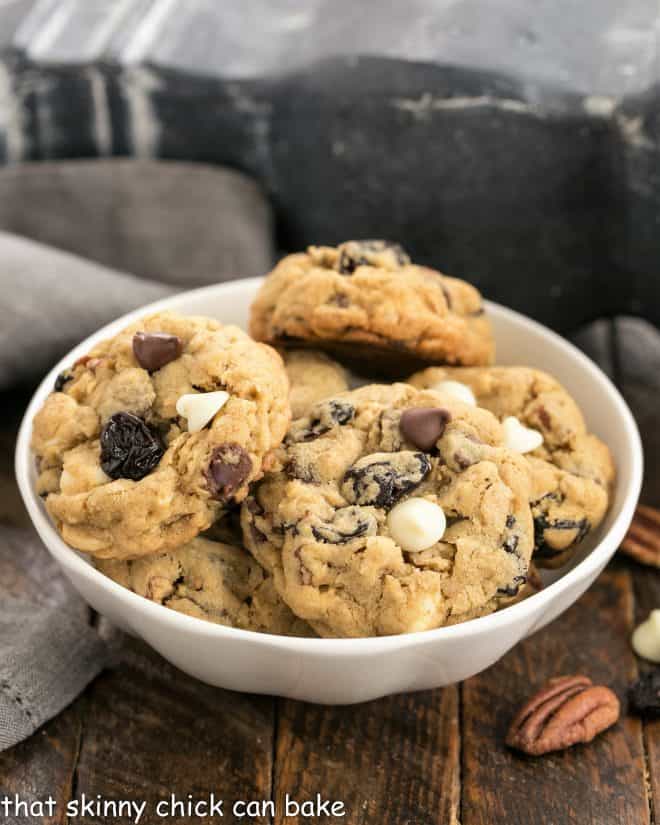 Chewy Oatmeal Cookies
The first time I made these cookies, I was driving to Iowa to meet my sisters and visit my parents. Naturally, I needed to bring some goodies to share. Fortunately, my siblings love a wider array of ingredients than my picky family, so I chose some cookies the latter would not touch with a ten-foot pole.
The easy answer was chewy oatmeal cookies. You can take the basic recipe and add your favorites:
Substitute dried cranberries or raisins for the dried cherries
Toasted walnuts would be a tasty alternative to pecans.
Add milk chocolate chips or any kind of chocolate chunks in place of the chocolate chips. Toffee bits are also very tasty!
Add whatever delights your palate! Feel free to make small cookies or even jumbo-sized cookies, just adjust the baking times. This old fashioned oatmeal cookie recipe is both delicious and versatile!
Tips for Making Chewy Cookies
I like to err on the side of underbaking versus over-baking my cookies and cookie bars. These results in soft, chewy cookies instead of crisp cookies. But there are some other ways to make sure you have chewy oatmeal cookies (and chewy chocolate chip cookies, etc, etc).
Using brown sugar instead of white sugar adds more moisture as does the addition of molasses. Dark brown sugar contains even more molasses than brown sugar, so that's a nice way to add both brown sugar AND molasses!
PRO-Tip: Did you know you can make dark brown sugar from regular brown sugar just by adding a tablespoon of molasses to a cup of brown sugar? Mix well and use it!
Like I mentioned above, shortening the baking time will keep the cookies softer and chewier. Since the cookies will still cook from the heat of the baking sheet when they're pulled out of the oven, the centers can look a little underdone and not be raw in the middle when they're cool.
You can also experiment by baking at a slightly cooler oven temperature, like 325º instead of 350º. Less moisture will evaporate from the cookies at a lower temp. You may need to extend your baking time to compensate for the lower oven temperature.
Using part shortening and part butter will make for chewier cookies. I wouldn't substitute all shortening for the butter in a recipe as the flavor of butter is key in great tasting cookies.
You'll see recipes from Cook's Illustrated with an extra egg yolk added to a cookie batter. More fat also assists with a chewier cookie.
Chill your dough before baking. And make sure your cookie sheets are cool before adding more cookie dough. Warmer dough and hot cookie sheets will make the dough spread more when baking, making the cookies thinner and more likely crisper.
More Oatmeal Cookies You'll Love:
The picky hubby will stop at every bakery we walk past craning his neck to see if he spies some chocolate chip cookies. Those are his favorites. My favorites, on the other hand, are oatmeal cookies. Chewy oatmeal cookies to be precise.
In fact, oatmeal cookie dough is like crack when it's in my kitchen. I try not to take a nibble or I will have eaten 4 or 5 cookies worth by the time I get a grip on what I'm doing! Do you have a favorite oatmeal cookie recipe? Here are some more you might like to try:
This chewy oatmeal cookie recipe was first shared in January 2011. Photos and text were updated in 2020.
The Recipe:
Chewy Oatmeal Cookies with Chocolate Chunks, Pecans, and Dried Cherries
Prep Time 20 minutes
Cook Time 20 minutes
Total Time 40 minutes
Yield 16 large cookies
Jumbo sized oatmeal cookies chock full of chocolate, nuts and dried fruit! Adapted from America's Test Kitchen
Ingredients
1 1/2 sticks butter
1 1/4 cups dark brown sugar
1 egg
2 teaspoons vanilla
1 1/2 cups flour
1/2 teaspoon baking powder
1/2 teaspoon baking soda
1/4 teaspoon salt
1 1/4 cups old fashioned rolled oats
1 cup chopped pecans, toasted
1/2 cup white chocolate chunks
1/2 cup semi-sweet chocolate chunks
1 cup dried tart cherries
Instructions
Preheat oven to 350º. Line baking sheets with parchment and set aside.
In a stand mixer with the paddle attachment, beat butter till light and fluffy. Add the sugar and beat again. Add egg and vanilla, and mix in, scraping bowl as necessary.
Add flour, baking soda, baking powder, salt and mix to combine. Add oatmeal and mix, then stir in pecans, chocolate chunks and cherries, either by hand or with mixer on low speed.
Scoop out by 1/4 cupfuls. Roll into balls and flatten to about 3/4 inch thickness. Bake on prepared baking sheets, leaving 3 inches between cookies. Bake 15-20 minutes, turning the baking sheet around at halfway point if baking unevenly.
Or you can bake up rounded tablespoonfuls of dough, flatten slightly, and bake for about 10-12 minutes.
Cool for about a minute before removing to a cooling rack. Cookies will look slightly underdone.
Notes
If you don't have dark brown sugar, just add a tablespoon of molasses to a cup of light brown sugar, mix and use as directed (you'll need more than one cup for this recipe).
Recommended Products
As an Amazon Associate and member of other affiliate programs, I earn from qualifying purchases.
Nutrition Information:
Yield:
16
Serving Size:
1 cookie
Amount Per Serving:
Calories: 302
Total Fat: 18g
Saturated Fat: 8g
Trans Fat: 0g
Unsaturated Fat: 8g
Cholesterol: 36mg
Sodium: 170mg
Carbohydrates: 34g
Fiber: 2g
Sugar: 21g
Protein: 4g
Note: This post may contain affiliate links; view
my Disclosure Policy
for details. I earn a small percentage from any purchase you make by clicking on these links at no extra cost to you.