This Sour Cream Streusel Coffee Cake is an updated recipe from my childhood. It has truly stood the test of time with it's tender cake base and layers of cinnamon and walnut streusel.
Welcome to the third annual #BrunchWeek hosted by Terri from Love and Confections and Shaina from Take A Bite Out Of Boca. We are so excited to have you join us this year!  Celebrate Brunch with us this week as we prepare for Mother's Day. 30 Bloggers from around the country will showcase their best brunch dishes, from cocktails to casseroles, breakfast breads, sandwiches and salads – there is something for everyone! Our amazing Sponsors have donated some great prizes for the #BrunchWeek giveaway. Thank you so much, Sponsors, for your generosity. Scroll to the bottom to see how to enter (CLOSED).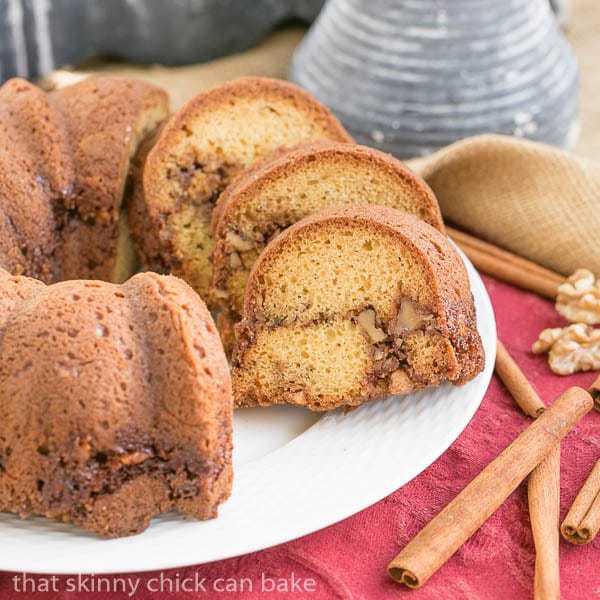 Note there may be Amazon affiliate links in this post.
Sour Cream Streusel Coffee Cake
This was one of those coffee cake recipes that made the rounds at my mom's bridge club gatherings back in the '70's. It was called Merk's Coffee Cake and there are numerous versions on the web. The vintage recipe from my mom called for shortening, so I've updated this sour cream streusel coffee cake with butter and vanilla bean paste instead of vanilla. Feel free to use vanilla extract, just use a premium brand like Nielsen-Massey for the best results.
Perfect Coffee Cake for Mother's Day Brunch
I took this  layered cake and walnut streusel treat over to my knitting group. My girlfriends inhaled (in the most lady-like way, of course) their slices and even the picky hubby sampled a piece sans streusel (no "funny stuff" for him!). This sour cream streusel coffee cake would be ideal for your Mother's Day brunch. And if you need more inspiration, scroll down to see the other marvelous brunch recipes from my blogger friends.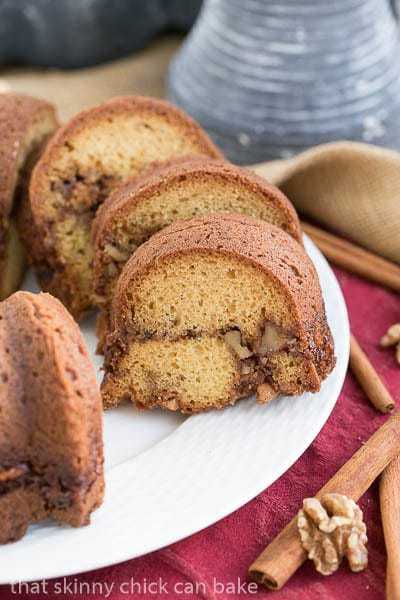 Come see what today's #BrunchWeek Bloggers are creating!
BrunchWeek Beverages:
Mixed Berry Yogurt Smoothie from Taste Cook Sip.
Tequila Sunrise from A Day in the Life on the Farm.
Sparkling Pineapple Mojitos from girlichef.
BrunchWeek Egg Dishes:
Baked Eggs over Maple Roasted Vegetables from Big Bear's Wife.
Bacon and Egg Grilled Cheese Sandwich from Making Miracles.
BrunchWeek Breads, Grains and Pastries:
60 Minute Cinnamon Rolls from Love and Confections.
Chocolate and Walnut Challah from The Little Ferraro Kitchen.
Braided Ham and Cheddar Bread from Sarcastic Cooking.
Pear Oatmeal Crème Brûlée from The Spiffy Cookie.
Tattie Scones with Cheddar and Chives from The Redhead Baker.
Chocolate Chip Flaxseed Waffles from Hip Foodie Mom.
Chile Relleno Quiche from Cooking in Stilettos.
Double Chocolate Sweet Rolls from It Bakes Me Happy.
Sour Cream Streusel Coffee Cake from That Skinny Chick Can Bake.
Peanut Butter & Jelly Granola from Baking a Moment.
BrunchWeek Main Dishes:
Harissa Chorizo Hash from greens & chocolate.
Smoked Salmon Canapes with Whipped Chive Cream Cheese from The Suburban Soapbox.
BrunchWeek Fruits, Vegetables and Sides:
Kinpura Gobo from Culinary Adventures with Camilla.
Tropical Fruit Salad with Vanilla and Lime from Healthy Delicious.
Beet and Heirloom Carrot Rosti with Creme Fraiche and Caviar from Jane's Adventures in Dinner.
Carrot Salad from My Catholic Kitchen.
BrunchWeek Desserts:
Nutty Banana Bread from Take A Bite Out Of Boca.
Gluten-Free Pear and Walnut Crumble from It's Yummi.
Print
Sour Cream Streusel Coffeecake
A family recipe for a classic sour cream streusel coffee cake.
Author:
Prep Time: 30 minutes
Cook Time: 55 minutes
Total Time: 1 hour 25 minutes
Yield: 12 servings 1x
Category: Breakfast, Brunch
Ingredients
For streusel:
4 tablespoons butter, at room temperature
1 cup brown sugar
2 teaspoons cinnamon
1 cup walnut pieces, I recommend California Walnuts
For cake:
1⁄2 cup butter, at room temperature
3⁄4 cup sugar
3 eggs
2 teaspoons vanilla bean paste, I recommend Nielsen-Massey
1⁄2 pint (1 cup) sour cream
1 teaspoon baking powder
1 teaspoon baking soda
1/2 teaspoon salt
2 cups flour
Instructions
Preheat oven to 350º. Butter and flour a 10 inch Bundt pan (or spray with oil/flour baking spray). Set aside.
Mix together streusel ingredients in medium bowl till butter is mixed in completely. Use fingers to break mixture apart into dime sized crumbs or smaller.
In a large bowl,beat together butter and sugar, then mix in eggs.
Add vanilla bean paste and sour cream, and then slowly add the dry ingredients. Mix till combined, but take care not to overmix.
Put half the batter in the prepared pan and smooth top. Sprinkle with half the crumbs. Add the rest of the batter followed by the rest of the crumbs.
Bake for 45-55 minutes until top is browned, and a toothpick inserted into the cake comes out clean.
Cool for 10 minutes, then remove cake from pan to a cooling rack.
Cool completely before serving.
Notes
Cooling time not calculated into total time.
Brunch Week Sponsors and Giveaway!!!
To enter the HUGE giveaway from all our marvelous sponsors listed below, please go to Monday's post for details. Over $1500 of loot will be divided into 12 prize packages. You definitely want to enter!
Prize #1: 
Bob's Red Mill
 is giving one winner a Pie Plate, Gluten-Free Oats, Gluten-Free Pie Crust Mix, Gluten-Free 1-to-1 Baking Flour and a Bob's Red Mill Flour Sack Towel.
About Bob's Red Mill: Trust, honesty and integrity. The three principles their business is built on. Their packaging is a great example of this commitment: clear bags that let you see the high quality of every one of their products. By producing the very best in whole grain foods, they are able to fulfill their commitment to help look after more and more people through better nutrition.
Prize #2: Cabot Cheese is giving one winner a Gift Box with a selection of Cabot Cheeses as well as a Cheese Board and Knife.
About Cabot Cheese: Cabot blends state-of-the-art facilities and a savvy entrepreneurial spirit, with the timeless values a personal commitment to quality that comes from being 100% owned by their farm families. Cabot is a cooperative owned and operated by their members, dairy farmers and their families throughout New England and Upstate New York. Cabot products include Cheese, Yogurt, Dips, Butter and Whipped Cream.
Prize #3: Dixie Crystals is giving one winner a Wilton Master Tip Decorating Kit along with a 4lb bag of Granulated Sugar, 2lb bag of Powdered Sugar and 2lb bag of Light Brown Sugar.
About Dixie Crystals: Since 1917, Dixie Crystals® has been the South's choice for high-quality sugar and sweeteners. Our pure cane sugar products are all natural, non-GMO and provide consistently delicious results.
Prize #4: California Walnuts is giving one winner a Classic Series 4.5-Quart Tilt-Head Stand Mixer in white.
About California Walnuts: The California Walnut Board was established in 1948 to represent the walnut growers and handlers of California. The board is funded by mandatory assessment of the handers and the California Walnut Commission, established in 1987 is funded by mandatory assessments of the growers. More than 99% of the walnuts in U.S. are grown in the fertile soils of California's Central Valley. Internationally, California walnuts supply three-quarters of the world's walnut trade. Sustainability is important to the California walnut industry. The California Walnut Board has supported sustainable growing practices through its production research program for over 20 years.
Prize #5: Le Creuset is giving one winner a set of their new Revolution® Bi-Material Utensils. The pliable combination of flexible silicone and rigid glass-filled nylon allows Revolution cooking utensils to conform to the edges of pots and pans, making it easy to stir, scoop and serve your favorite chili recipe to family and friends.
About Le Creuset: Respect for tradition and authenticity has been Le Creuset's guiding principle since 1925, yet our innovative designs and exceptional quality ensure that we remain relevant today. The Le Creuset signature color, Flame, was born in this first piece. With their new ability to pigment the enamel glaze, Desaegher and Aubecq modeled their first color after the intense orange hue of molten cast iron inside a cauldron ("creuset" in French). We still manufacture our cast iron in the original foundry, with each piece passing through the hands of 15 skilled artisans to ensure flawless perfection. With the consistent qualities of authenticity, originality and innovation, Le Creuset maintains a connection to both heritage and modernity.
Prize #6: KitchenAid is giving one winner a Maximum Extraction Juicer. The KitchenAid® Maximum Extraction Juicer (slow juicer) gives you more juice with less prep work, featuring a patented two-stage blade and auger system and wide chute. This juicer also comes with 3 pulp screens for low pulp, high pulp and sauces. Perfect for hard, soft or leafy fruits and vegetables.
About KitchenAid: In 1919 our iconic Stand Mixer was born. And from that stemmed an entire kitchen of high-performance appliances-all created with the same attention to detail, quality craftsmanship, versatile technology and timeless design. As the only appliance brand that only makes things for the kitchen, we continue to keep pushing the limits with our products so you can keep doing the same with everything you create. So, here's to you, your kitchen and the delicious world that surrounds us all.
Prize #7: Nielsen-Massey is giving one winner 2-oz bottles of their entire line of flavor extracts: Pure Almond Extract, Pure Lemon Extract, Pure Orange Extract, Pure Chocolate Extract, Pure Coffee Extract, Pure Peppermint Extract, Rose Water and Orange Blossom Water
About Nielsen-Massey: Nielsen-Massey has been crafting world-class vanillas and flavors since 1907. It is still a family owned business today and focuses on quality and its customers. Nielsen-Massey uses a cold extraction process for making its vanillas, which preserves more than 300 distinctive flavor compounds present in vanilla beans. Nielsen-Massey product can be purchased at Williams-Sonoma and all of their products are gluten-free, allergen-free, GMO-free and Kosher. Nielsen-Massey also has a line of organic vanillas available as well.
Prize #8: Pacari Premium Organic Chocolate is giving one winner a gift box which includes: 8 bars (3 Single Region Bars, 1 Raw 70% (multi-award winner), 4 Andean Flavors Collection Bars (Salt and Nibs, Lemongrass (award winner), Merken and Andean Blueberry, 2 chocolate covered boxes: 1 Banana and 1 Goldenberries (award winner), and Dry Cacao Beans.
Prize #9: Stonyfield Organic is giving one winner a Shirt, $40 in coupons, Cookbook, Mason Jar and Measuring Cups.
About Stonyfield Organic: Back in 1983, our co-founders Samuel Kaymen and Gary Hirshberg were running a nonprofit organic farming school on a small New Hampshire farm. They were on a mission to help family farms survive, keep food and food production healthy, and help protect the environment. They began selling yogurt made without the use of toxic persistent pesticides or chemical fertilizers. The yogurt was a hit and Samuel and Gary realized that a successful organic company could make a bigger difference for family farms, people and the planet than their school could. Today, our organic yogurts, smoothies, soy yogurts, frozen yogurts, milk and cream are sold in supermarkets, natural food stores and colleges across the country. And we make all of it without the use of toxic persistent pesticides, artificial hormones, antibiotics or GMOs. We're still located right here in New Hampshire—about 30 miles east of the old farm—but now our organic ingredient purchases support a huge network of food producers made up of hundreds of organic family farms, thousands of organic cows, and over 200,000 organic acres. We've also pioneered planet-friendly business practices—from offsetting our yogurt works' emissions, to making yogurt cups from plants instead of petroleum, to making our own renewable energy, and much more. Our old organic farming school is just a memory. But the thought and passion that started it in the first place have only grown stronger, and we've never stopped working for healthy food, healthy people and a healthy planet.
Prize #10: Woot Froot is giving one winner a Cuisinart Griddle Panini and Sandwich Maker, a Hamilton Beach Smoothie Blender and fresh Woot Froot. Peaches, pears, nectarines and grapes are the perfect addition to almost any meal to help jazz up your routine dishes and flavors—whether it's in a pear, ham and grilled cheese Panini, nectarine margarita or grilled peaches or just a plain old snack. But to get you cooking these kitchen appliances will help you get a head start on your dinner menus! We'll even throw in some Woot Froot packages too! #WootWoot
About Woot Froot: The story of Woot Froot began 25 years ago, when owner Kim Gaarde (Mama Woot) was growing and selling nearly every variety of peach and nectarine to places near and far. But that all changed when 10 years ago, she wondered why no one had started selling fresh cut peaches and nectarines. After many years of research, trial and error – not to mention naysayers, Woot Froot freshly sliced peaches and nectarines was finally created! Over 500 varieties of peaches were tested for flavor and texture to ensure that you received that "bite right flavor"! In fact, many people believe the softness equates ripeness.  Not true at all. We have a special formula that is just the right firmness and brix (sugar) to get great consistent flavor without getting puree in a bag. Woot Froot is a woman-owned, family business. Along with peaches and nectarines, Woot Froot also offers freshly sliced pears and de-stemmed red grapes year round!  Peaches and nectarines are available June – October while in season. Woot Froot sliced peaches and nectarines will stay ready to eat for a whopping 21 days in your fridge! And even better, they use all natural ingredients and preservatives to ensure that your fruit stays flavorful and fresh from day 1 to day 18.
Prize #11: Grimmway Farms, Cal-Organic and True Juice is giving one winner a Ninja Professional Blender with food processor and single serve blender, assortment of True Organic Juice Blends, and a package of Grimmway Carrots and Cal-Organic veggies. Grimmway carrots and Cal-Organic veggies are enjoyed fresh and whole, or as part of a delicious smoothie – which is why we thought you'd love the Ninja blender to help you make some! Don't trust your own culinary skills to make your own juices and smoothies?! We decided to throw in some of our own True Juices for you to try as well!
About Grimmway Farms, Cal-Organic & True Juice: The story of Grimmway began in 1968, when brothers Rod and Bob Grimm set up a roadside produce stand and planted the seed that would blossom into today's Grimmway Farms. Grimmway Farms began growing carrots back in 1971! Today, Grimmway Farms has become the largest grower, producer and shipper of carrots in the world! Not only does Grimmway Farms play a part in every meal—breakfast, lunch, dinner and snacks—but they also play an essential part in the health of growing children and active adults. Bringing Grimmway home to your family means bringing home the best in produce and the best for their health! Join Grimmway's Twitter parties and conversations by following the hashtag #JustCrunchEm! Sustainability is in our DNA. From using all parts of the carrot, having a full organic line and using our own veggies to make juice, we believe taking care of the environment is part of taking care of you. Cal-Organic Farms is a large part of our farm where we grow over 40 fruits and veggies from kale and potatoes to blueberries and watermelons. True Juice is just that – juice that's truly organic, sustainably grown, and delicious with products from our own farms. Although the flavor names might be hard to pronounce, they're full of simple ingredients – like Bananaberry Crush with strawberries, kiwi, banana, beets, carrots and apples! Try all of our great flavors – BananaBerry Crush, Pure Carrot, Wild Berry Blend, Bunched Greens, Blended Blue and Tropical Mango.
Prize #12: Vidalia Onions is giving one winner an OXO SoftWorks Handheld Mandoline Slicer, Vidalia Sweet Onion Cookers, Vollrath 8″ Stainless Steel Non-stick Fry Pan, Weber Style Grill Vegetable Basket and fresh Vidalia Onions. Since Vidalia onions are such a versatile item to cook with, we thought setting you up with a few appliances to help explore different cooking styles would be a perfect way to introduce you to Vidalia onions! Slice them, dice them, cook them, sauté them or grill them – any way is delicious! We'll even throw in a bag of Vidalia's for you to get cooking with!
About Vidalia Onions: Vidalia onions are unique to a very small region. In fact, they only grow in 13 counties in Georgia! Vidalia onions were discovered back in 1930's, and just like back then, they are still planted, transplanted and harvested all by hand! Vidalia onions are grown during the winter months, and are only available in stores between April and September, making them a true seasonal specialty! In 1990, Vidalia onions became the official state vegetable of Georgia! Vidalia onions are a great source of Vitamin C, and are also fat free, cholesterol free and sodium free! In order to grow great tasting Vidalias, and to give them their characteristic sweetness, they must be grown in a sandy soil mixture that is low in sulfur (sulfur in soil is what gives onions their hotness). Each year, approximately 5-million, 40-pound boxes are shipped out around the country. Now that's a lot of onions!
Disclaimer: Thank you to #BrunchWeek Sponsors: Bob's Red Mill, Cabot Creamery Cooperative, California Walnuts, Dixie Crystals, Grimmway Farms/Cal-Organic/True Juice, KitchenAid, Le Creuset, Nielsen-Massey Vanillas, Pacari Chocolate, Stonyfield Organic, Vidalia Onions, and Woot Froot for providing the prizes free of charge. These companies also provided the bloggers with samples and product to use for #BrunchWeek. All opinions are my own.
link
Note: This post may contain affiliate links; view
my Disclosure Policy
for details. I earn a small percentage from any purchase you make by clicking on these links at no extra cost to you.