Marinated Greek Lamb Kebabs
When you're craving lamb, but don't need to roast a whole leg, these tender, flavorful Marinated Greek Lamb Kebabs will fit the bill. The Mediterranean flavors work perfectly with lamb, and these Greek kebabs are destined to become a family favorite.
This Leg of Lamb Recipe is cubed, marinated, and grilled to infuse both smoky and Greek flavors into the meat. It's absolutely wonderful!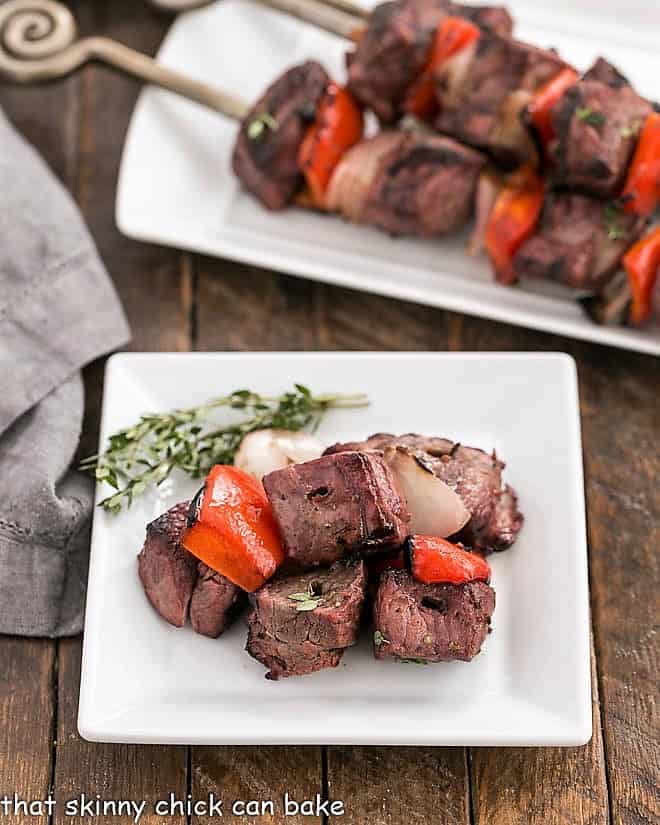 Why You Must Make
The simple flavors of red wine, red wine vinegar, fresh herbs, garlic, and lemon pair perfectly with lamb.
Lamb is popular in Greek cuisine and this marinade reflects traditional Greek flavors.
Grilling adds even more deliciousness to these lamb skewers, by way of the Maillard reaction when the amino acids react with the sugars and create delicious flavor compounds.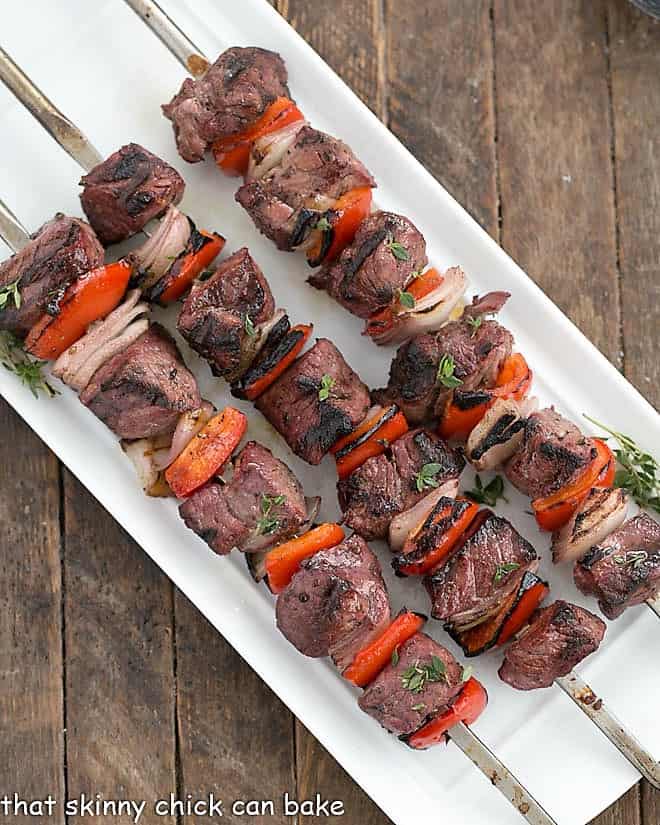 Expert Tips
These marinated Greek lamb kebabs are super easy to prepare. Start with a leg of lamb or purchase already cubed lamb from your butcher. Just make your marinade the night before you plan to grill and marinate your lamb cubes overnight.
PRO-Tip: Big chunks of lamb are better than smaller ones. I aim for about 1 1/2-inch cubes so that the lamb does not get overdone as can easily occur with small pieces of meat. You also want the onions and peppers to have enough time on the grill so they cook and soften.
If you buy a leg of lamb and cube it yourself, the cost will be less than buying it already cut.
Keeping the lamb and veggies in the marinade overnight allows the wine, vinegar, and lemon juice to tenderize the lamb. The acid in those ingredients helps denature the proteins in your meats while imparting a delicious flavor (although the marinade works mainly on the surface of the meat).
PRO-Tip: Marinate in a large Ziploc bag. Make sure to seal well, so the marinade does not spill in your refrigerator.
Flip the bag once or twice during the marination time and agitate it so that all the surfaces of the lamb are exposed to the marinade.
We love to grill over charcoal as often as possible as the smoke provides an additional flavor to the lamb that is lacking with a gas grill. But either option will work well.
Remove the lamb from the refrigerator about 30 minutes before grilling to get the chill off.
Grill your lamb to medium rare for the best results. Check the internal temperature with an Instant Read Thermometer. (affiliate link)
It should read 135º when you pull it off the grill. There will be some residual cooking and the final temperature will be higher. Tent the kebabs with foil and let them rest for about 10 minutes before serving. This allows the juices to reabsorb and the meat to come up to temperature. This Leg of Lamb Recipe is to die for!
No matter what you call these or how you spell them, if you enjoy lamb, or want to try it for the first time, I think you'll enjoy this recipe for Greek kebabs! It's picky hubby approved!! Serve it with my favorite Greek Salad with Feta, Cheesy Spinach Rice Casserole, Homemade Pita Bread, and Greek Lemon Bundt Cake for dessert! If you're looking for a leg of lamb recipe, here's my Glazed Leg of Lamb. As a bonus, these kabobs are actually a leg of lamb recipe, so you won't have to carve it!
Frequently Asked Questions
What Cut of Lamb is Best for Grilled Lamb Kabobs?
Use a boneless leg of lamb or lamb shoulder or lamb sirloin. Made sure the cut is not too lean as the fat will help keep the meat moist as it cooks.
At What Temperature is Lamb Done?
Cook it to Medium Rare for the best results or 145°. It's best to pull the lamb off the grill at 135°, cover it with foil, and let it rest for 10 minutes. The juices will reabsorb and the residual heat will bring the temperature up 10 degrees.
What's the Difference Between Kabobs, Kebabs, and Souvlaki?
Kebab is the more popular spelling, a Turkish word meaning sword or skewer, but Kabob is also used. Even Cabob is seen on occasion. Plus, this dish is also known as souvlaki, which translates to "made from lamb" in Greek and Latin.
Menu Suggestions:
Round out your meal with these tasty recipes.
You May Also Like:
Stay in touch through social media @ Instagram, Facebook, and Pinterest. Don't forget to tag me when you try one of my recipes! And if you love the results, please give it a 5-star rating in the recipe card. Note: As an Amazon Associate, I earn from qualifying purchases. Visit my Amazon Store for my favorite products.
Prep Time 15 minutes
Cook Time 6 minutes
Total Time 21 minutes
Yield 4 servings
Marinated and grilled lamb kebabs with a Greek flair!
Ingredients
2 pounds lamb, cut into 1 ½-2-inch cubes (my butcher cubed some leg of lamb)
½ cup red wine
¼ cup red wine vinegar
3 tablespoons olive oil
1 teaspoon salt
1/4 teaspoon freshly ground black pepper
1 teaspoon dried oregano
2 + large cloves of garlic (minced)
Juice of ½ lemon
½ teaspoon fresh thyme or a sprinkle of dried thyme
1 large onion (cut into 1+ inch chunks)
1 red bell pepper (cut into 1+ inch chunks)
Instructions
Combine wine, vinegar, olive oil, salt, pepper, oregano, lemon juice, and onion in a large ziplock bag. Add lamb and mix to combine.
Marinate overnight in the fridge.
Skewer lamb chunks with slices of onion and bell pepper.
Grill to desired doneness.
Notes
Adapted from Greek Cookery Marin.
Recommended Products
As an Amazon Associate and member of other affiliate programs, I earn from qualifying purchases.
Nutrition Information:
Yield:
4
Serving Size:
1
Amount Per Serving:
Calories: 848
Total Fat: 58g
Saturated Fat: 22g
Trans Fat: 0g
Unsaturated Fat: 32g
Cholesterol: 220mg
Sodium: 736mg
Carbohydrates: 16g
Fiber: 2g
Sugar: 10g
Protein: 57g
Note: This post may contain affiliate links; view
my Disclosure Policy
for details. I earn a small percentage from any purchase you make by clicking on these links at no extra cost to you.