Feta Chicken Kabobs
These Feta Chicken Kabobs have been a family favorite for years! Marinating the chicken in a mixture of yogurt, rosemary, garlic, and feta makes for a tender, delicious entree!
These Grilled Chicken Kabobs with Vegetables are nearly a whole meal on a skewer! Just add some crusty bread or a green salad and you're set. This has been a family favorite for over a decade.
Why You Must Make
The enticing aroma of garlicky chicken permeates the air when these kabobs hit the grill. These Greek-inspired Chicken Kabobs are truly winners.
Biting into the tender meat flavored with garlic, Dijon and feta satisfy all the senses.
The yogurt marinade makes for extremely tender and flavorful chicken.
Plus, these aren't your ordinary shish kabobs. This is a wonderful way to shake up your summer grilling menu.
Well, I'm afraid I'm not going to make it to Greece anytime soon, so instead, I'm bringing Greece to my house! Recipes can transport you across the globe to dine on flavors found across Europe, Asia, and the Americas. With a quick search on your computer, you can now make so many amazing dishes at home like these Mediterranean chicken kabobs.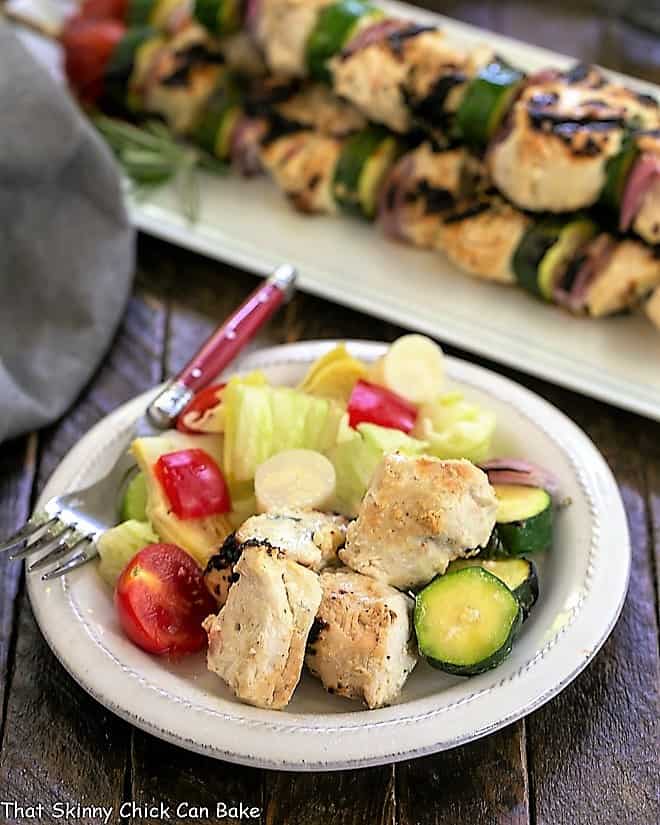 Expert Tips
There are twofold advantages from utilizing a marinade, to infuse flavor and tenderize. These chicken kabobs illustrate both beautifully.
PRO-Tip: Yogurt does an amazing job tenderizing chicken. Whether it's an enzyme, the acid, or calcium, the jury is still out. Just make sure your chicken spends at least a couple of hours up to overnight the yogurt-based marinade so it can work its magic.
Having a flavorful marinade for chicken kabobs is imperative, too. Though the flavors won't infuse deeply into the meat, it will create an amazing, flavorful crust on these kabobs.
Don't overcook these feta chicken kabobs or the chicken will be dry. Not as dry as if you didn't marinate them, but you'll want to grill just until the chicken loses the pink hue internally, or to about 160 degrees.
PRO-Tip: Note that if you use wooden skewers, you should soak them in water for about a half-hour to prevent them from incinerating on the grill!
Frequently Asked Questions
What's the Difference Between Chicken Kabobs and Kebabs?
If you'll search this blog you'll find a couple of kabob recipes and one lonely kebab recipe. In my mind, they're both names for skewered meats, sometimes with vegetables and aromatics, which are grilled. Originating in the Middle East, there are now numerous varieties featuring different meats and flavors. Spelling this dish "kabobs" is primarily found in North America.
What Makes the Best Marinade for Chicken Kabobs?
When it comes to marinades, there are a few components that help ensure tender, flavorful results. Let's dissect this recipe as an example:

 Greek yogurt – like vinegar and citrus juice, Greek yogurt has an acidic component that's key to tenderizing the chicken. So the chicken cubes don't turn to mush, only marinate up to 8 hours.
 Flavor Enhancers – Feta cheese, garlic, rosemary, mustard, scallions all infuse flavor into the chicken. Aromatics like onions, garlic, and scallions are an important addition unless you have an aversion to their flavor.
Salt and Pepper – Salt, like wine and alcohol, is a flavor enhancer. Do not omit unless you're on a sodium-restricted diet. I typically add half the amount of pepper as salt, but this is up to your palate's preference.
How Much Chicken Per Person When Making Kabobs?
My meat market sells reasonably sized boneless skinless chicken breast with the tenders removed, so I purchase one per person. Each chicken breast provides about 6-8 cubes of chicken.

If your butcher sells much larger chicken breasts, definitely reduce the number needed unless you like lots of leftovers! Remember that a serving of chicken is about the size of a deck of cards or the palm of your hand.
How Long Does it Take to Grill Chicken Kabobs?
The time will vary depending on the size of your chicken pieces and the temperature of your grill. You'll want to cook the chicken until it has an internal temperature of 165 degrees. This should take about 10-15 minutes.
You May Also Like:
Stay in touch through social media @ Instagram, Facebook, and Pinterest. Don't forget to tag me when you try one of my recipes! And if you love the results, please give it a 5-star rating in the recipe card. Note: As an Amazon Associate, I earn from qualifying purchases. Visit my Amazon Store for my favorite products.
The Recipe:
Feta Chicken Kabobs
Prep Time 10 minutes
Cook Time 20 minutes
Total Time 30 minutes
Yield 6 servings
A terrific feta, garlic and rosemary marinade that's fabulous on chicken!
Ingredients
1 cup plain Greek yogurt
¼ cup crumbled feta cheese
1 tablespoon minced garlic
1 tablespoon chopped fresh rosemary
2 tablespoons Dijon mustard
3-4 thinly sliced scallions
½-1 teaspoon kosher salt, to taste
¼ teaspoon freshly ground black pepper
6 boneless, skinless chicken breasts, each cut into 6-8 cubes
Zucchini, red bell pepper, red onion chunks, optional
Rosemary sprigs with most of the leaves removed to use as skewers, optional
Instructions
Mix yogurt, feta, garlic, rosemary, Dijon, scallions, salt, and pepper.
Marinate chicken cubes in the mixture for at least one hour and up to 8 hours.
Skewer chicken on metal, wooden, or rosemary skewers alternating with zucchini slices, red bell pepper, and onion if desired.
Grill till the chicken is cooked.
Notes
Total time does not include marinating.
Chicken is safe to eat when it's cooked to 165°. It will be opaque when you slice into it.
Nutrition Information:
Yield:
6
Serving Size:
1
Amount Per Serving:
Calories: 330
Total Fat: 8g
Saturated Fat: 3g
Trans Fat: 0g
Unsaturated Fat: 4g
Cholesterol: 143mg
Sodium: 681mg
Carbohydrates: 7g
Fiber: 1g
Sugar: 4g
Protein: 56g
Note: This post may contain affiliate links; view
my Disclosure Policy
for details. I earn a small percentage from any purchase you make by clicking on these links at no extra cost to you.