Cranberry Orange Walnut Bread
This Cranberry Orange Walnut Bread is kissed with citrus, perfect for breakfast, tea time, or for dessert! An absolutely delicious recipe for the holidays.
Cranberry Nut Bread is sweet, tart, and crunchy plus it makes a delicious addition to a Thanksgiving or Christmas buffet.
Why You Must Make
This recipe comes from my talented blogger friend, Jamie Schler, who has had recipes published in The Washington Post, Fine Cooking, and Good Housekeeping. She's also a cookbook author of Orange Appeal: Savory and Sweet (affiliate link). If you are a citrus fan, you'll be enamored with every single recipe!
The pairing of orange and cranberries is divine!
It's a delicious seasonal recipe that makes a lovely, homemade holiday gift!
Cranberry Nut Bread
The cranberry bread recipe from my childhood was lifted right off the bag of Ocean Spray cranberries. Lately, I've turned to the classic Cranberry Pecan Bread from Cook's Illustrated. But who wants to be in a rut??! Thank goodness, Jamie offered another cranberry loaf alternative.
When I took my first nibble of Jamie's Traditional Cranberry Orange Walnut Bread, I was smitten. The orange juice and zest provided incredible citrus undertones which paired well with both the tart cranberries and the earthy walnuts. Plus, it was topped with a rich, buttery streusel. All in all, a heavenly combination!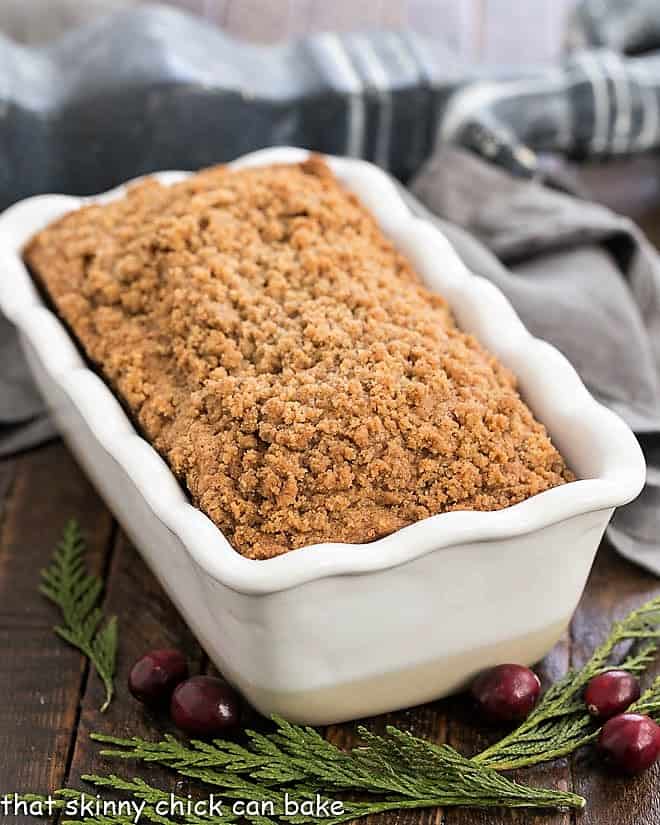 Tips for Making Quick Bread:
Back in the day, Home-Ec was offered in junior high and high school. The sewing part wasn't my cup of tea but I loved learning about baking at Welch Junior High, then Lord Byng Secondary School in Vancouver, and a third time at Ames Senior High.
They were electives and I signed up for them all! Here are some of the tips I learned for making quick bread like this Orange Cranberry Bread.
General Tips:
Quick bread is not made with yeast. Baking powder, baking soda or both are the leaveners. Examples are pumpkin bread, banana nut bread, lemon poppyseed bread, etc.
Generally, you cream the sugars and fats first, then add the eggs and other liquids.
Next the dry ingredients are whisked together (so the leaveners are evenly distributed).
It's important that once you add the flour and leaveners, you mix until just combined.
PRO-Tip: Do not overmix the batter. Over-mixing will cause tunnels in your final product. In muffins, the domes will be peaked instead of rounded. So don't use a mixer, but instead, a wooden spoon or rubber spatula.
PRO-Tip: Always toast your nuts to bring out their essential oils. This will boost their flavor along with making them crunchier. Either heat them in a dry skillet until they start to smell nutty or place them on a sheet pan and bake at 350° for about 5 minutes or until you experience a nutty aroma.
Practical Tips:
The same batter can be used to make muffins. Just adjust the baking time.
I had no trouble with my add-ins (cranberries and walnuts) sinking, but I've coated chocolate chips and blueberries with flour before mixing them in the batter to ensure better distribution.
Your quick bread is done when a toothpick inserted in the middle comes out clean. I check a couple of spots to avoid having an underdone pocket in your bread. Start checking 10-15 minutes before the suggested cooking time in case your oven runs hot.
Baking and Storing Tips
I like to grease my pan, then flour it (or use a baking spray with oil and flour), then line the bottom of the pan with parchment and grease or spray it. This will prevent the bottom from sticking.
I let the bread cool in the pan for about 10 minutes before removing it to a cooling rack to finish cooling. Run a knife or metal spatula around the perimeter of the pan if the bread does not want to release. I usually give it a little jiggle back and forth to see if it is loose.
Cool bread to room temperature before wrapping and storing. The bread will actually taste better if you wait a day to sample. But I can never resist! Store at room temperature for up to 3 days, then in the refrigerator up to a week and in the freezer for a few months.
Orange Appeal: Sweet and Savory
Besides being a terrific cook, Jamie is an incredibly talented writer. Check out her blog, Life's a Feast, to see her gorgeous creations in the kitchen while being reeled in by the yarns she spins. Her love of citrus hails from her Florida upbringing and continues to this day where she and her husband own a hotel in France's Loire Valley.
Jamie's homemade jams and jellies are served for breakfast at the Hotel Diderot. I imagine there's some citrus involved in making those spreads. I hope to be a guest one day—definitely on my bucket list!
Jamie's essays and recipes have been published in Fine Cooking, The Washington Post, Good Housekeeping, and more. Orange Appeal would make an amazing gift, for you or a cook in your life! Add a loaf of this cranberry nut bread, too!
Frequently Asked Questions
Can Frozen Cranberries Be Used?
Yes, both fresh and frozen cranberries will work in a quick bread. Don't defrost the cranberries if using frozen, but toss them in a touch of flour to help absorb any liquid they may exude as they defrost and cook in the oven.
Dried cranberries can be used as a last resort. Just rehydrate them in some hot water or hot orange juice before using.
When Are Cranberries in Season?
Cranberries are harvested from mid-September through mid-November, making them perfect to use at Thanksgiving. Most of the US crop is grown in bogs in Wisconsin.
How Do You Know When Your Cranberry Bread Recipe is Cooked?
It's important not to pull it out of the oven too early as the middle will be raw and the top of the bread will sink. Use the toothpick test to check if your loaf is done by inserting a toothpick into the center of the bread.
If it's clean when you pull it out, the bread is done. If there is any batter on your toothpick, it needs more time in the oven. You may need to check it a number of times (and a number of spots) to ensure that it's fully cooked.
How Do You Store Cranberry Walnut Bread?
It can be stored at room temperature for about 3 days if wrapped well and your kitchen is relatively cool. Then keep it in the refrigerator for up to a week. It can also be frozen for up to 3 months.
Make sure it's wrapped in plastic and/or foil, then placed in a freezer-safe Ziploc bag with all the air removed. Defrost overnight in the refrigerator and serve at room temperature.
Can You Make Muffins with this Recipe?
Yes, just fill your prepared muffin tin 2/3 full of batter and bake until a toothpick inserted comes out clean, about 20 minutes.
You May Also Like:
The Recipe:
Streusel Topped Cranberry Orange Walnut Bread
Prep Time 20 minutes
Cook Time 1 hour
Total Time 1 hour 20 minutes
Yield 16 servings
A tender, delicious quick bread with cranberries, orange zest, walnuts and a streusel topping!
Ingredients
Streusel Topping:
3 tablespoons flour
3 tablespoons brown sugar
1/4 teaspoon ground cinnamon
2 tablespoons unsalted butter, cubed*
Bread:
1 orange, juiced and zested
Boiling water
2 tablespoons unsalted butter*, cubed and at room temperature
1 egg
1 cup sugar
1 cup whole or coarsely chopped fresh or frozen (thawed) cranberries
1/2 cup coarsely chopped walnuts**
2 cups flour
1 teaspoon baking powder
1/2 teaspoon baking soda
1/2 teaspoon salt
Instructions
To make the streusel topping, place the flour, brown sugar, and cinnamon in a bowl and toss to combine.
Add the butter and, using only your fingertips, rub quickly into the dry ingredients until it resembles damp sand and there are no chunks of butter left.
Chill in the refrigerator while you prepare the quick bread.
Preheat the oven to 325º. Butter a standard 9 x 5 x 2 1/2-inch loaf pan and set aside.
Add enough boiling water to the orange juice to make 3/4 cup of liquid. Add the zest and butter and stir until the butter is melted.
In a large mixing bowl, whisk or beat together the egg and sugar until blended, and light and fluffy. Pour the orange mixture into the egg mixture and stir together. Fold in the cranberries and walnuts.
In a separate bowl, blend together the flour, baking powder, baking soda, and salt Stir the flour mixture into the orange mixture until well-blended.
Spread the batter into the prepared loaf pan. Sprinkle the streusel evenly over the top of the batter, breaking up any lumps with your fingertips.
Bake for 55-60 minutes, or until the center is set and the top is golden brown.
Allow the bread to cool in the pan on a rack before sliding a knife around the edges to loose and unmolding.***
Notes
*You may substitute pecans for walnuts.
**I used salted butter and reduced the salt to 1/4 teaspoon.
***I grease the pan, then line the bottom with a rectangle of parchment paper. Then I grease the top of the parchment and dust all with flour.
If you use frozen cranberries, toss them in a touch of flour to help absorb any liquid they exude.
Recommended Products
As an Amazon Associate and member of other affiliate programs, I earn from qualifying purchases.
Nutrition Information:
Yield:
16
Serving Size:
1 slice
Amount Per Serving:
Calories: 177
Total Fat: 6g
Saturated Fat: 2g
Trans Fat: 0g
Unsaturated Fat: 3g
Cholesterol: 19mg
Sodium: 143mg
Carbohydrates: 29g
Fiber: 1g
Sugar: 15g
Protein: 3g
Note: This post may contain affiliate links; view
my Disclosure Policy
for details. I earn a small percentage from any purchase you make by clicking on these links at no extra cost to you.