Peach Raspberry Cobbler
Peach Raspberry Cobbler is an exquisite way to enjoy fresh, juicy summer produce! Plus it's a breeze to prepare compared to peach pie!
A Fruit Cobbler Recipe is a delicious, easy way to enjoy the summer harvest! Warm from the oven with a scoop of cold vanilla ice cream, it's heaven on a plate!!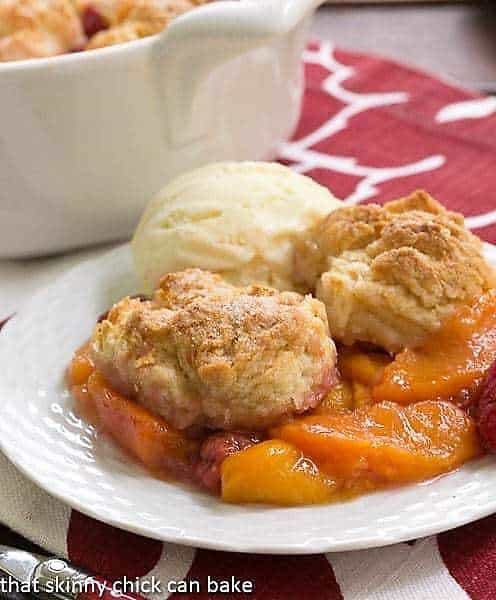 Why You Must Make
My mother-in-law made exquisite pies. She's slowed down her baking over the past few years, but she never missed the mark with her flaky, lard-based pie crusts and fruit fillings. They had apple and peach trees in their yard and made certain to load up on summer berries to stock the freezer. There was always a fruit pie for dessert when I visited. I had my first raspberry pie at their house as a newlywed…so wonderful with a scoop of vanilla ice cream. But pie crusts have been my nemesis and I much prefer making a crisp or cobbler.
A few years ago, I discovered the sublime pairing of peaches and raspberries when I tossed a few handfuls of raspberries into a peach crisp. A new favorite filling was discovered.
This Peach Raspberry Galette also showcases this fabulous combo!
So when asked to write an original post for BonBonBreak, an online magazine for the modern mom, I went to my favorite fruit combination. I had never made a peach raspberry cobbler, but I had a feeling it would be a winner. And it was.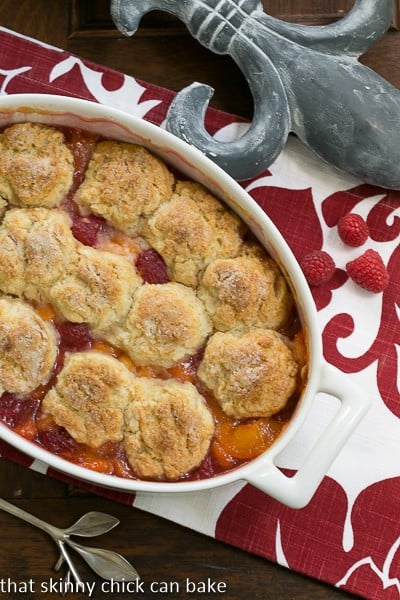 Recipe Tips:
The success of fruit crisps, cobblers, and pies depends on two factors: a perfect topping and a flavorful filling.
Make sure to wait till the peak of each fruit's season to make your dessert. I had fresh Florida peaches in Miami a few weeks back, and Georgia peaches should be making their way up north very soon. Wait until fall to create your apple desserts.
It's easy to freeze sliced peaches to use for desserts in the winter. Check out my Peach Crisp post for details. Plus, these Peach and Plum Johnnycake Cobblers are another fun way to enjoy summer peaches.
A couple of hints when making the biscuit topping. The fats (butter and shortening in this case) must be very cold. Pop your shortening in the freezer for an hour or two or even overnight, if you have the time. You will still be able to cut the frozen shortening easily as it doesn't freeze as solid as butter.
Also, make sure your baking powder has not expired. Unlike baking soda, it most often expires while sitting in your pantry. It is not used nearly as often as baking soda in recipes. To check it's potency, put a spoonful in a cup of very hot water. If it's still active, it will bubble vigorously. If it doesn't, replace it before starting this recipe.
Don't take your butter out of the refrigerator until you're ready to make the topping. Even better, cut it into small cubes and put those back into the fridge as you prepare the rest of your ingredients.
When cutting the fats into the dry mixture, make sure not to over-process. You'll want some small, visible pieces of butter. These tiny pockets of fat will create steam when they hit the oven and help your biscuit topping rise.
Bake until the filling is bubbly. This ensures the juices will thicken.
Frequently Asked Questions
How Do You Know When Peaches Are Ripe?
Ripe peaches will have a sweet peach aroma when ripe. They'll also give slightly when you gently press into the flesh. If there are any green areas on a peach, it may have been picked too early and may not ripen properly.
Is the Combination of Peaches and Raspberries Very Popular in Desserts?
Yes, this is a classic pairing of fruit that grew in popularity after the French chef Escoffier created the Peach Melba in the 1880s. It was made with two poached peach halves which were filled with ice cream and topped with a raspberry sauce.
You May Also Like:
Stay in touch through social media @ Instagram, Facebook, and Pinterest. Don't forget to tag me when you try one of my recipes! And if you love the results, please give it a 5-star rating in the recipe card. Note: As an Amazon Associate, I earn from qualifying purchases. Visit my Amazon Store for my favorite products.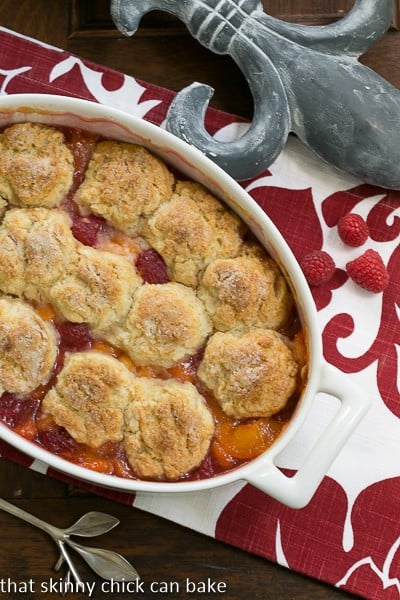 The Recipe:
Peach Raspberry Cobbler
Prep Time 20 minutes
Cook Time 55 minutes
Total Time 1 hour 15 minutes
Yield 6
A scrumptious combination of summer fruit make for an out of this world dessert!
Ingredients
Filling:
4 cups sliced peaches, peeled, pitted and cut into thick slices
1 ½ cups raspberries
½ cup sugar
1 teaspoon vanilla
1 tablespoon cornstarch
Topping:
1 ½ cups flour
2 ¼ teaspoons baking powder
¼ teaspoon salt
2 tablespoons sugar, divided
7 tablespoons cold butter
2 tablespoon cold shortening, cut into small cubes
9 tablespoons milk
Instructions
1. In a medium mixing bowl, whisk together flour, baking powder, salt, and 1 tablespoon of sugar.
2. Grate the butter into the dry ingredients and add shortening cubes. With your hands or a pastry blender, cut the butter and shortening into the dry ingredients till the mixture resembles corn meal.
3. Add the milk and toss with a fork till well combined.
4. Pour onto a floured surface and knead a few times till the mixture comes together. Wrap in plastic and place in refrigerator while making the filling.
5. Preheat oven to 375º. In a large bowl, toss peaches with sugar, cornstarch, and vanilla.
6. Pour into a greased 8 x 8-inch (or 2 quart) baking dish.
7. Scoop heaping tablespoons of dough and drop over the fruit topping. Dust with the remaining tablespoon of sugar.
8. Bake for 45-55 minutes or till the topping is browned and the filling is bubbly. Cool slightly and serve with vanilla ice cream.
Notes
Make sure your baking powder is fresh. Unlike baking soda, it usually expires well before you can use it all. If it's old, your biscuits won't rise properly.
Recommended Products
As an Amazon Associate and member of other affiliate programs, I earn from qualifying purchases.
Nutrition Information:
Yield:
6
Serving Size:
1
Amount Per Serving:
Calories: 427
Total Fat: 19g
Saturated Fat: 11g
Trans Fat: 1g
Unsaturated Fat: 7g
Cholesterol: 40mg
Sodium: 391mg
Carbohydrates: 61g
Fiber: 4g
Sugar: 31g
Protein: 5g
Note: This post may contain affiliate links; view
my Disclosure Policy
for details. I earn a small percentage from any purchase you make by clicking on these links at no extra cost to you.