Peaches and Raspberries
My mother in-law made exquisite pies. She's slowed down her baking over the past few years, but she never missed the mark with her flaky, lard based pie crusts and fruit fillings. They had apple and peach trees in their yard, and made certain to load up on summer berries to stock the freezer. There was always a fruit pie for dessert when I visited. I had my first raspberry pie at their house as a newlywed…so wonderful with a scoop of vanilla ice cream.  But pie crusts have been my nemesis and I much prefer making a crisp or cobbler.
A few years ago, I discovered the sublime pairing of peaches and raspberries when I tossed a few handfuls of raspberries into a peach crisp. A new favorite filling was discovered. So when asked to write an original post for BonBonBreak, an online magazine for the modern mom, I went to my favorite fruit combination. I had never made a peach raspberry cobbler, but I had a feeling it would be a winner. And it was.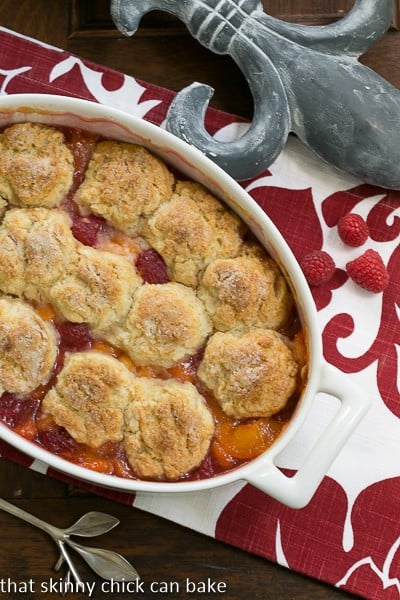 The Process
The success of fruit crisps, cobblers and pies depends on two factors: a perfect topping and a flavorful filling. Make sure to wait till the peak of each fruit's season to make your dessert. I had fresh Florida peaches in Miami a few weeks back, and Georgia peaches should be making their way up north very soon. Wait until fall to create your apple desserts.
A couple hints when making the biscuit topping. The fats (butter and shortening in this case) must be very cold. Pop your shortening in the freezer for an hour or two or even overnight, if you have the time. You will still be able to cut the frozen shortening easily as it doesn't freeze as solid as butter. Don't take your butter out of the refrigerator till you're ready to go. Even better, cut it into small cubes and put those back into the fridge as you prepare the rest of your ingredients.
When cutting the fats into the dry mixture, make sure not to over process. You'll want some small, visible pieces of butter. These tiny pockets of fat will create steam when they hit the oven and help your biscuit topping rise.
For the recipe and more, head over to BonBonBreak and check out my post.