Grilled Blueberry Cobbler
For a change of pace, I decided to make a Grilled Blueberry Cobbler Recipe instead of baking it in the oven. A subtle smoky flavor makes for a memorable dessert!
When it comes to grilling, we usually toss burgers or a simple marinated flank steak or chicken on our Big Green Egg. But BBQ Dessert Ideas are fun alternatives in the summer!
Why You Must Make
You won't heat up your house in the summer by turning on the oven to bake a dessert.
The smoky flavor imparted by the fire is crazy delicious!!!
If you like to try new cooking techniques, give this grilled dessert a try!
The hubby is in charge of grilling most nights. But when it comes to barbecuing a dessert, a grilled blueberry cobbler to be specific, that's my territory! I dusted off my cast iron skillet and filled it with a mixture of plump, juicy blueberries, sugar, cornstarch, and a touch of cinnamon. I also tossed in some lemon zest and lemon juice to balance the sweetness.
A biscuit dough was dolloped over the top for that classic cobbled presentation. The fire was hot, hot, hot and I adjusted the vents to keep the temperature between 350º and 400º to the best of my ability. After 20 minutes the filling was bubbling like crazy, so again, I toned down the heat and gave it 10 more minutes till the biscuits were golden.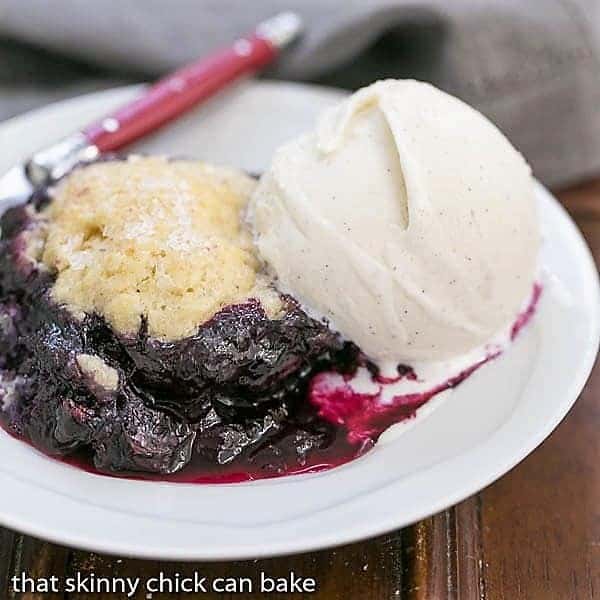 Recipe Tips
Fruit cobblers, crisps, and pies are frequent summer desserts at Chez Skinny Chick. The hubby went nuts for my slightly smoky Grilled Apple Crisp, so I thought I'd try my hand at a cobbler. An unusual cooking method for this classic, but perfect when you don't want to turn on the oven on a sultry summer's day. The best review of this berry cobbler came from my youngest. He commented, "You know I really don't like blueberries, but I guess I'd never tasted a really good blueberry dessert till now." Well said.
I prefer the lesser amount of sugar listed in the recipe, but if your berries aren't super sweet, you might up the amount.
Make sure your grill has a thermometer so you can keep track of the baking temperature. The goal is around 350° just like it would be in your kitchen's oven.
Use a cast iron skillet that can take the heat.
Taste your berries before you start mixing. They should be sweet and flavorful. If they're not very sweet, you can adjust your sugar amount. And if they don't taste great, the dessert may not either!
You will know your cobbler is done when the filling is bubbly. The biscuits should be lightly browned, too.
Frequently Asked Questions
What Other Desserts Can Be Baked on a Grill?
As long as you are able to maintain the grill's temperature and you have bakeware or cookware that won't get damaged from possible smoke, heat and flames, you can make lots of desserts. Brownies, fruit cobblers and crisps will work well.
What's the Best Set Up to Use a Grill as an Oven?
You'll want to set up a zone of indirect heat. Either turn off the center burners on your gas grill or have a central area of your charcoal grill when there are no coals. This will allow the grill to heat up to baking temperature, but by placing the baking pan in the middle, there won't be intense heat under it. This prevents the bottom of the dessert from burning.
More Summer Grilling Recipes
Yup, we're full swing into barbecue season at my house! Memorial Day weekend is less than a week away and it's time to stock up on charcoal and propane for your summer grilling. I hope you'll find some inspiration among all the terrific recipes below. Make sure to add this Grilled Blueberry Cobbler to your holiday menu!
Stay in touch through social media @ Instagram, Facebook, and Pinterest. Don't forget to tag me when you try one of my recipes! And if you love the results, please give it a 5-star rating in the recipe card. Note: As an Amazon Associate, I earn from qualifying purchases. Visit my Amazon Store for my favorite products.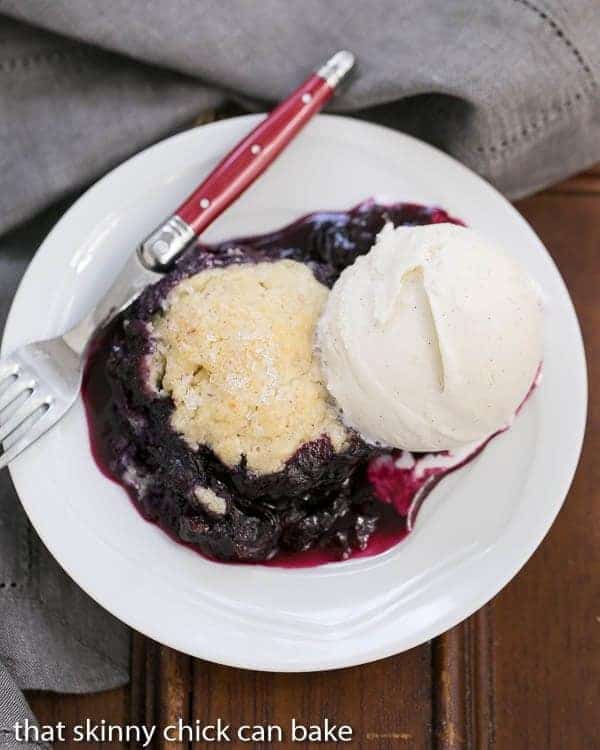 The Recipe:
Grilled Blueberry Cobbler
Prep Time 30 minutes
Cook Time 30 minutes
Total Time 1 hour
Yield 8 servings
A classic blueberry cobbler with a biscuit topping made in an unconventional manner!
Ingredients
Berry Mixture:
½-⅔ cup sugar (use smaller amount if your berries are sweet)
2 teaspoons cornstarch
½ teaspoon cinnamon
8 cups fresh blueberries
½ teaspoon lemon zest
1 tablespoon fresh lemon juice
Biscuit Topping:
1 ½ cups flour
2 tablespoons sugar
2 teaspoons baking powder
⅛ teaspoon salt
8 tablespoons butter, frozen
½ cup heavy cream, plus more for glazing biscuits
Coarse sugar, to sprinkle over biscuits
Instructions
Preheat your grill to 350º if possible or light your charcoal grill.
Mix together sugar, cornstarch, and cinnamon. Add blueberries, lemon zest, and lemon juice and mix till combined.
Pour into a 9-inch cast iron skillet or disposable aluminum pan.
Make biscuits by whisking together flour, sugar, baking powder, and salt.
Grate the butter into the flour mixture and toss to coat the butter with flour.
Mix in cream till the dough comes together. If needed may add a little more cream till your dough is workable, but try not to overmix so your biscuits remain tender.
Scoop out spoonfuls of dough and drop them across the surface of the blueberries.
Brush biscuits with cream and sprinkle with coarse sugar, if desired.
Cover loosely with foil and grill for about 20 minutes, watching grill temperature if using charcoal.
After 20 minutes, uncover and grill for another 5-10 minutes till the filling is bubbling and the biscuits are golden. Cooking time will definitely vary especially if you use a charcoal grill.
Serve warm with a scoop of vanilla ice cream.
Notes
For a shortcut, you can use a can of premium biscuits found in the refrigerator section of your grocery store.
I found ½ cup of sugar to be just right, but if your berries are not sweet, you might want to increase that amount. Use your own discretion with the sugar amount in the filling.
If using a gas grill, you'll have better control of your heat. It may take longer for your cobbler to fully cook.
If you're not sure if your cobbler is fully cooked, cut into one of the biscuits. If it still seems doughy, continue cooking for another 5 minutes and recheck.
Nutrition Information:
Yield:
8
Serving Size:
1
Amount Per Serving:
Calories: 506
Total Fat: 20g
Saturated Fat: 11g
Trans Fat: 1g
Unsaturated Fat: 7g
Cholesterol: 48mg
Sodium: 338mg
Carbohydrates: 81g
Fiber: 5g
Sugar: 48g
Protein: 5g
Note: This post may contain affiliate links; view
my Disclosure Policy
for details. I earn a small percentage from any purchase you make by clicking on these links at no extra cost to you.