Layered Ice Cream Pie with Chocolate Cookie Crust
Layered Ice Cream Pie with Chocolate Cookie Crust: A decadent, frozen no-bake dessert that's a breeze to prepare. And this ice cream pie is perfect for those dog days of summer when turning on the oven is the last thing you want to do!
Whether it's due to the hot, sultry weather or the lack of a kitchen due to renovations, easy ice cream desserts are a delicious solution. Our kitchen is being drywalled so still no appliances, countertops, or cabinets, and I've been turning to lots of no-bake treats, like this Frozen Pie, for my dessert-loving family.
Why You Must Make
No baking is needed so it's perfect for summer entertaining.
It's perfect to make ahead and store in the freezer.
An ice cream pie recipe is highly adaptable. Make it will any of your favorite ice cream flavors.
Expert Tips
My first ever ice cream pie was called Mississippi Mud Pie. It was from a cookbook I received as a shower gift before I was married many moons ago. Back then, I made the recipe exactly as written with a touch of cognac and heavy cream added to the chocolate ice cream before spreading it into an Oreo crust. Eventually, I added a layer of fudge sauce and it's become a summer dessert tradition. Now I can make it blindfolded!
Make and freeze your cookie crust so that it's firm when you spread the ice cream across the surface.
Allow the ice cream to sit at room temperature for a few minutes to allow it to soften. You don't want it totally melted, but at a spreadable consistency.
When making your layers, eyeball it so that each layer fills about 1/3 of the depth of the crust. Use an offset spatula to spread and smooth each layer as flat and level as you can make it.
Freeze each layer before adding the next.
Alternate light and darker-colored ice creams, so each layer is distinct.
If you like to garnish, whip some cream and pipe rosettes around the perimeter. I topped each rosette with a mini-Oreo since my top layer was cookies and cream!
Using a premade chocolate crust is always an option, but for company, it will look much better served out of a ceramic or glass pie plate with a homemade crust.
Frequently Asked Questions
What Are the Components of an Ice Cream Pie?
My ice cream pies typically have 3 components: a cookie crust, ice cream, and an ice cream topping. Our family favorite combination is an Oreo crust, chocolate ice cream with a slosh of Kahlua, then a fudge topping.
Another beloved version is a graham cracker crust, any sort of butter pecan type of ice cream with a heavy drizzle of caramel sauce. The options are endless!
How Do You Make an Ice Cream Pie?
1. First, make your crust and chill or bake as directed. Cool if needed.
2. Allow your ice cream to soften so it's spreadable.
3. Spread ice cream into the pie crust, making it as level as possible.
4. Freeze until the ice cream is solid.
5. Repeat if adding more layers, making sure to freeze each layer until hard before continuing.
6. Add toppings and/or garnishes.
How Do You Slice an Ice Cream Pie?
Use a hot knife to make it easier to cut through the frozen layers. Wipe it off and reheat as needed. You may run your knife under hot water or quickly (and carefully) through the flame of a gas cooktop.
How Long Does an Ice Cream Pie Last?
If you are able to keep the pie airtight using plastic wrap, then a layer of foil, this pie should keep well for up to a month. The goal is to prevent frost from developing across the surface.
How Should You Garnish an Ice Cream Pie?
Pipe whipped cream swirls around the perimeter. They can be topped with anything that reflects the flavors of your pie like mini Oreos, candies, or other small cookies. Or top slices with a dollop of whipped cream plus a drizzle any ice cream topping that works with the flavors of the pie!
You May Also Like
Stay in touch through social media @ Instagram, Facebook, and Pinterest. Don't forget to tag me when you try one of my recipes! And if you love the results, please give it a 5-star rating in the recipe card. Note: As an Amazon Associate, I earn from qualifying purchases. Visit my Amazon Store for my favorite products.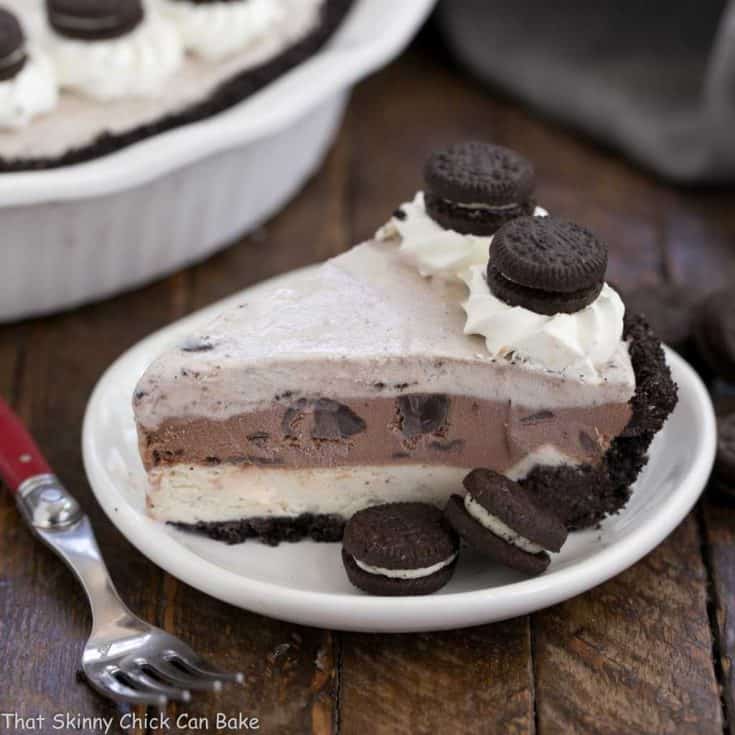 The Recipe:
Layered Ice Cream Pie with Chocolate Cookie Crust
Prep Time 30 minutes
Total Time 30 minutes
Yield 8 servings
An easy No-Bake Ice Cream Pie.
Ingredients
1 9-ounce package of chocolate wafer cookies (or 22 chocolate sandwich cookies), processed or crushed into fine crumbs
6 tablespoons melted butter
2 tablespoons sugar (omit if using sandwich cookies)
3 pints of ice cream (I used vanilla bean, cookies and cream and double chocolate chip), you will not need all the ice ice cream.
Instructions
Mix cookie crumbs, melted butter, and sugar (if using) in a medium bowl. Pat into a greased, 9-inch pie plate. Freeze.
Set out your first ice cream selection to soften while the crust freezes.
Eyeball the depth of your crust as you'll want to fill the bottom third with your first ice cream. I chose a light-colored ice cream to contrast with the dark crust. Place most of the first selection into the bottom crust coming up 1/3 of the way up the pie.
Smooth with an offset spatula and freeze until solid.
Repeat with slightly less of the second ice cream (I used the chocolate for contrast), and repeat by freezing. Then finish with enough of the third ice cream to fill the crust.
Freeze until solid before serving.
To garnish, pipe whipped cream swirls around the perimeter and top with mini Oreos.
Notes
Please note there are extended freezing times between layering the ice cream flavors.
It's best to make this pie the day before you serve it to allow for all the layers to freeze properly.
Nutrition Information:
Yield:
8
Serving Size:
1
Amount Per Serving:
Calories: 484
Total Fat: 27g
Saturated Fat: 15g
Trans Fat: 0g
Unsaturated Fat: 10g
Cholesterol: 74mg
Sodium: 358mg
Carbohydrates: 56g
Fiber: 2g
Sugar: 41g
Protein: 6g
Note: This post may contain affiliate links; view
my Disclosure Policy
for details. I earn a small percentage from any purchase you make by clicking on these links at no extra cost to you.