Summer Fruit Tart
A gorgeous, lip smackin' dessert is ideal for Labor Day entertaining. This picture-perfect Summer Fruit Tart will tantalize your guests.
Autumn is quickly approaching and Labor Day is just around the corner. But summer fruit is still plentiful and before we break out the apples and pumpkin, there's still ample opportunity to make a Fruit Tart Recipe topped with vibrant, sweet berries.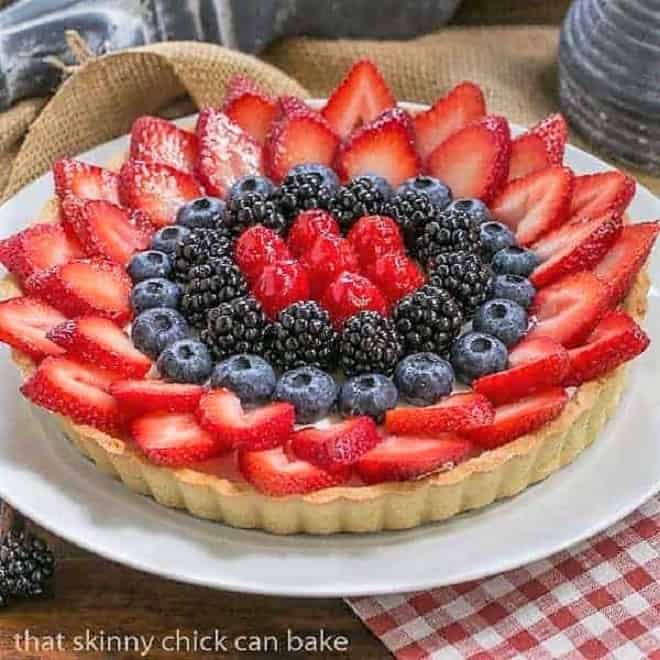 Note: This post may contain affiliate links; view my Disclosure Policy for details. I earn a small percentage from any purchase you make by clicking on these links at no extra cost to you.
Why You Should Make this Fruit Tart
Though I adore eating all sorts of fabulous pies, a one crust tart is so much easier and just as delicious!
No top crust, a bevy of beautiful berries and a light cheesecake filling make this fruit tart recipe easy to prepare and easy on the eyes!
It's best made during the prime of berry season and the perfect way to enjoy beautiful, fresh spring and summer berries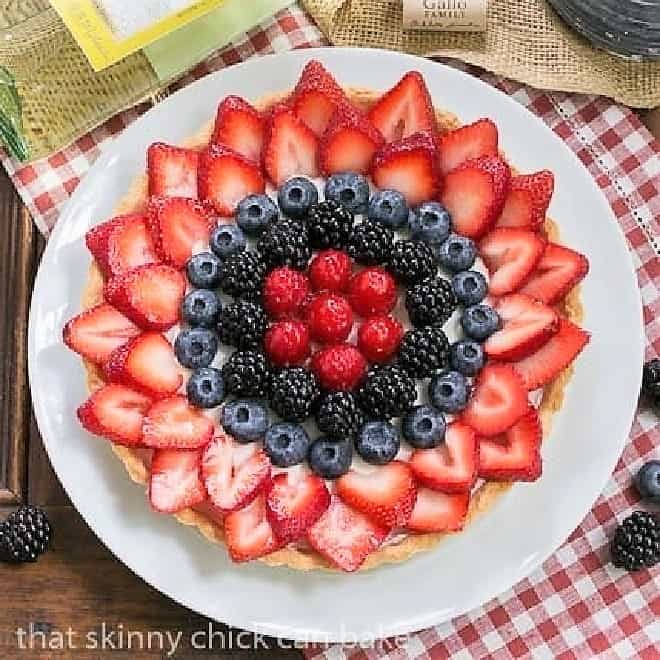 How to Make a Berry Tart
This flaky pastry crust filled with a lemon kissed whipped cream and cream cheese filling can be made any time of year. Just cover the surface with the best fresh fruit of the season and brush with a little melted jelly for an easy fruit tart glaze. This time of year, berries are the obvious choice, but peaches would be magnificent, too! Make it bakery worthy by artfully arranging the fruit over the surface of the filling. You will hear oohs and ahs when you bring this berry tart to the table.
Bake and cool the tart shell.
Make the filling. When the tart shell is cool, add and smooth the filling.
Arrange your favorite berries on top of the filling. Make concentric circles, starting on the outside and working your way to the middle.
Glaze the berries, if desired.
How to Decorate a Fruit Tart
Presentation is key when it comes to desserts. What your eyes see with that first glance determines whether it's worth a second look! I strive to make my desserts look as good as they taste.
For a fruit tart, I love to arrange berries or other fruit, in concentric circles.
First, it looks best when you use fruit of the same size. When shopping, look for consistently sized berries, so one slice of a strawberry isn't enormous and the next isn't tiny.
I start on the outside and work my way in. Note that the tips of the strawberries point out and that the second layer is staggered like shingles. You can do ALL strawberries if that's your preference.
If you're doing a multi-berry topping like this one, alternate the colors of the berries. For example, I separated the two red berries so they were more prominently featured. It also makes your tart more visually appealing.
I like using a currant jelly as my fruit tart glaze. A little sheen makes the topping look more professional. I warm it slightly, then whisk so there are no lumps. Do not apply the glaze when it's hot as the heat could change the appearance of the berries.
How to Select the Best Fresh Berries
Use all your senses. You should be able to detect a sweet berry aroma when you're near the produce.
Look for plump vibrant berries. They shouldn't have bruises, mold (look at the bottom of the clamshell container), or green or pale spots.
The stems should be green and not shriveled.
The seeds on the exterior of strawberries shouldn't be brown and dehydrated.
More Tart Recipes You'll Love: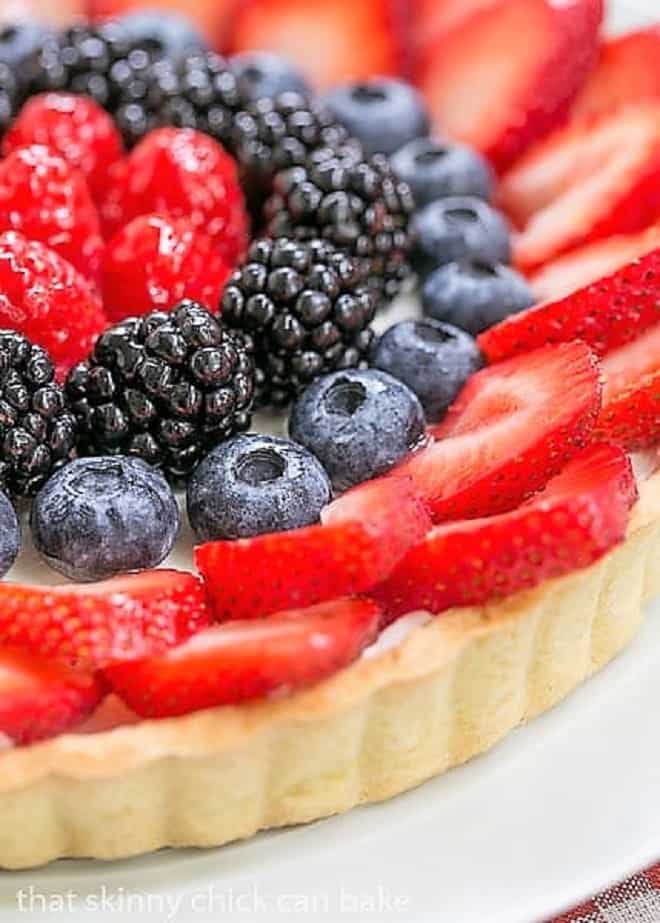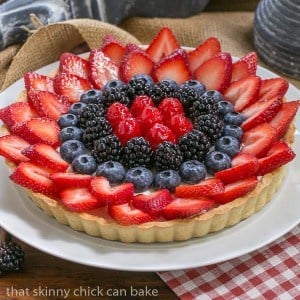 The Recipe:
Summer Fruit Tart
Prep Time 30 minutes
Total Time 30 minutes
Yield 6 servings
A lemon-kissed cream cheese filled tart topped with fresh berries makes for an elegant dessert.
Ingredients
Tart Crust:
1 cup flour
3 tablespoons sugar
1/4 teaspoon baking powder
1/8 teaspoon salt
4 tablespoons cold butter, cut into about 8 pieces
1 egg
Filling:
2 ounces cream cheese, at room temperature
1/4 cup sugar
Squeeze of fresh lemon juice
1/2 cup cold heavy cream, well whipped
Topping:
Fresh berries (slice strawberries)
Red currant jelly
Instructions
In a food processor, pulse flour, sugar, baking powder, and salt to mix.
Add butter pieces and pulse till the mixture looks like coarse cornmeal.
Break the egg into a small bowl and whisk to break it apart. Pour into processor and pulse about 10 times till mixture forms a ball.
Put the dough onto a floured surface and knead a few times. Wrap in plastic and pat into a disk. Refrigerate for at least an hour.
Preheat the oven to 350 degrees. Roll dough on a floured surface to ⅛-inch thickness. Fit into a 9-inch tart pan, then trim the edges flush with the top. Dock the bottom of the tart with a fork (poke holes across the surface), then place a piece of parchment approximately the size of the tart over the surface. Fill with dried beans or pie weights and bake for 20 minutes. Remove parchment and weights and bake another 5-10 minutes till the crust is lightly browned. Cool.
Make the filling when the crust is cooled. Beat together the cream cheese and sugar. Add a couple of teaspoons of fresh lemon juice and mix to combine. Fold in whipped cream.
Spread filling into crust and smooth top. Layer with fresh berries as desired. Gently heat jelly and whisk till smooth. Make sure the jelly is not too hot before brushing the fruit with the melted jelly glaze.
Notes
Tart crust adapted from Nick Malgieri.
Nutrition Information:
Yield:
6
Serving Size:
1 slice
Amount Per Serving:
Calories: 352
Total Fat: 19g
Saturated Fat: 12g
Trans Fat: 1g
Unsaturated Fat: 6g
Cholesterol: 83mg
Sodium: 173mg
Carbohydrates: 42g
Fiber: 2g
Sugar: 21g
Protein: 5g
Note: This post may contain affiliate links; view
my Disclosure Policy
for details. I earn a small percentage from any purchase you make by clicking on these links at no extra cost to you.