Strawberry Cheesecake Parfaits
Looking for an easy, no-bake summer dessert? These sublime Strawberry Cheesecake Parfaits celebrate the best of the berry season!
Strawberry recipes with cheesecake components are absolutely irresistible. Plus, these Fruit Parfaits are super easy to make!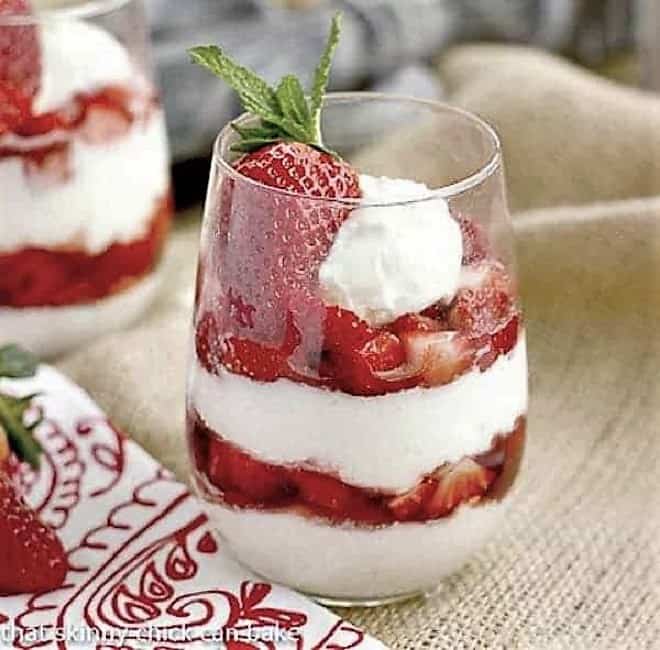 Why You Must Make:
My first clue that this recipe was a success was seeing that Bill had finished his off for breakfast. Well, it does have fruit and dairy. Practically like a strawberry yogurt<insert sarcastic tone>, right???!
These berry parfaits are perfect for luscious, sweet, and fragrant seasonal strawberries.
Well, I must admit, they were very generous servings. So the leftover Strawberry Cheesecake Parfaits were ever so tempting when he opened the fridge at 5:00 AM. Who has willpower at that hour??? We love strawberry season and I have a repertoire of excellent recipes like my strawberry pie dessert, no-bake strawberry cheesecake, strawberry shortcake, strawberry waffle cake, and even my favorite spinach salad topped with sliced ripe berries. So when I spotted some gorgeous berries at the market, I knew a strawberry dessert was in order.
How to Make a Strawberry Parfait
Make the cream cheese layer. Set aside.
Gently melt the jelly, then cool slightly.
Layer the ingredients starting with the cream, then the jelly, then the strawberries.
Repeat the layers and add a dollop of whipped cream, a whole or half berry, and a sprig of mint to garnish, if desired.

Expert Tips
Making parfaits is painfully simple as there are no set rules, but I'll offer some tips for making the most beautiful delicious parfaits possible.
For my strawberry cheesecake parfaits, just rotate layers of the whipped filling, red currant jelly, and sweetened chopped strawberries.
Alternating colors makes for the best presentation. The light cheesecake filling makes a beautiful contrast with the vibrant berries.
Aim for the middle of your individual serving dishes when you add the filling so the sides of the glasses stay clean.
A damp paper towel is helpful in wiping any splatters from the inside of your container, but (at least in my family) when a dessert is so incredibly decadent and delicious, a more rustic presentation is just fine!
I made two large parfaits, but this recipe could easily serve 4. It all depends on the size of your serving containers.
These are best eaten on the day or day after they're made. Berries tend to deteriorate quickly after they're sliced.
The warm weather is creeping in (well, maybe not in Indiana) and our first day of Spring, March 20th, is right around the corner! Let's dive into some delicious springtime recipes! I recommend a strawberry recipe with cheesecake, like these terrific parfaits!!
Frequently Asked Questions
What Does Parfait Mean?
Parfait is a French word meaning perfect. In France, a parfait is a frozen custard.
What is a Parfait Made Of?
In the US, a parfait dessert has ice cream layered with fruit syrups or fruit and whipped cream. It can be topped with more whipped cream, nuts, and often with a cherry on top. There are also breakfast parfaits made of layered granola, yogurt, and sometimes fruit.
Are Strawberry Parfaits Healthy?
They have some health benefits, depending on the ingredients. Fresh strawberries provide Vitamin C and fiber and cream cheese and whipped cream are a source of calcium and protein, but most are not fortified with Vitamin D.

They are a dessert, so despite a few nutritional bonuses, they are also caloric.
You May Also Like:
Stay in touch through social media @ Instagram, Facebook, and Pinterest. Don't forget to tag me when you try one of my recipes! And if you love the results, please give it a 5-star rating in the recipe card. Note: As an Amazon Associate, I earn from qualifying purchases. Visit my Amazon Store for my favorite products.
The Recipe:
Strawberry Cheesecake Parfaits
Prep Time 20 minutes
Total Time 20 minutes
Yield 3 servings
Looking for an easy, no-bake summer dessert? These sublime Strawberry Cheesecake Parfaits celebrate the best of the berry season!
Ingredients
8-12 ounces fresh strawberries (chopped and sweetened to taste with sugar (I used 2 tablespoons))
4 ounces cream cheese (at room temperature)
1/2 cup sugar
Juice of half a lemon
1 cup heavy cream (whipped)
Approximately 1/3 cup red currant jelly
2-4 whole strawberries for garnish
Instructions
Prepare the strawberries by chopping and sweetening. Set aside.
Mix cream cheese, 1/2 cup sugar, and lemon juice, till creamy. Mix in the well-whipped cream. Set aside.
Gently melt the jelly in the microwave and pass through a sieve if needed for a smooth consistency. Cool slightly.
Use 2-4 glasses, depending on the size of dessert you desire, and start layering the ingredients starting with the cream, then the jelly, then the strawberries.
Repeat and end with a layer of cream and garnish with a whole berry (mine were huge so I cut in half).
Notes
For the best presentation, try to avoid getting any of the cream layer on the sides of the glasses as you add it. Wipe any spots off with hot water with a damp cloth or paper towel.
Recommended Products
As an Amazon Associate and member of other affiliate programs, I earn from qualifying purchases.
Nutrition Information:
Yield:
3
Serving Size:
1
Amount Per Serving:
Calories: 611
Total Fat: 42g
Saturated Fat: 26g
Trans Fat: 1g
Unsaturated Fat: 12g
Cholesterol: 128mg
Sodium: 191mg
Carbohydrates: 58g
Fiber: 2g
Sugar: 53g
Protein: 5g
Note: This post may contain affiliate links; view
my Disclosure Policy
for details. I earn a small percentage from any purchase you make by clicking on these links at no extra cost to you.