Chock full of vitamin C and calcium, these berry smoothies will please your palate while boosting your daily nutritional needs!
International Food Bloggers Conference
The trip to Seattle for the International Food Bloggers Conference was fast and furious. A whirlwind of activities, friends, laughter, learning and inspiration. I was exhausted when I returned home. Three days was not enough to travel across 4 time zones and back without some repercussions. But within a day or two, I found out that I was a winner of a not just one, but two of conference sponsors' giveaways! Such a fabulous bonus. First to arrive was the most powerful blender I've ever experienced! These berry smoothies were whirled to perfection in my spankin' new Nutri Ninja® Blender DUO™ with Auto-IQ. The built in intuition of this small appliance was amazing. It pulsed and blended to the ideal smoothie consistency. I have never owned or used one of those high end blenders, but this one exceeded my expectations and seemed to do everything the competitor does but at half the cost.
Berry Smoothies!
Noosa Yoghurt was another one of the #IFBC sponsors. They hosted one of the conference's breakfasts where we were able to sample their seasonal pumpkin yogurt, now available at Target. It was terrific. Noosa is one of my favorite brands of yogurt; it's thick, creamy with the perfect amount of sweetness. It seemed logical that it would be fabulous to make a berry smoothie with their coconut yogurt.
The cultures come directly from Australia, but the yoghurt is made in Boulder, Colorado.We used coconut for these smoothies for a touch of tropical flair. I also was gifted two Analon non-stick skillets. Technology has certainly improved since my last purchase as you can actually use metal spatulas to flip food while cooking.
There were lots of goodies in the "gifting suite," too, like this Complete Citrus Tool from Crisp Cooking. And Crisp Cooking, which showcases unique tools for healthy eating, has generously offered some of their products for one of my readers! Scroll down to see how and what you can win. I'm so grateful for all these conference bonuses. Bill thinks I should be out there buying lottery tickets, but I think it's someone else's turn to be a winner!
 Blender Testing
My sister and I whipped up these smoothies when she was in town. Tossing in a frozen banana, frozen berries along with yogurt, milk and honey, we gawked at the blender doing its thing. We sipped and giggled and decided to make another batch…this time jazzing up the recipe with fresh ginger and vanilla. Maddy nearly choked on her first swallow and burst into laughter. "Cough syrup," she spat out in hysterics, "It tastes like cough syrup!" Blech. That batch was not able to be salvaged. Next time we'll blend up some margaritas!
Print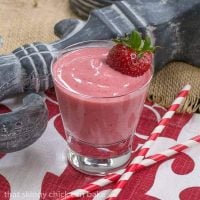 Berry Smoothies #IFBC
Author:
Prep Time: 5 mins
Total Time: 5 mins
Yield: 2 servings
Category: Breakfast
Ingredients
1 peeled banana, frozen
5-8 ounces frozen berries (I used raspberries and strawberries)
1 cup milk
8 ounces Noosa coconut yogurt
Sugar or honey to taste if needed
Instructions
Add all ingredients to blender and puree till smooth. Garnish with berries if desired and serve immediately.
 The Crisp Tools Giveaway!
I was sent three Crisp Cooking tools to test: The Herb Mincer, A Set of 3 Mini Strainers, and The Wavy Knife. With splashes of bright colors and sturdy construction, all three are perfect gifts or stocking stuffers for the cooks in your life. I'm always mincing parsley or basil for a quick garnish, and the Herb Mincer makes short work of it. The strainers are convenient for rinsing just a few berries to top your smoothies or your veggies for stir fry. And the Wavy Knife, which comes with the benefit of being ergonomically designed, will add some pizazz to your holiday crudite platter. To be entered to win this trio of innovative tools, reply to the question in the Rafflecopter below. Unfortunately, this giveaway is only open to those with a US mailing address.
Note: This post may contain affiliate links; view
my Disclosure Policy
for details. I earn a small percentage from any purchase you make by clicking on these links at no extra cost to you.