Brie, Jam and Salami Sandwich
Just in time for back to school, I'm sharing this super easy Brie, Jam, and Salami Sandwich! Loads of deliciousness in every bite.
Did you know August is National Sandwich Month? A grilled cheese is my go-to sandwich, but I was inspired to shake things up with an easy Salami Sandwich Recipe.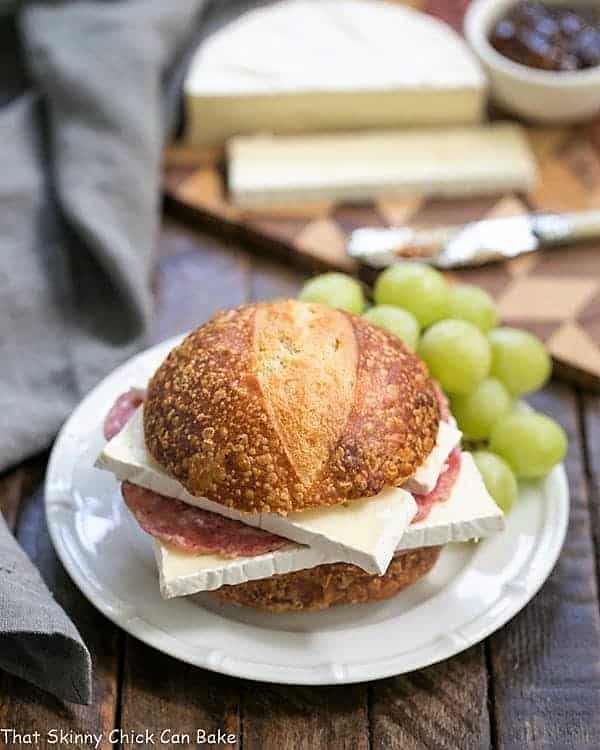 Brie, Jam and Salami Sandwich
I was on holiday up in Northern Minnesota with my sisters at my aunt and uncle's lovely lake house. As we prepped a wheel of Brie to bake in a bread bowl, my Uncle Bob commented that he adored a Brie, Jam and Salami Sandwich. With fig jam, one of my sisters chimed in.
I knew I'd have to make this 4 ingredient Brie sandwich. I also toyed with making a sandwich featuring warm, gooey Brie, like this Turkey Bacon Grilled Cheese Sandwich, but nothing beats a gourmet sandwich you can whip up in 30 seconds!
What is Salami?
Salami or Salame (Italian spelling) is an uncooked, cured sausage that is safe to eat due to how it is processed. Seasoned with garlic and other flavorings, they're typically coarser and drier than other sausages. Made of pork and beef unless labeled kosher, and then they're pure beef.
What are the Popular Types of Salami?
According to the Food Lover's Companion (affiliate link), here are the main types of salami:
Genoa – What I used for this sandwich. Made of pork, veal, pepper, garlic, red wine.
Cotto – Also readily available. Made of pork, beef, garlic, and peppercorns.
Milano – Made of pork, beef, pork fat, garlic, pepper, white wine.
Napoli – Made of pork, beef, red pepper, black pepper.
Danish – Made of finely ground pork and veal, lightly spiced.
French – Made of pork and beef, pepper, and herbs.
German – Made of smoked, finely ground pork and beef.
Kosher – Made without pork, cooked and semisoft.
Tips for Making This Brie Jam and Salami Sandwich
On the day I was recipe testing, my oldest stopped by to have me sign some paperwork for a house he's purchasing. When I mentioned I was making sandwiches, he commented that he happened to be hungry. How convenient! Not sure if he'd want jam on his savory sandwich, he said he preferred that to mustard. Excellent. And that happened to be his verdict, too.
I bought presliced Genoa salami, but I think this would be marvelous with thicker sausage slices from an Italian deli.
This is a handy recipe (if you can call it that!) when you have some leftover Brie from entertaining, or just go ahead and buy a small round and designate it for a Brie, Jam and Salami Sandwich! Perfect for brown-bagging.
Use your favorite jam or preserves. I prefer one that's not overly sweet.
If the sweet and savory combination isn't your thing, use a nice smear of Dijon mustard instead.
P.S. I bet this would be amazing on my Homemade Pretzel Rolls!!
Used in This Recipe:
More Simple Sandwich Recipes
The Recipe:
Brie, Jam and Salami Sandwich
Prep Time 5 minutes
Total Time 5 minutes
Yield 1 sandwich
A super easy, gourmet sandwich that's perfect for a quick lunch or afternoon snack!
Ingredients
Two slices of your favorite sliced bread or a roll
4 or more slices Brie
Genoa or favorite salami, amount depends on size and thickness
Fig preserves or jam
Instructions
Spread one slice or half of a roll with fig preserves
Layer on Brie slices and salami, then repeat. Top with a second slice of bread or roll.
Nutrition Information:
Yield:
1
Serving Size:
1 sandwich
Amount Per Serving:
Calories: 402
Total Fat: 14g
Saturated Fat: 7g
Trans Fat: 0g
Unsaturated Fat: 6g
Cholesterol: 39mg
Sodium: 662mg
Carbohydrates: 56g
Fiber: 2g
Sugar: 22g
Protein: 13g
Note: This post may contain affiliate links; view
my Disclosure Policy
for details. I earn a small percentage from any purchase you make by clicking on these links at no extra cost to you.