Roast Chicken, Brie and Bacon Sandwich
This scrumptious Roast Chicken, Brie and Bacon Sandwich would be a gourmet addition to any lunch box! Perfect for kids AND grownups!
And the drizzle of Hellmann's Mayonnaise brings back memories of my childhood lunches.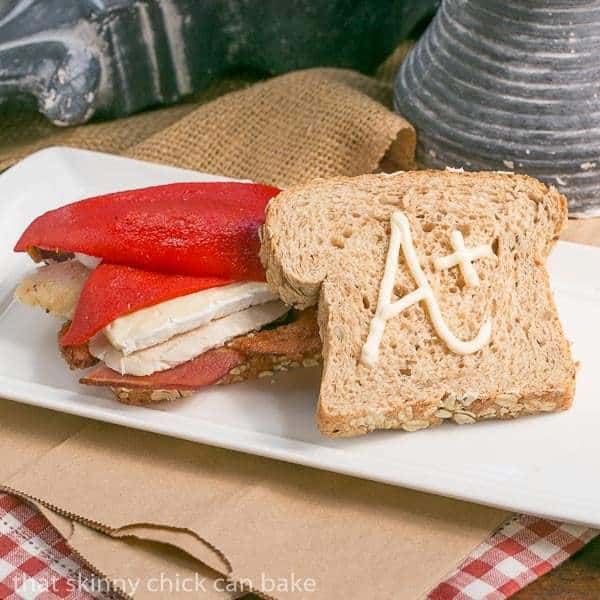 Roast Chicken, Brie and Bacon Sandwich
Since my youngest is off to college, I created a more gourmet version of my favorite childhood grilled cheese sandwich to send with my hubby to work. To make this Roast Chicken, Brie and Bacon Sandwich, I popped a chicken breast, with a drizzle of olive oil and sprinkling of salt and pepper into the oven to roast.
Deli or rotisserie chicken is a terrific option if you're short on time. While the chicken cooked, I microwaved some strips of bacon, sliced the perfectly ripe Brie and pulled a jar of roasted red bell peppers out of the pantry. If your kids don't have adventuresome palates, skip the peppers and Brie, but my husband, who has rather grade-school tastes when it comes to food, raved about this combination!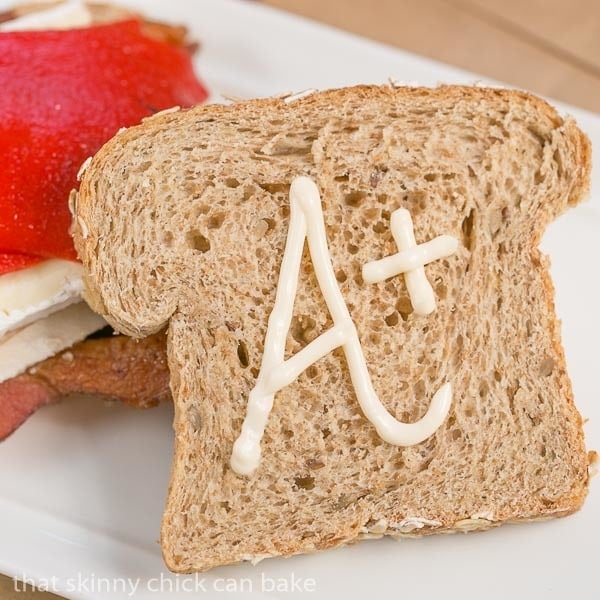 Tips to Make a Fun Lunch for Your Children
My mom's tuna salad sandwiches were simple, yet comforting. For a typical Friday lunch, she mixed a can of tuna with a bit of diced celery, maybe some chopped pickles and a big dollop of Hellmann's Real Mayonnaise. But even more memorable lunches were made with leftover chicken, bacon and mayo. It was always Hellmann's as it is today in my kitchen.
A large jar is nestled in my refrigerator door, but I recently spotted the ALL-NEW Hellmann's Squeeze at the market. With a sleek profile and precision tip, it even allows your children to get the mayo on their sandwiches with accuracy (less mess is always a perk!). Plus the Clean Lock Top prevents those unwanted leaks. And what parent wouldn't be tempted to write a sweet note on the top slice of bread before packing up the lunchbox?
Add a Note to Show Your Love
I hope you'll nab a bottle of Hellmann's Squeeze and begin the tradition of writing a sweet note in those sandwiches before they go out the door. Or get your children started with making their own lunches–they'll love trying to make squiggles across the bread or even creating messages of their own. This new design also helps to get every last drop of mayonnaise out of the bottle, so there's less waste. Plus it's just the best mayonnaise around! I know you'll want to stock up ASAP. Especially so you can make this marvelous Chicken, Brie and Bacon Sandwich!
The Recipe:
Roasted Chicken, Brie and Bacon Sandwich
Prep Time 5 minutes
Total Time 5 minutes
Yield 1 sandwich
A scrumptious sandwich featuring chicken, brie, bacon and roasted bell peppers.
Ingredients
2 slices bread, I used a multi-grain bread
2 slices bacon, cooked
2 slices chicken (deli, leftover or rotisserie chicken )
1 ounce of Brie, optional for grown-up version
2 slices roasted red bell pepper, optional for grown-up version
2 teaspoons Hellmann's Squeeze Mayonnaise
Instructions
Layer bacon, chicken, Brie, and bell peppers on one slice of bread.
Squeeze Hellmann's mayonnaise over the surface of the second slice of bread and place mayonnaise side down over toppings.
Slice the sandwich in half and wrap it in a sandwich baggie before placing in a lunch box.
Notes
Make sure to add a freezer pack to lunch box when sending a meat and mayo sandwich off to school.
Nutrition Information:
Yield:
1
Serving Size:
1 sandwich
Amount Per Serving:
Calories: 879
Total Fat: 49g
Saturated Fat: 16g
Trans Fat: 0g
Unsaturated Fat: 29g
Cholesterol: 215mg
Sodium: 1148mg
Carbohydrates: 43g
Fiber: 4g
Sugar: 6g
Protein: 64g
This is a sponsored post written by me on behalf of Kitchen PLAY for Hellmann's. All opinions expressed are 100% mine.
Note: This post may contain affiliate links; view
my Disclosure Policy
for details. I earn a small percentage from any purchase you make by clicking on these links at no extra cost to you.