The Croque-Monsieur Sandwich is a French classic made with ham and cheese, topped with a cheese sauce, then baked before a final broiling.
Croque-Monsieur Sandwich
The croque or crispy mister, as it translates, is basically a grilled ham and cheese sandwich with a smear of mustard. Gruyere is the cheese of choice and the recipe I selected from Ina Garten included a topping of bechamel with even more Gruyere. Baked then broiled, it is an unpretentious, yet extraordinary treat.
I made a sample to photograph and gave a bite to both Bill and son, Nick, who was home for Easter. Both asked for another for dinner instead of the chicken Parmesan I had planned to serve. Gooey and obviously irresistible, you'll have to give these a try.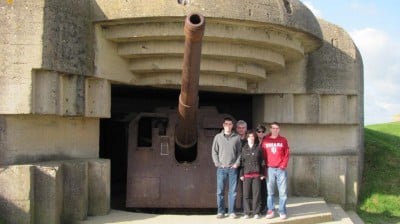 The family on Omaha Beach~
Here are some of the variations of the Croque-Monsieur sandwich via Wikipedia:
croque -madame or croque-à-cheval (topped with a fried or poached egg)
croque provençal (with tomato)
croque auvergnat (with bleu d"Auvergne cheese)
croque gagnet (with Gouda and andouille)
croque norvégien (with smoked salmon instead of ham)
croque tartiflette (with sliced potatoes and Reblochon cheese)
croque bolognese / croque Boum-Boum (with Bolognese sauce)
croque señor (with tomato salsa)
croque Hawaiian (with a slice of pineapple)
"Croque McDo" sandwich at found at French McDonald's
How Our Family Experienced This French Ham and Cheese Sandwich
Traveling with picky palates can be stressful. Hubby would not be satisfied with a girlified dinner of salad and soup…and the even more discriminating daughter scans every menu for pizza, pasta or chicken fingers. So while traveling through France last summer, I probably didn't get the total foodie experience I was craving. The boys were easier to please and I made them my guinea pigs…I insisted on a late night snack of Nutella crepes while sitting along the breathtaking Cannes' waterfront.
Isn't it crazy that it was my idea??? The foodie in me wanted a sample, of course, without having to eat the whole thing.  Another evening, after a long day of touring the picturesque abbey of Mt. Saint Michel and the Normandy beaches, we ended up on the quiet main drag of Saint-Lô looking for a bite to eat.
We walked by restaurant after restaurant, reading menus, ruling out spot after the next, as our stomachs growled with hunger, till we finally landed at a pub…where only 3 regulars sat at the bar. Some menus were dusted off…and despite a major language barrier, we all ordered  a Croque-Monsieur, a French classic.
As we waited patiently for our meal, I surmised that these sandwiches were being retrieved from deep inside a freezer, taken from a frost covered box. Underwhelmed, but starving, we all cleaned our plates. Surely, that was not a typical of this famous snack which started appearing in Parisian cafes in 1910.
Movie Inspired Recipes
Today's Sunday Supper theme is Movie Inspired Recipes.  "It's Complicated"  happened to be on TV when I was preparing Easter dinner…but engrossed in my own cooking, I missed the scene where Meryl Streep served Steve Martin a Croque-Monsieur. Ever since those sub-par Norman sandwiches, I'd wanted to try my hand at making these at home.
I toasted some brioche, spread on some country Dijon followed by slices of very, very thin prosciutto and a mound of grated Gruyere. Topped with a second piece of toast, the cheesy bechamel sauce and more cheese, I baked then broiled. Don't count the calories, just enjoy!!! Scroll down to see all the yummy dishes contributed by the Sunday Supper team. Thanks to my friend, Heather, of Girlichef, for hosting us this week.
Print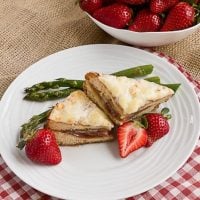 Croque-Monsieur Sandwich
A French ham and cheese sandwich topped with a luscious cheese sauce!
Author:
Prep Time: 40 minutes
Cook Time: 20 minutes
Total Time: 1 hour
Yield: 8 servings
Category: Entree, Sandwich
Method: Baking
Cuisine: French
Ingredients
2 tablespoons butter
3 tablespoons flour (I use Wondra brand to prevent lumps)
2 cups milk
1 teaspoon salt
1/2 teaspoon freshly ground black pepper
A few grates of fresh nutmeg
12 ounces Gruyere (grated)
1/2 cup freshly grated Parmesan
16 slices bread (I used Brioche)
Dijon mustard
2-3 slices very thin Prosciutto per sandwich (thicker sliced Virginia ham may be substituted)
Instructions
Preheat the oven to 400º.
Melt the butter over low heat in a saucepan and add the flour all at once, stirring with a wooden spoon for a couple minutes. Slowly pour the milk into the mixture and cook while whisking constantly till the sauce thickens. Remove from the heat add the salt, pepper, nutmeg, 1/2 cup grated Gruyere, and the Parmesan and set aside.
Toast your bread in a toaster, remove, then spread half the slices with with mustard, followed by 2-3 slices of Prosciutto on each. and sprinkle with half the remaining Gruyere. Top each with another piece of toasted bread. Place sandwiches on a baking sheet. Cover the tops with the cheese sauce, sprinkle with the remaining Gruyere, and bake the sandwiches for 5 minutes. Turn on the broiler and broil for 3 to 5 minutes, or until the topping is bubbly and lightly browned. Cool slightly before serving.
Other marvelous, movie inspired dishes:
Toast (bready things)
No Reservations (soups and salads)
Today's Special (fish, chicken, beef, and pork)
Forks Over Knives (veggie-heavy dishes and sides)
Udon (pasta and noodles)
Just Desserts (sweet treats)
Bottle Shock (beverages)
Note: This post may contain affiliate links; view
my Disclosure Policy
for details. I earn a small percentage from any purchase you make by clicking on these links at no extra cost to you.