Double Chocolate Chip Cookies
My sweet baking buddy, Danielle, called these her Favorite Chocolate Chip Cookies. Bill gave these Double Chocolate Chip Cookies two thumbs up.
These chewy chocolate chip cookies hit all the marks of a wonderful chocolate chip cookie: soft, buttery and chock full of two varieties of chocolate chips.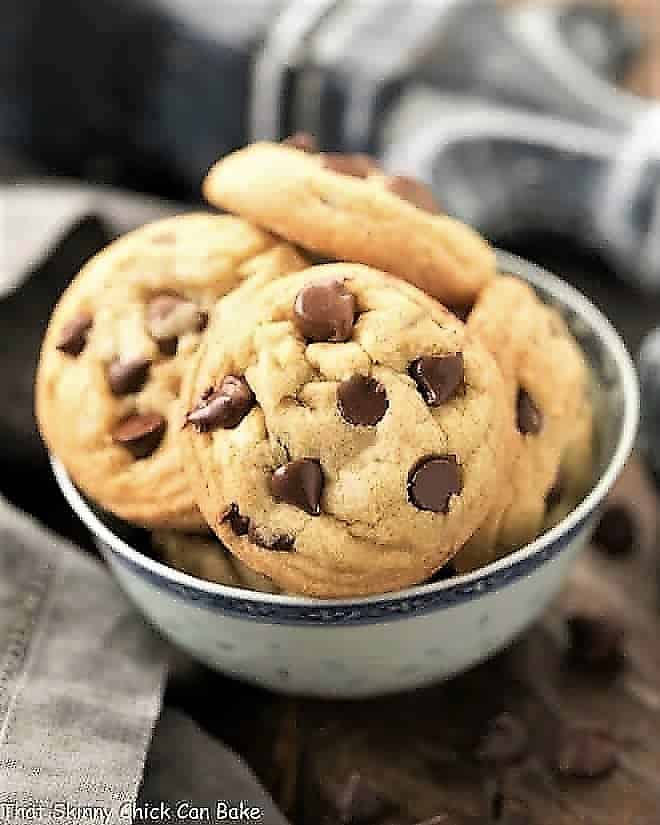 Note: This post may contain affiliate links; view my Disclosure Policy for details. I earn a small percentage from any purchase you make by clicking on these links at no extra cost to you.
Why You Must Make
These Double Chocolate Chip Cookies require two types of chocolate, semisweet and milk chocolate. Plus I had to save a handful of chips to garnish the hot cookies as they came out of the oven. Yes, these were loaded with chocolate.
They did not last long. The sign of a great recipe is that they disappear fast!
Cookies are always an easy dessert to make! Much less labor-intensive than cakes, pies, and tarts!
I should have made a double batch as these didn't last more than a couple of days. Nick, our youngest, moved back to town for his last two years of med school and hunkered down with us for a little over a month. I don't think he realized his bathroom would be gutted, his bedroom would be dusty (not a room in our house could currently pass the white glove test!), and that he'd have to make his daily omelet on a hot plate in the basement.
BUT, he didn't have to pay double rent, make his own dinners or do his laundry. I still think he got a good deal. Like his dad, Nick also loves chewy chocolate chip cookies! He definitely ate his fair share.
Tips for Making Perfect Chocolate Chip Cookies
Measure your ingredients carefully. Baking is a science and is often unforgiving!
Have your butter and eggs at room temperature. The butter should be soft, but not so soft that it's greasy looking.
Mix with a wooden spoon so you don't overwork the gluten after the flour is added. This will make tough cookies. You can use hand mixer if you mix the flour in with a spoon.
Use a cookie disher to make evenly portioned dough balls.
Bake on a parchment lined baking sheet for easy clean up.
PRO-Tip: If you want perfectly round cookies, you can tap the edges of the cookies with a spatula as soon as they come out of the oven to reshape them.
PRO-Tip: I also like to add some extra chocolate chips to the surface when the cookies come out of the oven. It makes for a prettier, bakery-worthy presentation.
Plus, check out my post on my Best Baking Tips for all your baking needs and questions.
Baking without a Kitchen
I begged our builder to keep my oven plugged in as long as possible. Of course, it's behind two layers of Visqueen, a thick plastic meant to curtail the dust. Ha.ha.ha.
Well, picture this. I pulled a hot cookie sheet out of our dust-covered oven and tried to bring it out into our so-called "livable" space. Did you know that Visqueen will melt when a 350º baking pan touches it? Oops.
So if all the sweets you see on the blog for the next couple of months are no-bake desserts, you'll know why! Here are a few of the recipes I've made with my stand-alone oven, no kitchen sink, no garbage disposal, and no dishwasher (other than Bill!). I've been suffering, but the family has not (wink, wink):
You May Also Like:

Two Sweetie Pies
Thanks again to my lovely friend, Danielle, for another magnificent recipe! She is my go-to blogger for decadent treats. I promise you will love whatever you try from her blog!!! We share a recipe from each other's sites every second Monday of the month.
Check out Danielle's take on this recipe as well as her social media sites! Plus make sure to stop by her blog and check out which of my recipes she made this month, too.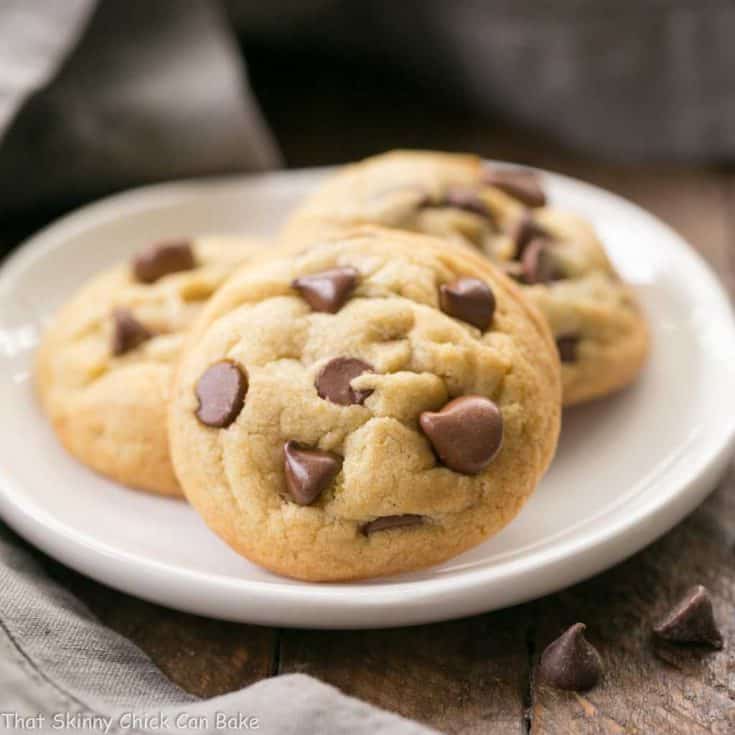 The Recipe:
Double Chocolate Chip Cookies
Prep Time 15 minutes
Cook Time 11 minutes
Total Time 26 minutes
Yield 1 1/2 dozen
Chewy chocolate chip cookies chock full of milk chocolate and semisweet chocolate chips
Ingredients
8 tablespoons butter (1 stick)
½ cup sugar
¼ cup brown sugar
1 teaspoon vanilla
1 egg
1½ cups flour
½ teaspoon baking soda
¼ teaspoon salt
¾ cup chocolate chips (I use a combination of semi sweet and milk chocolate chips), plus more to garnish the hot cookies if desired.
Instructions
Preheat the oven to 350 degrees.
Microwave the butter until melted.
In a mixer, beat the butter with the sugars until creamy.
Add the vanilla and the egg.
Add the flour, baking soda, and salt and mix just until combined.
Add the chips and chill for 1 hour.
Scoop dough onto parchment-lined cookie sheets and bake for 9-11 minutes. Watch carefully so you do not overbake.
Notes
Total time does not include chilling time.
Nutrition Information:
Yield:
18
Serving Size:
1 cookie
Amount Per Serving:
Calories: 162
Total Fat: 8g
Saturated Fat: 5g
Trans Fat: 0g
Unsaturated Fat: 3g
Cholesterol: 24mg
Sodium: 116mg
Carbohydrates: 22g
Fiber: 1g
Sugar: 13g
Protein: 2g
Note: This post may contain affiliate links; view
my Disclosure Policy
for details. I earn a small percentage from any purchase you make by clicking on these links at no extra cost to you.