This Chocolate Layer Cake Filled with White Chocolate Ganache was created for my oldest son's birthday. Like his dad and brother, he's a major chocoholic and there was no shortage of chocolate in this recipe!
Chocolate Layer Cake: A post holiday tradition
It's pretty much a tradition to have a chocolate layer cake two days after Christmas, still full from all the holiday over eating, we have one more special event to celebrate before the New Year. I can hardly believe it's been 26 years since I gave birth to my oldest. He wasn't due till after New Year's Day so since Bill was scheduled to make rounds over the holidays, I hopped in my little red Toyota and drove over the snow covered interstate to visit my parents.
After celebrating  Christmas with my family, I returned home to work a full evening shift on the oncology ward. Bill and I were both exhausted  as we fell into bed late on the 26th after a full day of caring for patients. Hours later I awoke to labor pains and little Thomas was born before noon the next day with a head full of wild brown hair and his dad's beautiful eyes. I was smitten.
Chocolate Layer Cake Filled with White Chocolate Ganache
Like his father, he was an instant fan of chocolate. Well, it did take a few months before he first indulged. As a toddler, I remember him pounding on the refrigerator door saying, "puddy, puddy, puddy" over and over. The stash of chocolate jello pudding cups I kept on hand for quick snacks had become a favorite treat. Birthdays demanded some sort of chocolate cake or pie,so when I spotted Diva Entertain's Best Dark Chocolate Cake last month, I was reminded of this old favorite – chocolate layer cake.
I tweaked the chocolate layer cake recipe by adding a thick, decadent filling of white chocolate ganache and an extremely rich chocolate buttercream frosting creating this chocolate layer cake filled with white chocolate ganache. Although hubby jokingly declared the frosting to be "a chocolate party in my mouth" (after I told him, "good, really, really good" didn't make for a very interesting blog quote), it was full of air holes, so not picture perfect. Still the combination of cake, filling and icing made for one spectacular tasting cake…maybe not up to my picky standards when it comes to looks, but definitely worth sharing due to the amazing flavor.
I sent the leftovers of this chocolate layer cake home with the grown up version of the guy below, and he and one of his roommates elected not to share it with any of their friends. I consider that the highest compliment! This Ding Dong Cake would make a spectacular birthday cake, too!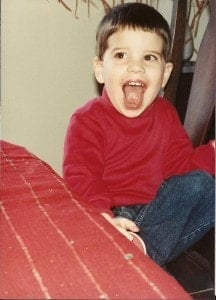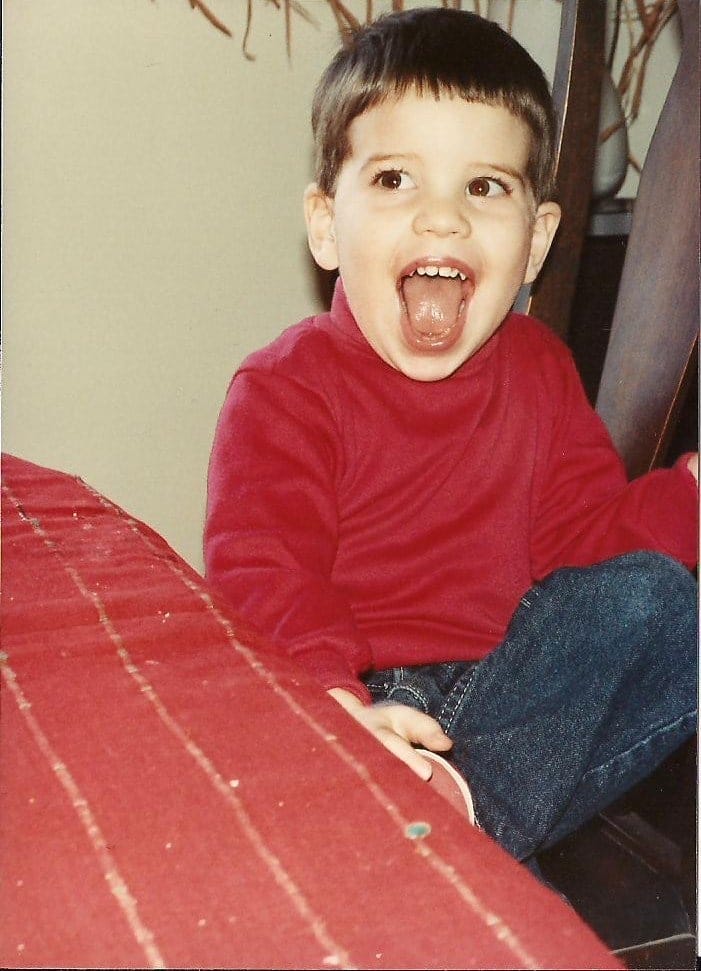 You may need these supplies to make this chocolate layer cake recipe:
Print
Chocolate Layer Cake Filled with White Chocolate Ganache
Ingredients
5 ounces semisweet chocolate (chopped)
1 1/2 cups very hot coffee
3 cups sugar
2 1/2 cups flour
1 1/2 cups cocoa powder (sifted)
2 teaspoons baking soda
3/4 teaspoons. baking powder
1/2 tsp. salt
3 whole eggs and 1 egg yolk (at room temperature)
3/4 cup canola oil
1 1/2 cups buttermilk
1 teaspoons vanilla
Filling:
12 ounces white chocolate (chopped)
1/2 cup cream
Chocolate Buttercream Frosting (you may choose to make your favorite chocolate icing instead…it should be enough to frost a layer cake:)
2 cups butter (at room temperature)
7 cups powdered sugar (sifted)
1 cup cocoa powder (sifted)
1/2 cup cream (more or less depending on desired consistency)
2 teaspoons vanilla
Instructions
To make cake: Preheat oven to 325º. Coat three 8 or 9 inch cake pans with non-stick spray and then line bottom of pans with rounds of parchment paper.
Put very hot coffee into a medium bowl. Add chocolate, let sit 5 minutes, then whisk until fully melted Set aside.
In a stand mixer, combine 3 eggs and 1 extra yolk with the sugar and beat until light and pale yellow, approximately 3 minutes. Add the oil, buttermilk and vanilla and beat until combined. Add flour, cocoa powder, baking soda and powder and salt and beat until combined. Add chocolate mixture and mix until just fully incorporated.
Divide batter between pans and bake in middle of the oven until a toothpick inserted in a center comes out clean, about 40-45 minutes. Remove to cooling rack. Cool for 5-10 minutes, then remove from pans and allow to cool completely. Carefully peel off parchment. Wrap and freeze one of the 3 layers to use at a later time. You can make a 3 layer cake, but you will need more filling and frosting.
To make filling: Melt cream and white chocolate in microwave, stopping and stirring at 30 second increments till smooth and melted. Refrigerate mixture till cool and thick (you do not want the filling to be hard, but if it is too runny, it will run down sides of cake when second layer is placed over it).
To make frosting: Beat butter with mixer till light and fluffy. Add powdered sugar, cocoa, cream and vanilla and mix till smooth and creamy.
To assemble cake, place bottom layer on serving plate. Put filling in center of cake and spread to within 1/2 inch of edge. Top with second layer, flat side up. Ice top and sides with buttercream icing.
Note: This post may contain affiliate links; view
my Disclosure Policy
for details. I earn a small percentage from any purchase you make by clicking on these links at no extra cost to you.