Chocolate Chip Cookie Bar for One
Ever crave something sweet but don't want a whole batch of cookies tempting you? That's when you need a Chocolate Chip Cookie Bar for One!
My friend, Cindy Kerschner, of Cindy's Recipes and Writings, recently published her first cookbook, The Cooking for One Cookbook. Perfect for singles with "appropriate proportions and deliciously diverse meals!" These Chocolate Chip Cookie Bars are the perfect example!!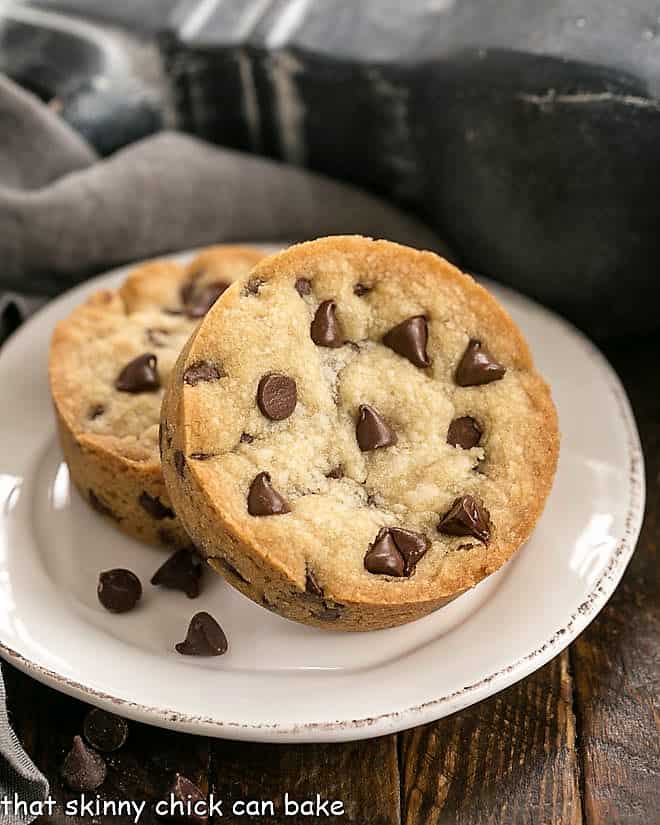 Why You Should Make Small Batch Chocolate Chip Cookies
Whether you live alone, are craving something sweet but don't want the temptation of a cake or dozens of cookies, or are cutting back on desserts after the holidays, small-batch dessert recipes are your friend!
These chocolate chip cookie bars are made in a ramekin and provide a yummy treat without a lot of effort.
One bar is big enough for two helpings, and a generous helping for one!
If you have no self-control after making a chocolate chip recipe, this will curtail the chance of overindulging!
My husband, the chocolate chip cookie connoisseur in our household, gave them his seal of approval.
Chocolate Chip Cookie for One
I was hoping to entice my oldest to do some baking on his own, touting all the terrific recipe ideas in Cindy's The Cooking for One Cookbook (affiliate link). Then, I asked, "Do you have flour at your house?" No, was his reply. "Do you have sugar?" No, he repeated. No need to ask about vanilla, brown sugar, or baking soda as I knew the answers.
I guess since his house is less than a mile away, he finds no need to bake when my kitchen is typically well stocked with sweets. BUT this homemade chocolate chip cookie recipe would be terrific if he was in dire straits, shaking from chocolate withdrawals! I also loved the sound of Cindy's Mocha Fudge and Vanilla Mug Cake recipes. Maybe his kitchen is stocked for those recipes?!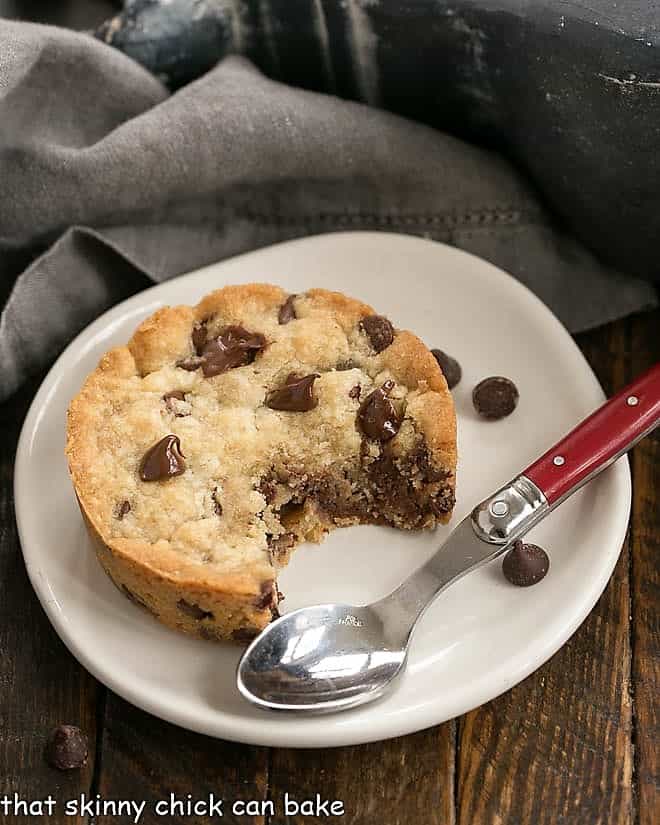 Cooking for One Tips
If you know a bachelor that likes to cook more than my son or if you are cooking for one, check out this cookbook! All meals are covered plus Cindy offers tips on what to shop for and how to plan your meals.
Meal Planning and Shopping – Great tips to minimize waste.
Easy Breakfasts – The Homemade Granola and Spinach and Mushroom Quiche are calling my name!
Lunch Made Easy – I'm dying to add the Alaskan Salmon Burger to my menu.
Meatless Mains for One – When Lent rolls around, the Roasted Vegetable Lasagna will be a tasty change of pace!
One If by Sea – The Shrimp Stir Fry will make a delicious, easy dinner that I can double for two!
Proteins Made Simple – I'm inspired by the Pork Chop with Pineapple Salsa and the Sausage and Peppers!
Treat Yourself, Desserts for One – So glad I can try ALL of these as since the recipes are designed for one! If the picky hubby finds anything objectionable, there's no guilt in eating it all myself!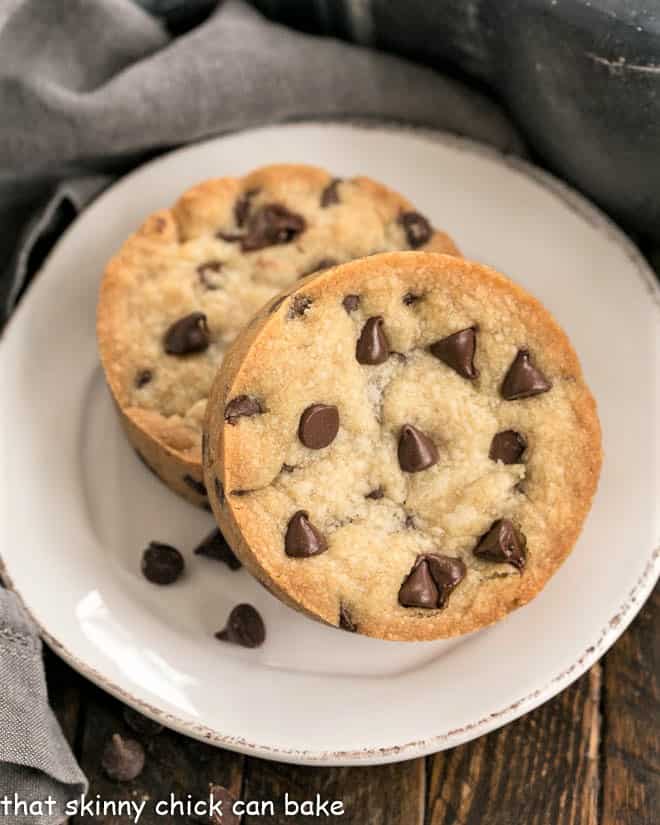 How to Make These Chocolate Chip Cookies for One or Two
The procedure is very simple.
Preheat the oven and grease two large ramekins.
Mix the wet ingredients together.
Then in another bowl, whisk the dry ingredients together.
Next, fold the wet mixture into the dry ingredients until it all comes together.
Finally, mix int the chocolate chips.
Divide the dough between the two ramekins, smooth the tops, and bake as directed.
Cool as directed before removing from the dishes and diving right in!
PRO-Tip: Carefully press a few chocolate chips onto the surface of the warm cookies when they're fresh out of the oven. This will give your cookies a more bakery-like presentation.
Reader's Tip: If you miss the egg in this recipe, feel free to add 1 tablespoon of beaten egg to the dough.
More Individual Desserts You'll Love: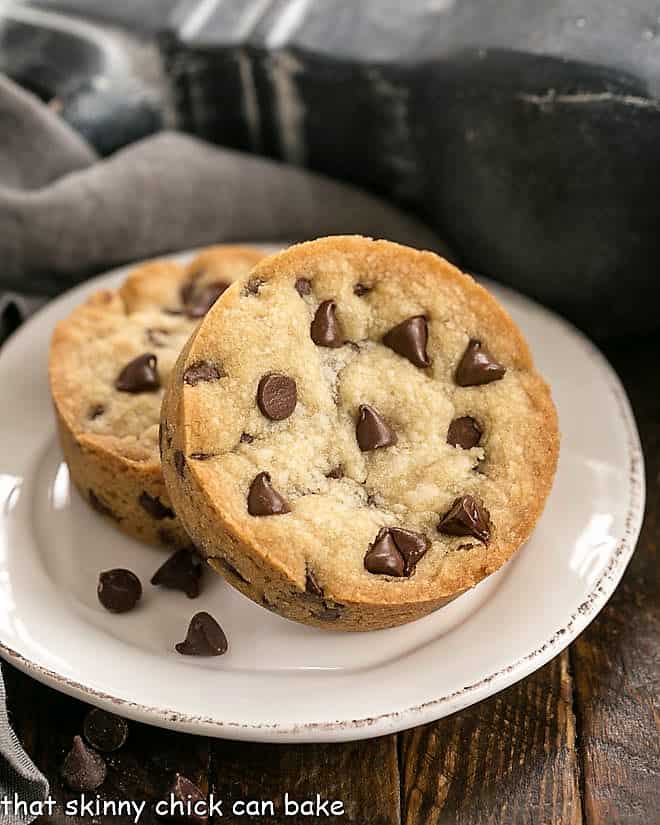 The Recipe:
Chocolate Chip Cookie Bar for One Recipe
Prep Time 10 minutes
Cook Time 18 minutes
Additional Time 5 minutes
Total Time 33 minutes
Yield 1 Cookie Bar
A chocolate chip cookie bar baked in a ramekin
Ingredients
Cooking spray
2 tablespoons butter, melted
1 tablespoon sugar
1 tablespoon brown sugar
1/8 teaspoon vanilla extract
1/4 cup flour
1/8 teaspoon baking soda
1/8 teaspoon kosher salt
2 tablespoons semisweet chocolate chips, plus a few more to garnish the top of the baked cookie
Instructions
Preheat oven to 375°.
Spray a 7 or 8-ounce ramekin with cooking spray. Set aside.
In a medium mixing bowl, whisk together the butter, sugar, brown sugar, and vanilla until the sugars are dissolved.
In a separate bowl, whisk together the flour, baking soda, and salt. Fold the wet ingredients into the dry ingredients. Stir in the chocolate chips. Scrape the dough into the ramekin and smooth the top.
Bake for 15-18 minutes or until the surface is firm to the touch and brown.
Carefully, press some of the reserved chocolate chips into the top of the cookie bar, if desired.
Cool for 5 minutes on a wire rack before serving.
Notes
Feel free to substitute raisins, dried cranberries, chopped and toasted nuts, or other chocolate chip flavors for the semisweet chocolate chips.
If you'd like, add 1 tablespoon of beaten egg to the recipe for a more traditional taste and texture.
Recommended Products
As an Amazon Associate and member of other affiliate programs, I earn from qualifying purchases.
Nutrition Information:
Yield:
1
Serving Size:
1 cookie bar
Amount Per Serving:
Calories: 662
Total Fat: 37g
Saturated Fat: 21g
Trans Fat: 1g
Unsaturated Fat: 14g
Cholesterol: 61mg
Sodium: 687mg
Carbohydrates: 81g
Fiber: 3g
Sugar: 45g
Protein: 6g
Note: This post may contain affiliate links; view
my Disclosure Policy
for details. I earn a small percentage from any purchase you make by clicking on these links at no extra cost to you.