How to Make Spaetzle
Spaetzle is an easy-to-make German egg noodle that's a delicious alternative to potatoes or rice. Learning how to make spaetzle is a breeze!
This Spaetzel Recipe is made with just 4 simple ingredients and is a tasty addition to almost any meal.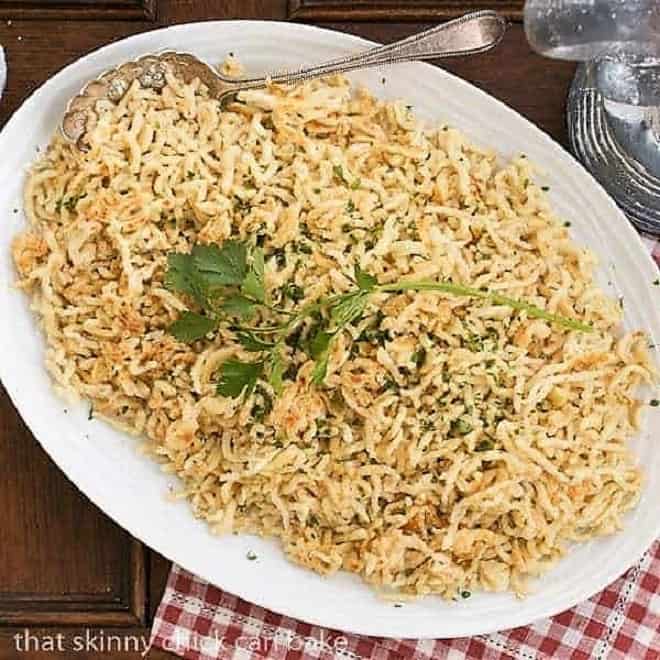 Why You Must Make
This homemade noodle is tastier than anything you can buy at your local grocery store!
It's made with simple ingredients you probably have in your kitchen.
You don't need an authentic press to make it, but once you realize how delicious this German spaetzle is, you may feel it's worth it to own one.
Tried and True Spätzle Noodles
When my neighbors, who have made spaetzle over a hundred times, invited me and another girlfriend over for a demo, I couldn't refuse. Steve had a treasure in his grandmother's press and he and his trusty side-kick, Shelli, had the process down to an art.
When it was my turn to transform my dough into noodles, I realized how ridiculously simple the whole process can be. My neighbors demonstrated how tag-teaming the pressing, boiling, and rinsing of the dough and noodles creates the perfect spaetzle. Using the tool passed down from his German grandmother, both Steve and Shelli taught my friend, Susan, and me how to make our own German noodles. Thanks so much for the fun afternoon!
How to Serve Spaetzle
Spaetzel can be fried with butter and served as a side dish instead of rice, potatoes, couscous, etc.
It's also a great base for saucy dishes like braised short ribs, stews, or any dish with pan juices or gravy.
Try it as a substitute for any dish in which you'd use egg noodles.
Serve along with Homemade Applesauce.
Expert Tips
Make sure your dough is thick enough to hold its shape as it goes through the press.
If you find it's sticking to your press, either spritz the press with a little water or spray with a non-stick cooking spray, like Pam.
Cook your spaetzle in batches with plenty of water. This will prevent the noodles from sticking together.
Frying the noodles in browned butter adds an exquisite richness along with a duality of textures, from the crispy edges to the chewy unbrowned bits.
You can make your spaetzel ahead of time. Just store it in a Ziploc bag in the refrigerator for a day or two.
Frequently Asked Questions
How Do Pronounce Spaetzle?
There are at least 3 acceptable pronunciations for spaetzle/spaetzel: SHPEHT-sluh, SHPEHT-sehl, or SHPEHT-slee.
The spelling varies, too, along with whether you use the umlaut (two dots) above the letter A.
What Does Spaetzle Mean in German?
It translates to "Litte Sparrow." There's no clear answer to why, but it may be that holding the dough in two hands looked like one was holding a sparrow or when using two spoons to scoop out a mound dough also resembled a sparrow (from Masterclass.com).
What Can You Use if You Don't Have a Spaetzle Maker?
There are many alternatives to the classic spaetzle press, but I assure you, using the real thing is worth it. I've tried a ricer, a colander, and even a slotted spoon. I finally broke down and purchased a proper spaetzle press (see Amazon link in the recipe card).
You May Also Like: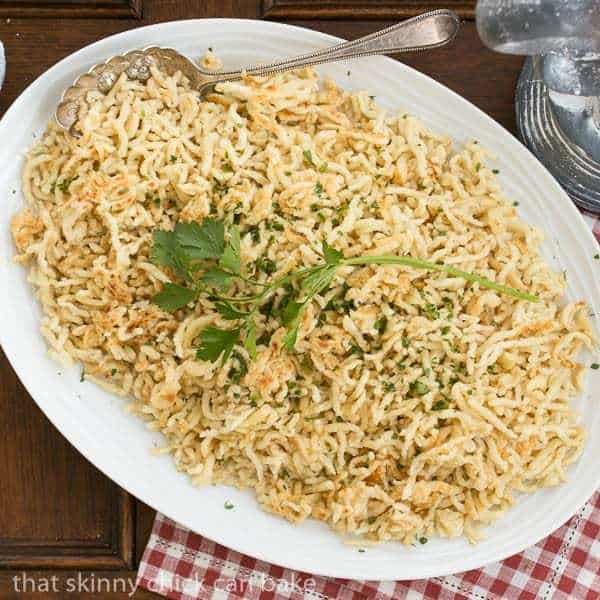 Prep Time 20 minutes
Cook Time 5 minutes
Total Time 25 minutes
Yield 6 servings
How to make the perfect German Spaetzle. Recipe courtesy of Steve and Shelli Moss.
Ingredients
3 cups flour
1 cup water, plus more to thin if needed
3 eggs
1 1/2 teaspoons salt
Butter, to fry the spaetzle, if desired
Instructions
In a large bowl, mix flour, water, eggs and salt and beat well with a strong wooden spoon, until the batter is elastic and shows air bubbles.
Rinse your spaetzle press with cold water.
Press batter slowly into 4 quarts of salted boiling water. For shorter noodles, hold the press 2-3 inches about the water. For longer noodles, hold the press 4-5 inches about the water.
As soon as the noodles rise to the top, scoop out with a slotted spoon and rinse in cold water.
Drain off excess water and plate.
Repeat till the batter is all gone. You may store the noodles in a ziplock bag in the fridge to warm/fry and serve within a day or two.
When you are ready to serve, melt butter in a skillet (browning the butter is even better). Fry until golden and serve hot.
Nutrition Information:
Yield:
6
Serving Size:
1
Amount Per Serving:
Calories: 376
Total Fat: 9g
Saturated Fat: 3g
Trans Fat: 0g
Unsaturated Fat: 5g
Cholesterol: 117mg
Sodium: 664mg
Carbohydrates: 61g
Fiber: 3g
Sugar: 0g
Protein: 12g
Note: This post may contain affiliate links; view
my Disclosure Policy
for details. I earn a small percentage from any purchase you make by clicking on these links at no extra cost to you.