Pressed Brick Picnic Sandwich
Pressed Brick Sandwich is packed full of Italian meat, cheeses, olive paste, and more before being compacted into a delicious game day, picnic, or road trip treat.
Make this Italian Picnic Sandwich for your next summer outing or tailgate. You'll be hooked immediately!!!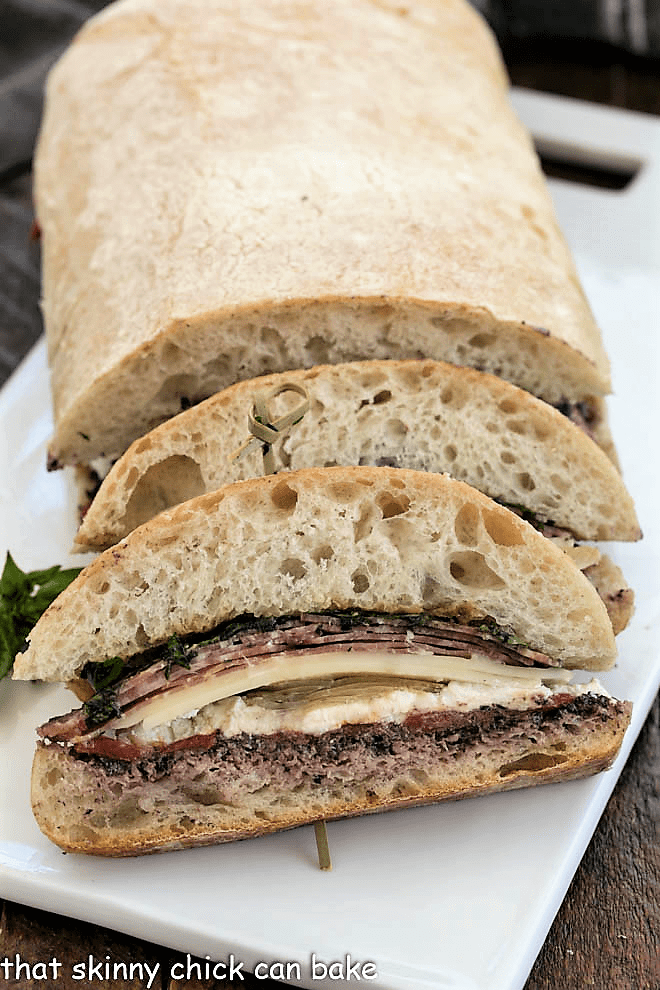 Why You Must Make
Packed with layers of tasty sandwich ingredients, this sandwich is loaded with flavor!
It's highly adaptable by using your favorite sandwich meats and cheeses.
Since you use bricks to compress the sandwich, you never have to worry about it getting smashed in your cooler!
I have been meaning to make a stromboli since we trekked to Indiana University last fall for a football game against my alma mater. The morning started with sleet…a very bad sign for this gal who hates to be cold. As soon as we parked our car in the stadium parking lot, we met our friends and scurried to the gift shop to buy hats and scarves.
My sweet Italian friend brought her world-famous stromboli, packed with meats and cheeses. But a scrap of paper with her recipe was buried somewhere in my kitchen, under a year's worth of print-offs, so I went to an old favorite for this week's tailgate. Martha Stewart inspired this pressed brick sandwich and it's packed full of Mediterranean goodies like roasted peppers, marinated artichokes, salami, prosciutto, and Provolone.
Ingredient Notes:
Kitchen Staples – Olive Oil, Salt, Freshly Ground Black Pepper, Dijon Mustard, Balsamic Vinegar
Roasted Red Bell Peppers – Use jarred or roast your own, then slice into ¾ inch strips
Prosciutto – Thinly sliced (packaged prosciutto is usually cut paper thin).
Genoa Salami – Thinly sliced.
 Loaf of Ciabatta – Can also use Sour Dough or Italian Bread. Slice in half horizontally.
Black Olive Paste – If you prefer, you can finely chop green olives instead.
 Fresh Goat Cheese – If you're not a fan of goat cheese, you may substitute another spreadable cheese like Ricotta or Boursin.
Marinated Artichoke Hearts – Drained and chopped.
Provolone Cheese – Sliced.
Mixed Fresh Herbs – I used flat-leaf parsley and basil.

How to Make
Feel free to vary the ingredients depending on your preferences. The picky hubby pulled out the artichoke hearts. I'm not a huge fan of goat cheese, so next time I may add fresh mozzarella or even Brie. This sandwich is filled with Italian meat, cheese, vegetables, and olive spread.
Slice the ciabatta horizontally, then partially hollow out the bottom by pulling out chunks of bread to make room for the fillings.
Next, whisk together the simple vinaigrette.
Start layering. If you use homemade olive paste like I did when the shelves were bare, make sure to drain it as mine was a bit more watery than desired.
Make sure to drizzle the vinaigrette over the goat cheese layer, then again over the meat layer.
Finish with the herbs, then top with the other half of the ciabatta.
Wrap the sandwich in plastic wrap, then place it on a baking sheet or cutting board.
Weigh down the sandwich by placing a heavy skillet (cast iron works well) or a couple of bricks on top of the sandwich. Adding a cutting board to the top of the sandwich before adding the weights will allow an even pressure to compress the sandwich.
Place the weighted sandwich in the refrigerator for about an hour.
Slice and serve!
Frequently Asked Questions
If you're like me, you may not be sure what the difference is between a submarine sandwich, hoagie, hero, etc. Then there is this pressed brick or picnic sandwich to confuse things even more.
What are some main types of sandwiches?
A Sub Sandwich is named for its submarine shape. The term encompasses many of the sandwich categories below. Served on a long Italian roll, it's filled with meat, cheese, extras like lettuce and tomatoes, plus a dressing. They're usually served cold.
A Hero is served hot or cold and was named after a New York columnist described a sandwich you had to be a hero to eat! Besides deli meats, a hero can be filled with chicken parmesan or meatballs.
A Hoagie was named by the Italian immigrants who worked on the Philadelphia Naval Yard on Hog's Island, first called a hoggie, then hoagie. It's filled with Italian meat and cheeses and served cold.
A Grinder is popular in New England and served hot or cold. Instead of just cold cuts and cheeses, a grinder can be filled with sliced chicken and meatballs.
A Pressed Brick Sandwich is not a submarine sandwich, but instead served on a hollowed ciabatta bread and weighted down with bricks or a heavy pan to compress the fillings. It can also be called a Picnic Sandwich since it is perfect to take to a park on a summer afternoon.
What are some other fillings for a pressed brick sandwich?
Think of your favorite sandwich recipes and expand upon those. Love BLTs? Add double layers of bacon, lettuce, and tomatoes, plus add some avocado slices or even guacamole. Slices of Brie would be delicious, too. Or go with a ham and cheese theme with different varieties of ham and cheese along with your favorite condiments.
How Long Does a Pressed Brick Sandwich Last?
If your sandwich is not left out of the fridge or cooler for more than 2 hours, it should keep well for up to 3 days. Make sure to wrap leftovers in plastic wrap so they stay fresh longer.
More Game Day Recipes
The game was delayed for over an hour due to lightning strikes around the stadium. My fingers and toes were so numb that I elected to stay in the car and listen to the game on the radio (I'm certain my college friends are NOT surprised). I think I'll pass on any November football games this coming season! Here are a few more delicious game-day recipes:
Stay in touch through social media @ Instagram, Facebook, and Pinterest. Don't forget to tag me when you try one of my recipes! And if you love the results, please give it a 5-star rating in the recipe card. Note: As an Amazon Associate, I earn from qualifying purchases. Visit my Amazon Store for my favorite products.
The Recipe:
Pressed Brick Sandwich
Prep Time 15 minutes
Total Time 15 minutes
Yield 10 servings
Layers of wonderful meats and vegetables are dressed with a vinaigrette and sandwiched in a loaf of ciabatta, then compacted for a most delightful treat!
Ingredients
3 whole roasted red bell peppers (use jarred or roast your own), sliced into ¾-inch strips
1 ½ teaspoons Dijon mustard
1 tablespoon balsamic vinegar
6 ounces prosciutto, thinly sliced
¼ cup olive oil
Salt and freshly ground pepper
1 loaf ciabatta
½ cup black-olive paste
4 ounces fresh goat cheese
8 ounces marinated artichoke hearts
4 ounces sliced Provolone
6 ounces prosciutto, thinly sliced
¼ pound Genoa salami, thinly sliced
1-2 cups loosely packed mixed fresh herbs (I used flat leaf parsley and basil)
Instructions
Make the vinaigrette:
Combine mustard and vinegar. Gradually whisk in olive oil then add salt and pepper to taste. Set aside.
Assemble sandwich:
Slice the loaf of bread horizontally, and remove some of the bready interior to make room for the fillings. Spread the olive paste on the bottom crust, and add the pepper strips.
Crumble goat cheese on top of peppers. Arrange artichoke hearts over goat cheese.
Drizzle half of the vinaigrette on top. Arrange Provolone slices, then prosciutto and salami over artichoke hearts.
Drizzle with the remaining vinaigrette. Sprinkle with herbs. Place the top crust on the sandwich.
Wrap the sandwich with plastic wrap and set something heavy like a brick or cast-iron skillet on top for at least 1 hour. Slice to serve.
Notes
Total time does not include pressing time.
Adapted from Martha Stewart.
Recommended Products
As an Amazon Associate and member of other affiliate programs, I earn from qualifying purchases.
Nutrition Information:
Yield:
10
Serving Size:
1 slice
Amount Per Serving:
Calories: 361
Total Fat: 21g
Saturated Fat: 7g
Trans Fat: 0g
Unsaturated Fat: 13g
Cholesterol: 34mg
Sodium: 1379mg
Carbohydrates: 26g
Fiber: 3g
Sugar: 3g
Protein: 17g
Note: This post may contain affiliate links; view
my Disclosure Policy
for details. I earn a small percentage from any purchase you make by clicking on these links at no extra cost to you.