Braided Stromboli Recipe
This Braided Stromboli Recipe filled with meats and cheese is an easy, yet elegant treat to bring to a tailgate, game day party or casual dinner! Use store-bought pizza dough to shorten your prep time!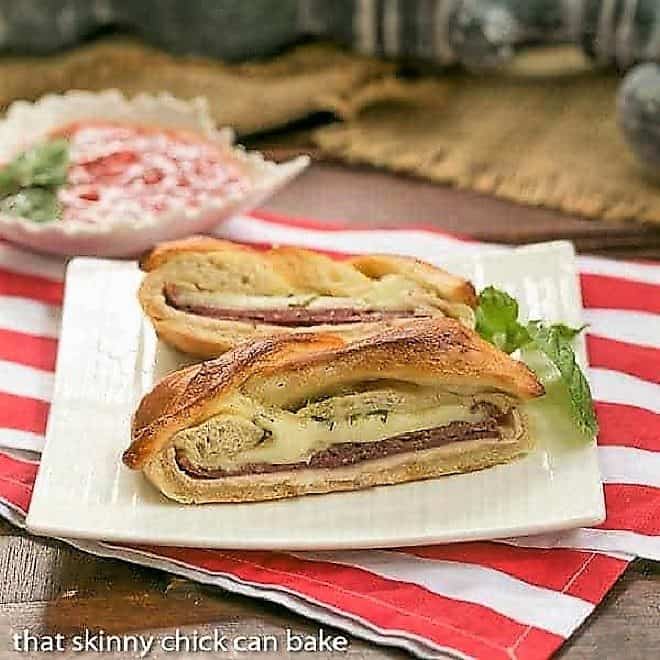 Stromboli Recipe
I whipped up this braided stromboli for a game day lunch. Perfect for couch noshing, if you're so inclined, and your nerves permit.
My football-loving family is so thrilled that their favorite teams are in action once again. I get daily updates on who is on injured reserve and love hearing the chatter extolling the talented moves of their favorite players. But I'm the one family member who is more interested in making the perfect meal or snacks on game day than actually watching the game.
Dinner definitely cannot be served until halftime. And on those uber-important playoff days, we often have to wait till the game is over before digging in. Nervous stomachs are their excuse for the delays. Sigh.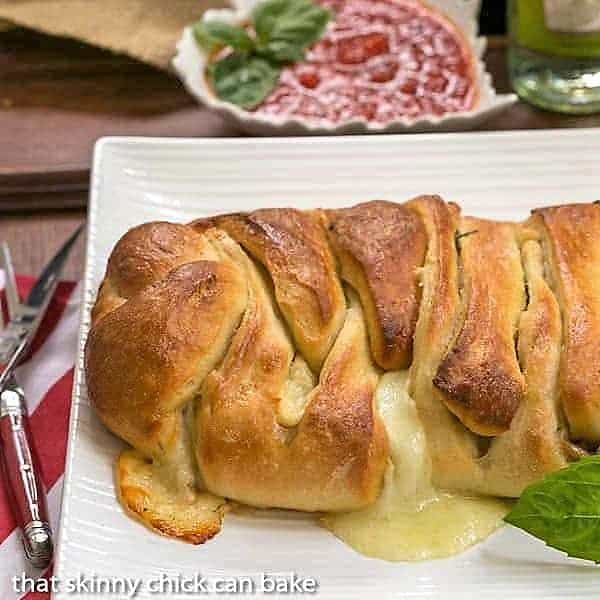 What is the Difference Between a Stromboli and Calzone?
There are similarities, of course, but stromboli and calzone are two different foods made with pizza dough and cheese.
According to Bon Appetit, think of a calzone as a taco and stromboli as a burrito. Tacos are folded and burritos are rolled. Note that the formation of my stromboli is a variation of rolling. Instead of laying half the ingredients on one side of the dough and folding the top over, two sides of the dough is folded over the filling, creating a roll.
A braided stromboli is so easy and I guarantee there will be NO leftovers. Take your favorite pizza dough, either store-bought or homemade, smear it with mustard, then layer with deli meats and cheeses. It's easiest to just roll it up jellyroll style, but if you want to get fancy, give a plaited version a try!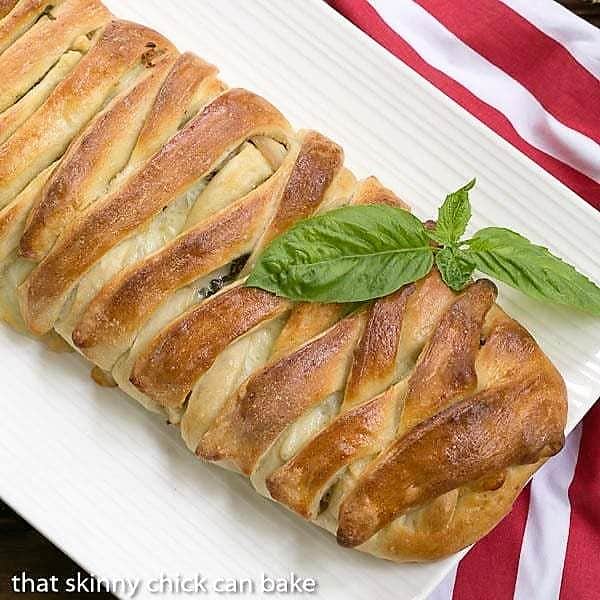 I used this recipe for pizza dough to make my stromboli. You will only need half the dough for one stromboli. Or buy your favorite store-bought or pizzeria dough for a shortcut!
More Terrific Recipes for Your Tailgate or Game Day Party:
The Recipe:
Braided Stromboli Recipe
Prep Time 20 minutes
Cook Time 25 minutes
Total Time 45 minutes
Yield 4-6 servings
A braided bread filled with meats and cheeses! Perfect for game day!
Ingredients
Pizza dough (enough for one pizza), homemade or store-bought. I've linked the recipe I used below.
2 tablespoons mustard mayonnaise sauce or favorite mustard, I used Durkee's Spread
8 slices Genoa salami
8 slices deli roasted turkey
8 slices prosciutto
6 slices Provolone cheese
6 slices Mozzarella cheese
Fresh chopped basil or dried basil (I used a couple of teaspoons of fresh basil)
Olive oil
Parmesan cheese
Egg white mixed with a teaspoon of water
Marinara, for serving, optional
Instructions
Preheat oven to 375º.
On a piece of parchment paper, roll the pizza dough out to a rectangle approximately 12 x 16 inches.
If braiding, spread mustard sauce over the center of the dough lengthwise.
Layer on meats, cheeses, basil then a sprinkle of Parmesan, leaving an inch without toppings at both short ends and about 3-4 inches without toppings along both long sides. Drizzle with olive oil if desired.
Cut strips from edge to filling at about ¾-1 inch intervals on both sides of the filling.
Then flip the untopped dough at both short ends over the filling, and start alternating strips starting at one end and folding over the filling, first from one side, then from the other, stretching a bit if needed to cover the filling.
Whisk the egg white with water and brush over top of the braid.
Slide loaf and parchment onto a baking sheet and bake for 20-25 minutes till puffed and browned.
Cool for 5-10 minutes before slicing.
Serve with marinara, if desired
Notes
I used this Pizza Dough Recipe.
If you'd prefer a more traditional stromboli, spread toppings over all but the perimeter of the dough and roll up from one long side to the other. Place seam side down on a baking sheet. Cut a few slashes across the top of the roll. Brush with egg wash and bake as directed above.
Recommended Products
As an Amazon Associate and member of other affiliate programs, I earn from qualifying purchases.
Nutrition Information:
Yield:
6
Serving Size:
1
Amount Per Serving:
Calories: 500
Total Fat: 32g
Saturated Fat: 14g
Trans Fat: 0g
Unsaturated Fat: 16g
Cholesterol: 127mg
Sodium: 2243mg
Carbohydrates: 9g
Fiber: 2g
Sugar: 4g
Protein: 41g
Note: This post may contain affiliate links; view
my Disclosure Policy
for details. I earn a small percentage from any purchase you make by clicking on these links at no extra cost to you.