Poinsettia Cookies
Poinsettia Cookies – Fun and festive, these are classic sugar cookies with a few extra cuts, folds, and sprinkles! Some red sprinkles and nonpareils transform pinwheel cookies into a holiday treat resembling poinsettia blossoms.
What started as Pinwheel Christmas Cookies, these cookies can be adapted for any occasion by changing the color of the sprinkles. Red and blue for patriotic holidays, pastels for Easter, pink and red for Valentine's Day, etc.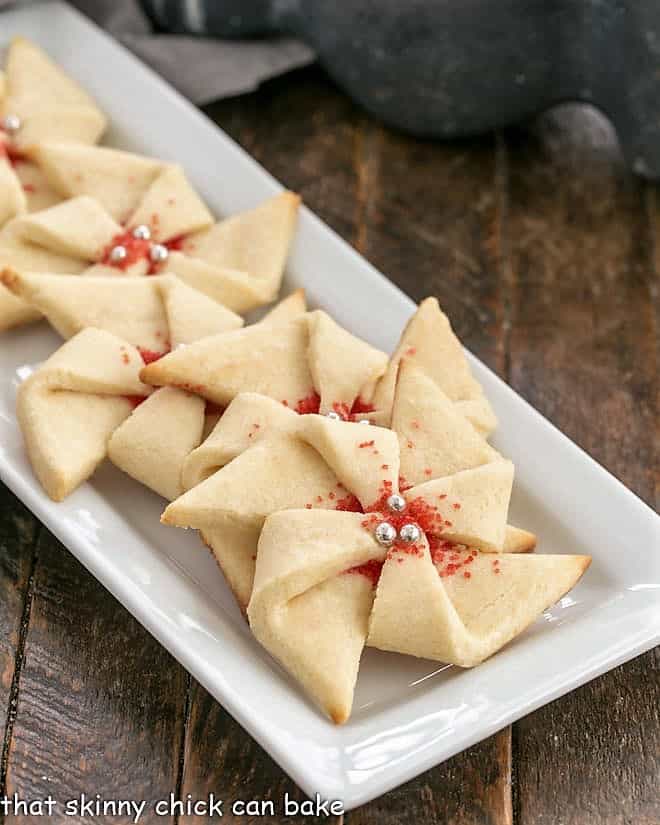 Why You Must Make
These are fun, festive and unusual holiday cookies.
Who doesn't love a simple sugar cookie?
They're perfect for a Christmas cookie exchange!
I first made these pinwheel cookies in November 2012 for a blogger Christmas cookie event. I've tweaked the recipe since then to enhance the flavor and texture by using my favorite sugar cookie recipe. This time no frosting is needed, but instead a little cutting, twisting, and sprinkling with colored sugar. I added silver dragees for some sparkle before I realized they were illegal in California! More on that below.
How to Make
These turn out best when you keep the dough cool and use a sharp knife to make the slices needed to twist the dough into pretty poinsettia blossoms. If the dough gets too soft or you use a dull knife, the dough may not slice nicely. I used a pizza cutter to cut the dough into squares, but a sharp paring knife was better for the shorter cuts.
Roll about 1/2 of the dough out to a 9 x 9-inch square. I like making it slightly larger, so the dough is about 1/8-inch thick, then using a ruler and a pizza cutter to cut it to size.
Store the scraps and rest of the dough back in the refrigerator.
Next, Mark all the sides at 3 inches and 6 inches, so you can cut the square into nine 3 x 3-inch squares.
Remove each square to a parchment-lined baking pan. Brush all surfaces with a lightly beaten egg white. Sprinkle red sugar in the center of each square of dough.
Slice on the diagonal from each corner towards the middle stopping about 1/2 inch from the center.
Next, Fold alternate corners towards the center, then gently pressing where they meet in the center. Add more sugar and dragees if desired.
Repeat, using the other half of the dough, collecting the scraps to reuse, and place them with the rest of the dough.
Bake according to the recipe, remove to a cooling rack, then dig in!
Cut the dough into squares, place colored sugar in the middle, then cut slits from each corner to the edge of the sprinkles.
Fold a point from the first corner up onto the middle of the sprinkles.
Continue to fold alternate points into the center as shown in the photo.
Press the area where the points meet to seal the dough together. Bake as directed.
Frequently Asked Questions
Are Dragees Edible?
Well, according to the FDA, dragees are not edible. In fact, they are illegal to sell in California. Silver is one of the ingredients and it has not been deemed safe to eat.

So, although there have been no reported deaths from eating these candy decorations, I would not serve them to children. There are plenty of other sprinkles and small sugar decorations that could be used instead.
Why Don't My Sugar Cookies Keep Their Shape?
There are a few reasons that cut-out cookies don't keep their shape. First, your recipe may have too much butter and sugar. Or your dough has gotten too warm.

Other culprits include a warm cookie sheet or a greasy cookie sheet. Use a cold pan with a sheet of parchment. Your dough should be relatively thick, too. About ¼-inch or slightly less works well.
Also, your oven temperature may be off. If it's too cool, there is no blast of heat to set the shapes quickly.
You May Also Like:
Stay in touch through social media @ Instagram, Facebook, and Pinterest. Don't forget to tag me when you try one of my recipes! And if you love the results, please give it a 5-star rating in the recipe card. Note: As an Amazon Associate, I earn from qualifying purchases. Visit my Amazon Store for my favorite products.
The Recipe:
Poinsettia Cookies
Prep Time 20 minutes
Cook Time 12 minutes
Total Time 32 minutes
Yield 27 cookies
A yummy, festive sugar cookie that's perfect for the holidays!
Ingredients
1/2 cup butter, at room temperature
3 ounces cream cheese, at room temperature
1 cup sugar
1 egg plus one egg white
1/2 teaspoon vanilla
1/4 teaspoon almond extract
1/2 teaspoon baking powder
1/4 teaspoon salt
2 cups flour, plus extra for rolling out the dough
Red sugar
Silver dragées
Instructions
Beat butter, cream cheese, and sugar until well combined.
Add the whole egg, vanilla, and almond extract and mix until combined.
Mix in baking powder, salt, and flour just until combined. Cover with plastic wrap and refrigerate for one hour.
Preheat oven to 350º. Line baking sheets with parchment paper and set aside.
On a lightly floured surface, roll about a third of the dough slightly wider than 9 x 9 and about 1/8 inch thick.
Using a pizza cutter or knife, trim the dough into a 9 x 9-inch square and then cut the square into nine 3 x 3-inch squares. Put about 6 squares per baking sheet.
Brush each square lightly with egg whites. Sprinkle red sugar in the center of the square.
Next, cut the dough diagonally from each corner to about 1/2 inch from the center (4 cuts per square). Fold alternate corners of the square to the center to form a pinwheel. Press points gently to seal.
Place 3 dragées in the center of each cookie and add more red sugar as needed. Repeat, rerolling any scraps of dough as needed, until all dough is used.
Place the cookie sheet containing the shaped and unbaked cookies in the refrigerator for a few minutes if the dough gets warm and soft.
Bake 9-12 minutes or till set. Remove cookies to a wire rack to cool.
Notes
Store in an airtight container at room temperature for up to a week.
Can freeze for up to 3 months.
Recommended Products
As an Amazon Associate and member of other affiliate programs, I earn from qualifying purchases.
Nutrition Information:
Yield:
30
Serving Size:
1 cookie
Amount Per Serving:
Calories: 149
Total Fat: 9g
Saturated Fat: 5g
Trans Fat: 0g
Unsaturated Fat: 3g
Cholesterol: 26mg
Sodium: 178mg
Carbohydrates: 15g
Fiber: 0g
Sugar: 4g
Protein: 2g
Note: This post may contain affiliate links; view
my Disclosure Policy
for details. I earn a small percentage from any purchase you make by clicking on these links at no extra cost to you.