Double Chocolate Thumbprints Cookies
These Double Chocolate Thumbprints are dressed up for the holidays but lovely to make and eat all year long!! These got my family's hearty approval!
Thumbprint Cookies are very adaptable! Add your favorite chocolate kiss variety depending on the occasion.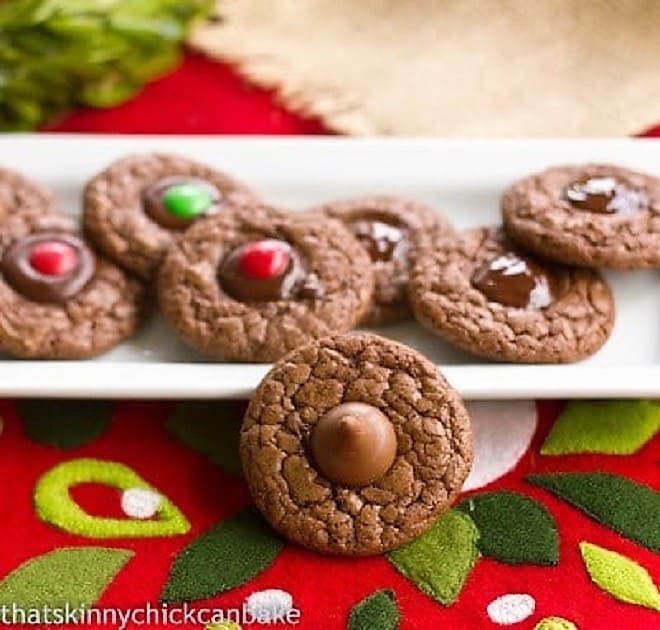 Why You Must Make
Double Chocolate! Always a hit!
Add your favorite chocolate candies. Kisses of all varieties are fabulous, but you can also use caramel-filled Rolos, chocolate stars, mini Reeses Peanut Butter Cups, etc.
The cookie recipe was adapted from Fine Cooking magazine, so you know it's delicious. Their recipe filled the cookies with chocolate ganache which is another tasty alternative.
When I mentioned baking up a batch of chocolate thumbprints to the hubby. I made the mistake of letting him know that I wanted to replace the chocolate ganache filling with Caramel Kisses.
I got what my friend, Patti, calls the "hamster look" of disappointment. Kind of a subtle pout. OK, OK, I could certainly make some with ganache. And my reward was his reaction after taking his first bite. He even suggested adding these to the tried and true cookies I give out to my friends each holiday.
How to Make
Nick was home for Thanksgiving break when I made these and I promised him the majority of these double chocolate thumbprints to share with his friends in the dorm. He, like me, adores caramel and gave me two thumbs up after his taste test. Trust me, these are amazing!
You can add any flavored Kiss you'd like, mini-Reeses, or just plain ganache. Just make sure to let the cookies cool for a few minutes before inserting the candy.
Make the cookie dough.
Use a cookie scoop to make rounds of dough and place them on a baking sheet.
Bake as directed.
Let cool for a few minutes, then either make a well in the middle of the cookies for ganache or add candies to the warm cookies.
Finish cooling and dive in!
Expert Tips
PRO-Tip: Using a medium cookie scoop is a good way to get consistent-sized cookies.
To make them nice and round, you can chill the dough balls, then roll them between your palms.
I have trouble with my cookie scoop/disher not releasing the dough cleanly after a few uses due to build up of dough. When spraying with Pam does not work, I use my hot water dispenser to rinse and heat up the gadget, allowing for rounder, more consistent-sized balls of dough.
PRO-Tip: When the cookies are hot out of the oven, you can also carefully (use a hot pad in one hand to stabilize the pan) tap the cookies into rounds using a spatula.
Add any flavor of Hershey's Kisses to your cookies. I used classic chocolate and caramel-filled Kisses.
You May Also Like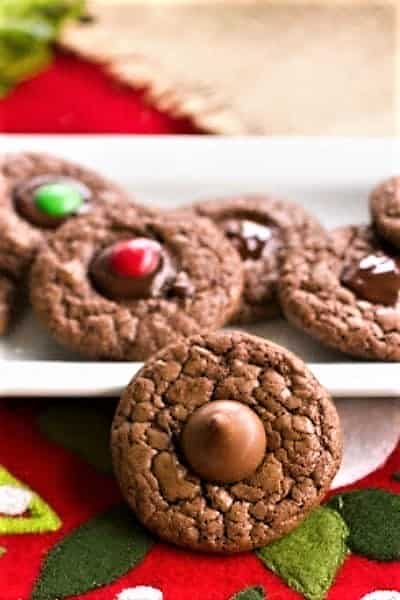 The Recipe:
Double Chocolate Thumbprints
Prep Time 20 minutes
Cook Time 10 minutes
Total Time 30 minutes
Yield 5 dozen
Chocolate laden cookies adapted from Fine Cooking
Ingredients
Cookie dough
1 1/3 cups flour
1/2 teaspoon salt
1/2 teaspoon baking powder
1/4 teaspoon baking soda
1 stick (4 ounces) butter, at room temperature
1 1/3 cups sugar
1/2 cup cocoa powder, sifted
3 eggs
1 teaspoon vanilla
3 ounces semisweet chocolate, melted and cooled slightly
For the chocolate filling:
3 ounces semisweet chocolate, coarsely chopped (1/2 cup)
4 tablespoons butter, cut into 3 pieces
M and M's, optional garnish
Or use Caramel or Plain Hershey's Kisses instead of the ganache
Instructions
Preheat the oven to 350°. Line cookie sheets with parchment and set them aside.
In a medium bowl, whisk the flour, salt, baking powder, and baking soda.
Using a mixer, beat the butter, sugar, and cocoa powder on medium speed until well blended, about 2 minutes.
Add the eggs one at a time, mixing until blended after each addition, then mix in vanilla.
Add the cooled, melted chocolate and mix till combined, then add flour mixture. Mix just till incorporated.
Place tablespoons of dough about 1-1/2 inches apart on the cookie sheets. Bake till the cookies are puffed and crackled, about 8-10 minutes.
When the cookies are just out of the oven, and you plan to use the ganache filling, use the rounded side of a half-teaspoon measuring spoon, make a deep well in the center of each cookie. Let the cookies sit on the cookie sheet for 4-5 minutes before moving to a rack to finish cooling.
*If using Kisses, cool cookies 4-5 minutes, then press unwrapped Kiss into the center of each cookie.
To make the filling, melt the chocolate and butter in the microwave, stirring with a rubber spatula until smooth. Set aside until cool and slightly thickened.
Spoon the chocolate mixture into the wells of the cooled cookies. Place an M and M in the center of the ganache, if desired.
Set aside until the chocolate firms up, about 1 hour.
Notes
You may fill your thumbprints with ganache or any flavor of Hershey's Kisses you love.
Recommended Products
As an Amazon Associate and member of other affiliate programs, I earn from qualifying purchases.
Nutrition Information:
Yield:
30
Serving Size:
1 cookie
Amount Per Serving:
Calories: 134
Total Fat: 5g
Saturated Fat: 3g
Trans Fat: 0g
Unsaturated Fat: 2g
Cholesterol: 23mg
Sodium: 82mg
Carbohydrates: 21g
Fiber: 1g
Sugar: 16g
Protein: 2g
Note: This post may contain affiliate links; view
my Disclosure Policy
for details. I earn a small percentage from any purchase you make by clicking on these links at no extra cost to you.