Individual Baked Alaskas are perfect for this weeks theme. When I heard our Sunday Supper theme for this week was Retro Recipes, my memories took me to the lavish dinner parties my parents threw back in the 70's.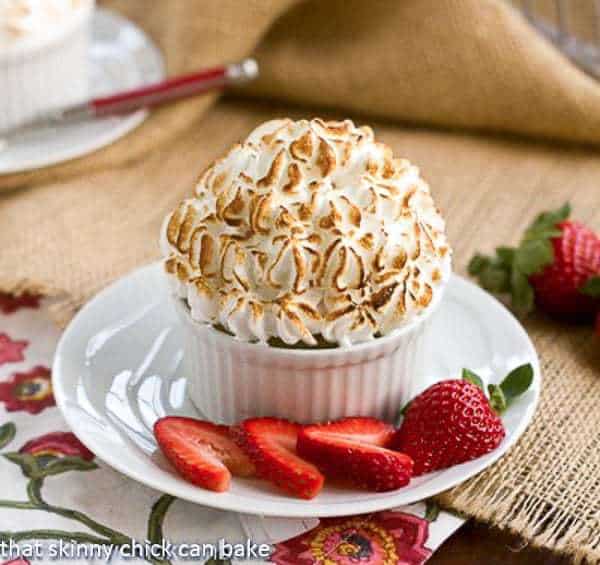 Individual Baked Alaskas – A Lavish Treat
My mom and her friends did not have the Internet, but they utilized bridge club, church functions and coffees to share the latest recipes. Our kitchen was full of cookbooks, recipe cards and newspaper clippings for inspiration. Hey, sounds like MY kitchen!  Some of their most gourmet dishes were created for an annual Progressive Dinner on New Year's Eve.  I could imagine them enjoying a slice of Baked Alaska around 11 PM, with champagne flowing, and lots of laughter and merriment. They would end their party just in time to trudge through the snow, singing old show tunes, till they reached an even bigger gala by the stroke of midnight. I thought some Individual Baked Alaskas could be fun to try.
Individual Baked Alaskas
I've made Baked Alaska for my family before. In true "Berg" style, the base was always made of brownies, then topped with vanilla ice cream and meringue. This time, I created individual servings by placing rounds of pound cake in the bottom of 4 ounce ramekins, followed by a dome of strawberry ice cream, then a toasted meringue cloud atop the ice cream. Katie and I had quite a discussion in front of the ice cream freezer at Target. She nixed any chocolate ice creams which would have been her father's first choice, and we both knew he would not be a fan of the peppermint stick or mint chocolate chip that she'd prefer. We finally settled on strawberry, the perfect choice as we approached Valentine's Day.
For these individual baked Alaskas I wasn't thrilled with this pound cake recipe. It worked fine, but flavor-wise, it was not spectacular. I think a pound cake from your grocer's freezer or bakery case would work just as well.  Just slice to the thickness of your ramekins before cutting. Plus this saves  a lot of time and dirty dishes. I made rounds to fit into my ramekins, then formed six domes of strawberry ice cream using one of the teeniest bowls from my set of nesting mixing bowls as a mold…by lining it with plastic wrap. I made sure the ice cream was refrozen overnight so that melting would be minimal when I torched the meringue topping before serving these delicious individual baked alaskas. The meringue can be piped with a star tip like in my top photo…or, even easier, just smooth it on with a spoon or small spatula and give it some character with a few swoops and swirls. Garnishing with juicy, ripe Driscoll's strawberries provides another note of sophistication.
These mini individual baked Alaskas garnered hubby's seal of approval, from the cake to the ice cream to the meringue. So if you're in need of an elegant, impressive dessert, give these individual baked Alaskas one a try. Shake it up with your favorite cake or brownie as a base and a complimentary ice cream flavor. You'll love it!
You may need these supplies to make this individual baked Alaskas recipe:
Print
Baked Alaska…#SundaySupper, #RetroRecipes
Ingredients
Pound Cake*:
2 sticks (1 cup butter, at room temperature)
1 1/2 teaspoons vanilla extract
1 cup sugar
4 eggs (at room temperature)
1 1/4 cups cake flour
1/8 teaspoon salt
1 quart strawberry ice cream (amount will vary depending on how much ice cream you use)
6 egg whites
1/4 teaspoon cream of tartar
3/4 cups sugar
*Store bought pound cake can be used
Beautiful (ripe Driscoll's strawberries to garnish)
Instructions
To make pound cake, line 8 x 8 inch pan with nonstick foil. Set aside. Preheat oven to 350º.
Beat the butter and vanilla extract with whisk attachment of electric mixer until creamy, about 5 minutes. Add the sugar, 1/4 cup at a time and continue to beat until light and fluffy, about 10 more minutes. Add eggs, one at a time, mixing until incorporated. On low, mix in flour and salt until just incorporated.
Spread batter in prepared pan. Bake for 25-28 minutes or till toothpick inserted in center comes out clean. Cool on rack.
Set 6 1/2 cup capacity ramekins on counter. Find a round cookie cutter that will fit into center of ramekin. My 2 3/4 inch diameter cutter worked well.
When cool, cut circles of pound cake out with cookie cutter. Gauge the size by the size of your ramekins.Place cake into bottom of 6 ramekins…trim bottoms if necessary so cake does not come higher than the top of the ramekin. May use pieces of cake if needed to completely fill ramekins.
Place a scoop of ice cream on top of each piece of cake to form a dome. Refreeze cake and ice cream for at least an hour till ice cream is very hard. Alternatively, find a very small mixing bowl that, when is inverted, fits over cake , but is not wider than ramekin. Line bowl with plastic wrap and pack in ice cream. Wrap ice cream completely with plastic and place on a baking sheet. Repeat 5 more times and refreeze these ice cream domes at least one hour or overnight.
When almost ready to serve, start the meringue. Beat the egg whies and cream of tartar to soft peaks using whisk attachment of mixer. Slowly add the sugar, one tablespoon at a time, while continuing to beat till meringue forms stiff peaks.
Place meringue in a piping bag fit with a star peak. Put ice cream domes on top of cakes if you prefroze your ice cream portions. Quickly pipe meringue over each ice cream topped cake. You may also just spread meringue over ice cream with a spatula and make peaks with the back of a spoon. Using a kitchen torch, brown the meringues and serve. You may also broil the meringues for about 2 minutes, but watch carefully so ice cream does not become too soft.
Makes 6.
This Week's Sunday Supper is all about "Retro Recipes."  Those food memories that immediately take us back in time.   Some of us enjoyed them so much that we will never change the mom or grandma's recipe.  Other's were ready to reinvent and update their favorite Retro Recipe.
Join us Around the Family Table this Sunday at 7pm Eastern Time and share your favorite Retro Food Memory with us!
Sunday Supper Retro Appetizers:
Sunday Supper Retro Salads:
Sunday Supper Retro Breads and Sandwiches:
SundaySupper Main Dishes:
Sunday Supper Retro Sides and Veggies:
Sunday Supper Retro Desserts and Cocktails:
Join the #SundaySupper conversation on twitter each Sunday. We tweet throughout the day and share recipes from all over the world. Our weekly chat starts at 7:00 pm ET and you do not want to miss out on the fun. Follow the#SundaySupper hashtag and remember to include it in your tweets to join in the chat. Check out our #SundaySupper Pinterest board for more fabulous recipes and food photos.
Would you like to join the Sunday Supper Movement? It's easy. You can sign up by clicking here → Sunday Supper Movement.
Disclosure: I was sent coupons for complimentary Driscoll's berries. I was not compensated in any way for writing this post. The opinions stated are my own.
Note: This post may contain affiliate links; view
my Disclosure Policy
for details. I earn a small percentage from any purchase you make by clicking on these links at no extra cost to you.