All the incredible flavors of one of our favorite Girl Scout Cookies in these spectacular Tagalong Cookie Bars!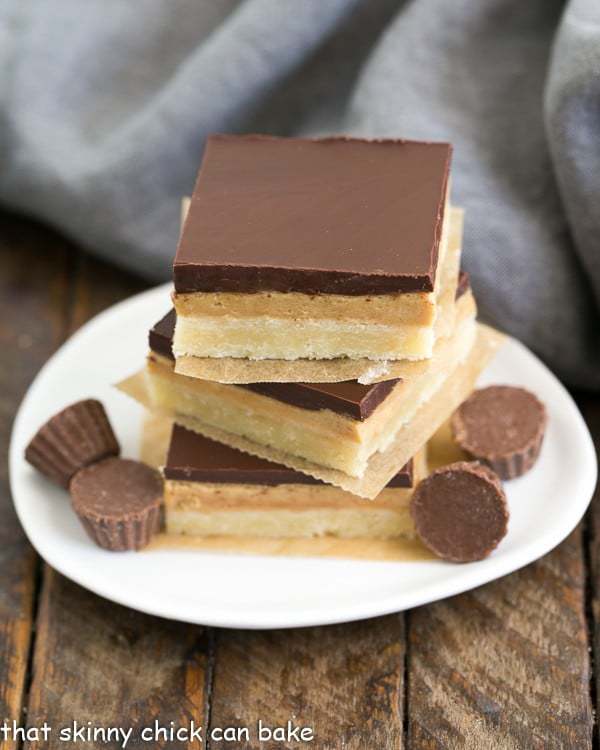 Tagalong Cookie Bars
I have surely mentioned the division in our household when it comes to peanut butter desserts. I, along with my two oldest, love them. The hubby and my youngest, do not. The hubby mentioned the staff at one of his clinics dropped some hints that they'd like me to share one of my treats. These Girl Scout inspired cookie bars immediately came to mind. I trimmed the edges and had to sample for quality control. They passed my scrutinizing with flying colors! I think the folks at Major Hospital were pleased, too.
Two Sweetie Pies
Thanks again to my lovely friend, Danielle, for another magnificent recipe! She is my go-to blogger for decadent treats. I promise you will love whatever you try from her blog!!! We share a recipe from each other's sites every second Monday of the month.
Check out Danielle's take on these Peanut Butter Tag Along Bars as well as her social media sites! Make sure to check out which of my recipes she made this month, too.
Hugs & Cookies XOXO – Facebook – Pinterest – Twitter – Instagram
More Recipes You'll Love:
Tagalong Cookie Bars
Adapted from Averie Cooks via Hugs and Cookies XOXO
Recipe type:
Dessert, Bars
Ingredients
Cookie Crust
½ cup butter, softened
1 cup flour
⅓ cup powdered sugar
1 tablespoon cornstarch
1 teaspoon vanilla
Peanut Butter Filling
2 tablespoons melted butter
1 cup creamy peanut butter
½ cup powdered sugar
½ teaspoon vanilla
¼ teaspoon salt
Chocolate Topping
8 ounces chopped semisweet chocolate bars, I used Ghirardelli
1 tablespoon canola oil
Instructions
Preheat oven to 350 degrees.
Line an 8-inch square baking pan with nonstick foil. Set aside.
To make the crust, put all ingredients into a bowl. Using a hand mixer, mix to a crumbly dough. Press into the pan and prick it with a fork all over. Bake 12 minutes just to set it, not brown it.
To make the filling, combine the melted butter with the other ingredients and stir until smooth.
Use an offset spatula to spread the peanut butter mixture over the warm crust.
To make the chocolate topping, microwave the chocolate and oil just till melted and stir smooth.
Pour over the peanut butter layer and smooth with an offset spatula. Chill for a couple hours, then bring to room temperature to cut and serve.