Anabelle's Ginger Crisps Cookies
My first nibble of Anabelle's Ginger Crisps sold me on ginger cookies decades ago. This is my grandmother's recipe for an old classic, a thin, crisp ginger cookie.
Ginger Crisps
I vividly remember the scent of my grandparents' kitchen. There was no lingering aroma of the previous night's dinner, but instead, a lovely, light fragrant infusion that emanated from Annabelle's spice drawer. The mixture of cloves, ginger, and cinnamon seemed both exotic and comforting. Anabelle was the grandmother who let us eat toasted and buttered angel food cake for breakfast. And, if we were lucky, she'd have a batch of her paper-thin ginger crisps to snack on later in the day.
Old Fashioned Ginger Cookies
I inherited my grandmother's terra cotta cookie press which I found in my parents' silverware drawer, then messaged my aunt, sisters and cousins when I couldn't locate my recipe for these old-fashioned ginger crisps. I love that my aunt, Angela, copied the recipe word for word. No instructions on how to mix the dough, and who the heck knows the size of a filbert? Not me, until I googled it! I treasure this recipe and added some more details so you all can try them, too.
The leaf and berry pattern on my cookie press did not show clearly after I baked the first batch. So I ended up rolling the rest of the dough balls in sugar and just not worrying about the design. My kids prefer a chewier cookie so I baked mine for just 8 minutes.
Christmas Extravaganza
Today, I'm sharing this recipe with my blogging friend, Abeer, of Cakewhiz, who organized this Christmas Extravaganza. You've probably seen her amazing creations on Pinterest and around the web; they are incredible! We were to take a holiday recipe and give it a twist. Mine is using a nearly century-old, family recipe to see how it works in a modern kitchen. Check out the other wonderful holiday creations below.
Plus More Favorite Holiday Cookies: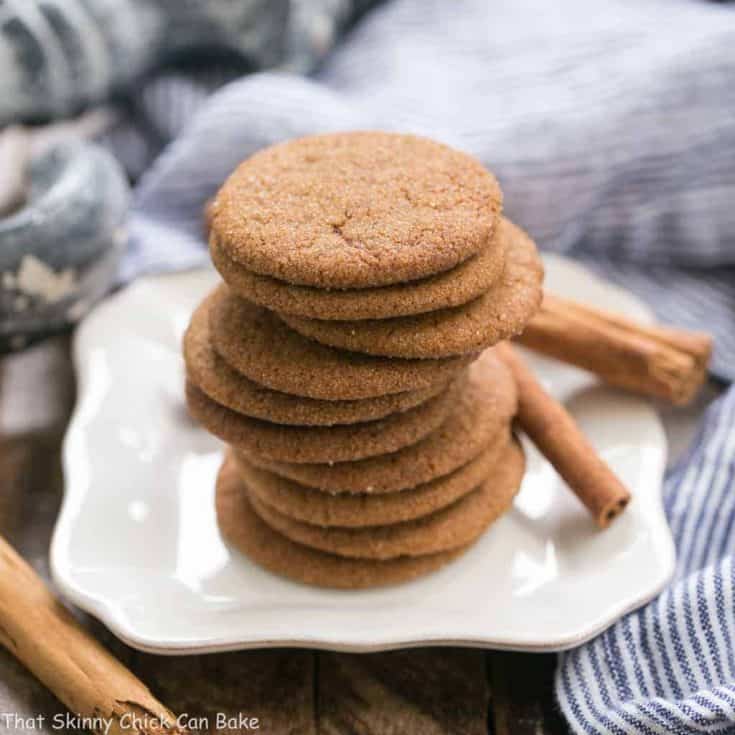 The Recipe:
Anabelle's Ginger Crisps
Prep Time 15 minutes
Cook Time 10 minutes
Total Time 25 minutes
Yield varies
My grandmother's thin, crispy ginger cookie recipe.
Ingredients
¾ cup butter
1 cup sugar
1 egg
¼ cup molasses
2 cups flour
2 teaspoons soda
1 teaspoon cinnamon
½ teaspoon cloves
1 teaspoon ginger
Sugar, for rolling cookies
Instructions
Cream butter and sugar, then add egg and molasses. Mix in baking soda, cinnamon, ginger, and cloves. Stir in flour.
Chill dough. Roll in tiny balls, slightly larger than a filbert* (I used either 1 or 1 ½ teaspoons of dough per cookie). Roll dough balls in sugar. Flatten with a glass dipped in sugar and place on a baking sheet.
Bake at 350º for about 8-10 minutes. Cool on a brown grocery bag (I used a cooling rack).
The smaller the ball, the thinner you can flatten the dough. If you go for a double batch, be sure you have a liter of gin and a chair to get you through the afternoon (from my grandmother's recipe card!).
Notes
* A filbert is the same as a hazelnut and about 20 mm in diameter.
* You can make oodles of cookies from this recipe if you make them small and press them very thin.
*The dough can get sticky if your kitchen is warm. I pressed a dough ball with a sugared glass, then resugared and pressed again to get it thinner.
*There is no need to grease the cookie sheet, but I still like to use parchment for easy clean up.
**Don't you love unedited old family recipes????
Nutrition Information:
Yield:
30
Serving Size:
2 cookies
Amount Per Serving:
Calories: 113
Total Fat: 5g
Saturated Fat: 3g
Trans Fat: 0g
Unsaturated Fat: 2g
Cholesterol: 18mg
Sodium: 43mg
Carbohydrates: 16g
Fiber: 0g
Sugar: 9g
Protein: 1g
Note: This post may contain affiliate links; view
my Disclosure Policy
for details. I earn a small percentage from any purchase you make by clicking on these links at no extra cost to you.