Now that summer has officially arrived, it's time to focus on lighter meals and side dishes. When the weather is hot and sultry, you'll be happy my blogger friends have shared their best summer salad recipes. They will definitely hit the spot!
This Strawberry Filled Meringue Roulade starts with a dreamy, melt in your mouth meringue rolled around whipped cream and berries. An incredibly light and luscious dessert!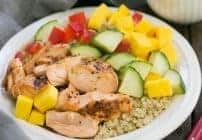 This healthy, flavorful Caribbean Salmon Quinoa Salad packs a punch with jerk seasoned seafood, an ancient grain and colorful fruits and vegetables. With some help from Rubbermaid's Balance Meal Kit, you will have a perfectly portioned meal! This post is sponsored by Rubbermaid, but all opinions are my own.
I recently gave in to temptation and bought David Lebovitz's Ready for Dessert: My Best Recipes. He dubbed his gorgeous flourless chocolate cake "Chocolate Idiot Cake" because it's nearly foolproof. With only 5 ingredients, and no mixer necessary, it's definitely an easy recipe which produces a stunning cake.  It is a melt in your mouth, […]
If you can believe it, the hubby is not the pickiest member of my family. Katie wins that title. It's easier to list what she will eat than go through the long list of foods she refuses to eat or try. I blame this on her father's genes…as his dad's family apologized to my MIL about his […]
Fingerling and new potatoes are quite common on our menu.  Roasted, sauteed or grilled…but never boiled in broth till today. Dorie's recipe instructed us to make a flavorful cooking liquid by combining chicken broth, lemon zest, bay, garlic and thyme (or sage or rosemary). Simmered for a few minutes to infuse the broth with the […]
After making the executive decision to skip the potatoes with prunes for last week's French Friday's with Dorie, I'm back with a dish more to my  family's liking. Dorie's French Toast was special in a number of ways. First, it was sugar-crusted…more on that later. Second, it was made with nice thick slices of eggy […]
This Beef Burgundy Pasta is pure comfort food! A cousin to boeuf bourguignon, it's flavorful and totally irresistible! Beef Burgundy Pasta I have been the crazy lady wearing multiple layers of fleece and long-sleeve yoga tops, finished off with a not-so-artfully placed woven scarf and Uggs while working at the computer. It's been miserably cold…and […]
Pesto and wafer thin slices of potatoes envelope salmon fillets for a quick, elegant entree: Potato Shingled Salmon. This is a sponsored post for Honest Cooking. All opinions are my own.