Wisconsin-based Culver's made the butter burger a household name. I tossed thin hamburger patties on the BBQ, topped them with compound butter, then served these homemade Grilled Butter Burgers on toasted buttered buns.
Now that summer has officially arrived, it's time to focus on lighter meals and side dishes. When the weather is hot and sultry, you'll be happy my blogger friends have shared their best summer salad recipes. They will definitely hit the spot!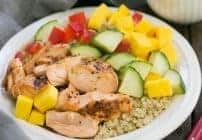 This healthy, flavorful Caribbean Salmon Quinoa Salad packs a punch with jerk seasoned seafood, an ancient grain and colorful fruits and vegetables. With some help from Rubbermaid's Balance Meal Kit, you will have a perfectly portioned meal! This post is sponsored by Rubbermaid, but all opinions are my own.
 Just four simple ingredients and you can have these sublime Coconut White Chocolate Truffles for your sweet tooth's pleasure! Coconut Nirvana Growing up, I had a penchant for those coconut bonbons in those boxes of chocolates that made the rounds on Valentine's Day. Then my mom started making Mounds bars and I fell deeper in […]