Halloween is less than a week away, so our Progressive Eats crew has put together the perfect menu to celebrate the holiday. Starting with a festive cocktail and ending with my Fudgy Tombstone Parfaits, there's certain to be a dish you'll want to add to your Halloween menu.
Did you know it's National Pizza Month? The next time you order a pizza or two for dinner,  finish your meal with this vibrant and delicious Fresh Fruit Pizza!
We gathered for my gem of a mother-in-law's funeral earlier this month. I adored her and she was a huge influence in my life as a friend as well as a second mother. Jane was a terrific cook, so I brought this Mocha Layer Cake for our family to enjoy as we celebrated the life […]
At the end of last month, I purchased  a partial bushel of peaches with the intent to freeze them. As I snacked on the juicy fruit, the desire to bake up a dessert overtook my previous intentions. I spotted this Peach Pudding recipe in my emails, and made it for a family dinner!
Are you in search of a new appetizer for your next bash? These Bacon and Blue Cheese Stuffed Potatoes combine three well-loved ingredients to make an outstanding two bite starter. This post is sponsored by the Idaho Potato Commission. See below for details. Idaho® Potatoes You've heard of Idaho® Potatoes, right? But did you know you can actually taste […]
 I entertained some friends one Sunday morning last month. Brunch fare was in order. I tested out all new recipes, and this Gruyere Spinach Strata was my favorite. A Multitude of Hits! I adore having our friends over and cooking for them. Bill and I are part of a small dinner club and it was […]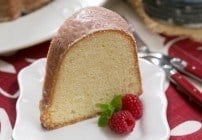 Perfectly sweet and dense, a slice of this scrumptious Sour Cream Pound Cake is delightful topped with seasonal berries and a dollop of whipped cream. Simple and Delectable Pound Cake A classic pound cake calls for only butter, sugar, eggs and flour. This sour cream version has just a few additions to push it over […]
It's time for another episode of the Improv Challenge…hosted by our wonderful blogger friend, Kristen, of Frugal Antics of a Harried Homemaker. February's assigned ingredients were Carrots and Ginger…and the first thing that came to mind was carrot cake whoopie pies. My whoopie pie tin had been gathering dust and it was definitely time to […]
When we were first married, I used to bake orange rolls on a regular basis.  My hubby had fond childhood memories of a roadside dinner that served these delectable treats.  I attempted to recreate these using a Betty Crocker recipe that utilized leftover filling as frosting…and he loved them. With little except laundry planned for […]