When you need a little something sweet for breakfast, a thick slice of this Cinnamon Topped Banana Bread will do the trick!
When I asked my oldest what he wanted for his birthday dessert, he wisely replied, anything you need to make for your blog. I had selected this Boston Cream Pie Poke Cake for January's #TwoSweetiePies, so it became a celebratory dessert!
Once all the holiday hoopla is over, it's time to get back on track with some Healthy Recipe Ideas. Some of my favorite bloggers and I are sharing our favorites!
I pull out all the stops when I host my book club, and when I spotted mini Brie cheeses in the market, I decided to make these Cherry Topped Brie Bites. Cherry Topped Brie Bites The packaged bite-sized Brie was new to me and to a few of my book club friends as well. Ile […]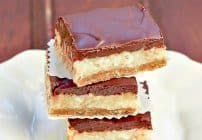 My mom's Mounds Bars recipe that turned me into a coconut lover for life! My family's Mounds Bars Recipe In first grade, our moms had to send in two recipes for the class cookbook.  My mom's contributions were a blue cheese salad dressing…which I didn't appreciate till nearly 20 years later…and Mounds Bars.  I became […]
Orange Marmalade Filled Sweet Rolls are composed of a tender bread dough rolled around a healthy dose of marmalade and brown sugar for a delightful breakfast treat! Sweet Rolls Whew. After a couple of yeast disasters, I thought I had lost my baking mojo. But I went to my trusty Red Star Platinum yeast and […]
These Coconut Macaroons are like no other I've ever baked or eaten. Though chewy, they're definitely lighter than dense, but pack the same coconut thrill that comes from eating a more traditional version.
Italian for "pick me up," Tiramisu is an espresso and booze flavored dessert made with mascarpone, cream and ladyfingers. A topping of grated chocolate is just one more sublime component. Dreamy Tiramisu My search for the perfect tiramisu recipe all started after a family holiday to Vancouver, British Columbia. My family relocated to this breathtakingly beautiful, cosmopolitan Canadian city when […]
Grab Some Nuts Day! Leave it to my friend, Kim, of Cravings of a Lunatic to organize a Grab Some Nuts Day! There are a lot of wise cracks that could be made with this theme, but I'll leave them up to your imaginations. I was heading to Denver to visit my youngest sister, Maddy, who […]