With the BIG game approaching, it's time to think about the menu! Whether you're inviting a crowd or watching with your family, these BEST Game Day Recipes will inspire you.
When you need a little something sweet for breakfast, a thick slice of this Cinnamon Topped Banana Bread will do the trick!
This simple Thyme Kissed Tomato Soup was creamy, hot, and the perfect cold weather lunch. Paired with grilled cheese fingers made a satisfying meal!
For July, our Tuesdays with Dorie group will be baking up two delicious tarts…one sweet and one savory. First up is this berry filled Baked Yogurt Tart from contributing baker, Leslie Mackie. The hardest part of this recipe was deciding what pan to use….my 9 inch cake pan was too deep, my favorite pie plate too […]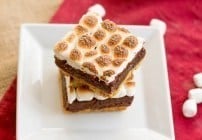 With a graham cracker crust, brownie center and marshmallow topping, these S'mores Brownies are destined to become a favorite treat! This month's Improv Challenge theme was to create a dish using the ingredients Chocolate and Marshmallows. S'mores lovers will be delighted with these S'mores Brownies…a crumbly graham cracker crust topped with a fudgy brownie and toasted […]
Applesauce is SO easy to make and makes your house smell like autumn. This Cinnamon Spiced Applesauce can be tweaked perfectly for your taste buds!  Homemade Applesauce Have you ever thought of making your own applesauce? This was a staple at my in-laws house when we used to visit. Paired perfectly with pork chops or […]
An arctic chill settled in the Midwest. The sub-freezing temps created a perfect day to stay in, crank up the heat in the house…using the excuse that warmth is needed to proof the dough.  You all will back me up on that, right?  I've made  brioche dough before…combining both a Nick Malgieri recipe and Dorie's.  […]
I'm new to making and eating Chimichurri Sauce. Spooned over grilled flank steak, it pushed a normal entree to extraordinary! Chimichurri Sauce Growing up in a small town in the Midwest, we weren't exposed to exotic, Argentinian fare like this chimichurri sauce. It's a vibrant green condiment full of herbs, garlic, a splash of vinegar […]
Guess who wants some? As a newlywed, I cooked pretty basic dishes…and although I had a few more complicated desserts in my repertoire, I was more likely to bake chocolate chip cookies than a cake from scratch.  I received the cookbook All Around Ames at one of my bridal showers…and was drawn to this simple, […]