This healthy, flavorful Caribbean Salmon Quinoa Salad packs a punch with jerk seasoned seafood, an ancient grain and colorful fruits and vegetables. With some help from Rubbermaid's Balance Meal Kit, you will have a perfectly portioned meal! This post is sponsored by Rubbermaid, but all opinions are my own.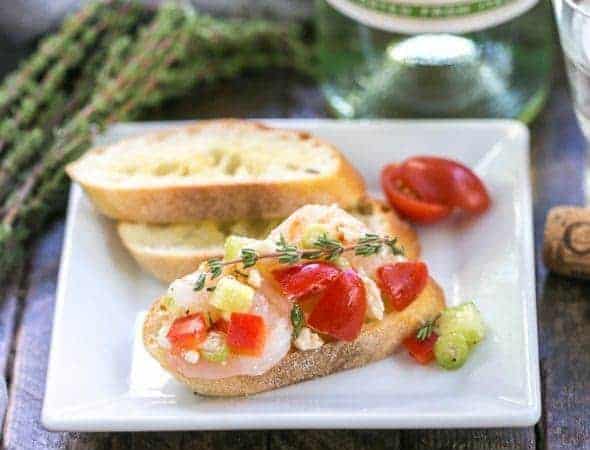 Did you know May 26th is the first annual National Pinot Grigio Day? I'm celebrating by pairing these Greek Shrimp Crostini, topped with seafood, tomatoes and feta, with a crisp glass of  chilled Cavit Pinot Grigio. This post is sponsored by Cavit. All opinions are my own.
As the weather grows warmer, this light and zesty Shrimp & Orange Salad is the perfect meal.
These Festive Blue Cheese Balls received rave reviews from my friends. Rolled in either dried cranberries or pistachios, they are a welcome addition to a cheese tray or appetizer platter! Party Cheese Balls A cheeseball surrounded by crackers is a staple at cocktail parties. Rolled in pecans, they usually have a cream cheese base and […]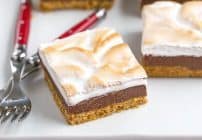 When it comes to s'mores, I can take 'em or leave 'em. But s'mores desserts are a whole different story! These S'mores Fudge Bars are 3 layers of decadence: graham cracker crust, rich fudge and a marshmallow topping. S'mores Fudge Bars Growing up, s'mores were part of nearly every summer gathering. Whether a picnic at a […]
My loyal readers know I have this little love affair with berries, so I was thrilled with this month's Blogger CLUE theme! When I spied this sublime Strawberry Mousse on Christy's blog, I knew I had found my berry recipe. May Berries May is when we finally see strawberries at our farmers' market. Though many […]
It's June, but feels like August. Hot, sultry, sticky days…and nights. It was time to break out my ice cream maker. To keep peace in the house, I made plain ol' vanilla…but not any ordinary ice cream. This Vanilla Bean Ice Cream was ultra-rich, with the ultimate creamy mouth-feel. And cold…yup, that's important when it's 90º […]
It was the weekend before Nick's birthday, so we loaded up the family and these Perfect Chocolate Cupcakes and headed to his college campus. We took him and his buddies out for a steak dinner, but they all had room for dessert back at his apartment. The Cupcake Disappearing Act The boys all seemed to […]
We eat lots of potatoes: baked, fried, roasted. So I'm always on the look out for simple, yet delicious sides as another option to the spud.  When Christiane, of The Mom Chef blog, posted this orzo recipe, I knew it would become a regular menu offering.  Orzo is a small, rice shaped pasta that is […]