Roasted Cauliflower with Parmesan and Bread Crumbs
This Roasted Cauliflower Recipe changed my husband's mind about this once-maligned vegetable! The caramelized florets are sweet, tender, and irresistible! Now he and I both nibble on the tasty florets before they make it to the serving dish!
Oven Roasted Cauliflower enhances the natural sweetness and makes an absolutely delicious side dish with nutty, buttery undertones.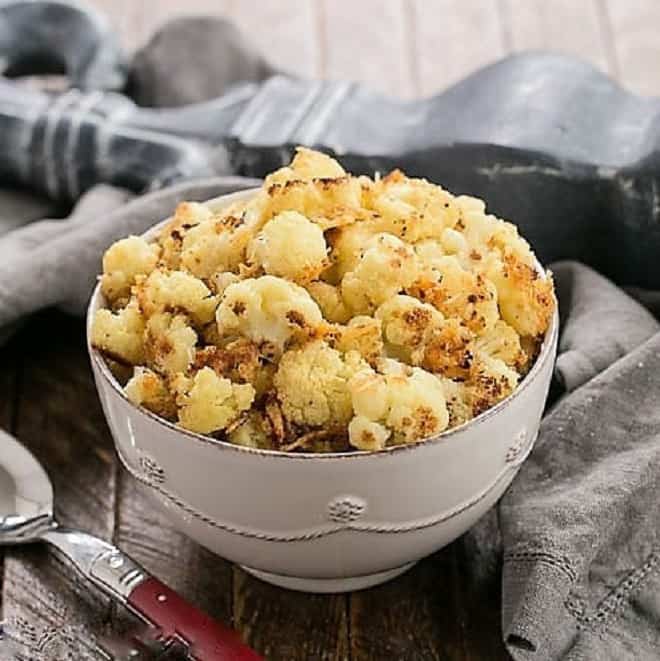 Why You Must Make
By now, many of you know that I have a husband with a picky palate. Slowly, over our nearly 35-year marriage, I've gotten him to try and actually enjoy broccoli, asparagus, the occasional zucchini (he still calls it cucumber!), and just lately, cauliflower.
It was this roasting method that finally swayed my husband to become a cauliflower fan. And he's a hard sell!!
Roasting turns cauliflower into a delicious vegetable. Vegetables caramelize and sweeten when cooked with intense, dry heat.
The simple additions of bread crumbs and Parmesan along with salt, pepper, and olive oil work their magic in the oven. It's a very easy recipe with outrageously delicious results!!
This Roasted Cauliflower may convert your cauliflower avoider into a lover, too!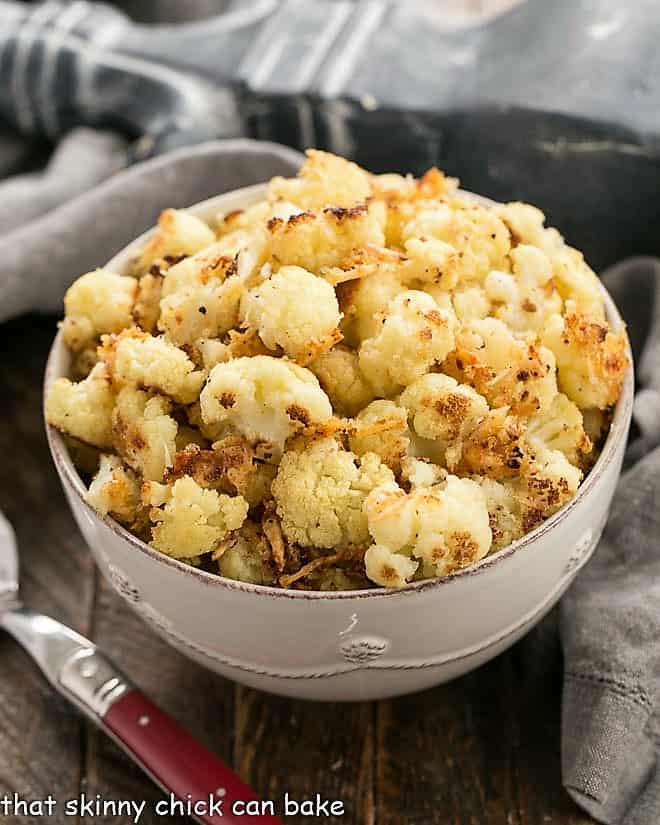 Expert Tips
I've learned a few tricks to help make your first and subsequent attempts at roasting cauliflower, or other vegetables, utterly delicious!
Cut your cauliflower into small florets, about 1/2 to 1-inch pieces. You want all pieces to be approximately the same size. I discard excess core and stems, but you can roast them, too, or save them for making soup or cauliflower rice.
PRO-Tip: Wash your cauliflower ahead of time, so it has a chance to dry. The oil won't stick well to damp florets. And you want to roast, not steam, the cauliflower florets.
Place the dried florets in a large bowl, add the oil and toss to coat every single piece. I realize it's an extra bowl to clean, but it really helps get each floret coated well with oil. Then add the Parmesan and bread crumbs and toss again.
PRO-Tip: Use a large sheet pan to roast the cauliflower so the florets aren't crowded together. If they're too close, they tend to steam instead of roast.
Sprinkle with kosher salt and freshly ground pepper. Remember the Parmesan is salty, so don't go overboard, but it's still important to add salt.
PRO-Tip: Roast at high heat for best results, 400-450º.
Make sure you toss the cauliflower about halfway through the cooking time. That helps as much surface area to brown as possible.
The Nutritional Benefits of Cauliflower
We all know vegetables are good for you and that a balanced diet should include loads of fruits and veggies. But did you ever wonder about the specific benefits that come from eating cauliflower? Well, there are plenty!
Cauliflower is high in fiber. In fact, there are 3 grams of fiber in every cup. You might not want to eat a cup of raw cauliflower, but sweet, roasted cauliflower is another story!
This vegetable is also rich in nutrients, especially Vitamin C!! It's also a source of Folate, B6, Vitamin K, Magnesium, Potassium, and more.
Cauliflower contains Choline which is needed for memory and learning.
Cauliflower is full of antioxidants that help rid your body of free radicals along with decreasing inflammation and possible protection against cancer.
This cruciferous vegetable can help with weight loss. As a substitute for rice, cauliflower rice is a tasty low-carb option. High in fiber, cauliflower also helps fill you up, helping to minimize overeating.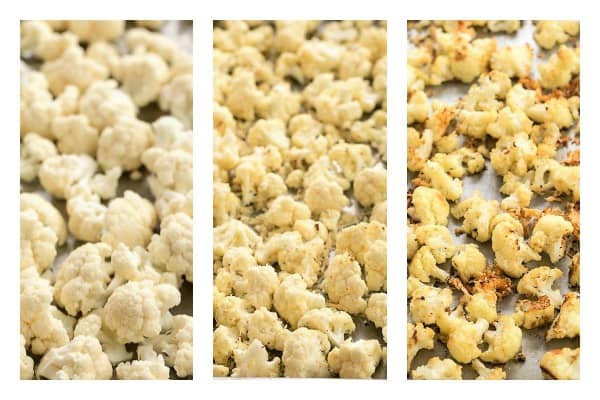 Raw Cauliflower – Cauliflower coated with olive oil, bread crumbs, and Parmesan – Roasted Cauliflower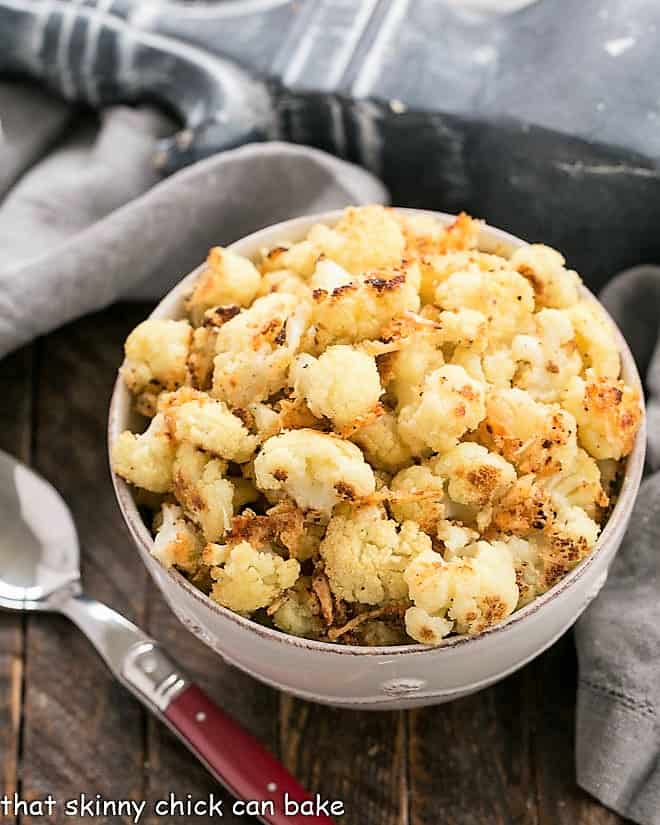 Frequently Asked Questions
Can You Roast Frozen Cauliflower?
Yes, but roast it from the frozen state instead of defrosting first. This will minimize steaming. You will not be able to add toppings, and fresh is preferred, but frozen works in a pinch.
How Do You Reheat Roasted Cauliflower?
At our house, we microwave the leftovers to reheat. But if you'd like to bring back a little crispiness, sauteing the leftovers in a skillet is a better option.
Is Roasted Cauliflower Low-carb?
If you roast your cauliflower with just olive oil and Parmesan, it's definitely low-carb. Once you add the bread crumbs, the amount of carbs per serving does increase.
Can You Freeze Roasted Cauliflower?
You can freeze simple roasted cauliflower without any toppings, but this version would not defrost well since the bread crumbs will get soggy.
You May Also Like:
For a heartier cauliflower dish, check out this Cauliflower Bacon Gratin. Bill gave it his seal of approval, too!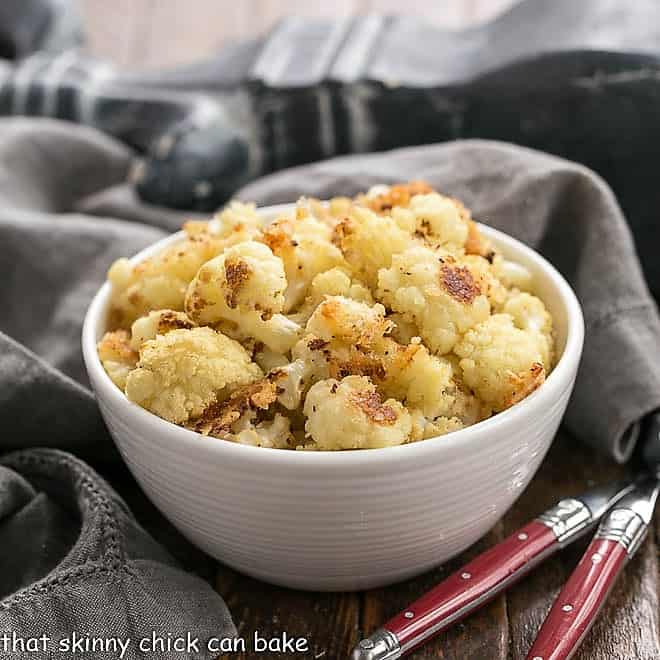 The Recipe:
Roasted Cauliflower with Parmesan and Bread Crumbs
Prep Time 10 minutes
Cook Time 40 minutes
Total Time 50 minutes
Yield 4 servings
Roasting cauliflower with Parmesan and bread crumbs will make anyone love this maligned vegetable!
Ingredients
1 head cauliflower, cut into 1/2 to 1 inch florets
1/2 cup fresh bread crumbs
1/4 cup freshly grated Parmesan
1/4 cup olive oil
Salt and pepper to taste
Instructions
Preheat oven to 400º.
In a large bowl, toss the cauliflower florets with olive oil, then add bread crumbs and Parmesan and toss again.
Spread out over a large, rimmed baking sheet, making sure the florets are not too crowded. Season with salt and pepper.
Roast for 30-40 minutes, flipping at the halfway point, until the cauliflower is tender and browned slightly.
Notes
Do not crowd the cauliflower or they will steam instead of roast.
Recommended Products
As an Amazon Associate and member of other affiliate programs, I earn from qualifying purchases.
Nutrition Information:
Yield:
4
Serving Size:
1
Amount Per Serving:
Calories: 231
Total Fat: 17g
Saturated Fat: 3g
Trans Fat: 0g
Unsaturated Fat: 13g
Cholesterol: 5mg
Sodium: 307mg
Carbohydrates: 16g
Fiber: 4g
Sugar: 4g
Protein: 6g
Note: This post may contain affiliate links; view
my Disclosure Policy
for details. I earn a small percentage from any purchase you make by clicking on these links at no extra cost to you.