Rice Krispie Candy Corn treats are a fun twist on basic Rice Krispie treats. This easy Krispie treats recipe is made with some food coloring and a cake pan, for the ultimate Halloween treat!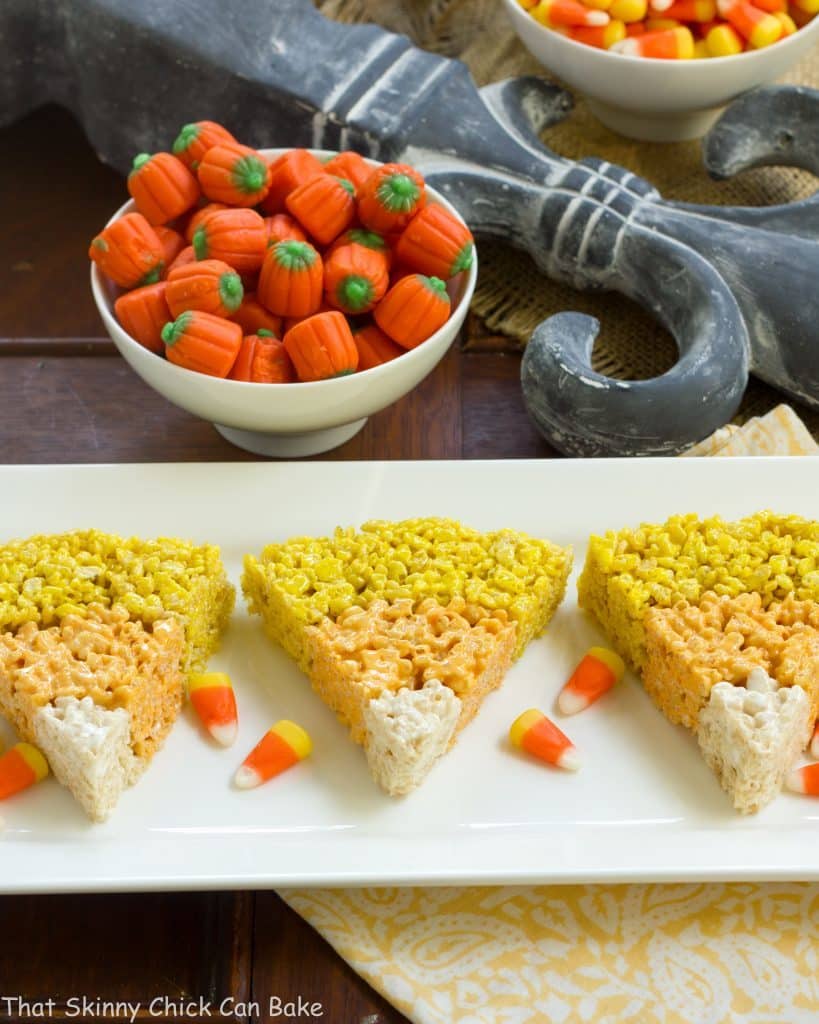 Rice Krispie Candy Corn
OK, you do not need to adjust your monitors. I just need a little food dye 101 intervention. The colors aren't exactly spot on with these  tri-colored candy corn inspired Rice Krispie Treats, but they are  close enough, I hope, for recognition. Plus, these Rice Krispie Candy Corn treats are just as yummy as the classic version cereal bars. These festive gems made their way to Indiana University as part of a college care package for my youngest, Nick.  Along with some brownie cookies studded with M&M's, I think he and his roomies were set with sweets for a couple nights. We also treated him and 4 of his friends to dinner at a steak house…and, man, can those boys can eat!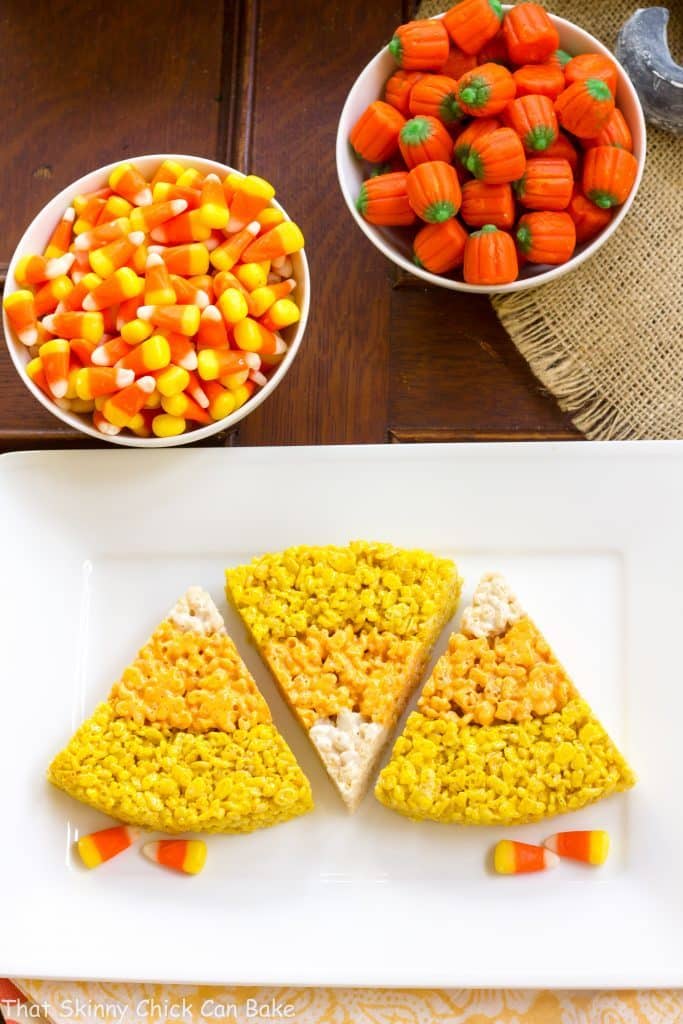 Tips for Making These Rice Krispie Candy Corn Treats:
These Candy Corn Rice Krispie Treats are made in an 8-inch round cake pan. First a batch of yellow Rice Krispie treats are made and pressed into a a 1 1/2 inch ring around the perimeter of the pan. This is followed by a slightly smaller orange batch pressed in right next to the orange in another 1 1 /2 inch diameter ring, which leaves a 2 inch center round space for the smallest batch of uncolored RKT. Make sure your pan is well greased and the round will pop right out when cooled. I simply sliced the treats into 6 equal wedges, and voila! They look like candy corn.
This is my contribution to the Halloween Holiday Food Party…just look at all the amazing Halloween inspired recipes my friends have shared today! And thanks to the kind, patient and tech savvy Jen, of Jen's Favorite Cookies, for hosting us and teaching me how to make the cool table below. I still have some spaces that I cannot remove, but am too chicken to mess with the html coding any more! Click on the photos to see all the spooky offerings:

Vampire Martinis
Magnolia Days

Reese's PB Pie
Hungry Couple NYC

Pumpkin Krispie Treats
Girl in Little Red Kitchen
Kiss Cookie Cups
Chocolate Moosey
Pumpkin Pie Fudge
Juanita's Cocina
Pumpkin Crepes
Pineapple and Coconut
 
Pumpkin Swirl Brownies
Crumb Blog
 
Pumpkin Spice Cookies
Created by Diane
 
Sour Patch Kids
Yummy Smells
 
Chocolate Pumpkin Cake
Gotta Get Baked
 
Butterfinger Bark
Jen's Favorite Cookies
 
Halloween Puppy Chow
The Messy Baker
Print
Rice Krispie Candy Corn
Turn the classic cereal treat into Rice Krispie Candy Corn with some food coloring and a cake pan for the ultimate Halloween treat!
Author:
Yield: 6-8 wedges 1x
Category: Snacks, Holiday dessert, Halloween dessert, Dessert
Ingredients
Recipe adapted from Glorious Treats
For the yellow ring:
2 1/4 cups Rice Krispies cereal
2 1/2 cups mini marshmallows
1 1/2 tablespoons butter
yellow food coloring
For the orange ring:
1 3/8 cups Rice Krispies cereal
1 3/4 cups mini marshmallows
1 tablespoon butter
orange food coloring
For the white center:
1 cup Rice Krispie cereal
1 1/4 cup mini marshmallows
1 tablespoon butter
Instructions
Spray an 8 inch cake pan with non-stick cooking spray. Set aside. Have butter available to grease your hands and spatula as needed for pressing treats into pan.
Form one ring at a time, starting with the yellow ring. Melt the marshmallows and butter for that ring in a microwave safe bowl. Gently melt by stopping and starting microwave at 15 second intervals. Stir to mix with greased spatula, then add food coloring till desired hue is reached. Stir in Rice Krispies.
With greased hands and a greased spatula, pat yellow rice krispie treats around perimeter of pan to form about a 1 1/2 inch ring.
Repeat with orange ring using same procedure (except using orange food coloring) and form a second 1 1/2 inch ring, leaving the middle open for the white center.
Repeat with last batch of marshmallows and butter and press into the center of the pan.
Let cool for at least 30 minutes, then flip out of pan onto cutting board. Cut into 8 wedges to resemble candy corn.
Note: work quickly to form the rings while mixture is still warm and pliable.
Note: This post may contain affiliate links; view
my Disclosure Policy
for details. I earn a small percentage from any purchase you make by clicking on these links at no extra cost to you.