Rice Krispie Candy Corn Treats
Rice Krispie Candy Corn Treats are a fun Halloween Treat that your kids and their friends will go nuts for! Be prepared for rave reviews!!! This easy recipe creates the ultimate Halloween Dessert Recipe that brings back memories of a childhood favorite cereal treat.
This Candy Corn Rice Krispie Treats Recipe is a fun twist on the basic Rice Krispie treats. With minimal ingredients, these are a simple dessert for Halloween that the whole family will love!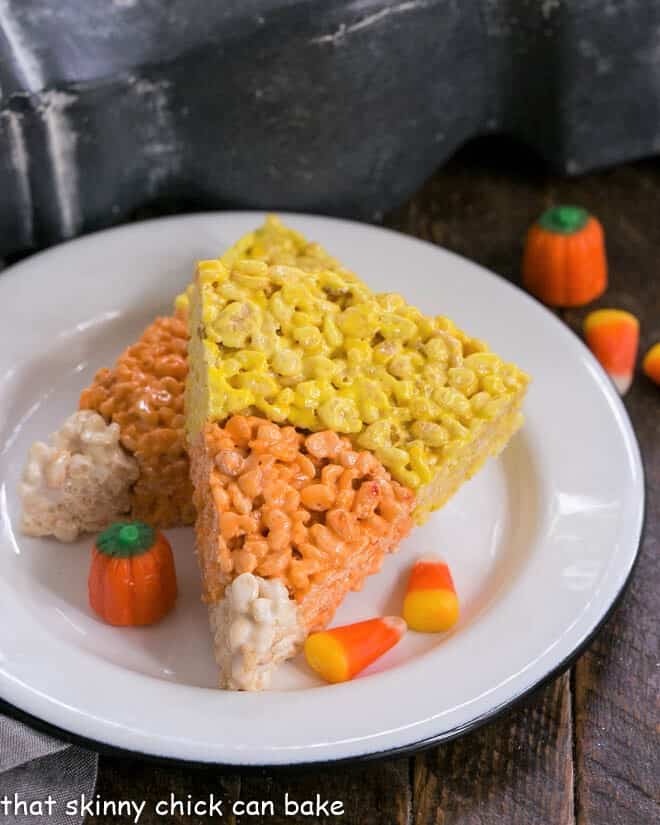 Candy Corn Rice Krispie Treats
OK, you do not need to adjust your monitors. I just need a little food dye 101 intervention. The colors aren't exactly spot on with these tri-colored candy corn inspired Rice Krispie Treats, but they are close enough, I hope, for recognition. Plus, these Halloween treats are just as yummy as the classic version cereal bars. I find them addictive!
These festive gems made their way to Indiana University as part of a college care package for my youngest, Nick. Along with some brownie cookies studded with M&M's, I think he and his roomies were set with sweets for a couple nights. We also treated him and 4 of his friends to dinner at a steak house. Man, can those boys can eat and they LOVED these Halloween Rice Krispie Treats!
Tips for How to Make Halloween Rice Krispie Treats:
If you've never made a Rice Krispie Treats Recipe before, they're a super easy, 3 ingredient recipe. Adding food coloring adds a fourth component. The ingredients you need are Rice Krispies, butter, and marshmallows.
Make sure to measure properly. It's better to have a few extra marshmallows than not enough. Make sure to use soft, fresh marshmallows for the best results. Mini marshmallows will melt more easily.
PRO-Tip: When you melt together the marshmallows and butter, do it very gently. I use short bursts in the microwave, stopping and stirring frequently. If you overheat this mixture, your Rice Krispie Treats will be hard when cool. Alternatively, melt the marshmallows and butter in a saucepan over low heat, stirring frequently as they begin melting.
If you're unsure how old your box of Rice Krispie cereal is, it's best to buy a new one. Stale cereal won't make very good Krispie treats.
Use a light hand when mixing in the cereal, making sure all the cereal is coated. I like using a silicone spatula.
PRO-Tip: Make sure your pan is well greased. Also have butter available to grease your hands. The mixture sticks to everything!
If you're using any rings or bowls to help make these Candy Corn Rice Krispie Treats, grease those well, too.
Normally, you don't want to press the Rice Krispies mixture down with a firm hand. Compressing the Rice Krispie Treats won't give you the desired light, gooey consistency. But, in this recipe, you can use a little extra pressure, so that the layers don't have big gaps.
Store your Rice Krispie Treats in a sealed, air tight container. They're fine kept at room temperature, but if you refrigerate them, let them come to room temperature before eating.
How to Make Rice Krispie Treats for Halloween:
These Candy Corn Rice Krispie Treats are made in an 8-inch round cake pan.
First, a batch of yellow Rice Krispie treats is made and pressed into a 1 1/2 inch ring around the perimeter of the pan.
This is followed by a slightly smaller orange batch pressed in right next to the orange in another 1 1/2- inch diameter ring.
This leaves a 2 inch center round space for the smallest batch of uncolored RKT.
Tips for Making these Homemade Rice Krispie Treats
Make sure your pan is well greased and the round will pop right out when cooled. I simply slice the treats into 6-8 equal wedges, and voila! They look like candy corn.
PRO-Tip: I like using a round of parchment with the sections marked off in the bottom of the greased cake pan. Turn the marked side down, so your RKTs will be pressed onto the clean side of the parchment.
The lines are guidance for where the sections should start and stop. Another tip is to use an appropriately sized, greased cookie cutter and/or small mixing bowl to provide a division for the layers. Hold the cookie cutter or bowl in the center of the pan, and pack the RKT mixture into the desired area.
Use a flat bottom spatula to press down evenly across the surface of the Krispie treats. Do your best to keep them level.
As a contributor to this Halloween Holiday Food Party, make sure to check out my recipe and all the amazing Halloween Treats my friends have shared today! Gather the simple ingredients needed to make this Halloween Dessert Recipe, whip up a batch, and be prepared for them to disappear as quick as a wink!!

Vampire Martinis
Magnolia Days

Reese's PB Pie
Hungry Couple NYC

Pumpkin Krispie Treats
Girl in Little Red Kitchen
Kiss Cookie Cups
Chocolate Moosey
Pumpkin Pie Fudge
Juanita's Cocina
Pumpkin Crepes
Pineapple and Coconut

Pumpkin Swirl Brownies
Crumb Blog

Pumpkin Spice Cookies
Created by Diane

Sour Patch Kids
Yummy Smells

Chocolate Pumpkin Cake
Gotta Get Baked

Butterfinger Bark
Jen's Favorite Cookies

Halloween Puppy Chow
The Messy Baker
More Halloween Recipes You'll Love:
Add These Ingredients to Your Shopping List:
A large box of Rice Krispies cereal (almost 5 cups)
Mini marshmallows (at least 5 cups)
Butter (salted is preferred as salt enhances the flavor of even sweet recipes)
Yellow and orange gel food coloring (gel coloring preferred for the deepest colors)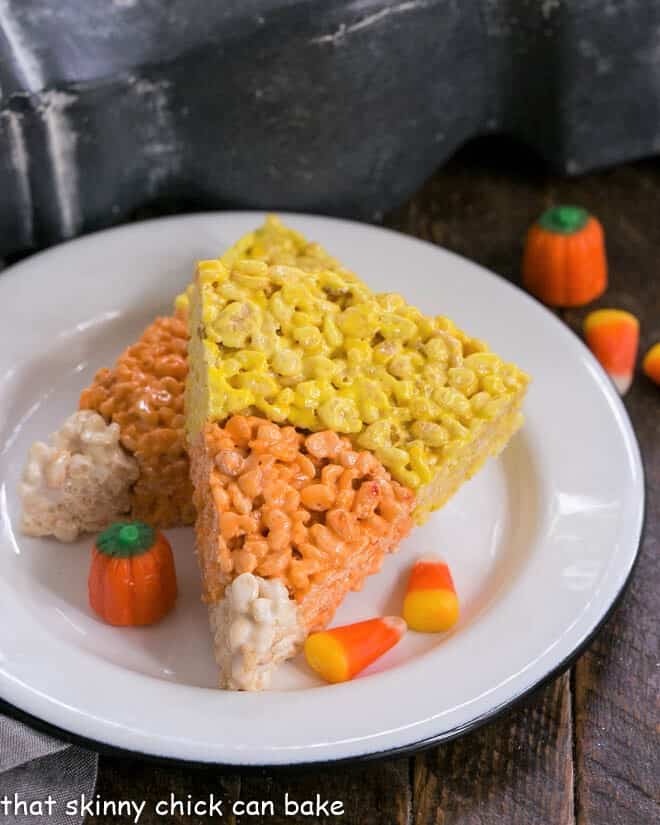 The Recipe:
Rice Krispie Candy Corn Recipe
Prep Time 30 minutes
Cook Time 1 minute
Total Time 31 minutes
Yield 8 servings
Turn the classic cereal treat into Rice Krispie Candy Corn with some food coloring and a cake pan for the ultimate Halloween treat!
Ingredients
For the yellow ring:
2 1/4 cups Rice Krispies cereal
2 1/2 cups mini marshmallows
1 1/2 tablespoons butter
yellow food coloring
For the orange ring:
1 3/8 cups Rice Krispies cereal
1 3/4 cups mini marshmallows
1 tablespoon butter
orange food coloring
For the white center:
1 cup Rice Krispie cereal
1 1/4 cup mini marshmallows
1 tablespoon butter
Instructions
Spray an 8-inch cake pan with non-stick cooking spray. Set aside. Have butter available to grease your hands and spatula as needed for pressing treats into the pan.
Form one ring at a time, starting with the yellow ring. Melt the marshmallows and butter for that ring in a microwave-safe bowl. Gently melt by stopping and starting the microwave at 15-second intervals. Stir to mix with a greased spatula, then add food coloring till the desired hue is reached. Stir in Rice Krispies.
With greased hands and a greased spatula, pat yellow rice krispie treats around the perimeter of the pan to form about a 1 1/2-inch ring.
Repeat with the orange ring using the same procedure (except using orange food coloring) and form a second 1 1/2-inch ring, leaving the middle open for the white center.
Repeat with the last batch of marshmallows and butter and press into the center of the pan.
Let cool for at least 30 minutes, then flip out of the pan onto a cutting board. Cut into 8 wedges to resemble candy corn.
Notes
Recipe adapted from Glorious Treats.
Note: work quickly to form the rings while mixture is still warm and pliable.
Recommended Products
As an Amazon Associate and member of other affiliate programs, I earn from qualifying purchases.
Nutrition Information:
Yield:
8
Serving Size:
1 wedge
Amount Per Serving:
Calories: 223
Total Fat: 5g
Saturated Fat: 3g
Trans Fat: 0g
Unsaturated Fat: 2g
Cholesterol: 13mg
Sodium: 152mg
Carbohydrates: 44g
Fiber: 0g
Sugar: 23g
Protein: 2g
Note: This post was shared in October 2013. Photos and additional text were added in 2019.
Note: This post may contain affiliate links; view
my Disclosure Policy
for details. I earn a small percentage from any purchase you make by clicking on these links at no extra cost to you.