Candy Corn Cupcakes for Halloween
These super easy Candy Corn Cupcakes for Halloween will delight your family with their colored layers and set the mood for Trick or Treating!
If you have young children or grandchildren, Halloween is not the time to make extra scary treats. Instead, celebrate the holiday with these candy-inspired Halloween Treats!
Why You Must Make
These cupcakes are semi-homemade, making them super easy to make!
Who doesn't love a vanilla cupcake with a swirl of frosting?
The colors mimic those of candy corn making them perfect for Halloween!
In the small, Midwest college town where I grew up, we went trick or treating on MY birthday instead of Halloween. This, I'm sure, was to avoid children being out on the streets as the crazed, beer-drinking university crowd on the actual holiday.
What fun to hang out with my besties and stroll the neighborhood collecting candy. Is it any wonder that I purchase loads of full-sized candy bars to pass out to the goblins who come to our door on All Hallow's Eve?
Frequently Asked Questions
What flavor is candy corn?
They are a "buttery blend of marshmallow, vanilla, and a buttery caramel flavor." Their flavor is based on honey, sugar, butter, and vanilla.
Is candy corn a popular Halloween treat?
Candy corn is the most Googled Halloween candy and rates anywhere from 3rd to 8th place on the lists of most popular Halloween candies.
How to Make these Easy Halloween Cupcakes
Line a 12-cup muffin tin with paper liners and preheat the oven.
Make the cupcake batter.
Divide batter evenly between two bowls.
Add orange food coloring to one bowl and yellow to the other until you get nice deep colors.
Put a tablespoon or so of yellow batter into each cupcake liner to start, then continue dividing it evenly until all is used.
Then top with enough orange batter to cover the yellow.
Bake and cool.
Make the frosting and mix till creamy.
Pipe frosting on top of cupcakes and top with either candy corn or candy pumpkins.
Tips for Making:
Use a homemade vanilla cupcake recipe if you'd prefer to make these from scratch.
PRO-Tip: Adding sour cream to a box mix makes for moister, more tender cupcakes.
PRO-Tip: I use Wilton gel food coloring which requires less product to get a deep color compared to liquid food coloring.
Double the frosting for fuller coverage.
I used Wilton paper liners in my cupcake tins. If you use the smaller, standard paper liners, you may get more than 12 cupcakes.
I always have a bowl of candy corn and those candy pumpkins sitting on my kitchen counter during the month of October. I think they gather more dust than anything, but they're a festive reminder that Halloween is approaching. I took a nod from these classic fall candies to make some two-toned cupcakes topped with a mound of white buttercream to echo the candy corn stripes.
My family was much less reluctant to grab these candy corn cupcakes from the platter than the candy from my dish! And I'll let you in on a little secret. To make these super easy, I used a boxed white cake mix for the batter, doctored it up with some sour cream, then separated it into two bowls. I dyed one bowl yellow, and the other orange then layered the batter and baked them up.
My cupcake liners from Wilton allowed me to make large cupcakes. If you use standard grocery store cupcake liners, you'll most likely need a second tin and your batch will yield more than 12.
You May Also Like: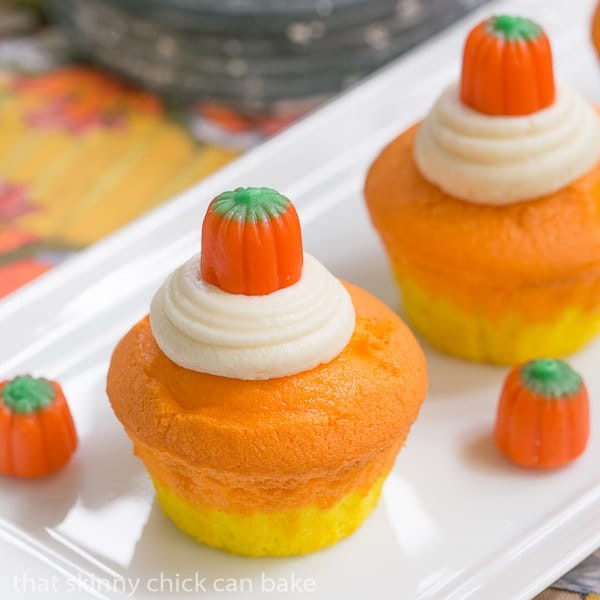 The Recipe:
Candy Corn Cupcakes for Halloween
Prep Time 30 minutes
Cook Time 22 minutes
Total Time 52 minutes
Yield 18
These cupcakes are dressed up like candy corn for the perfect Halloween treat!
Ingredients
1 box white cake mix
2 eggs
1 cup sour cream
½ cup milk
⅓ cup vegetable oil
Orange food coloring or gel (I used Wilton food coloring gel)
Yellow food coloring or gel
Frosting:
2 sticks or 8 ounces butter at room temperature
3 cups powdered sugar
2+ tablespoons milk
½ teaspoon double strength vanilla (or 1 teaspoon regular strength vanilla)
Instructions
Line a 12 cup muffin tin with paper liners. Set aside. Preheat oven to 350º.
Mix box cake mix with eggs, sour cream, milk and oil till combined. Scrape sides and mix on medium-high for 3 minutes or till very smooth.
Divide batter evenly between two bowls.
Add orange food coloring (or a combination of red and yellow to make orange) to one of the bowls and stir and add more food coloring till it's a nice deep orange color. Add yellow food coloring to the second bowl of batter.
Put a tablespoon or so of yellow batter into each cupcake liner making sure it's evenly distributed. Repeat with orange batter making sure it covers the yellow batter.
Bake cupcakes for 20-25 minutes or till a toothpick inserted in center comes out clean. Cool on a wire rack.
To make the frosting, beat butter with 1 cup of the powdered sugar till well mixed. Add the rest of the powdered sugar, milk and vanilla and mix till creamy.
Pipe frosting on top of cupcakes and top with either candy corn or candy pumpkins.
Notes
I used Wilton cupcake liners which allowed me to fill each with 3 tablespoons of batter for 12 cupcakes. If you use standard sized cupcake liners, you may get closer to 18 cupcakes.
Nutrition Information:
Yield:
18
Serving Size:
1 cupcake
Amount Per Serving:
Calories: 343
Total Fat: 28g
Saturated Fat: 15g
Trans Fat: 1g
Unsaturated Fat: 11g
Cholesterol: 83mg
Sodium: 192mg
Carbohydrates: 23g
Fiber: 0g
Sugar: 21g
Protein: 2g
Note: This post may contain affiliate links; view
my Disclosure Policy
for details. I earn a small percentage from any purchase you make by clicking on these links at no extra cost to you.