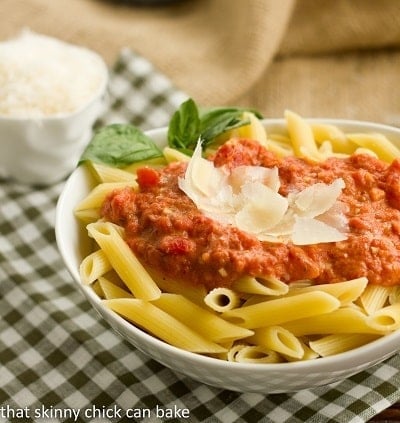 My daughter is very picky. VERY picky. She's still happy ordering of the children's menu and she's graduated from high school. So I'm always delighted when I make an entree that she doesn't snub. Pasta usually does the trick…especially one with a tomato sauce. This quick and easy Penne with Spicy Tomato Cream Sauce is jam packed with flavor. I started with 2 Land O Lake  Sauté Express® Sauté Starters. This time I used their Italian Herb flavor…which is a butter and olive oil combo laced with garlic and onion powder, marjoram, thyme, rosemary, savory, sage, oregano and basil. How's that for a time saver?  I added some more garlic and minced shallots plus some red pepper flakes for heat. Tomatoes, cream, Parmesan and fresh basil finished the sauce and dinner was ready in less than 30 minutes. And Katie was satisfied with this grown up mac and cheese…though the blue box is still a favorite.
Part of getting dinner on the table quickly entails a little multi-tasking. Start heating the pasta water first…and put on the lid to speed up the process. As soon as the water boils, toss in the pasta and give it a swirl every few minutes. While your Sauté Express® Sauté Starter is melting, mince both your garlic and shallots along with the fresh basil. Cook your aromatics, then add the tomatoes and season. Pour in the cream and when the penne is cooked, drain and add it right to the sauce. Toss and cook a minute, then sprinkle with basil and cheese. Voila…quick and delish! Plus with Lent starting today, I needed more meatless meals in my repertoire…and this is a flavor packed option. And Katie approved.
Penne with Spicy Tomato Cream Sauce
One 28-ounce can Italian plum tomatoes whole or diced (if whole cut into small pieces)
1 pound penne pasta
2 cubes Italian Herb Sauté Express® Sauté Starter
1 tablespoon minced garlic
I shallot (minced)
1/2 teaspoon crushed red pepper flakes (more or less to taste)
2 teaspoons sugar
1/2 teaspoon salt (more or less to taste)
Freshly ground black pepper to taste
1/2 cup heavy cream
2 to 3 tablespoons chopped fresh basil
3/4 cup freshly grated Parmesan cheese
Start water boiling, add enough salt to make water taste briny and cook penne according to package instructions
While pasta water is heating up, melt the Sauté Express® Sauté Starter in a large saucepan. Add garlic and shallots and cook till soft. Add tomatoes and juice plus crushed red pepper flakes, sugar, salt and pepper to taste. Cook for a few minutes. Stir in cream and basil, then add drained pasta. Mix in Parmesan.
Serve immediately. Pass extra Parmesan to top pasta if desired.
Serves 6.
Sauté Express® Sauté Starter is perfect for easy #WeekdaySupper meals. Part of the Sunday Supper team is going to help inspire you to make mealtime sizzle with quick and easy meals in 30 minutes.
You can keep track of the latest Land O Lakes® products on their social media sites:
Facebook: http://www.facebook.com/LandOLakes
Twitter: @landolakesktchn
Pinterest: @landolakesktchn
Instagram:@landolakesktchn
Disclosure: The author received a full-value coupon redeemable for Sauté Express® Sauté Starter for recipe development and review purposes. All opinions are my own.