Old-Fashioned Amish Sugar Cookies
Soft and tender Amish Sugar Cookies are just what you need with your glass of milk! A perfect treat for any occasion.
I decked out these melt-in-your-mouth Soft Sugar Cookies in red and green sprinkles for the holidays, but they're just as delicious rolled in simple granulated sugar or any kind of sprinkles your heart desires!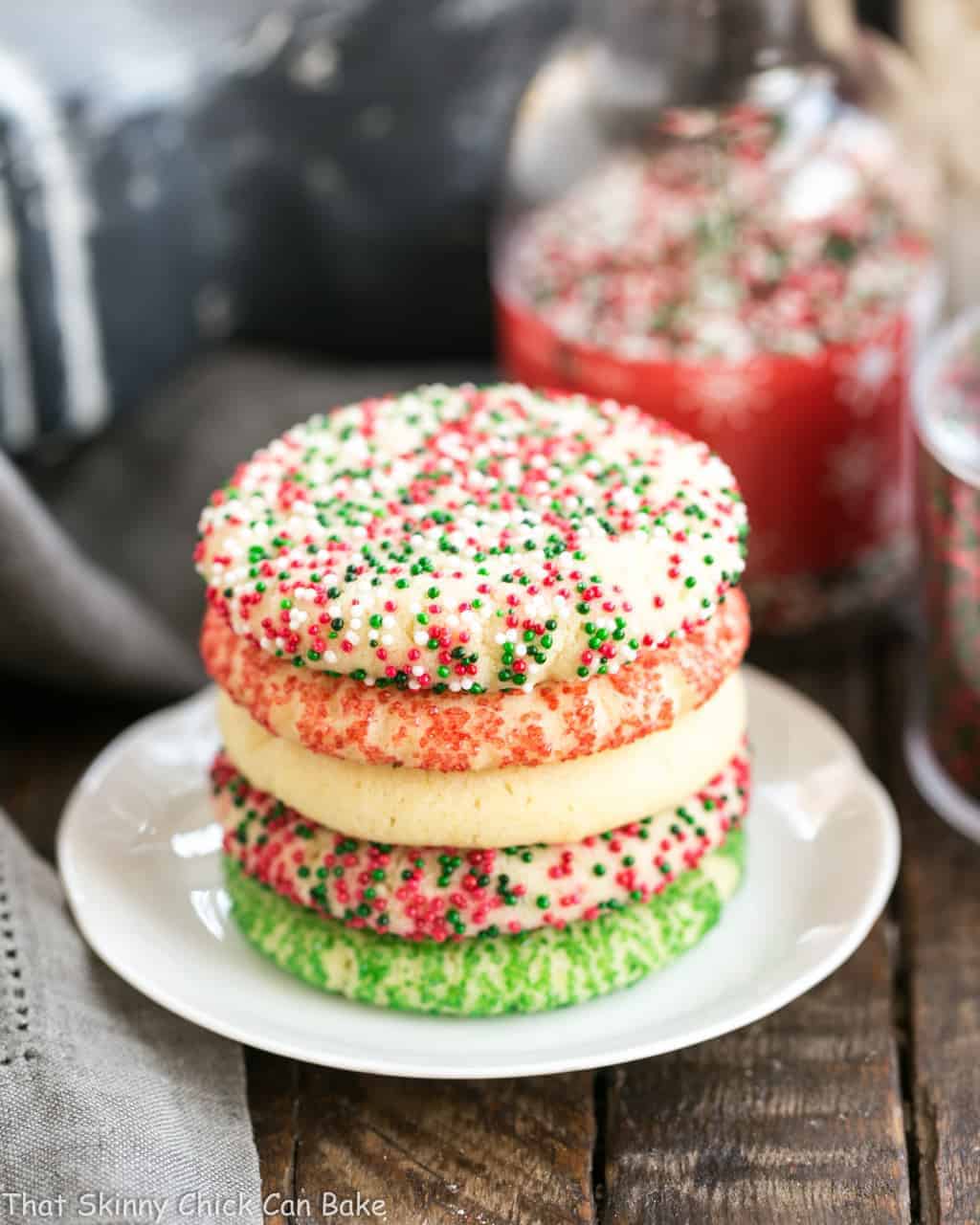 Why You Must Make
This is a beloved sugar cookie recipe that's been around since the 1700s originating with the Amish or Pennsylvania Dutch.
Soft sugar cookies are always a hit. There are those who don't like chocolate, ginger or mint, but buttery, vanilla-flavored sugar cookies are universally loved.
They can be jazzed up with sprinkles for any holiday.
Ingredient Notes:
Pantry Staples – Sugar, Flour, Salt
Powdered sugar – The cornstarch in powdered sugar helps make tender cookies.
Butter – At room temperature for easy incorporation. It shouldn't be so soft that it looks oily. Provides the classic, buttery flavor. Some recipes use shortening instead, but they definitely don't taste as good.
Vegetable oil (I used canola) – Adds moisture to the cookies.
Eggs – Also at room temperature for easy incorporation
Vanilla – Use real vanilla extract for the best flavor. Artificial vanilla will taste fake.
Baking soda – Helps the dough rise. But it also needs an acid in the recipe to be activated.
Cream of tartar – Provides the acid (tartaric acid) needed to activate the baking soda. If you don't have this on hand, use 2 teaspoons of lemon juice for every 1 teaspoon of cream of tartar in a recipe.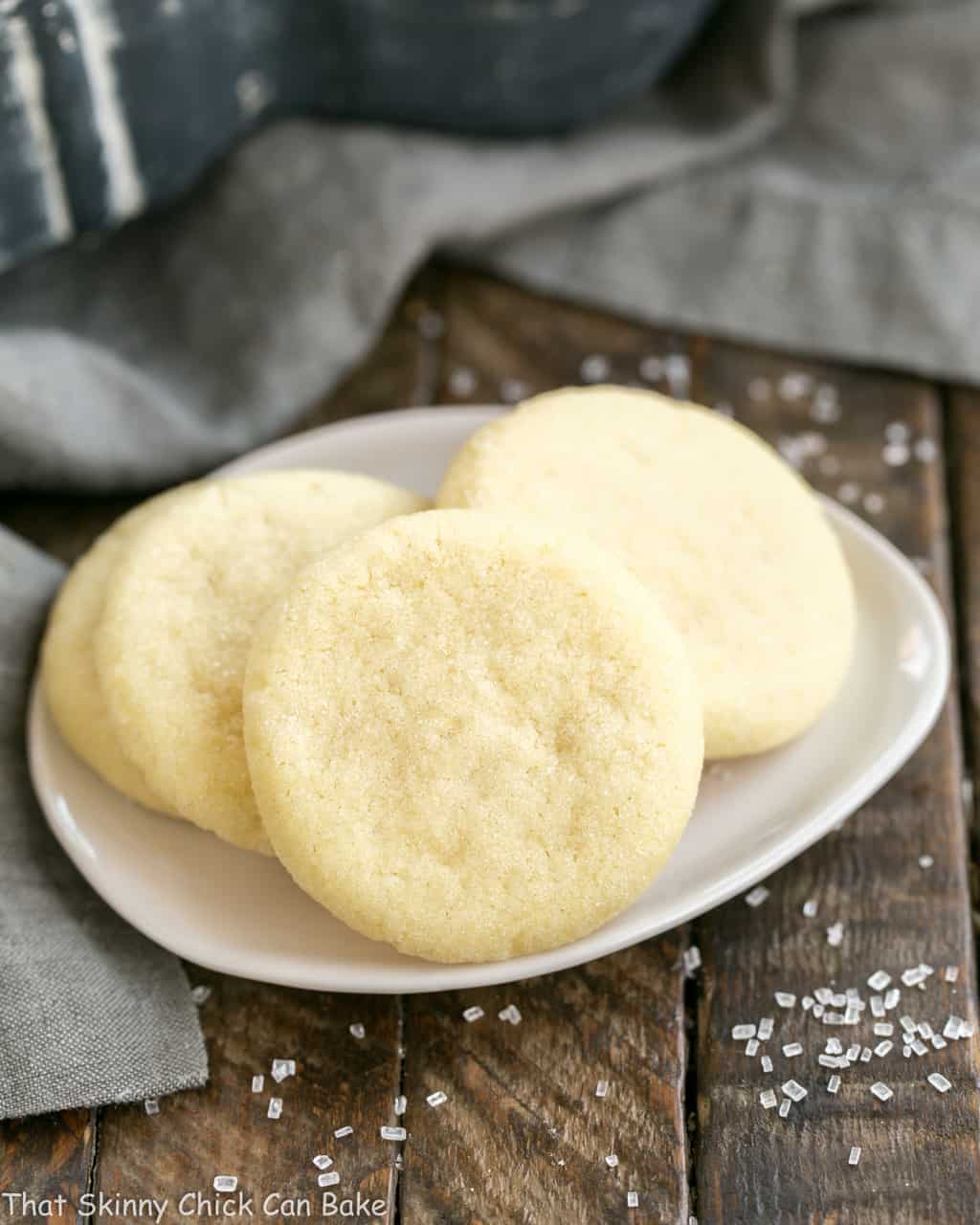 Expert Tips
My family loves the classic, frosted, cut-out sugar cookies for the holidays. There are also these festive Pinwheel Cookies which are also sugar cookies but made of two different colored doughs layered, rolled, and cut to make beautiful spirals. These Amish cookies are just as delicious, but with a totally different texture.
Not chewy like my frosted cookies, nor "short" like the classic shortbread cookies, but uniquely wonderful. Despite the lack of frosting, they got rave reviews from the troops. If you're looking for a new, classic cookie to bake, give these homemade cookies a try!
Besides butter, these old-fashioned sugar cookies have a cup of oil as one of the ingredients. I used canola oil, but any mild vegetable oil would work.
Some recipes use shortening, but butter provides a much better flavor, so always use butter.
PRO-Tip: An overnight chilling helps the flavors meld and the gluten settle. Don't try to bake them without chilling first as the cookies will be too flat and not as tender.
PRO-Tip: I used a Cookie Scoop (affiliate link) so that all the cookies would be the same size, then rolled the dough into balls.
I did not need to dip the glass into oil when I rolled the cookies in sprinkles but definitely do that when pressing down on the plain cookies.
Find a flat-bottomed glass to do the pressing.
The key is to press the cookies just until the edges start to separate slightly. The plain ones above were pressed too thin. But, thankfully, I had 5 dozen to practice on!
Like with most of my cookies, I baked these on Half Sheet Pans lined with Parchment Paper Baking Sheets. The parchment prevents sticking and makes cleanup a breeze.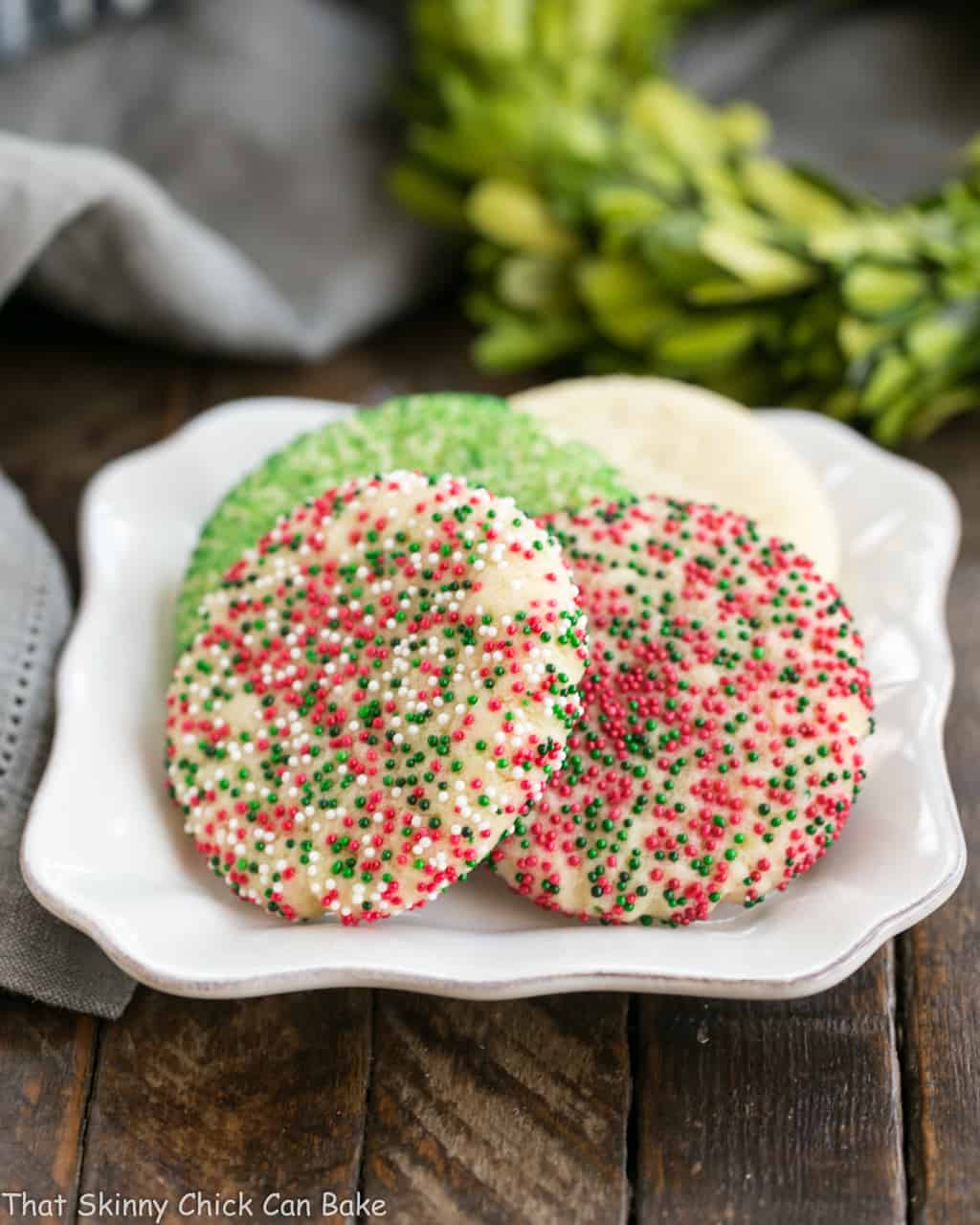 Frequently Asked Questions
Can You Frost Amish Cookies?
Yes, just make sure to press the dough with an oiled glass so they bake up with a flat surface that will make frosting them easier! Don't roll in sprinkles if you plan to add frosting, but you can dust the frosted cookies with sprinkles before the frosting sets.
How Do You Store Amish Sugar Cookies?
Keep them in an airtight container at room temperature for 3-4 days.
Can You Freeze Amish Sugar Cookies?
Yes, these freeze well. You have two options. Freeze baked cookies in airtight containers or freezer Ziploc bags with the air removed for up to 3 months. Defrost in the refrigerator overnight. If you use sprinkles, do a test run with a cookie or two to make sure the brand of sprinkles you use doesn't bleed when defrosting.

Alternatively, you can scoop out dough balls, freeze them on a baking sheet for 1-2 hours, then put them in a freezer Ziploc bag, removing excess air. The dough will also keep for about 3 months. Defrost the dough balls in the bag in the refrigerator and bake as directed.
You May Also Like:
Stay in touch through social media @ Instagram, Facebook, and Pinterest. Don't forget to tag me when you try one of my recipes! And if you love the results, please give it a 5-star rating in the recipe card. Note: As an Amazon Associate, I earn from qualifying purchases. Visit my Amazon Store for my favorite products.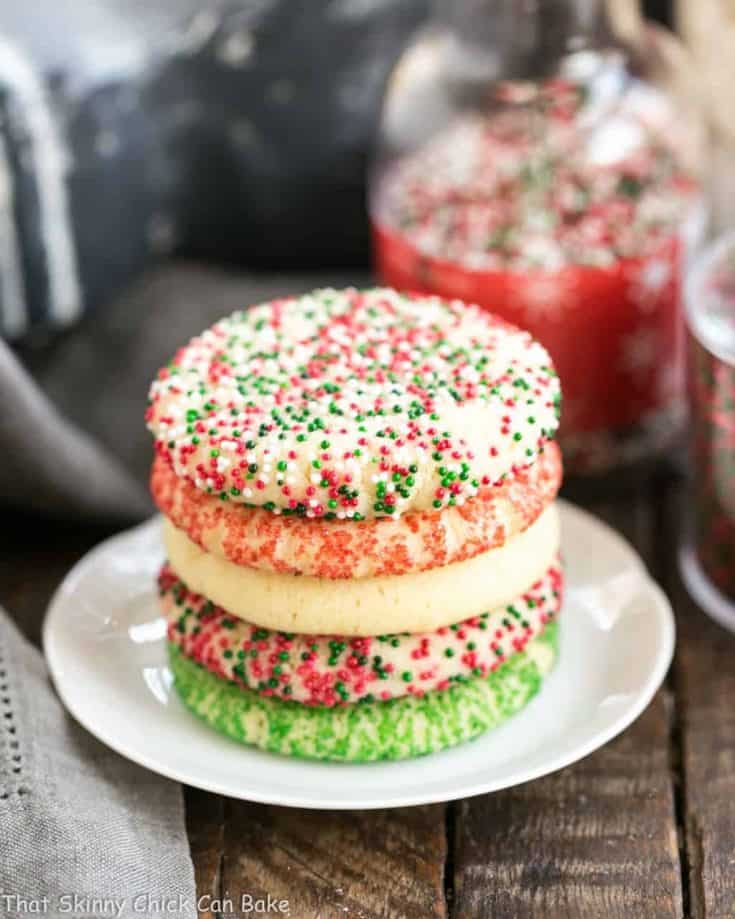 The Recipe:
Amish Sugar Cookies Recipe
Prep Time 20 minutes
Cook Time 12 minutes
Total Time 32 minutes
Yield 5 dozen
These Amish Sugar Cookies are the comforting, delicious cookies your grandmother used to bake!
Ingredients
1 cup sugar
1 cup powdered sugar
1 cup butter, at room temperature
1 cup vegetable oil (I used canola)
2 eggs, at room temperature
1 teaspoon vanilla
4 ¼ cups flour
1 teaspoon baking soda
1 teaspoon cream of tartar
1 teaspoon salt
Instructions
Mix together the sugar, powdered sugar, butter, and vegetable oil. Add eggs and vanilla and beat well.
In another bowl, whisk together, the flour, baking soda, cream of tartar, and salt.
Slowly mix the dry ingredients into the sugar mixture until it's all incorporated.
Cover the dough with plastic wrap and chill for a few hours or overnight.
To make, line baking sheets with parchment paper and preheat the oven to 325º.
Roll dough into 1-inch balls and roll in colored sugar or sprinkles if desired.
Place on baking sheets.
With a flat bottom glass, first dip the glass in vegetable oil, then sugar before flattening each dough ball. Press down just until the edges separate slightly. Sprinkle tops with coarse sugar if desired.
Bake for 10-12 minutes.
Notes
For more decorative cookies, roll dough balls in festive colored sugar or sprinkles.
If your cookies are covered in sprinkles, you won't need to dip the glass in oil to compress the dough balls as the glass won't stick.
Nutrition Information:
Yield:
30
Serving Size:
2 cookies
Amount Per Serving:
Calories: 228
Total Fat: 14g
Saturated Fat: 5g
Trans Fat: 0g
Unsaturated Fat: 8g
Cholesterol: 29mg
Sodium: 166mg
Carbohydrates: 24g
Fiber: 0g
Sugar: 10g
Protein: 2g
Note: This post may contain affiliate links; view
my Disclosure Policy
for details. I earn a small percentage from any purchase you make by clicking on these links at no extra cost to you.