Herbed Olives
French Herbed Olives Recipe – If you need a simple, elegant appetizer, these marinated olives are super easy and flavorful. A wonderful way to bring a taste of France into your home.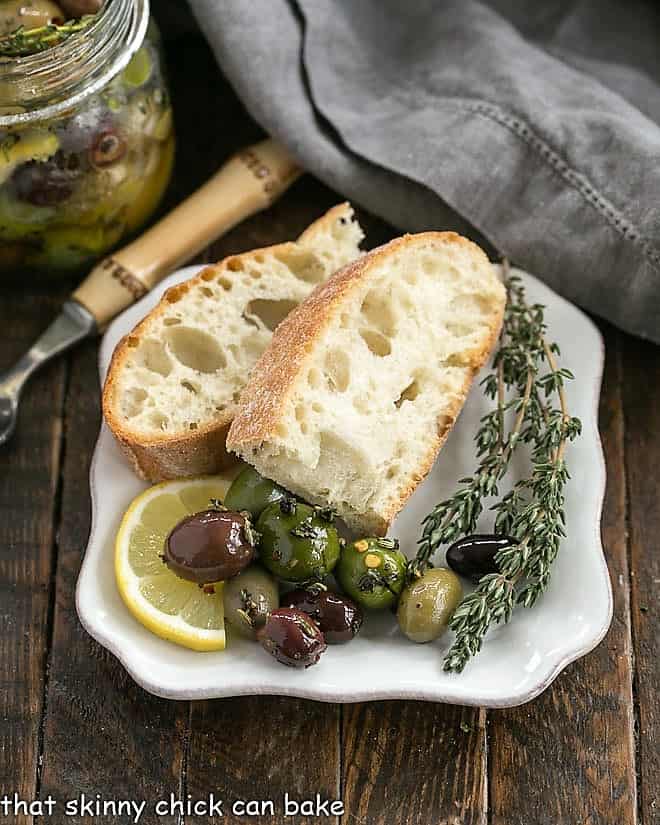 Dorie Greenspan's French Herbed Olives Recipe
It's Thanksgiving week here in the states, so it was a relief to have a simple recipe for French Fridays with Dorie. I had a jar of mixed olives in the fridge plus coriander seeds, fennel seeds, bay leaves, red pepper flakes and black peppercorns in my spice cabinet as well as garlic, olive oil and lemon. All I needed was some fresh thyme and rosemary from the market. The seeds were quickly toasted and cooled, then the olive oil heated with all the various seasonings plus a couple of strips of lemon zest. The olives were placed in a mason jar and topped with the warm, infused oil. The concoction was allowed to cool to room temperature, then was popped in the fridge for continued flavor development.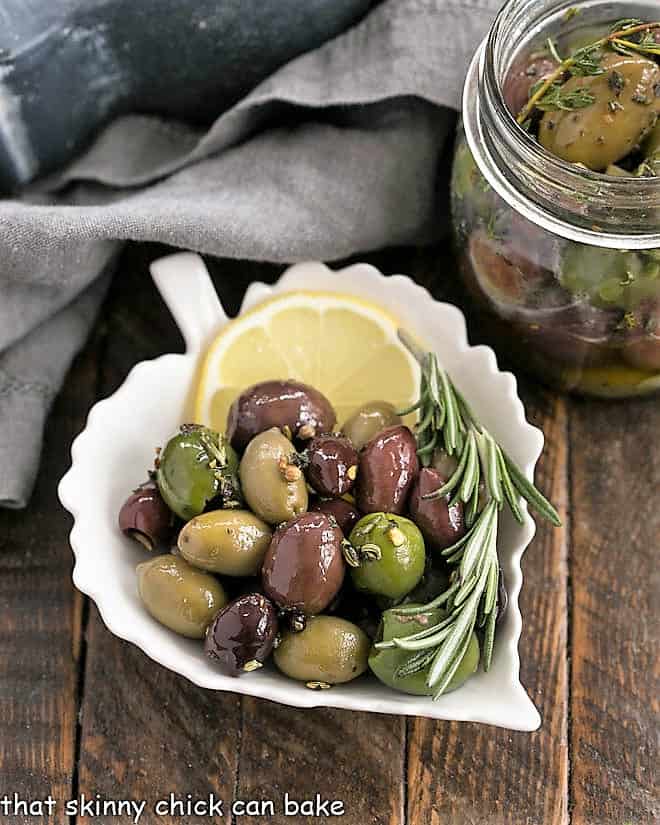 French Marinated Olives
After a short visit to France this summer, my love of olives was rejuvenated. Olives were incorporated into many of our meals, as well as placed on our dining tables as sat outdoors waiting for our dinners to be served. These marinated French herbed olives were a delicious reminder of the amazing dishes on our journey through Paris, Normandy, Aix en Provence and Cannes.
My childhood Thanksgivings always began with a relish tray and my sisters and I devoured the black olives first. They were simply drained and dumped out of a can to join the prosaic celery, carrots, radishes and their green cousins stuffed with pimento. They seemed so exotic then, but the varieties found at the olive bars at our specialty markets are heads and tails above in both quality and taste. Dorie suggests buying the plainest olives and jazzing them up yourself. I think I approve!
Add these olives to your next Ahi Tuna Salade Nicoise or Classic Salade Nicoise, too! And if you love olives, this Sea Bass with Olives and Capers is amazing!
Frequently Asked Questions
Are Olives Good for You?
Yes, there are many nutritional benefits that come from eating olives. They are a known antioxidant, low in calories, full of healthy fat, and are full of Vitamin E and fiber. They're also part of the Mediterranean Diet which consistently rates as one of the healthiest ways to eat. So enjoy your olives and jazz them up for company with this easy Herbed Olive Recipe!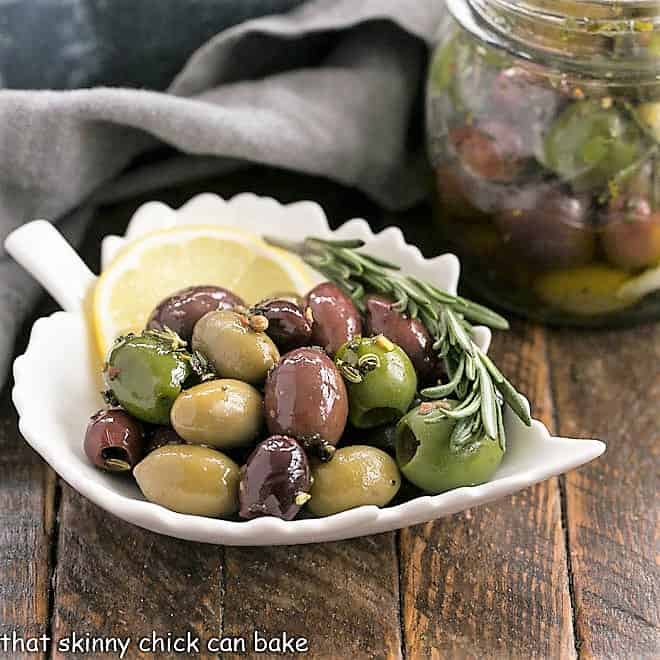 Helpful Tools
You May Also Like: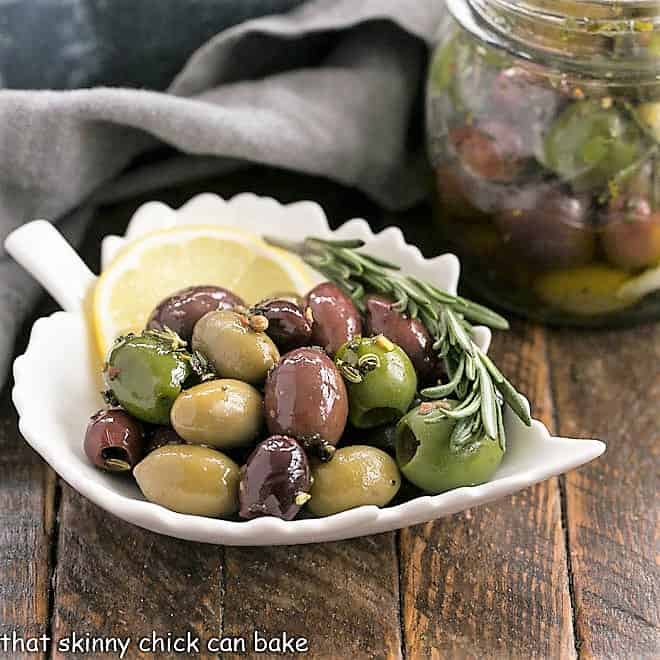 The Recipe:
Herbed Olives
Prep Time 15 minutes
Cook Time 2 minutes
Additional Time 8 hours
Total Time 17 minutes
Yield 2 cups
The perfect easy appetizer for cocktail parties, picnics and more!
Ingredients
2 cups of olives of your choice
3 rosemary sprigs, discard the stems and chop two of the sprigs
3 sprigs of thyme, discard the stems and chop two of the sprigs
1/4 teaspoon coriander seeds
1/2 teaspoon peppercorns
1/8 teaspoon fennel seeds
1/2 cup olive oil
4 garlic cloves, sliced into quarters
2 bay leaves, cut lengthwise
1/4 teaspoon red pepper flakes
2 strips of orange or lemon zest
Salt to taste
Instructions
Drain the olives well and place them in a canning jar.
Heat a skillet over medium heat, then add the coriander, peppercorns and fennel seeds. Stir them with a wooden spoon until you begin to smell their aroma, then scrape the spices into a small bowl.
Let the pan cool down and then put it over low heat. Add 1/4 cup of the olive oil and add the remaining ingredients. Heat until warm and fragrant, about 2 minutes
Pour over the olives. Add the remaining 1/4 cup of olive or as much as you need to cover the olives. Mix a couple of times.
Let cool completely, then seal and place in the fridge for a minimum of 8 hours, or up to a couple of weeks.
Don't throw away the olive oil. You can use it for a salad or other recipes!
Notes
These olives will last up to 2 months.

May warm slightly to serve.
Recipe from Around My French Table
Nutrition Information:
Yield:
16
Serving Size:
1
Amount Per Serving:
Calories: 83
Total Fat: 9g
Saturated Fat: 1g
Trans Fat: 0g
Unsaturated Fat: 7g
Cholesterol: 0mg
Sodium: 161mg
Carbohydrates: 2g
Fiber: 1g
Sugar: 0g
Protein: 0g
Note: This post may contain affiliate links; view
my Disclosure Policy
for details. I earn a small percentage from any purchase you make by clicking on these links at no extra cost to you.