Smoky Black Bean Dip
Smoky Black Bean Dip: A terrific bean dip flavored with chipotle, onions, garlic, spices and more before being pureed to perfection!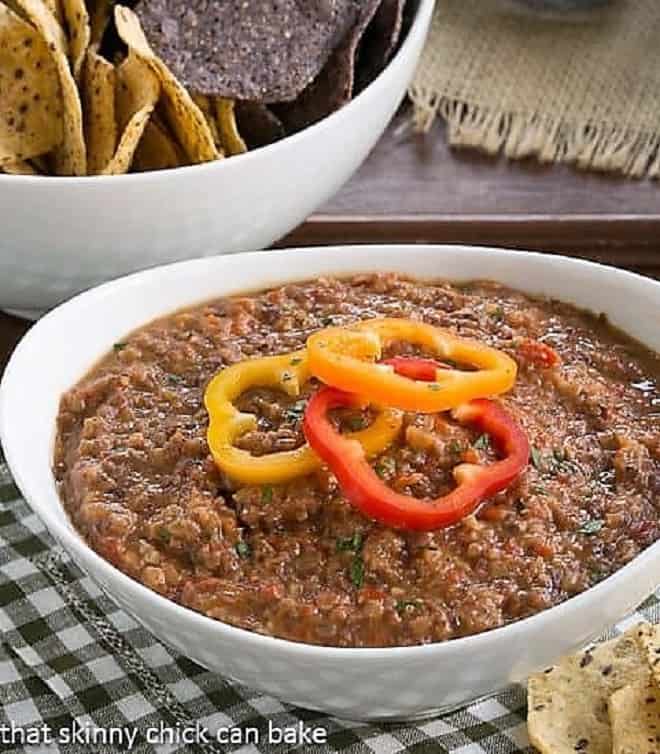 Smoky Black Bean Dip
It's taking me some time to share all the marvelous recipes I've made this spring. This Smoky Black Bean Dip was part of my book club buffet; it was the spiciest offering, but wonderful nonetheless. This would be perfect for Cinco de Mayo or any game day gathering as well. Serve with lots of tortilla chips, tomato or fruit salsa, guacamole and some sour cream for a lovely appetizer spread.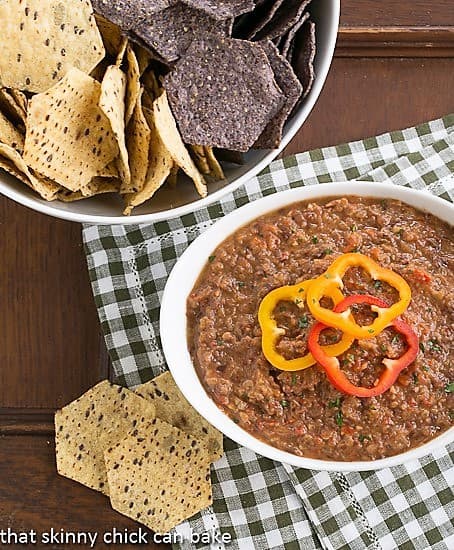 How to Make This Black Bean Dip
This recipe is quite simple despite a bit of cooking and a number of ingredients.
Onions, garlic, bell pepper, and a chipotle pepper were sauteed in olive oil till tender. Honey and vinegar were then added along with some spices. After the black beans were tossed in, the mixture was pureed in the food processor. More vinegar, honey or seasonings can be added depending on your taste buds' preferences. If you're a fan of the rich smokiness of chipotles, this Smoky Black Bean Dip is for you!
Recipe adapted from Big Small Plates by Cindy Pawlcyn.
The Recipe:
Smoky Black Bean Dip
Prep Time 10 minutes
Cook Time 10 minutes
Total Time 20 minutes
Yield 1 1/2 cups
An irresistible black bean dip flavored with chiptole!
Ingredients
15 ounce can black beans rinsed and drained
3 tablespoons olive oil
1 chopped onion
1 chopped red pepper
1 deseeded and chopped chipotle pepper
3 cloves chopped garlic
1/2 cup cider vinegar
1/4 cup. honey
1 teaspoon chili powder
1 teaspoon cumin
1/2 teaspoon salt or to taste
Freshly cracked pepper
Tortilla chips
Instructions
Drain and rinse beans; set aside.
Meanwhile, heat the olive oil in a sauté pan. Add the onion, red pepper, chipotle pepper and garlic. Sauté for about 4 minutes.
Add the beans, vinegar, honey, chili powder, cumin, salt and pepper. Simmer over low heat for about 5 minutes, stirring occasionally.
Puree the mixture in a food processor. Add extra honey, cider vinegar or salt according to taste. The beans will cook and absorb the flavors differently each time you prepare them. If desired, serve with chips.
Notes
Adapted from Big Small Plates
Nutrition Information:
Yield:
8
Serving Size:
1
Amount Per Serving:
Calories: 145
Total Fat: 6g
Saturated Fat: 1g
Trans Fat: 0g
Unsaturated Fat: 5g
Cholesterol: 0mg
Sodium: 352mg
Carbohydrates: 21g
Fiber: 5g
Sugar: 10g
Protein: 4g
Note: This post may contain affiliate links; view
my Disclosure Policy
for details. I earn a small percentage from any purchase you make by clicking on these links at no extra cost to you.