Potato Lefse
Potato Lefse: A versatile Norwegian flatbread that's super simple to make! Made with potatoes and rolled thin, it's perfect for the holidays!
This Lefse Recipe is soft and tender and cooks up with the comforting aroma of a buttered baked potato.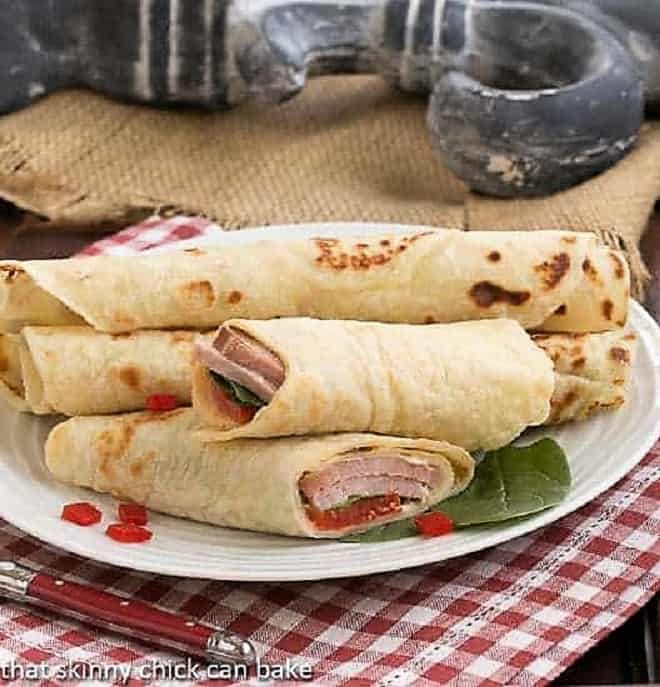 Why You'll love Lefse
There's no yeast or proofing involved when making this flatbread recipe.
It pairs well with both sweet and savory toppings. And it's made with real potatoes, not instant.
This lefse recipe is made with real potatoes, not instant.
It's a traditional Norwegian Christmas treat for a reason!
Ingredient Notes
Kitchen Staples – Sugar, Salt
Potatoes – Russet potatoes work best. Don't use waxy potatoes.
Heavy Cream – 36% Butterfat
Butter – Salted Butter is fine.
How to Make Potato Lefse
Cook the potatoes, air dry briefly, then rice them.
Mix butter, cream, sugar, and salt into the potatoes, then park the mixture in the refrigerator overnight, uncovered, to allow the mixture to dry out.
The next day, add the flour to the doctored-up potatoes (mix with your hands). You'll know if it has enough flour if you can pinch a piece of the dough between your fingers without it sticking.
Form the dough into balls, roll, then cook on a griddle.
Serve warm!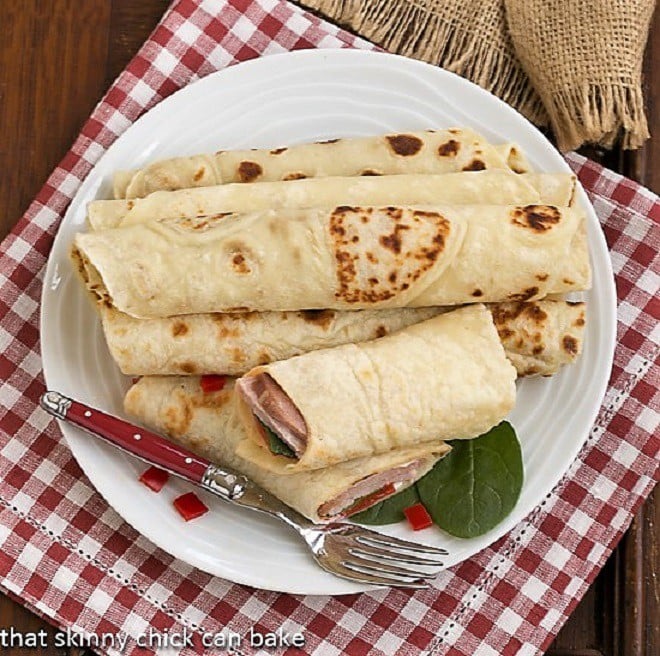 Expert Tips
Many Scandinavians own specialty equipment to make their potato lefse, including grooved rolling pins. A traditional rolling pin works just fine, but it's more difficult to get an even round of dough using a tapered French version.
There's also a lefse stick that looks like a wooden paint stirrer. If you don't plan to make this bread numerous times a year, I wouldn't bother purchasing one.
PRO-Tip: Use Russet potatoes instead of a waxy new or red potato.
Make sure to rice your potatoes well so your dough is smooth.
Mix the dough with your hands until all the ingredients are well incorporated.
You'll know you have added enough flour when you pinch a piece of dough and it doesn't stick to your skin.
Take into account that you need to refrigerate your dough uncovered overnight before using.
Roll out the dough on a well-floured surface so your rounds don't tear.
PRO-Tip: Use a non-stick griddle if available. It will make it much easier to flip.
The dough is delicate, so make sure to cook the first side until the top bubbles and the underside browns, which also will aid with flipping.
Bea Ojakangas' recipe for this Potato Lefse can be seen here or in the Baking with Julia cookbook.
Frequently Asked Questions
What is Lefse or Lefsa?
Lefse is a traditional Norwegian flatbread very similar to a thick crepe served during the holidays. It's rolled thin with a grooved rolling pin and cooked on a griddle and removed with a wooden lefse stick. There are no eggs or yeast in the recipe, and the base is riced potatoes.
What Kind of Potatoes Work Best to Make Lefse?
Russets work best for lefse as unlike red or new potatoes, they don't absorb excess water.
How Do You Rice Potatoes?
Use a potato ricer (affiliate link) which is like a jumbo garlic press. As an alternative, the cooked potatoes can be grated.
Do You Need a Griddle to Make Lefse?
No, just use what you have available. I used a griddle-like pan that covers two burners that typically is used to make pancakes. A large skillet or electric griddle will work, too.
How Long Does Lefse Keep?
If kept airtight, lefse keeps for up to a week in the refrigerator. It can also be frozen if separated with wax paper and wrapped in plastic. It can be frozen for up to 2 weeks.
How Do You Serve Lefse?
It's best served warm right off the griddle. It can be buttered rolled and served with salt-dried fish or scrambled eggs. It's also delicious with a sprinkle of sugar or cinnamon sugar, honey, and/or preserves or jam.
They are also used to wrap sausages to make potato lumpa, though I utilized them to wrap my leftover Easter ham.
How Do You Pronounce Lefse?
Pronounce it LEFF-sa.
You May Also Like
Stay in touch through social media @ Instagram, Facebook, and Pinterest. Don't forget to tag me when you try one of my recipes! And if you love the results, please give it a 5-star rating in the recipe card. Note: As an Amazon Associate, I earn from qualifying purchases. Visit my Amazon Store for my favorite products.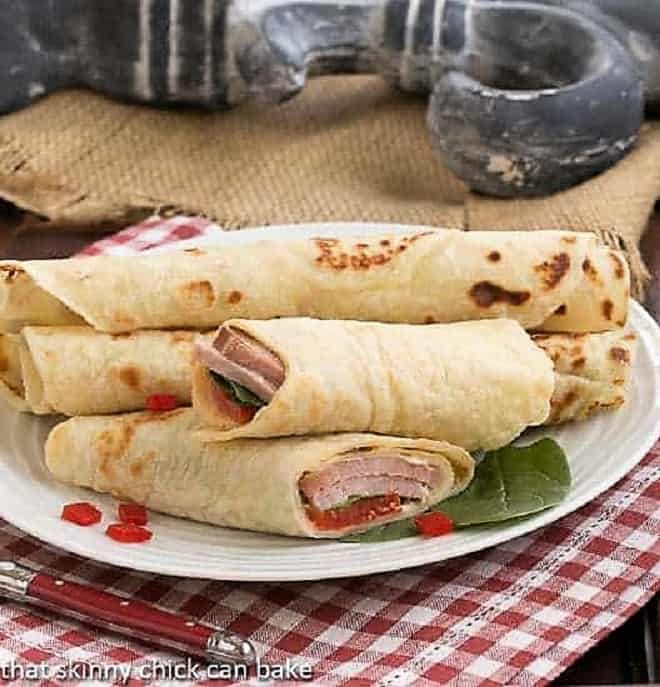 Prep Time 1 hour
Cook Time 5 minutes
Total Time 1 hour 5 minutes
Yield 24
A Norwegian potato bread traditionally made for special occasions!
Ingredients
1 1/2 pounds russet potatoes, peeled and diced
1/2 stick (2 ounces) butter
1/2 cup heavy cream
2 tablespoons sugar
1 teaspoon salt
1 1/2 - 2 1/2 cups all purpose flour, plus more for flouring the work surface and rolling pin
Instructions
Cook the potatoes in enough water to cover, about 10 minutes. The potatoes should be fork-tender, but not overcooked.
Drain the potatoes and spread them out onto a baking dish to dry.
Rice (or grate) the potatoes into a large bowl.
Add the butter and stir until it is fully melted.
Add the cream, sugar, and salt, and stir.
Refrigerate uncovered overnight.
When you are ready to make the lefse, prepare a work surface and dust with flour. Place a kitchen towel on your counter.
Add a cup of flour to the potatoes and mix with your hands. Continue to add flour to the potatoes, one heaping tablespoon at a time, until you have an actual dough, and not just stiff mashed potatoes.
Divide the dough into 24 balls.
Heat an ungreased griddle to 450 to 500°.
Roll a dough ball out to a very thin pancake, using flour to dust the surface as needed.
Place it onto the griddle. Cook for one to two minutes, and then flip it over to cook the other side.
Place the lefse onto the towel and cover with part of the towel.
Serve warm with butter, sugar, or cinnamon sugar. Jam and preserves work well, too.
Refrigerate for up to a week or freeze for up to 6 months.
Notes
Recipe from Baking with Julia.
Recommended Products
As an Amazon Associate and member of other affiliate programs, I earn from qualifying purchases.
Nutrition Information:
Yield:
50
Serving Size:
2 lefse
Amount Per Serving:
Calories: 202
Total Fat: 11g
Saturated Fat: 7g
Trans Fat: 0g
Unsaturated Fat: 3g
Cholesterol: 30mg
Sodium: 137mg
Carbohydrates: 23g
Fiber: 2g
Sugar: 2g
Protein: 3g
Note: This post may contain affiliate links; view
my Disclosure Policy
for details. I earn a small percentage from any purchase you make by clicking on these links at no extra cost to you.