Gluten Free Apple Cinnamon Bread Pudding
This comforting Gluten Free Apple Cinnamon Bread Pudding is made in an Instant Pot! With warm autumn spices, apples and a sweet vanilla sauce, this bread pudding is a delicious way to usher in a new season!
This recipe is courtesy of my friends, Jane Bonacci and Sara De Leeuw and their publisher, as they prepare to launch their new cookbook, The Gluten-Free Instant Pot Cookbook, on September 18.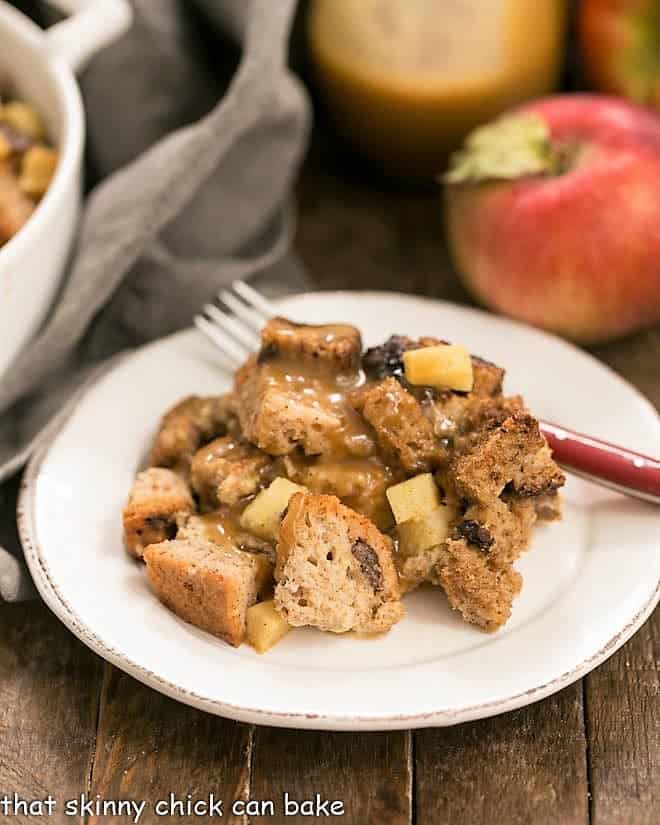 Gluten Free Apple Cinnamon Bread Pudding
As a carb lover, I've always had a penchant for bread pudding. And with fall approaching, this apple cinnamon bread pudding was a delightful dessert. This lovely autumnal dessert was created by tossing cinnamon bread cubes along with diced apples in a cinnamon-spiked custard. And to make it super quick and tender, this bread pudding is made in an Instant Pot!
Tips for Making Gluten Free Desserts
My nephew was recently diagnosed with Celiac disease and needed to eliminate gluten from his diet. Though I knew the general rules of what to avoid when eating gluten-free, making this apple cinnamon bread pudding gave me the opportunity to dive in a little deeper.
Though there is no need for leaveners in this bread pudding, if you're making gluten-free cookies or cakes, you need to increase the leavening agent (baking power or baking soda) by 25% from a recipe using conventional flour.
You must replace wheat flour, with a gluten-free flour. My gluten-free friends have recommended Cup4Cup which is easily substituted in equal amounts.

There are other gluten-free flour options, but generally a mixture of flours works better than just a single flour in trying to reproduce the characteristics of a wheat flour.
According to America's Test Kitchen, adding one part starch to 3 parts gluten free flour helps mimic all purpose flour. I've seen other ratios as well, so it may depend on what sort of dessert you're making, cookies, cakes, muffins, etc.

Make sure all ingredients you collect for your recipe are gluten free. For example, in this bread pudding, the vanilla extract must be gluten free. You might think all vanillas are gluten free, but since some alcohols are made with grain, there is the potential for extracts to contain small amounts of gluten.
Oats are naturally gluten free but are often processed in factories that also process wheat flour. Read the labels carefully, and look for the words gluten-free if in doubt.
The Gluten-Free Instant Pot Cookbook
Cooking with a pressure cooker, like the Instant Pot, has had a resurgence in the past couple of years. There are loads of cookbooks featuring the Instant Pot, but few that focus on recipes for those who must avoid gluten. I, of course, zeroed in on the desserts. From this Apple Cinnamon Bread Pudding to New York Style Cheesecake, Double Chocolate Fudge Cheesecake, and Mexican Chocolate Pound Cake, there were some delectable options.
I've made a vanilla bean cheesecake in my IP, and it was ultra-creamy and delicious! This cookbook takes the guesswork out of taking trying to translate your standard gluten free recipes into Instant Pot recipes. This apple bread pudding was made with Udi's gluten free cinnamon raisin bread tossed with a lovely custard. But my favorite part of the recipe was the caramelly vanilla sauce. I could have eaten it with a spoon!
More Instant Pot Recipes You'll Love:
Going through a remodel, I found the Instant Pot a great tool to use while my kitchen was out of commission. I love the concentrated flavors and how quick and tender it makes chicken, beef and pork.
Besides cheesecake, I've also made Clotted Cream, Rotisserie Chicken and Instant Pot Baby back Ribs. I'm dying to make this Instant Pot Creme Brulee, this Instant Pot French Onion Soup and this Instant Pot Yogurt! Do you have a favorite Instant Pot recipe?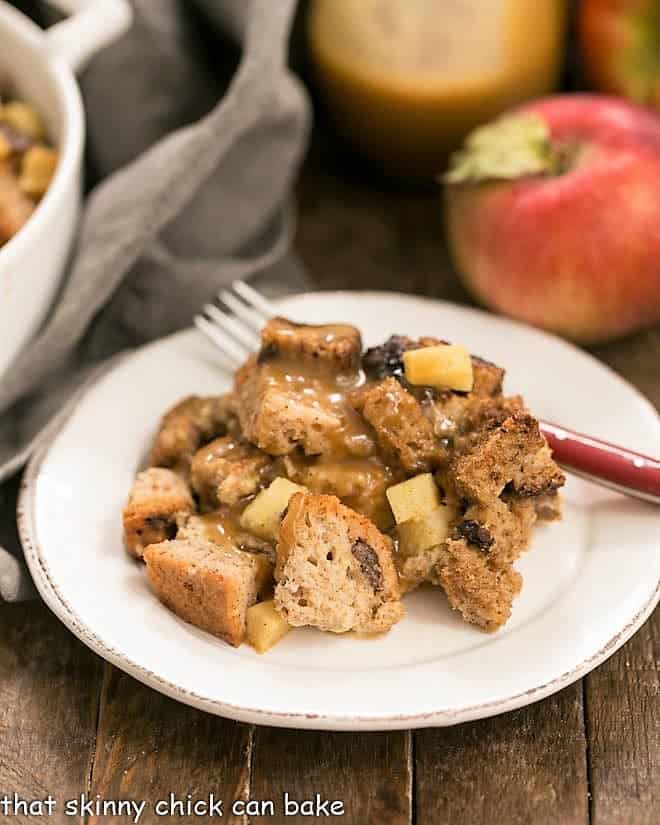 The Recipe:
Gluten Free Apple Cinnamon Bread Pudding
Prep Time 20 minutes
Cook Time 30 minutes
Total Time 50 minutes
Yield 6 servings
Bread pudding is an all-time favorite dessert. This homemade version is packed with fruit and has a sweet, fluffy custard and a sinfully delicious vanilla sauce that is caramel-like in consistency. We call it perfectionon a plate and because it's made with gluten-free cinnamon raisin bread, we can enjoy it anytime!
Ingredients
2 medium baking apples (Honeycrisp or Braeburn work beautifully), peeled cored. and chopped into a medium dice
1 1/2 cups (355 ml) water
For the bread pudding:
2 tablespoons (28 g) unsalted butter melted. plus more for the pan
1/2 cup (100 g) dark brown sugar
2 1/2 cups (590 ml) whole milk
4 eggs, beaten 2 teaspoons (10 ml) gluten-free vanilla extract
1 teaspoon ground cinnamon
1/2 teaspoon ground nutmeg
1/4 teaspoon salt
8 cups (400g) cubed gluten-free cinnamon ralsin bread (such as Udi's brand)
1/2 cup (75g) chopped pecans, toasted
For the sweet vanilla sauce:
1/2 cup (112 g) unsalted butter
1/2 cup (100 g) granulated sugar
1/2 cup (100 g) dark brown sugar
1/4 teaspoon salt
1 tablespoon (15 ml) gluten-free vanilla extract
1/2 cup (120 ml) heavy whipping cream
Instructions
In a large bowl whisk together the 2 tablespoons (28 g) butter, brown sugar milk, eggs. vanilla spices and salt. Add the cubed bread, toasted nuts and apple pieces. Mix until well combined. Set aside while you prepare the pan.
Using either a 6-cup (1410 ml) Bundt or 1/2-quart round baking dish butter the bottom and sides of the pan. Be sure to get into the comers of the pan. Pour the bread pudding mixture into the prepared pan
Place a trivet in your pressure cooker. Add the water to the bottom of the pot. Spray a piece of aluminum foil with nonstick cooking spray and place (sprayed side down) over the bread pudding. This will protect the pudding from excess moisture while cooking Use a foil sling to lower the bread pudding onto the trivet.
Close and lock the lid making sure the steam release knob Is In the sealing position. Cook on high pressure for 25 minutes. When the cook time is finished use the quick release method by turning the release knob to the venting position and releasing the steam. Once the float pin drops unlock the lid and open it carefully. Use the foll sling to remove the dish from the pressure cooker. If you like a crispy top. place your dish on a sheet pan and put in the oven at 400°F (200°C or gas mark 6) for 5 minutes. Watch the bread pudding carefully so it doesn't get too brown.
While the bread pudding is cooking, make the sweet vanilla sauce. In a small pan, combine all the sauce ingredients. Place over medium heat stirring constantly until the butter has fully melted and the sauce thickens 5 to 8 minutes.
Cut the bread pudding into pieces then pour some sauce over each piece. Serve warm and try not to lick the spoon!
Notes
If you can't find gluten-free cinnamon raisin bread you can substitute any other hearty gluten-free bread and add 4 cup (75g) ralsins and an extra 3 tablespoons (36g) sugar to the recipe.
Nutrition Information:
Yield:
6
Serving Size:
1
Amount Per Serving:
Calories: 208
Total Fat: 11g
Saturated Fat: 6g
Trans Fat: 0g
Unsaturated Fat: 4g
Cholesterol: 148mg
Sodium: 340mg
Carbohydrates: 18g
Fiber: 2g
Sugar: 8g
Protein: 9g
Note: This post may contain affiliate links; view
my Disclosure Policy
for details. I earn a small percentage from any purchase you make by clicking on these links at no extra cost to you.