Soft Chocolate Chip Cookies with Pudding
My hubby is a chocolate chip cookie connoisseur, and these soft and chewy Chocolate Chip Cookies with Pudding met his high standards. Soft, chewy with an extra boost of vanilla from the pudding, they're easy to make and definitely easy to eat!
Well, these Soft Chocolate Chip Cookies are enhanced from the simple addition of a box of pudding mix! No one will ever guess why they are so tasty!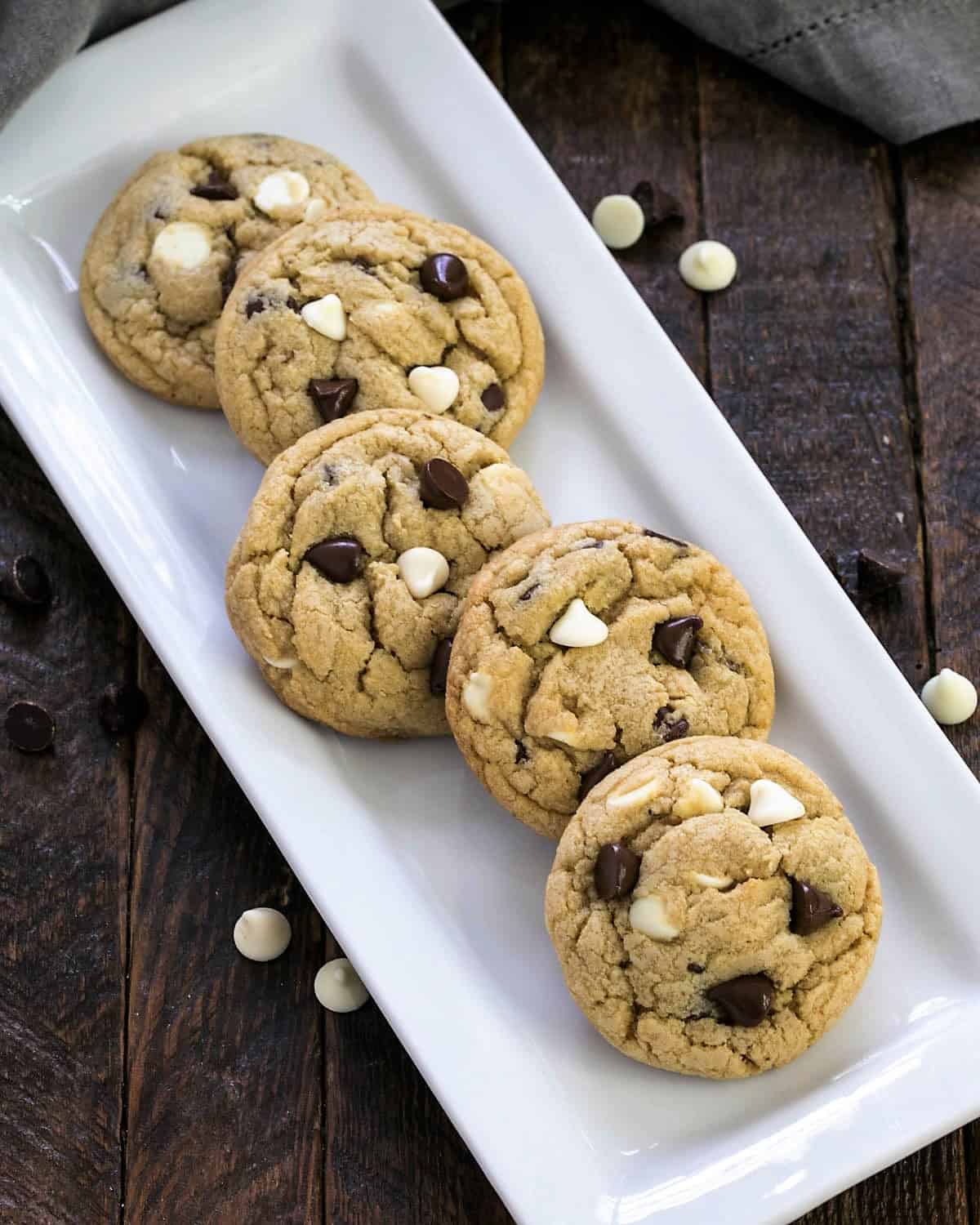 Why You Must Make
These chocolate chip pudding cookies are soft, buttery, and chewy.
The addition of pudding makes these extra moist plus gives a boost of vanilla flavoring.
They're loaded with chocolate chips!
More than one of my friends raved about this soft chocolate chip cookie recipe with instant pudding as the secret ingredient, one being my blogger friend, Danielle, from Hugs & Cookies XOXO
At our house, chocolate rules! It's a toss-up between decadent chocolate cookies and ordinary or jazzed-up chocolate chip cookies like these Layered Chocolate Chip Cookies. These soft and chewy chocolate chip cookies were also a huge hit with my crew.
Reader Review:
From Claudia via the comments: I am telling all your readers that these are by far the best Chocolate Chip soft cookies I ever had! Baking the rest now and will post it tomorrow.. omg everyone TRY THIS RECIPE!!!!! IT'S AWESOME! THANKS, Liz! It's a keeper! I hope I have a pan left to photograph! They are eating them faster than I can put them on the cookie sheet!
Ingredient Notes: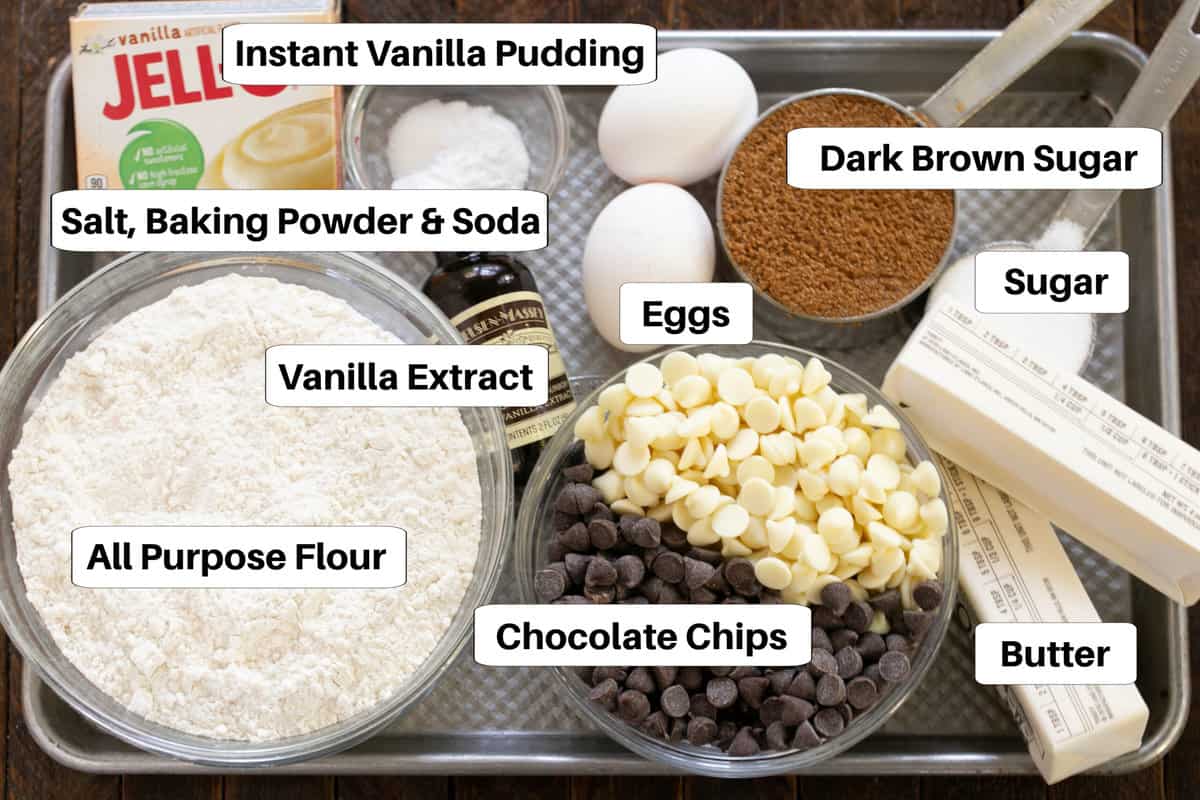 Pantry Ingredients – Baking Soda, Table Salt, Granulated White Sugar
All-Purpose Flour – I use King Arthur Flour.
Baking Powder – Your can of baking powder will most likely expire before you use it all. PRO-Tip: Check the expiration date and if you're uncertain, put a teaspoon in a bowl and add ⅓ cup of very hot water. If it's still active, it will bubble furiously. If it doesn't replace your can before continuing with this recipe.
Room Temperature Butter – I prefer name-brand butter since it has less added water. Watch for sales and store in the freezer.
A small box of Instant Vanilla Pudding – I use Jello brand.
Dark Brown Sugar – The extra molasses in dark brown sugar provides extra moisture making even softer, chewier cookies!
Room Temperature Eggs – they incorporate best when not cold.
Vanilla Extract – look for Pure Vanilla Extract on the label, not imitation. The difference in flavor is notable!
Semi-Sweet & White Chocolate Chips – I prefer Ghirardelli brand. If you like dark chocolate, Bitter-sweet Chocolate Chips are a delicious alternative to Semi-Sweet. Use just one kind instead of two, if desired.
Toasted Pecans – An optional ingredient, but always delicious in chocolate chip cookies. Make sure to toast your nuts before using them in a recipe to bring out their natural oils and flavors.
How to Make
Expert Tips
Make sure to purchase a small box of instant vanilla pudding. Buy instant, not cook and serve pudding mix.
PRO-Tip: Have your eggs and butter at room temperature for easy mixing and incorporation.
Stir in the dry ingredients or beat very slowly as once the flour is added, you don't want to over-activate the gluten. This will keep your cookies tender and chewy instead of cakey.
I used semisweet chocolate chips, but you can use chocolate discs or chunks if you'd like. Or try with other flavors of chocolate chips.
PRO-Tip: Chill the dough for a couple of hours before baking. You can bake them immediately, but your cookies will be flatter.
Reserve some of the chocolate chips to press into the warm cookies after they come out of the oven. This will give a nice finished look to the baked cookies.
Use a medium-sized cookie disher to scoop out evenly sized cookies.
PRO-Tip: To keep them chewy, do not overbake. The cooking time range is dependent on the temperature of your dough and how your oven bakes. When the centers look almost cooked, pull them out. The very centers may look a bit glossy and not totally firm like the edges.
The cookie sheet will remain hot and continue baking the cookies for a few more minutes. I like my cookies a wee bit underdone so they're extra chewy, but there's a fine line between that and raw. So make a note of the time that works best for you and your oven so you'll know the best baking time for your future batches.
PRO-Tip: Another one of my tricks is to use my spatula to shape the hot out-of-the-oven cookies into nice circles by tapping the edges into shape. Often a few cookies will be misshapen after they bake. If you're making these for special guests, you might give this a try. Make sure to use a hot pad as this is done when the cookie sheet is still very warm.
I guess I'm going to have to keep a stash of instant vanilla pudding in my pantry from now on. P. S. I've just recently tried some Dark Chocolate Pudding Cookies which were also a huge hit with the family.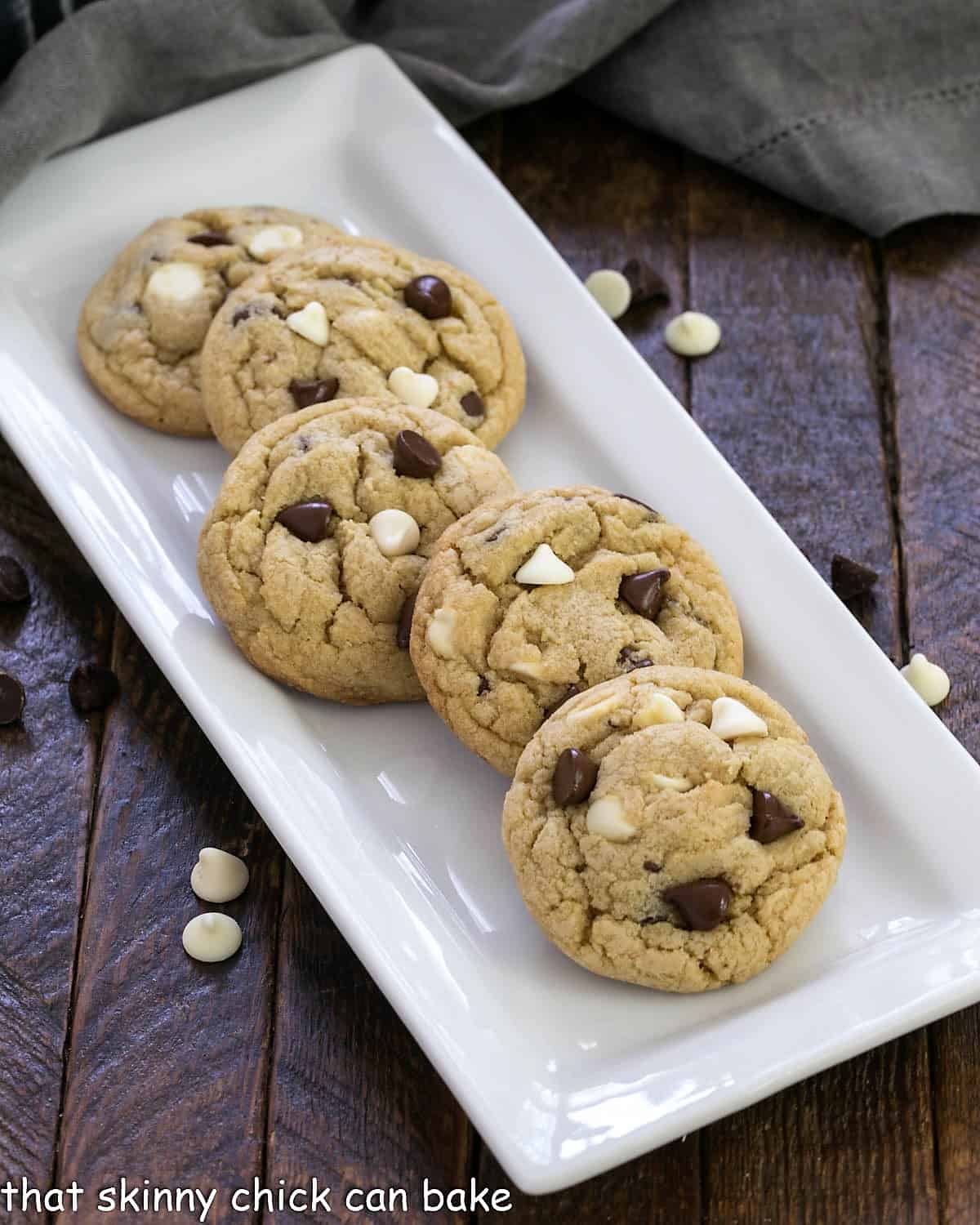 Frequently Asked Questions
How Do You Store Chocolate Chip Cookies?
They can be kept in an airtight container at room temperature for up to 3 days, though these pudding cookies will last a couple of days longer.
Can You Freeze Chocolate Chip Cookies?
YES! Once they've been out at room temperature for 3-5 days, it's best to freeze them in an airtight container for up to 3 months.
Can Other Ingredients be added to the Dough?
Yes, nuts or a combination of chocolate chips can be used. Just make sure not to include too many add-ins or there may not be enough dough to hold the cookies together.
Can the Dough Balls Be Frozen?
Yes, first freeze the dough balls on a sheet pan, then place the frozen dough ball into a freezer-safe zip-top bag. Freeze up to 3 months. These can be baked right from the freezer but will need a longer baking time.
Why Are My Cookies Flat?
There are a few different possibilities. The dough could have gotten too warm, your oven may be too hot, your baking powder may be too old (it often expires before you use it all), or you may have mismeasured the flour.
You May Also Like:
Stay in touch through social media @ Instagram, Facebook, and Pinterest. Don't forget to tag me when you try one of my recipes! And if you love the results, please give it a 5-star rating in the recipe card. Note: As an Amazon Associate, I earn from qualifying purchases. Visit my Amazon Store for my favorite products.
The Recipe:
Soft Chocolate Chip Cookies Recipe
Prep Time 20 minutes
Cook Time 12 minutes
Total Time 32 minutes
Yield 3 dozen
Soft, chewy and delicious chocolate chip cookies with a secret ingredient. Adapted from Hugs & Cookies XOXO
Ingredients
2 ⅓ cups flour
1 teaspoon baking soda
1 teaspoon baking powder
¼ teaspoon salt
1 cup butter, at room temperature
¾ cup dark brown sugar
¼ cup sugar
1 small package instant vanilla pudding mix (3.4 ounces)
2 eggs
1 ½ teaspoons vanilla
1 cup semi-sweet chocolate chips
1 cup white chocolate chips
1-2 cups chopped, toasted pecans, optional
Instructions
Preheat oven to 350º. Line baking sheets with parchment paper. Set aside.
Whisk together the flour, baking soda, baking powder, and salt. Set aside.
Cream together the butter and sugars, Beat in the pudding mix, then stir in the eggs and vanilla.
Blend in the dry ingredients. Stir in the chocolate chips.
Chill the dough if it gets too warm.
Use a medium cookie scoop to dish out 1 ½ tablespoon mounds of dough onto your baking sheets.
Bake for 12-14 minutes or until barely golden brown
Notes
May use all semi-sweet chocolate chips if desired.
Make sure to buy Instant pudding mix not Cook and Serve.
Reserve some of your chocolate chips (or use more!) to press into the warm cookies for a professional bakery look!
Recommended Products
As an Amazon Associate and member of other affiliate programs, I earn from qualifying purchases.
Nutrition Information:
Yield:
18
Serving Size:
2 cookies
Amount Per Serving:
Calories: 128
Total Fat: 8g
Saturated Fat: 5g
Trans Fat: 0g
Unsaturated Fat: 3g
Cholesterol: 24mg
Sodium: 136mg
Carbohydrates: 14g
Fiber: 1g
Sugar: 13g
Protein: 1g
Note: This post may contain affiliate links; view
my Disclosure Policy
for details. I earn a small percentage from any purchase you make by clicking on these links at no extra cost to you.