Red Velvet Cupcakes with Cream Cheese Frosting
This quintessential Red Velvet Cupcakes recipe with buttermilk and a splash of vinegar will rock your world. Moist and flavorful, they're topped with a heavenly swirl of cream cheese frosting.
This recipe also makes an extraordinary layer cake. Scroll down if you want directions for making this a show-stopping three-layer cake. If you're a fan of Red Velvet Cake with Cream Cheese Frosting, this is the recipe for you!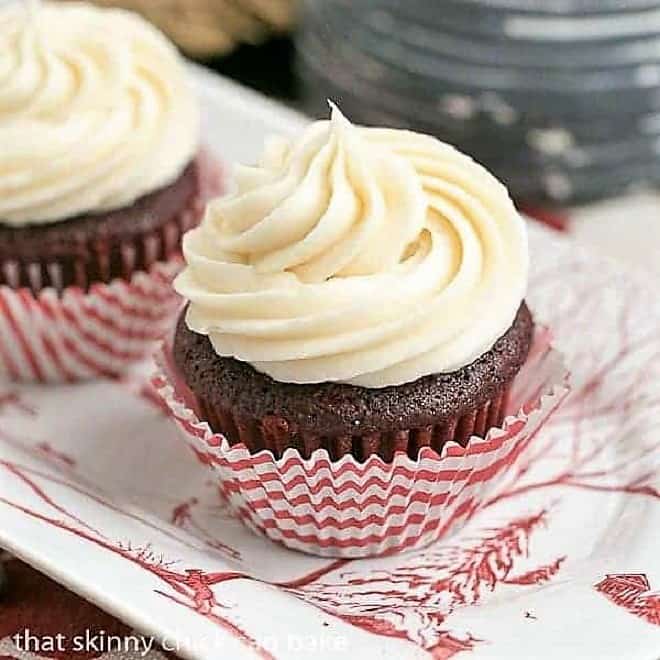 Why You Must Make
While I was out sipping cocktails with some of my "limoncello" girlfriends, they requested another cooking date. Making Red Velvet Cupcakes was the unanimous choice. I'd made these before with mascarpone icing, but decided to go ahead with the more traditional cream cheese frosting. If you can get beyond the three bottles of red food coloring in the cake ingredients, I think you'll love these!!
This is the best red velvet cupcake recipe you'll ever make!
These cupcakes are super moist and tender!
Red Velvet pairs beautifully with cream cheese frosting. This frosting is magnificent, too!
Ingredient Notes
Kitchen Staples – Table Salt, Sugar, White Vinegar, Baking Soda
Cake Flour – With a lower gluten than All-Purpose Flour, it makes for a tender crumb.
Unsweetened Cocoa – not Dutch-processed. The type of cocoa you use depends on baking chemistry.
Canola oil – Makes for a moist cake.
Eggs – Have them at room temperature for easier incorporation.
Red Food Coloring – You may also use food coloring gel, but you will need much less. Plus, you will need to replace the liquid equivalent of the coloring with water.
Vanilla – Real vanilla extract, never imitation.
Buttermilk – You can make your own in a pinch. See how to do this in the recipe tips below.
Cream cheese – This recipe calls for cold cream cheese to make the frosting.
Butter – At room temperature for easy blending.
Powdered Sugar – Make sure to sift for the smoothest frosting.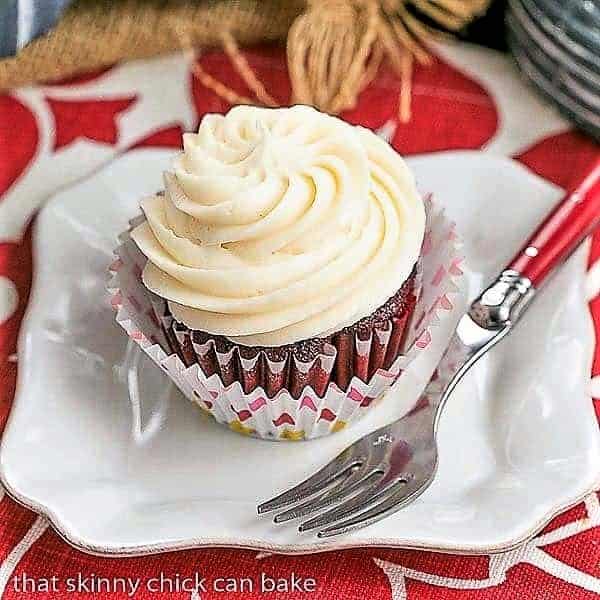 Directions for Making a 3-Layer Cake:
This is the same recipe I use to make a Red Velvet Layer Cake. All you need to do is grease three 9-inch cake pans with butter and line the bottoms with parchment. Mix batter as directed, then divide the batter between the 3 pans.
Bake for 40-45 minutes or until a cake tester comes out clean. Let cool for about 10-20 minutes, then remove from pan and peel off parchment. Cool completely before icing. You'll love this recipe as cupcakes OR a layer cake!
Recipe Tips
There are a few simple tips that will help you make perfect cupcakes. As with all recipes, read through the directions a time or two before starting so you make sure you have all the ingredients on hand and understand the time frame of making the dish.
PRO-Tip: Hunt down red food coloring in advance, especially around Christmas or Valentine's Day. You'll need THREE 1-ounce bottles.
Have your ingredients at room temperature. This means getting the eggs, etc., out of the refrigerator 1-2 hours before you start the recipe.
If you forget, you can always place your eggs in a bowl of very warm, not boiling water to hurry along the process.
PRO-Tip: If you don't have buttermilk, you can make a substitute at home! Just take a 1-cup liquid measuring cup and add 1 tablespoon of either white vinegar or lemon juice. Then fill the cup with milk to the 1 cup mark. Stir and let rest for about 5 minutes. It will curdle slightly and work well in any recipe calling for buttermilk.
PRO-Tip: Do not over-mix the batter. This will just encourage more gluten formation which can make for a less tender cupcake.
Scoop out even amounts of batter into your cupcake tin by using a 1/4 cup scoop. This will ensure that all are done baking at the same time.
All ovens bake differently so start checking your cupcakes a minute or two before the timer goes off. I use both the toothpick and finger tap method to check.
Insert a toothpick into the middle of one or more cupcakes, if it comes out clean or with a few moist crumbs, your cupcakes are done. If there's batter on your toothpick, bake for a couple more minutes and recheck.
To test a cupcake with your finger, gently press your index finger on the top of the cupcake. If it leaves an indentation, your cupcakes need more time in the oven. If the indentation bounces right back up, the cupcakes are done.
Let your cupcakes cool for 10-15 minutes in the tins before removing them to a wire rack to finish cooling. This time will allow the sides of the cupcakes to firm up a bit.
Wait until the cupcakes are cool to frost. But you can take the cream cheese and butter out of the refrigerator ahead of time to allow them to soften.
PRO-Tip: Place your baked cupcakes into a second paper cupcake wrapper (a decorative one is even better!) to serve. The first wrapper usually has some oil seep through during baking and isn't very attractive.
Rave Reviews—even from the dog!
I've updated this old post with some new photos but had to leave in the photo with sweet Lambeau, our first labrador retriever. She was a good crumb remover and loved when I baked. Besides getting flour all over myself, there was usually a dusting on the floor which she was thrilled to clean up.
Red velvet cupcakes are a favorite of my daughter, as very rich chocolate desserts are not her thing. The picky hubby, a self-proclaimed chocoholic, will definitely eat his fair share but would prefer a rich, dark chocolate cupcake.
My mother-in-law is staying with us for a couple of weeks. She's a warm, lovely 90-pound Irish woman who is barely 5 feet tall. She said these red velvet cupcakes with cream cheese frosting brought back memories of the tender cupcakes her mother used to make. Not one to snack, she ate her fair share of these gems! You'll love them, too!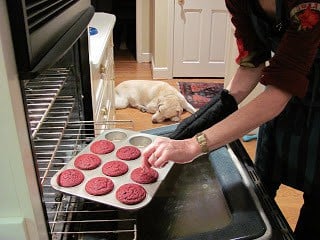 Frequently Asked Questions
What's the Difference Between a Red Velvet Cake and a Chocolate Cake?
You may wonder if red velvet is a variation of chocolate cake. My husband could easily answer this question, not enough chocolate! Though, dark in appearance, red velvet only has a few tablespoons of cocoa powder to darken and deepen the red velvet color versus giving it a chocolate taste.

There's also some vinegar added to the batter which interacts with the cocoa and buttermilk to work some magic baking chemistry. This trio of ingredients brings out the red anthcyathin in cocoa powder, thus enhancing the red color.

So if you're expecting a slice of red velvet cake or a red velvet cupcake to taste like chocolate cake, you'll be sorely disappointed. There is a very mild hint of chocolate from the cocoa powder, but that's about it. But if you love a moist tender cake, you'll be an instant fan!
What Makes Red Velvet Red?
For most modern recipes, the red in red velvet comes from red food coloring. There is a chemical reaction between the cocoa powder and buttermilk that also contributes as stated above.
Can This Cupcake Recipe Be Converted to a Cake Recipe?
Yes! You're in luck as the inspiration for this recipe was a 3 layer red velvet cake. Details are listed above, but you'll bake 3 9-inch cake layers for 40-45 minutes.
Why Do You Need Buttermilk in a Red Velvet Recipe?
As mentioned above, the acid in the buttermilk reacts with the cocoa powder to give a red tint to the batter. But buttermilk also tenderizes the cake since the acid also inhibits gluten formation making for a softer texture!
You May Also Like:
Here are a few more tasty cupcake and red velvet recipes.
Stay in touch through social media @ Instagram, Facebook, and Pinterest. Don't forget to tag me when you try one of my recipes! And if you love the results, please give it a 5-star rating in the recipe card. Note: As an Amazon Associate, I earn from qualifying purchases. Visit my Amazon Store for my favorite products.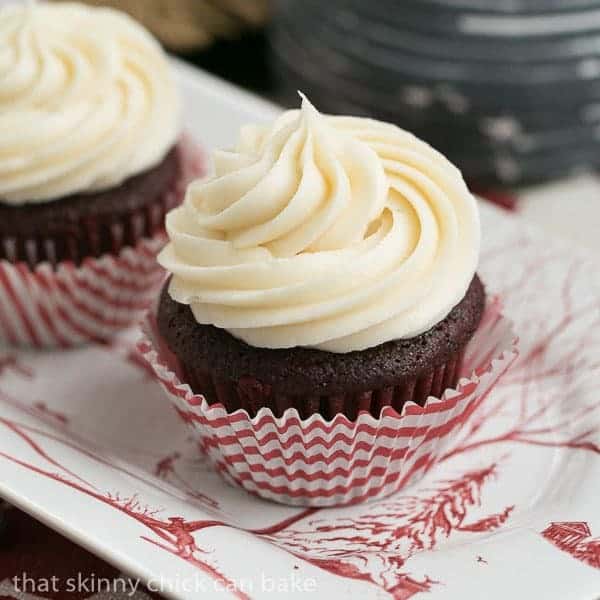 The Recipe:
Red Velvet Cupcakes Recipe
Prep Time 30 minutes
Cook Time 30 minutes
Total Time 1 hour
Yield 36 cupcakes
The BEST red velvet recipe, I promise!
Ingredients
Cupcakes:
3 ½ cups cake flour
½ cup unsweetened cocoa (not Dutch processed)
1 ½ teaspoon salt
2 cups canola oil
2 ¼ cups sugar
3 eggs
3 ounces red food coloring
1 ½ teaspoons vanilla
1 ¼ cups buttermilk
2 teaspoons baking soda
2½ teaspoons white vinegar
Frosting:
16 ounces cream cheese, cold
12 tablespoons butter, at room temperature
1 tablespoon plus 1 teaspoon vanilla
6 cups powdered sugar, sifted
Instructions
Preheat oven to 350º. Put paper liners in three 12-count muffin tins.
Whisk flour, cocoa, and salt together in a bowl. Set aside.
Beat oil and sugar in an electric mixer on medium till well blended.
Beat in eggs, one at a time. Lower the mixer speed to low (you don't want any splashing!), and carefully add the red food coloring.
Add vanilla, then alternate flour with buttermilk, starting with half the flour, then half the buttermilk, the rest of the flour, then ending with buttermilk.
Scrape down the bowl, then mix just briefly till combined.
Place baking soda and vinegar in a dish and stir to combine. It will bubble and expand. Add to batter with mixer running. Beat for just 10 seconds.
Fill cupcake liners ⅔ full and bake for 25-30 minutes or until a toothpick comes out clean. Let cool slightly, then remove from the pans. Cool completely before frosting.
For the frosting, beat cream cheese, butter, and vanilla just till blended. Add powdered sugar slowly (2 cups at a time) and beat till the frosting is smooth and at the correct consistency. You may find you prefer more or less powdered sugar than called for.
Pipe frosting on cupcakes with a 1M tip if desired. Makes 4 cups.
Notes
Recipe adapted from Confetti Cakes.
Recommended Products
As an Amazon Associate and member of other affiliate programs, I earn from qualifying purchases.
Nutrition Information:
Yield:
36
Serving Size:
1 cupcake
Amount Per Serving:
Calories: 368
Total Fat: 21g
Saturated Fat: 6g
Trans Fat: 0g
Unsaturated Fat: 14g
Cholesterol: 39mg
Sodium: 251mg
Carbohydrates: 43g
Fiber: 0g
Sugar: 31g
Protein: 3g
Note: This post may contain affiliate links; view
my Disclosure Policy
for details. I earn a small percentage from any purchase you make by clicking on these links at no extra cost to you.