Prosciutto, Gorgonzola and Rosemary Strata: A hubby approved breakfast dish. Apparently "real" men still don't eat, or maybe like in Bill's case, but they will eat strata!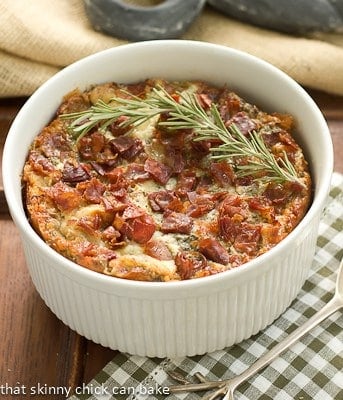 Prosciutto, Gorgonzola and Rosemary Strata
When I broached the subject of breakfast for dinner, Bill was all for it. He suggested waffles with sausage, pancakes with sausage…or even steak and eggs. Well, sure, those would certainly work. But I had something a little more gourmet in mind…a frittata, strata or quiche.
And, yes, I had to define all these for Bill before he agreed. He was familiar with quiche…as he knew real men didn't eat them. A strata is a layered brunch casserole…with bread, eggs and cheese. I spotted this irresistible Prosciutto, Gorgonzola and Rosemary Strata …which also featured challah, St. André and rosemary.
I found this marvelous recipe in my trusty New Basics cookbook…though there was some user error. I mistakenly used a 1 1/2 quart soufflé dish instead of the larger one called for in the recipe. Hmmmm….Mt. Vesuvius occurred in my oven….plus there were an awful lot of salty ingredients packed into that undersized container. Not a pretty nor tasty outcome.
So your number one requirement is to use the proper container size. Check. I'd also cut back on the Gorgonzola a bit so that the incredibly rich, triple creme St. André cheese gets its share of the glory. Double check. I reduced the salt and prosciutto amounts as well…but I've included the original amounts for your reference. The fresh rosemary tastes amazing in combination with these two cheeses…don't be tempted to use dried…it just won't be the same. Are you drooling yet???
This week's Sunday Supper theme is breakfast for dinner…so be sure to check out all the excellent ideas from my Sunday Supper friends listed below. I know you'll be inspired to work in a hearty breakfast entree for your evening meal very soon!
Breakfast for Dinner Recipes
Tres Leches Pancakes from La Cocina de Leslie
French Toast Casserole with Sautéed Apples from The Foodie Army Wife
Basic Vegan Waffles from Killer Bunnies, Inc
Kale, Bacon, Brown Rice Crustless Quiche from Shockingly Delicious
Bacon Egg and Potato Breakfast Tacos from Cookin' Mimi
Steak and Egg Tostadas from The Girl In The Little Red Kitchen
Breakfast Bowls from Jane's Adventures in Dinner
Homemade Lox from Growing Up Gabel
Seattle Sandwiches (Lox, Shmear, & A Fried Egg) from Juanita's Cocina
Bacon & Brie Potato Bread Strata with Roasted Pears from Eat, Move, Shine
Saucy Ham and Cheese Breakfast Sliders from Daily Dish Recipes
Greek Frittata from Casa de Crews
Elderberry Flower Pancakes from Hezzi-D's Books and Cooks
Prosciutto, Gorgonzola and Rosemary Strata from That Skinny Chick Can Bake
Italian Turkey Meatballs (With a Secret) from What Smells So Good?
Bacon, Spinach and Tomato Breakfast Pizza from Runner's Tales
Red Pepper and Egg Galette from Healthy. Delicious.
Waffles – One Plate, Two Ways: Sweet & Savory from Foxes Love Lemons
Steak & Egg Bagel Sandwich from girlichef
Oatmeal Ice Cream from Treats & Trinkets
Banana Waffles with Peanut Butter Syrup from A Kitchen Hoor's Adventures
Baked Berry French Toast from Table For Seven
But wait, there's more!
Open Faced BTC Sandwich from Peanut Butter and Peppers
Crustless Spinach Quiche from The Hand That Rocks The Ladle
Bacon 'n Eggs Bread Pudding from gotta get baked
Denver Breakfast Ring from Curious Cuisiniere
Copycat Japanese McDonald's from Ninja Baking
One Pan Full English Fry-up from Food Lust People Love
Leek, Mushroom and Gruyère Quiche from Hip Foodie Mom
Joe's Special, the Original San Francisco Treat from Webicurean
Dark Chocolate, Orange & Pistachio Greek Yogurt Cups from Cupcakes & Kale Chips
Gluten Free Tomato Basil Crepes form No One Likes Crumbley Cookies
Sour Cherry Crisp from Pies and Plots
Sausage breakfast casserole from My cute bride
Almond Rice Crepes Stuffed With Sweet Potatoes & Peas from  Sue's Nutrition Buzz
Apple, Bacon, and Dubliner Cheese Stuffed French Toast from Neighborfood
Dulce de Leche Stuffed French Toast from Basic N Delicious
Normally it would be very socially unacceptable to have wine with your breakfast, but seeing as this is closer to sunset than sunrise, we say go for it!!!
Hangtown Fry and Wine Pairings with Breakfast for Dinner from ENOFYLZ Wine Blog
Print
Prosciutto and Gorgonzola Strata
Adapted from The New Basics Cookbook
Prep Time: 20 mins
Cook Time: 40 mins
Total Time: 1 hour
Yield: 6 servings 1x
Ingredients
Adapted from The New Basics Cookbook
6 ounces thinly sliced prosciutto (originally 8 ounces)
8 ounces challah
1 1/4 cups heavy cream
1 1/4 cups milk
1/4 teaspoon salt (originally 1 teaspoon)
Dash of Tabasco
5 eggs
4–6 ounces sweet Gorgonzola cheese, crumbled (originally 8 ounces)
8 ounces St. André cheese, crumbled
3 tablespoons fresh rosemary leaves, finely chopped
Instructions
Butter the bottom and sides of a 2 1/2-quart soufflé dish, and set it aside.
Chop the prosciutto into 1/2 inch pieces. Sauté over medium-low heat until just crisp, about 10 minutes. Drain well on paper towels, and set aside.
Slice the challah into 1-inch-thick slices. Lightly toast in toaster; set aside.
Whisk together the cream, milk, salt, Tabasco, and eggs in bowl or large Pryex measuring cup. Set aside.
Place one layer of bread to cover bottom of soufflé dish. Sprinkle with half of the Gorgonzola, half the Saint André, half the rosemary and then half of the reserved prosciutto. Repeat to use up the rest of the bread, cheese and rosemary.
Pour the egg mixture over the layers, cover, and let rest for 30 minutes.
Preheat the oven to 350º.
Uncover the dish, and bake until is bubbling and golden, 40 minutes or till completely cooked through.
Remove the dish from the oven and let it rest 10 minutes before serving.
Note: This post may contain affiliate links; view
my Disclosure Policy
for details. I earn a small percentage from any purchase you make by clicking on these links at no extra cost to you.