Prosciutto, Gorgonzola and Rosemary Strata
Prosciutto, Gorgonzola, and Rosemary Strata: An easy, flavorful hubby-approved breakfast or brunch casserole. According to him, "real" men still don't eat quiche, but they will eat strata!
This Breakfast Casserole is perfect for any weekend company, holiday brunch, or breakfast for dinner!
Why You'll Love this Strata Recipe
You can eat strata any time of day. It's not just for breakfast and brunch.
Stratas are very adaptable. Use Pancetta instead of Prosciutto or Thyme instead of Rosemary. Or try Brie instead of St. Andre.
If you prep all the ingredients the night before, it will make short work of getting your breakfast strata recipe in the oven the next morning.
When I broached the subject of breakfast for dinner, Bill was all for it. He suggested waffles with sausage, pancakes with bacon, or even steak and eggs. Well, sure, those would certainly work. But I had something a little more gourmet in mind like a frittata, strata, or quiche.
And, yes, I had to define all these for Bill before he agreed. He was familiar with quiche, as he knew real men didn't eat them. And when I found an irresistible basic strata recipe in The New Basics Cookbook (affiliate link), I knew I had a winner.
Frequently Asked Questions
What is a Strata?
In Geology, the word strata refers to layers of rock. In culinary terms, a strata is a layered casserole dish often served for brunch. They most typically contain bread, cheese, and eggs.
What's the Difference Between a Strata and a Frittata?
A frittata is an Italian omelet has all ingredients mixed in with the eggs, is cooked slowly, then flipped or finished in the oven to cook the top. A strata is a layered casserole topped with an eggy custard, then baked.
What Do You Serve with a Strata?
Since this strata already contains bread, cheese, eggs, and meat, a vibrant fresh fruit salad or green salad would be a nice addition to the menu.
Tips on How to Make a Strata
Use stale or toasted bread.
Use the correct-sized baking dish. I first made this in a 1 1/2 quart souffle dish and had a Mt. Vesuvius episode in my oven!
Use fresh not dried rosemary for the best flavor. 
Give the cream and egg mixture ample time to soak into the bread before baking. 30 minutes is perfect.
Bake until bubbling and golden.
Let it rest for 10-15 minutes before serving. This will allow the casserole to firm up a bit.
You May Also Like: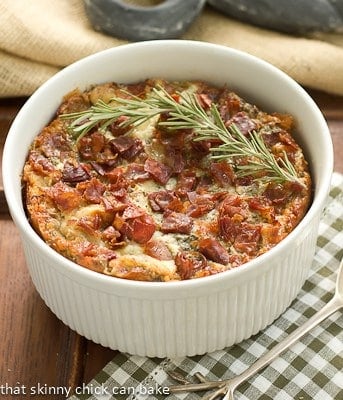 The Recipe:
Prosciutto and Gorgonzola Strata
Prep Time 20 minutes
Cook Time 40 minutes
Total Time 1 hour
Yield 6 servings
An Italian inspired Breakfast Casserole!
Ingredients
Adapted from The New Basics Cookbook:
6 ounces thinly sliced prosciutto (originally 8 ounces)
8 ounces challah
1 1/4 cups heavy cream
1 1/4 cups milk
1/4 teaspoon salt (originally 1 teaspoon)
Dash of Tabasco
5 eggs
6 ounces sweet Gorgonzola cheese, crumbled (originally 8 ounces)
8 ounces St. André cheese, crumbled
3 tablespoons fresh rosemary leaves, finely chopped
Instructions
Butter the bottom and sides of a 2½-quart soufflé dish, and set it aside.
Chop the prosciutto into ½ inch pieces. Sauté over medium-low heat until just crisp, about 10 minutes. Drain well on paper towels, and set aside.
Slice the challah into 1-inch-thick slices. Lightly toast in toaster; set aside.
Whisk together the cream, milk, salt, Tabasco, and eggs in bowl or large Pryex measuring cup. Set aside.
Place one layer of bread to cover bottom of soufflé dish. Sprinkle with half of the Gorgonzola, half the Saint André, half the rosemary and then half of the reserved prosciutto. Repeat to use up the rest of the bread, cheese and rosemary.
Pour the egg mixture over the layers, cover, and let rest for 30 minutes.
Preheat the oven to 350º.
Uncover the dish, and bake until is bubbling and golden, 40 minutes or till completely cooked through.
Remove the dish from the oven and let it rest 10 minutes before serving.
Notes
May use pannetone instead of challah and/or pancetta instead of prosciutto.
Nutrition Information:
Yield:
8
Serving Size:
1
Amount Per Serving:
Calories: 672
Total Fat: 48g
Saturated Fat: 27g
Trans Fat: 1g
Unsaturated Fat: 17g
Cholesterol: 313mg
Sodium: 1668mg
Carbohydrates: 24g
Fiber: 1g
Sugar: 3g
Protein: 35g
Note: This post may contain affiliate links; view
my Disclosure Policy
for details. I earn a small percentage from any purchase you make by clicking on these links at no extra cost to you.