Pork Tenderloin with Maple Balsamic Glaze
This savory Pork Tenderloin with Maple Balsamic Glaze is easy enough for a weekday supper, yet elegant enough to serve to company. You are going to leave everyone wanting more!
These Pork Medallions are juicy, tender, and flavorful plus the pan juices are delicious! Your family will love this maple-glazed pork.

Why You Must Make
Using pork medallions makes for a quick entree!
The combination of sweet, tangy, and savory makes a richly flavored dish.
This recipe uses mostly pantry ingredients, just pick up some pork, mushrooms, and fresh rosemary.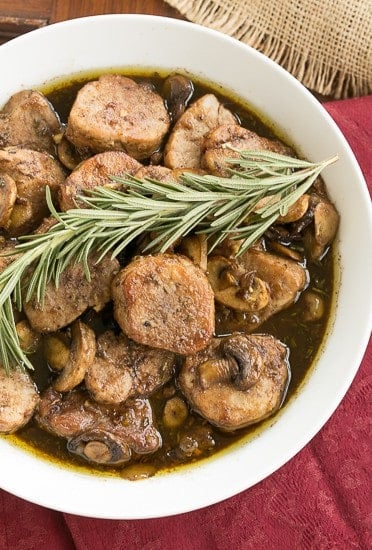 Expert Tips
Make sure you purchase pork tenderloin, not the thicker pork loin.
Cut into 1/2-1-inch slices. Note that the thinner the slices are, the faster they'll cook.
If you'd like larger medallions, cut them thicker and use a meat mallet to pound them into larger rounds. Note that this process also tenderizes meat.
Make sure to season your pork before cooking. You can always dust with additional salt later, but seasoning ahead of time will allow the salt to infuse into the meat, draw out some liquid, and help make a crusty coating.
Do not overcook. The pork will be dry if it's cooked too long. PRO-Tip: Monitor the temperature and remove it from the pan when they reach 145-150° for the moistest, juiciest medallions.
Frequently Asked Questions
Are Pork Medallions the Same as Pork Tenderloin?
Pork medallions are just sliced pork tenderloin. The word medallion refers to a coin-shaped cut of meat.
Why Are My Pork Medallions Tough?
Most likely they were overcooked as pork tenderloin is a tender cut of pork. Pork is safe to eat at 145° so use an instant-read thermometer to monitor the internal temperature of your medallions. Remove them from the oven when they reach about 140°. There will be some carryover cooking time after they're pulled out of the oven, bringing them to a safe temperature.
What to Serve with Pork Medallions?
See all that delicious sauce? You'll want some crusty bread, mashed potatoes, or even polenta to pair with the flavorful pan sauce. A crisp green salad and roasted green beans, broccoli, or carrots would round out the meal nicely.
How Long Can You Keep this Pork Dish?
Store leftovers in an airtight container in the refrigerator for 3-4 days. It can also be frozen if kept airtight for up to 2 months.
You Might Also Like: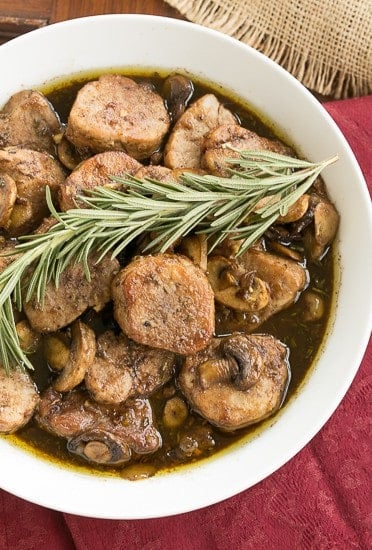 The Recipe:
Pork Tenderloin with Maple Balsamic Glaze
Prep Time 10 minutes
Cook Time 35 minutes
Total Time 45 minutes
Yield 4 servings
An easy recipe that's delicious enough for company!
Ingredients
2 pork tenderloins
Salt and pepper
2 tablespoons flour (I used Wondra)
Olive oil, for sauteing
6 to 8 ounces sliced or diced mushrooms
4 green onions, sliced
2 tablespoons olive oil
1/3 cup balsamic vinegar
1/4 cup maple syrup
2 large cloves garlic
1 tablespoon fresh, chopped rosemary
Instructions
Preheat oven to 350°.
Slice pork tenderloins into 1-inch slices.
Lightly sprinkle both sides of the medallions with salt and pepper; press both sides into the flour.
Put enough olive oil in a large nonstick skillet to coat the bottom of the pan; heat over medium heat.
Add the pork and brown for about 2 minutes on each side. Remove the pork to a plate.
Add the mushrooms, more olive oil if needed, and green onions to the pan. Cook until mushrooms are just tender.
Combine the glaze ingredients. Put the pork tenderloin back in the skillet and pour glaze over all; stir to coat all pieces of pork.
Transfer to the oven (make sure your skillet is oven safe) and bake for 20 to 25 minutes, stirring once. Serve hot.
Notes
Adapted from About.com/Southern Foods
Nutrition Information:
Yield:
4
Serving Size:
1
Amount Per Serving:
Calories: 343
Total Fat: 14g
Saturated Fat: 2g
Trans Fat: 0g
Unsaturated Fat: 10g
Cholesterol: 31mg
Sodium: 116mg
Carbohydrates: 40g
Fiber: 8g
Sugar: 24g
Protein: 19g
Note: This post may contain affiliate links; view
my Disclosure Policy
for details. I earn a small percentage from any purchase you make by clicking on these links at no extra cost to you.